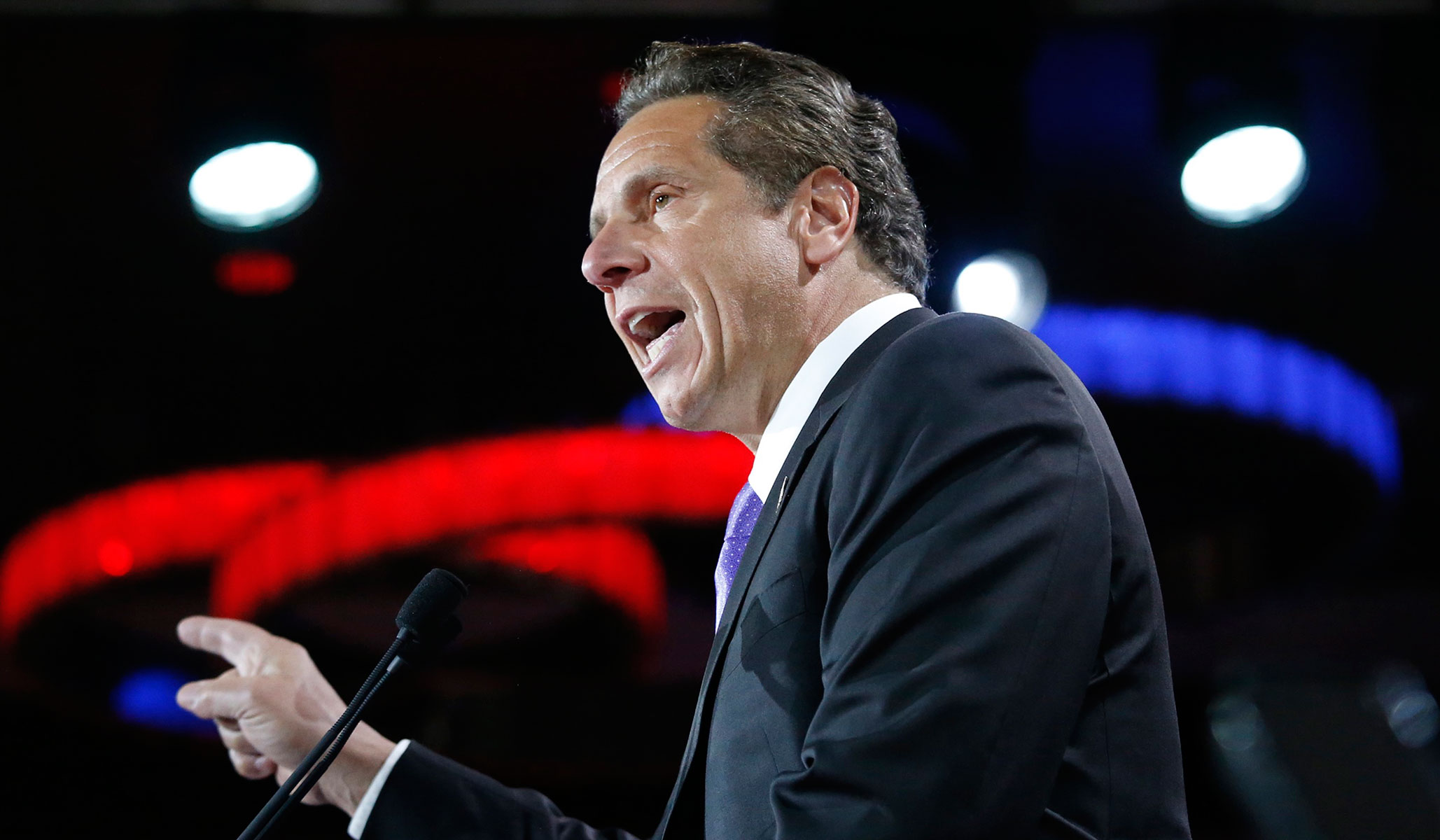 He favors monumental projects and grand public spaces, never mind the expense.
You won't often see these words appear in National Review, but Mayor Bill de Blasio is absolutely right.
In the latest episode of a long-running feud between New York State's Democratic governor, Andrew Cuomo, and New York City's Democratic mayor — a feud that is almost entirely Cuomo's doing — de Blasio wondered whether it was a great idea for city bridges operated by the state's Metropolitan Transportation Authority (MTA) to be dressed up with sets of purely decorative multicolored LED lights, a boondoggle dreamt up by Cuomo estimated to cost as much as $350 million, depending on the source.
Aware of Cuomo's tripwire temper, de Blasio stated mildly, and unassailably, on Wednesday, "I can tell you that people that ride the subway are not interested in a light show, they're interested in getting the trains to run on time. They're interested in being able to get to work, and that's what we should focus the resources on going forward."
Cuomo, in the giddy-to-spend mode that has come to be typical of his public appearances, played up the project in January by promising to have dancing lights coordinated across eight bridges and two tunnels, as if this were something anyone but he was craving. "Literally, you'll have bridges all across the New York City area that are choreographed — nothing like this has been done on the planet." Yes, and no other city wraps its bridges in rhinestones either, because that would be silly.
Cuomo's spokesman got huffy about de Blasio's comments and said the MTA wouldn't be paying for the lights, but as Politico New York reported, Cuomo's idea to have the New York Power Authority pay for them came as news to members of that agency's board, which was under the impression the MTA would foot the bill.
Unglamorous, urgently needed repairs in the guts of the MTA system, which operates the New York City subways and commuter trains and which Cuomo effectively controls through its board, have led to a series of alarming breakdowns and even derailments. The near-crisis ought to be commanding Cuomo's full and undistracted attention. "We do not have the luxury to apply any of our limited funding to any cosmetic improvements or changes," MTA board member Veronica Vanterpool told Politico New York.
Even by Empire State standards, Cuomo is imperious; his ego must be visible from space. The standard operating procedure is clear: He obsessively pushes high-visibility public-works projects of little or no utility so he can parade around like Caesar at the photo-op upon their completion. When the replacement for the Tappan Zee Bridge opens next year, one half-expects to see Cuomo drive across it in a gold-plated chariot, fanned by a squadron of eunuchs while state assemblymen play lyres by the roadbed. In a surprise last-minute move in Albany last month, Little Caesar arranged to have the $3.9 billion bridge named for Big Caesar, Andrew's father, the late governor Mario Cuomo. (The first Governor Cuomo famously said that if anything were ever named after him, it should be merely "a stickball court in a little alley in Queens.") The current, much-needed renovations at LaGuardia Airport took on an additional $400 million cost when Cuomo the Lesser decreed there had to be a colossal entrance hall. Cuomo is also pushing for a $450 million train to LaGuardia that would weave and stumble so windingly through Queens that it wouldn't actually save any time compared with existing ways of getting there.
Even by Empire State standards, Cuomo is imperious; his ego must be visible from space.
Perhaps Cuomo's proudest achievement as governor is the insanely overpriced Second Avenue Subway, a mere three-station, 1.6-mile extension of an existing line that stands as the most expensive subway per mile ever constructed anywhere on the planet. It cost a lordly $4.5 billion, $2.4 billion of that just for the stations, which New York Times columnist Jim Dwyer dubbed "underground Taj Mahals." The grand mezzanines make about as much sense as a platinum commode. One station is imperially emblazoned with "Excelsior," which happens to be both the motto of New York State and the valedictory word with which Mario Cuomo chose to close out his political career, in the final seconds of the concession speech he gave when George Pataki unseated him in 1994.
A forthcoming new series of buses kitted out with frills such as USB ports is being touted by the governor as "Ferrari-like." It'll be fun seeing how many Ferrari owners ditch their rides and cry, "At last, the luxury I've been looking for!" as they board the M60 to Queens. If there's anything Ferrari-like about these buses, it's their gargantuan cost — $600,000 each. Last September, unveiling an umpteenth bid to remake Penn Station with typical Caesarean pomp, Cuomo baldly stated, "This is not a plan. This is what's going to happen." (Reports that God laughed could not immediately be confirmed.) The plan, which involved, naturally, a grand hall but would do little to improve functionality or ridership, was widely derided as mainly cosmetic. That's Andrew Cuomo for you: He's the billion-dollar cosmetician.
Polls show New Yorkers are trying to send Cuomo a message: There's more to governing than ribbon-cutting ceremonies. They tell pollsters, correctly, that Cuomo is the one most to blame for the train situation. During what Cuomo himself preemptively if entirely correctly dubbed New York's mass-transit "summer of hell," the governor is starting to realize that his plan to get reelected next year may come off the rails if he can't keep the trains on theirs.