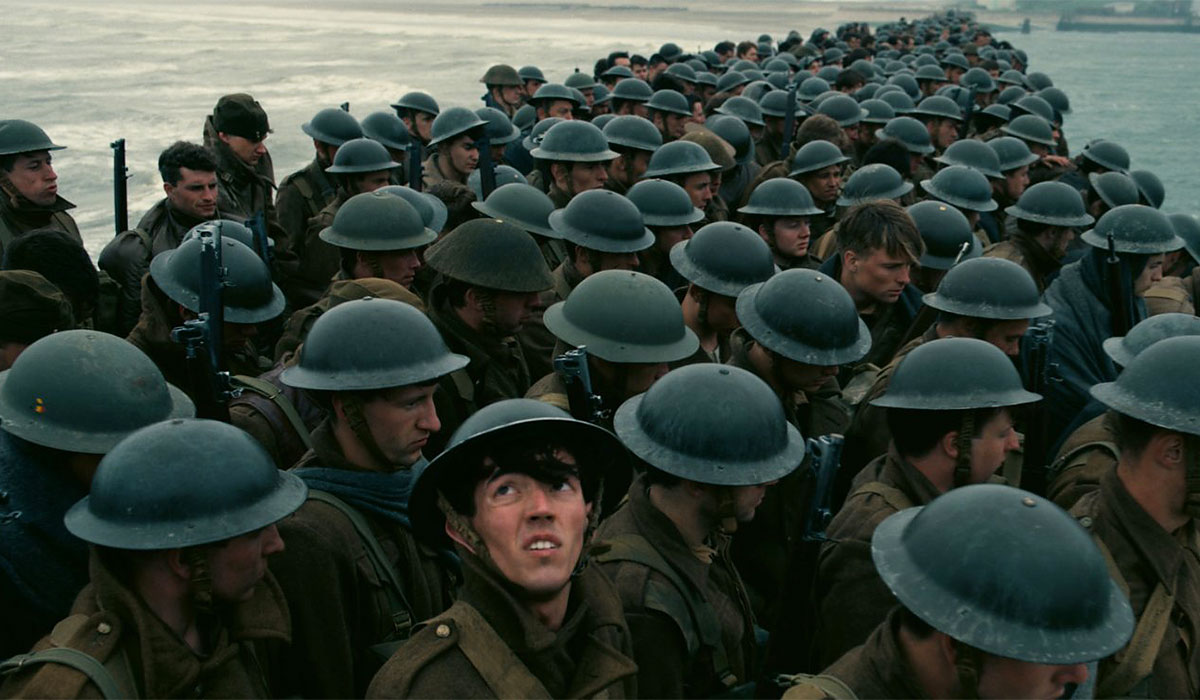 Nolan trivializes history, while Besson vivifies the future.
Winston Churchill's 1940 "We Shall Fight on the Beaches" speech is paraphrased in Christopher Nolan's Dunkirk, but after watching nearly two hours of uninspiring mayhem, it rings hollow. Although this is only Nolan's third movie that is set, at least partly, in his homeland England — it depicts the evacuation of more than 300,000 British Expeditionary troops trapped in Dunkirk, France, at the start of World War II — he seems incapable of conveying a sense of cultural authenticity or patriotic feeling. (For that, see John Boorman's WWII memoirs Hope & Glory and Queen & Country.) Preening for fanboys in 70mm, Nolan's vast, clear views of dull-to-horrific killings, plus amped-up artillery sound effects, are no different from what he did in his Dark Knight trilogy. Like Michael Bay's fantasy Pearl Harbor (1999), Dunkirk uses history as a pretext to show off the director's fascination for calamity.
Nolan divides his story into three anachronistic yet interlocking sections: British commander Kenneth Branagh oversees the massive boat lift; pilot Tom Hardy does aerial combat to keep German planes from strafing the beached armed forces; civilian Mark Rylance joins a flotilla of private boats and picks up downed pilot Cillian Murphy. Given such narrative chaos, the only certainty is that the West is under attack. This makes Dunkirk a freakily contemporary allegory for the ongoing global war no one wants to name. (The film's opening epigraph refers to "The Enemy" instead of citing a nation, philosophy, or religion.)
It's routine to describe battle films as "anti-war," still, that misnomer doesn't describe Dunkirk — the apolitical Nolan transforms the "anti-war" genre into his patented "life is cheap" genre. Each sequence that details the brutal tragedy of warfare is punishing yet remote. Men caught in numerous doom-laden catastrophes are presented IMAX-size for no other reason than shock, discomfort, and the awe of action-addicted filmgoers — adolescents who are temperamentally distanced from how those experiences shaped modern Western culture.
Nolan exploits technology for effect, not to enrich history. Unlike Ang Lee's very fine Iraq War drama, Billy Lynn's Long Halftime Walk, which used 3-D to explore the depths of brotherhood and the war's emotional complexities, Nolan's movie flaunts empty violence. Duty is depicted as futile, and despite parroting Churchill's spiritual motivation against darkness, Nolan typically evokes nihilism without any follow-through. Dunkirk feels dispassionate; it caters to pampered Boomers who never fought for or believed in a war or military service. Note the civilian armada approaching their countrymen: Each face is expressionless. Is this because Nolan rejects emotion, or does patriotic fervor embarrass him?
It's possible that Nolan, having created an audience of Millennial pessimists, is uninterested in the fellow feeling that Ang Lee made so intimate and that Clint Eastwood's Sully and Mel Gibson's Hacksaw Ridge made affecting as well as spectacular. Nolan misuses the big screen the same way Paul Thomas Anderson did in The Master — as a fanboy selling tool but not for aesthetic exploration. Nolan emphasizes large-scale violence then looks past its effect as he always does — as in that inept football-stadium bombing in The Dark Knight Rises. Dunkirk is equally repellent when Nolan toys with anonymous men trapped in the hull of a ship, helplessly watching bullet holes pierce their safety, or when a pilot nearly drowns as his plane sinks into rising waters. These sitting-duck moments are not suspenseful but torturous, whereas the great action directors — Eisenstein, Peckinpah, Lean, De Palma, Spielberg, Kurosawa, Hitchcock, Abel Gance, Walter Hill, Bay at his best — could all depict action to get at a viewer's understanding of fate. They mastered narrative and existential coherence. Nolan's visual language is full of gaps; its pretense at Alain Resnais–style time-shifting seems some kind of joke when a director can't accomplish straightforward storytelling.
Dunkirk has been made without wartime sympathy. That's why the Churchill speech comes off as unconvincing and sappy. Nolan's detached style mocks the populism that relates to average-grunt, working-joe service; it continues the attitude of Nineties indie filmmakers who chose cynicism over sentiment, anti-Western subversion over jingoism.
For those with movie memories, hearing the Churchill speech brings back how William Wyler uncannily paraphrased it in his Mrs. Miniver (1942), spoken as part of a sermon in an English church whose ceiling had been blasted open during the Blitz. Wyler visualized hope — contrasting an image of disaster — while the church congregation sang "Onward, Christian Soldiers." Dunkirk might have matched Wyler's nobility, but Nolan won't risk offending our godless film industry.
*****
A war movie that celebrates victory can offer idealized fun. Dunkirk doesn't, but Luc Besson's futuristic sci-fi movie Valerian and the City of a Thousand Planets offers lots of fun; its story of extragalactic warfare is all victory. From the opening scenes of interplanetary creatures uniting in peace to greet one another across different galaxies to the multi-species salutations that occur "400 years later," Valerian is perpetually good-humored, warm-hearted, and endlessly dazzling.
Sci-fi adventures are rarely festive, so Valerian's evocation of the color-coded meeting of the gangs in Walter Hill's The Warriors is a good harbinger — it projects egalitarianism into the future of the universe. Besson avoids cautionary foreboding. He adapts the French comic-book Valérian and Laureline (1967) — in which graphic artists Pierre Christin and Jean-Claude Mézières first dreamed up the fantastic adventures of a pair of young, romantic cops — by casting the smiley, feral actors Dane DeHaan and Cara Delevingne as Major Valerian and Sergeant Laureline (whose flirtatious badinage is just cute enough). Besson flaunts the humanism and sexy satire expected from French pop culture, distinguishing his movie from juvenile comic-book blockbusters.
Valerian's exploration of other worlds (with hints of present-day exoticism in the thousand planets that retain all of mankind's knowledge and lore) has page-turning momentum and is more exuberant than Besson's cult favorite The Fifth Element (1999). Besson has acknowledged the technical breakthrough of James Cameron's Avatar but supersedes it through editing wit (not just speed) and Frenchness — the cosmopolitan ideas that inspire Valerian and Laureline's fight to civilize the universe.
Besson's brave new world (boasting 2,734 special-effects shots) looks like Ecstasy-fueled hallucinations, especially scenes of a peaceful, endangered race of 6 million ash-gray sylphs with turquoise sparkles all over their skin (and clouds like France's tricolor flag) who transmit images of their paradisiacal world to Valerian. He defends them by entering another dimension — two existences at once — that have the head-spinning effect of a virtual-reality satire.
Imagine Star Wars, Lord of the Rings, The Matrix, etc. rolled up in one but corralled by a good director with impish humor. Every scene updates or riffs on a preceding genre but particularly Fritz Lang's 1925 Metropolis, still the ranking cinematic vision of the future. Besson even spoofs himself when Valerian encounters a slave creature, Bubble (played by Rihanna), who morphs into assorted showbiz and sexual icons from Dietrich to Beyoncé. (She expands on that blue singing creature in The Fifth Element, yet not even Rihanna's Nefertiti evocation matches Chris Tucker's hilarious androgyn in The Fifth Element.)
It's a high compliment to compare Valerian to Metropolis, but, unfortunately, Laureline's final love-trumps-hate speech is fatuous, less satisfying than Lang's moral that "the mediator between head and hands must be the heart." Pop genius Besson unites technology and imagination like a recent diplomatic handshake.