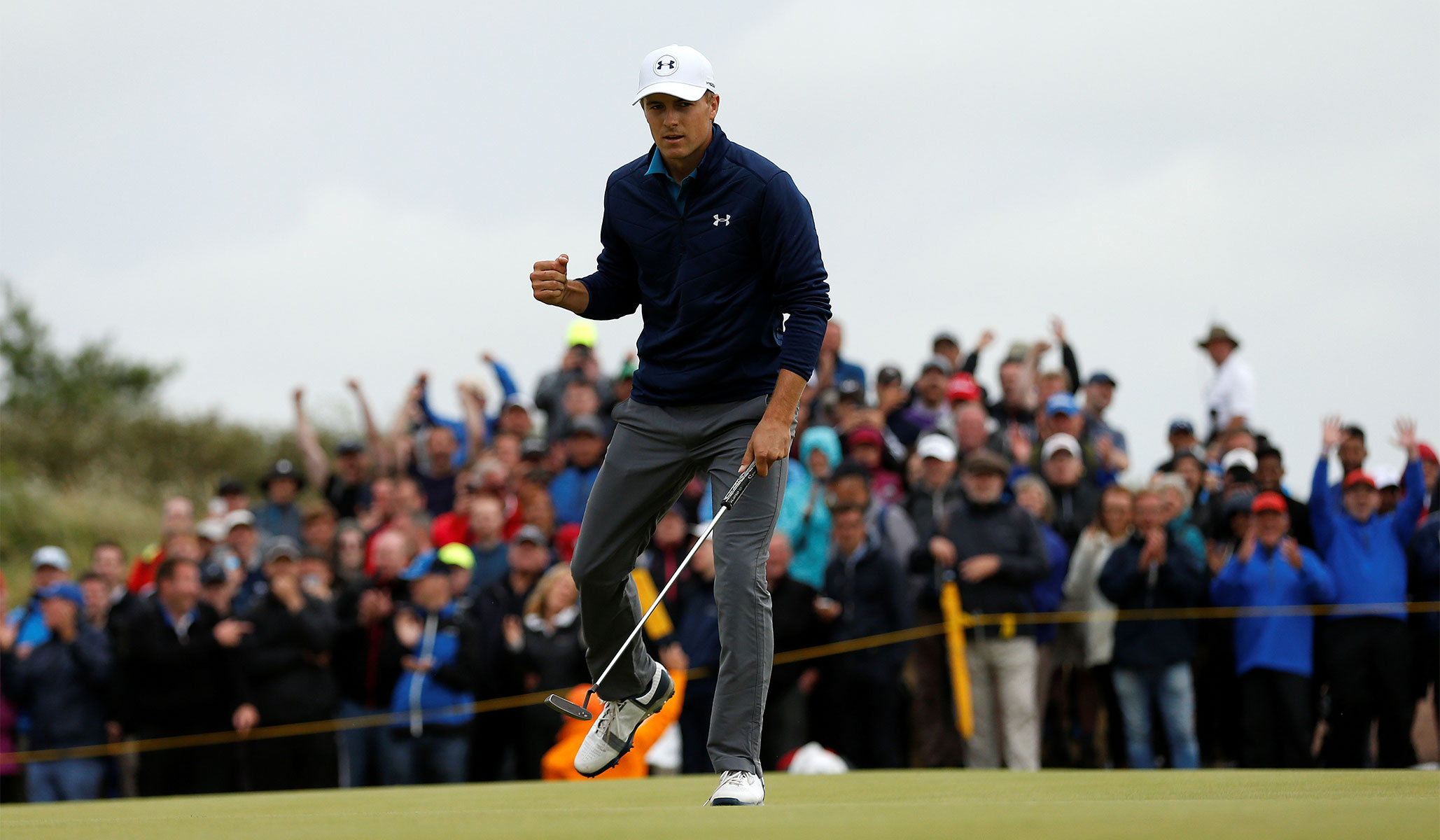 The young, super-talented golfer is just what the game, and perhaps the nation, need right now.
The final round of the British Open this weekend was quite simply the most jaw-dropping finish in professional golf in recent memory. And it launched Jordan Spieth to the top of golf's historical leader board just a few days shy of his 24th birthday. Each of his last 16 strokes made divots into the fading memory of golf's last young superstar, Tiger Woods, and it could not have come at a better time for the sport and the country.
For anyone who plays golf, watching Spieth win the Claret Jug the way he did reminded us why we stay with the game even though we know we would save time, money, and sanity if we quit. Golf is less of a mistress and more of a spouse: times of great passion and compatibility when everything is clicking followed by periods of discord and frustration when you wonder why the hell you are doing this. It takes patience and persistence, and just when you think you have it all figured out, some problem crops up that needs attention (although I strongly contend most marital issues are easier to fix than a case of the shanks).
Spieth's final round Sunday at Royal Birkdale was a power ballad about the complicated marriage between golfer and game. He began the day with a three-stroke lead but immediately struggled, carding four bogeys on the front nine. Spieth settled down on the first few holes of the back nine, but then disaster struck on 13; his drive careened about 100 yards off-course and hit a spectator. This caused a nearly 30-minute delay while officials and spectators looked for his ball and he considered his options for a terrible lie. He opted for an unplayable that became a master class in golf rules. (His playing partner, Matt Kuchar, 15 years older than Spieth and still without a major win, did stretches on the fairway while he waited.) Despite all the distractions, Spieth miraculously ended up with a bogey. It looked like he and Kuchar might be headed to a playoff.
That is when golf's grit and alchemy went on full display, courtesy of the young Texan. He almost had a hole-in-one on the par-three 14and settled for a birdie. As if that weren't enough of a heart-thumping comeback, Spieth made a 50-foot putt on 15for an eagle. Birdie. Birdie. Par. Victory.
The win was Spieth's third major championship before the age of 24, an accomplishment he now shares with Jack Nicklaus. Golf's Twitterverse went nuts. Nicklaus tweeted, "Wow! What a wild back nine! Is @JordanSpieth something else?" Tiger Woods weighed in: "What an incredible way to comeback and win. Many congrats @JordanSpieth." Other athletes from Steph Curry to Justin Verlander sent out messages of congratulations and admiration. Even Ted Cruz tweeted him. If Spieth wins the PGA Championship next month, he will join five other golfers, including Nicklaus and Woods, in having won golf's Grand Slam, thanks to his previous wins at the U.S. Open and the Masters.
Spieth is easy to root for. He's a class act who often uses the word "we" rather than "I" in post-tournament interviews. His caddy is his former teacher. Unlike some of his fellow twentysomethings on the tour who seem as interested in showing off sculpted quads and shoulders as they do their golf prowess (not that I necessarily object), Spieth is tall and lean and dresses more like someone twice his age. After his long delay on 13, he fist-bumped Kuchar as if to apologize for postponing play. Hard to imagine Woods doing that.
The win was Spieth's third major championship before the age of 24, an accomplishment he now shares with Jack Nicklaus.
In a "baller" sports culture that celebrates indulgence and profligacy, Spieth stays off the radar. He is still dating his high-school sweetheart, and he started a charity in honor of his younger sister, Ellie, who is on the autism spectrum. The raciest picture of Spieth so far is his drinking wine out of the Claret Jug when Zach Johnson won it in 2015. He reportedly attends Bible study on tour.
His composure and maturity are in stark contrast to the petulant entitlement of his fellow Millennials. While they emote, he deliberates. Golf, after all, is a thinking man's game and no place for the unhinged or impulsive. If there is any criticism of him, it's his constant self-talk and meticulous preparation before each swing on the course (Spieth was asked to pick up the pace Sunday even before the delay on 13). Each shot is like a surgical strike, with tweaks and resets and fierce concentration.
In a cosmic way, maybe Spieth's ascent and excellence are preordained: He was named after his father's favorite athlete, Michael Jordan, who now spends lots of time on the golf course in Florida and must be in awe of his namesake.
As we now suffer through daily outbursts from the president, politicians, and the media as part of our nation's ongoing political scrum, it's nice to find a calm, capable hero in a gentleman's game. Even if you don't like golf, watching Spieth's respect for civilized norms is a welcome respite from the debased culture we have created. Maybe he can invite President Trump for a round?
READ MORE:
Reebok Should Stay in Fitness, Out of Politics
John McEnroe Is Right about Serena Williams
Schmucks Like Us: Before You Laugh at Tiger Woods…
— Julie Kelly is a writer from Orland Park, Ill.