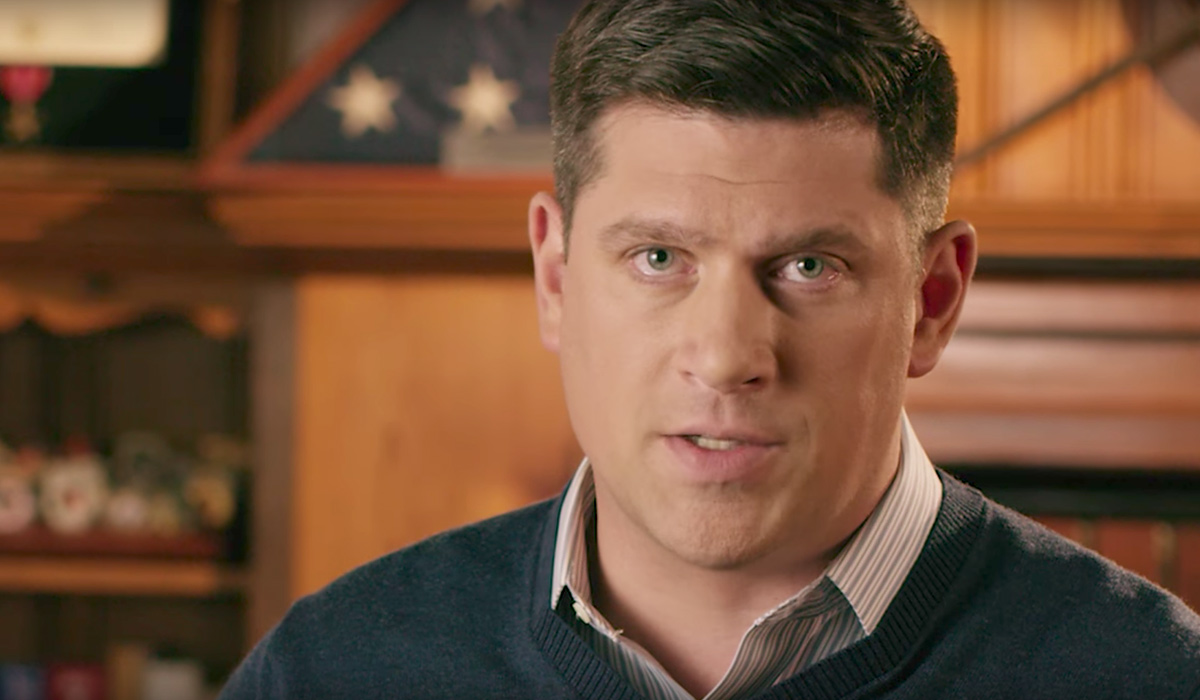 Nicholson, a former Democrat, presents a vivid contrast to Baldwin's career-politician résumé.
The upcoming 2018 U.S. Senate races will be a daunting challenge for Democrats, over a dozen of whom are up for reelection in swing states. One of them is Tammy Baldwin, a one-term senator from Wisconsin, a state that narrowly voted for Donald Trump last November.
The Badger State was also the site of one of 2016's most bitterly fought Senate contests, pitting conservative incumbent Ron Johnson against former Wisconsin senator Russ Feingold. Johnson, long considered to be among the most vulnerable Republican senators, triumphed by a larger margin than expected.
This year's Wisconsin election will likely be one of 2018's closest, and the GOP-primary field is beginning to take shape to challenge Baldwin. Marine Corps veteran and businessman Kevin Nicholson, who officially announced his campaign this morning, believes he's uniquely qualified to unseat her.
This Senate run is far from Nicholson's first foray into American politics. As an undergraduate in the late '90s, he served as the chairman of College Democrats at the University of Minnesota and went on to serve as the national president for the College Democrats of America.
In other words, Nicholson grew up a Democrat, and he has the résumé to prove it. He says his early politics were heavily influenced by his family, particularly his grandfather, who was a construction worker and a strong supporter of labor unions, a Democrat in the style of FDR.
But Nicholson's time in Washington working for the DNC set in motion a years-long process by which he became the staunch Republican running against Baldwin today. "I didn't like what I saw at the DNC," he tells National Review. "I basically witnessed the inception of identity politics. People there were broken apart by the color of their skin or their gender and pitted against each other for resources."
Identity politics didn't become a buzzword for the Democratic party until relatively recently, along with the advent of progressive social "intersectionality," but Nicholson witnessed the early days of today's mindset, and it alienated him from the party he had supported his whole life.
"Let's put it this way: During my time there, I saw enough to know it wasn't my crowd," he explains. "Not to mention the fact that people in the DNC looked at me like I was crazy when I told them I was planning to join the Marine Corps."
He received a commission as an officer in the Marines after graduating, and his experience in the military expedited the disenchantment that he had begun to feel at the DNC, as Nicholson realized how little the Democratic party's policies coincided with the real world.
"I saw a different side of people in the Marines, where everyone was treated according to their merit and not their skin color or identity," he says. "There is no greater introduction into reality than the U.S. Marine Corps." That learning process only intensified when Nicholson served combat tours in both Iraq and Afghanistan.
The day after his son was born, in January 2007, President George W. Bush delivered his Surge speech announcing a new approach in Iraq. The following day, Nicholson found out that his unit would soon be deployed. "I was there during the surge," he says, "and I saw things go from very bad to very good quickly in Iraq."
Nicholson, a captain, led a unit of Marines on over 100 combat missions in Iraq, and he earned the Navy Achievement Medal as a result. From 2008 to 2009, he served in Afghanistan as the leader of a counter–improvised-explosive-device (IED) team and earned the Bronze Star for his work. "We were on what was the most heavily IED'd chunk of ground on Earth during my time there," he says. "The goal was to get the devices off the battlefield and get the people building bombs off the battlefield. We were very effective in mitigating the threat."
When he got back to the U.S. after his first deployment, Nicholson immediately began supporting John McCain's 2008 presidential campaign. "I was very literally volunteering for the man who I wanted to be my next commander in chief," he says. "I was particularly furious when I was in Iraq and what I saw from the presidential candidates. The disconnect between what I was seeing on the ground and what was being said on TV was so jarring and infuriating. . . . I knew without equivocation that what the Democrats were saying was lies."
'The disconnect between what I was seeing on the ground and what was being said on TV was so jarring and infuriating. . . . I knew without equivocation that what the Democrats were saying was lies.'
After Barack Obama defeated McCain and Nicholson went back into combat, this time in Afghanistan, that disconnect became even more apparent. "Obama and leaders like Tammy Baldwin threw our progress in Iraq away," he says. "Irresponsibly pulling out in the way they did has led to problems like what we see with ISIS today."
"I know for a fact that Obama's drawdown encouraged the Taliban and other enemies to kill Americans," Nicholson adds. "As a leader, you have to send people in with a clear mission and give them the resources they need to win if you're going to put them in harm's way and have a plan to get them out and a plan to take care of them when they get home to their families."
Nicholson didn't see any of these things in Obama, and these failures cemented his incremental transition to the Republican party. But he didn't get back into politics immediately after returning to the U.S. Instead, he earned an MBA from Dartmouth and an MPA from Harvard, and he went on to work in international consulting at McKinsey. He currently works at a Milwaukee management-consulting firm.
"Every step of my story is seeing how the world works and slowly being introduced to reality, becoming more conservative every step of the way," Nicholson says of his gradual journey to the GOP. "I'm a conservative for reasons of hard-earned experience. I know that I can reach out to the people of Wisconsin and say, 'These are the problems that we face. We're going to face them together. And here are the solutions.' That's the only thing a senator from Wisconsin should care about."
Nicholson believes his extensive life experience makes him a successful foil to Baldwin, who has few legislative accomplishments to her name, and many in the party already agree. "I've known Kevin for several years and he's always struck me as a solid conservative who, while having a history as a Democrat, is now a great candidate for the Republican party," Matt Batzel, a GOP operative in Wisconsin, tells National Review. "He's the sort of person I've been hoping would run for office here for a long time."
Batzel points out that President Trump is just as popular in Wisconsin as he was right before his surprise election victory. "This is a winnable Senate race. Trump's approval rating is at 85 percent in Wisconsin among Republicans. . . . That broad GOP coalition remains."
"If I have a disagreement with the president, I will say it," Nicholson adds. "I'll support the good things that the president is trying to get done, and where there's a disagreement, I'll be honest and transparent about it. That's not just my policy for the president, but for everyone."
Nicholson thinks Senator Baldwin provides him with an opportunity to contrast his life experience with that of a career politician. "Her career has never been focused on making outcomes better for people. It's been a lot of griping, a lot of divisiveness, and literally nothing to show for it," Nicholson says. "That's everything that's wrong with American politics. There can be no better service that removing someone like that from the U.S. Senate and replacing her with someone with the life experience I've had."
"Tammy Baldwin is the epitome of a career politician," Batzel agrees, "and Kevin has a great opportunity to contrast against her as someone who has served his country and knows the issues as well."
"The focus of this campaign is always going to be on creating opportunities and jobs," Nicholson says, "letting people know that the government isn't spending their future into oblivion. That's what I have to pull the message back to, and I know that will resonate with the people of my state."
READ MORE:
Hillary Clinton's Wisconsin Voter Law Claims are Dangerous
Wisconsin's Partisan Redistricting is Bad Now, Say Democrats
— Alexandra DeSanctis is a William F. Buckley Jr. Fellow in Political Journalism at the National Review Institute.