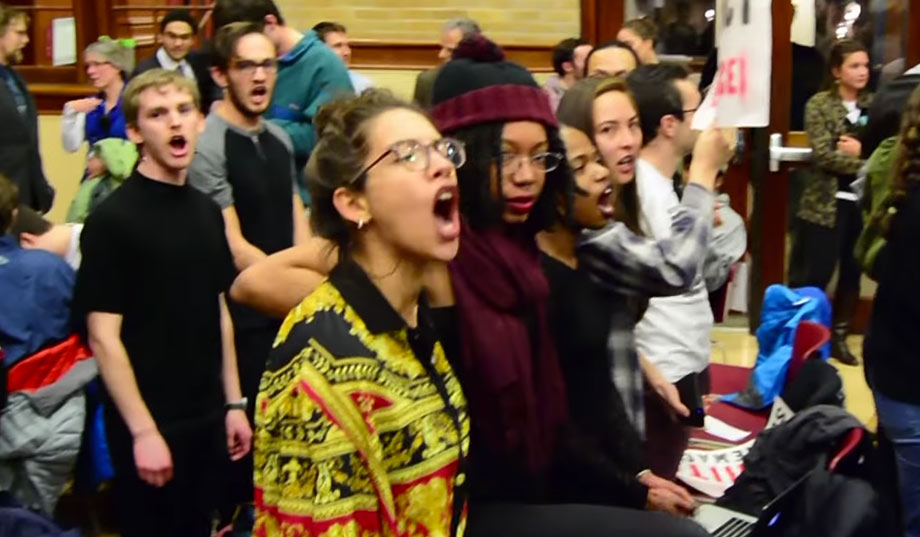 Governor Cooper must sign the bill into law.
Over the past year, speakers on college campuses have increasingly been disinvited, silenced, and maltreated. The General Assembly of North Carolina has taken notice: On June 30, it passed a bill, HB 527, aimed at restoring and preserving free speech at the University of North Carolina. The bill now awaits the signature of Governor Roy Cooper, who has not said whether he intends to approve it and must, according to his office, make a decision by July 30.
The Foundation for Individual Rights in Education, FIRE, has an online database that enumerates all the speakers who have been disinvited to speak on college campuses since 2000. In the past year and a half, there have been 54 cases (43 in 2016 and 11 in 2017) in which a college attempted to disinvite a speaker, a college successfully revoked a speaker's invitation, or a speaker was silenced because interruptions, protests, or physical harm stopped him or her from speaking.
For example, the provocateur and former Breitbart News senior editor Milo Yiannopoulos was silenced at the University of California, Berkeley, when, according to CNN, masked protesters threw "commercial-grade fireworks and rocks at police" and hurled "Molotov cocktails that ignited fires," causing "$100,000 worth of damage to the campus." Ben Shapiro, a conservative political commentator, was forced to stop speaking at California State University, Los Angeles, owing to the formation outside the venue of a mob that violently blocked entrances and exits and pulled a fire alarm. Charles Murray, the libertarian-conservative political scientist who co-wrote The Bell Curve, was compelled to cut a speech short at Middlebury College when protesters chanted and shouted loudly enough to drown out his words. When Murray and the professor who was interviewing him then left in the professor's car, students vandalized the car and physically assaulted the professor, who was rushed to the emergency room and now wears a neck brace from having her hair pulled and neck twisted.
These episodes illustrate that free speech is not well protected on college campuses. Rather than respecting the right of all individuals to seek out opinions, no matter how controversial, in the marketplace of ideas, the Left is violently enforcing ideological homogeneity. North Carolina's legislature has recognized this threat and attempted to stop it.
Many people are more concerned with preventing the dissemination of ideas that are in the minority or that may hurt others' feelings than they are with protecting constitutionally guaranteed rights.
HB 527 calls for "the freedom to discuss any problem that presents itself" on the campuses of the University of North Carolina. It declares that "park areas, sidewalks, plazas, and similar spaces [are to be considered] public forums open on the same terms to any speaker." It states that the university's "institutions are open to any speaker whom students, student groups, or members of the faculty have invited" and that the university "shall implement a range of disciplinary sanctions for anyone . . . who substantially disrupts the functioning of the constituent institution or substantially interferes with the protected free expression rights of others." And it creates a committee that would oversee the enforcement of its provisions and establish freshman-orientation programs "describing the policies regarding free expression."
Such policies should be uncontroversial among people committed to the free exchange of ideas. But remarkably, the editorial board of the Charlotte Observer published a piece asserting that the "proposed law . . . may end up undercutting some forms of free expression." It did not bother to explain how, nor could it, since the bill's express purpose is obviously to do just the opposite of undercutting expression. "Colleges and universities everywhere have conduct codes that deal with unruly students," the Observer continued. "We don't see the need for more." But current conduct codes are evidently insufficient, as the recent wave of campus disruptions, including one at UNC, attests. In 2009, at the University of North Carolina at Chapel Hill, Tom Tancredo, a former Republican congressman and presidential candidate, was forced to cut a speech short because of protesters' "shaking the building with chants and stomping feet." Tancredo finally had to leave mid speech after "a classroom window shattered, broken by a rock-throwing protester outside."
It seems that free speech is not valued today as it once was: Many people are more concerned with preventing the dissemination of ideas that are in the minority or that may hurt others' feelings than they are with protecting constitutionally guaranteed rights. To help reverse this growing problem, Governor Cooper should sign HB 527. It is only a drop in the bucket of what will be needed across the country, but it sets an example that other states can follow.
READ MORE:
Evergreen State: Another Professor, Another Mob
Berkeley: The Leftist Mob Has Sown the Wind
Middlebury College: A Harbringer of More Violent Protests