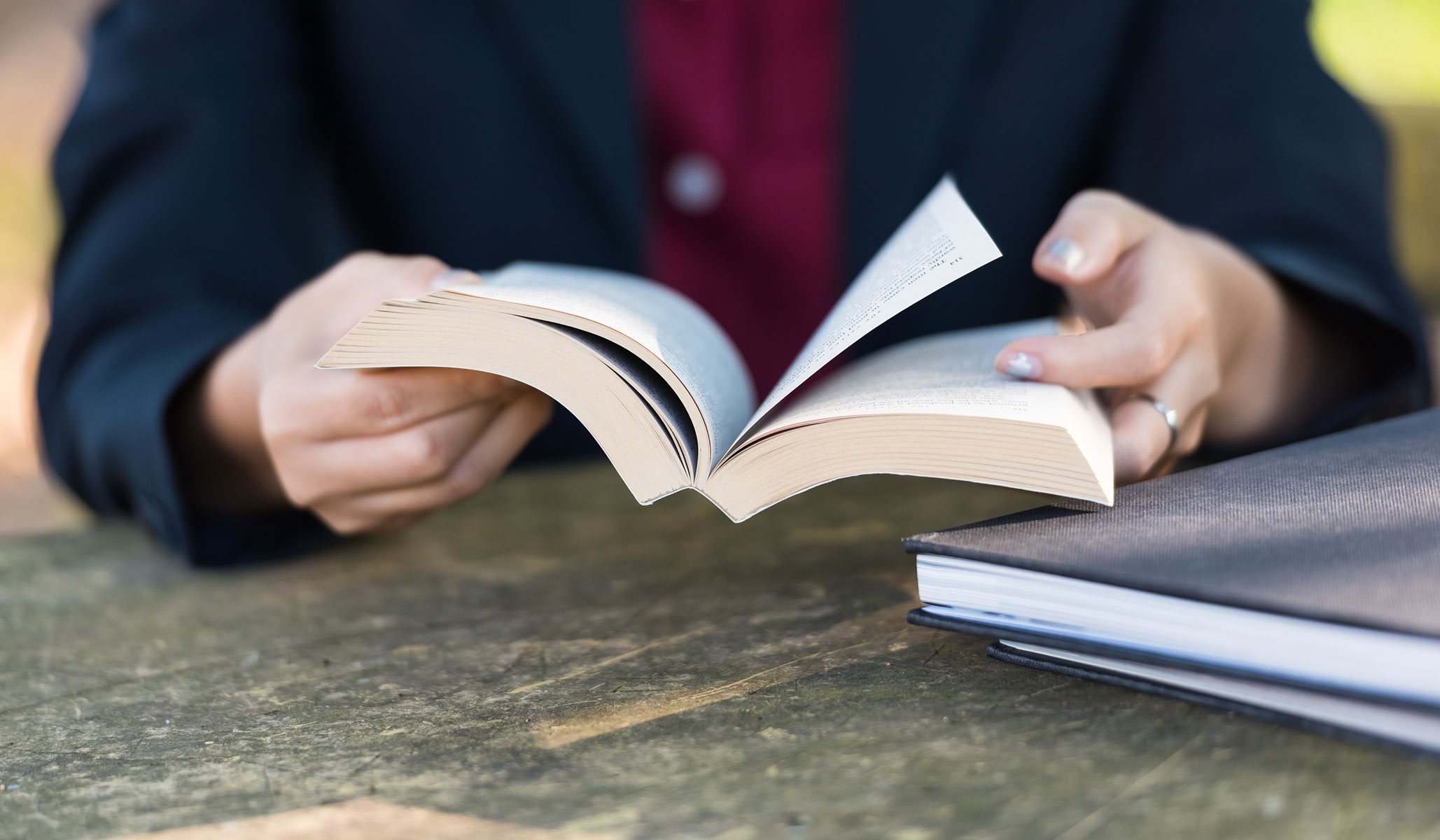 Suggestions for selecting that classic aestival staple, a good book
Editor's note: Summer is traditionally the season when we devote more time to books we've been meaning to read (or reread). Below, NRO friends and family offer their recommendations.
Richard Brookhiser
Here is the ultimate reading experience for political junkies who are sick of the politics of the age of Trump: the Library of America's new two-volume set of The Diaries of John Quincy Adams, 1779–1848. I have reviewed them for the Wall Street Journal, but let me also bang the drum here.
Adams, son of the second president, and sixth president himself, was smart, omnivorous, observant, bitchy, and hilarious (though always unintentionally). His diplomatic career took him to Holland, Prussia, Russia, and England. His congressional career took him to the Senate and the House. He worked for George Washington, and he was introduced to Charles Dickens. We learn, in Ghent, how treaties get made. We study the original permanent campaign, the eight-year-long struggle to succeed James Monroe among three of his cabinet secretaries, the speaker of the House, and a populist general. We get high foreign policy, as the Monroe Doctrine is crafted, and grinding congressional detail, as Adams fights the House's gag rule against anti-slavery petitions. This last effort shows Adams at his worst and his glorious best — acerbic, obnoxious, principled, heroic. He beats the shameless, spouting slaveholders like a drum.
He reads three languages, he writes poems, he attends church twice on Sunday and notes the sermons, he watches eclipses, ignores his wife except when she is sick, grieves over the deaths of his children and his mother, and always always worries that he is not doing enough for his country.
There are 1,200 pages of text, plus notes and chronology. If it's Governor Christie's beach reading, he'll have to shut the shore down for a year.
— Richard Brookhiser is a senior editor of National Review.
Nancy French
What would it be like if Thomas Jefferson used his revolutionary eloquence to write a love letter? Wonder no more. Authors Stephanie Dray and Laura Kamoie collaborated on a novel, America's First Daughter, which tells the story of the Founding Father through the eyes of his oldest daughter, Patsy.
"During his lifetime, Thomas Jefferson wrote more than eighteen thousand letters," the authors explain in a note to the reader. "It is through these that we framed this story, and took almost all of his dialogue. Whenever possible, for Jefferson, his daughter, and other historical figures, we quote directly from letters and other primary sources, all of which reflect the biases, prejudices, and political opinions of the time period. However, because the language of the eighteenth century was so stilted and opaque, we've taken the liberty of correcting spelling, grammar, and otherwise editing, abridging, or modernizing the prose in the interest of clarity."
The result is a painstakingly researched, compelling political page-turner that provides a most unique view of American history in the making. Dray and Kamoie describe Jefferson as a father (instead of just a Founding Father). They describe his depression after his wife's death and what it was like when they moved to Paris after he was appointed minister of France. Through it, I learned about a remarkable 1786 love letter Jefferson wrote to the very married Englishwoman Maria Cosway. In his famous "head versus heart" dialogue, he imagined his head and his heart were having an argument on how to handle their illicit love.
And, for fans of Hamilton the musical, these authors are working on My Dear Hamilton, a book to come out next year. It is about Elizabeth Schuyler Hamilton, the wife of the secretary of Treasury. It's a fun time to care about the Founding Fathers.
— Nancy French is a longtime contributor to National Review Online.
Jim Geraghty
You've read Brad Thor's latest thriller, Use of Force, right? That one's almost required reading if you enjoy spy thrillers.
The bad news is that actor Jonathan Goldsmith is only about two-thirds as interesting as the nameless character he plays in Dos Equis commercials, "The Most Interesting Man in the World." In Goldsmith's autobiography, Stay Interesting: I Don't Always Tell Stories about My Life, but When I Do They're True and Amazing, we learn that his life features more than its share of unexpected twists and turns, but I would have liked to hear more about the ad campaign and why it hit struck a chord with so many people. I think it's because no matter how mundane our lives may seem on any given day, we like to think that someone out there is living a life of wild adventure, who tells stories that end with, "and that's how I ended up arm-wresting Fidel Castro"—someone who we could bump into at a party.
The Diaries of John Quincy Adams are 1,200 pages of text, plus notes and chronology. If it's Governor Christie's beach reading, he'll have to shut the shore down for a year.
TNT sports anchor Ernie Johnson Jr.'s autobiography, Unscripted, is short and sweet. Self-effacing, old-fashioned, and open about his faith, Johnson details the highs and lows of life behind the camera: adopting a special-needs child from Romania, fighting and beating cancer, while continuing the zany, unpredictable coverage with the likes of Charles Barkley and Shaquille O'Neal.
Atlas Obscura is a fascinating guidebook of short descriptions and pictures of the world's strangest unique places, one that will have you running to Google to learn more about them over and over again. The book is more than 400 pages of natural wonders, forgotten history, nightmarish or dreamlike architecture, obscure festivals, temples, museums and art.
— Jim Geraghty is the senior political correspondent of National Review.
Roger Kimball
I believe that the greatest domestic threat to liberty in the United States is the growth of what has been variously denominated as "the administrative state," "the deep state," "the regulatory state." Accordingly, I am going to recommend three books that conjure with this threat to keep you company during what remains of your aestivation.
What is the administrative state? Perhaps the best short exegesis is to be found in Philip Hamburger's recent pamphlet The Administrative Threat. The administrative state, Hamburger writes, is "a state within a state," a sort of parallel legal and political structure populated by unelected and largely unaccountable bureaucrats. This amorphous congeries of agencies and regulations has become, Hamburger argues, "the dominant reality of American governance," intruding everywhere into economic and social life. The encroaching activity of the administrative state, he concludes, represents "the nation's preeminent threat to civil liberties."
That sounds bad, and it is. Some intelligent thoughts about addressing the problem are to be found in Mark Levin's latest bestseller, Rediscovering Americanism and the Tyranny of Progressivism, brilliantly reviewed in these pages July 15 by Andrew C. McCarthy. I recommend in particular chapter 4, "Administrative-State Tyranny," in which Levin shows how the gradual accretion of extra-constitutional bureaucratic control is both a fulfillment of the progressive political agenda and an attack on America's "founding values, beliefs, and traditions" regarding the separation of powers and limits on governmental discretion.
Finally, just to quicken the pulse of National Review readers, I am going to recommend American Greatness: How Conservatism Inc. Missed the 2016 Election and What the D.C. Establishment Needs to Learn by Chris Buskirk and Seth Leibsohn. The creaking Leviathan of the administrative state hovers in the background of this book. But as its title suggests, it focuses on the most surprising, grass-roots response to the administrative threat, the upsurge of populist ire incarnated in the person of its most successful messenger, Donald Trump.
It is no secret that when it comes to Donald Trump, opinions vary. Indeed, my own opinion varied sharply from the early months of the 2016 campaign to its denouement and aftermath. I urge you to spend some time with these three books, think about the bone-chilling words "Hillary Clinton," and, finally, ponder the Buckley Rule: "to support the rightwardmost viable candidate." The key word, as Neal Freeman explained in these pages, is "viable."
— Roger Kimball is editor and publisher of The New Criterion and president and publisher of Encounter Books.
Yuval Levin
In times of flux and uncertainty, we Americans should feel especially privileged to be able to reach back to the era of our founding and become reacquainted with some enduring truths about ourselves. This summer, there are two new books perfectly suited to helping us do that.
The first is a study of the mind of a frequently underappreciated founder. John Adams's Republic, by Richard Alan Ryerson, is not exactly beach reading. It is a heavy book, in all respects. But it is a richly rewarding read, and an exceptionally timely one. Ryerson, editor of the Adams papers for many years, does not go out of his way to stress the contemporary relevance of his subject. He carefully traces Adams's thinking — allowing the reader to appreciate him.
Thomas G. West in The Political Theory of the American Founding pays special attention to the founders' views regarding the place of virtue in political life (and the role of government in inculcating virtue).
But by letting us hear what Adams had to say, Ryerson helps us understand the driving concern that above all defined his peculiar form of republicanism: an intense worry about the power of an entrenched elite in a free society. Adams's contemporaries were frequently divided over the question of whether the power of a single ruler or of the masses as a whole posed the biggest threat to republican government. Adams thought neither the one nor the many were the biggest problem. It was the few — the aristocracy, however its privileges were defined — that above all threatened to undermine America's promise.
In our time, such concerns have often been refracted through the lens of progressivism, which has sought to replace a plutocratic aristocracy with a bureaucratic one. Adams is uniquely helpful to us now because this was not his aim at all. He offers instead guidance and caution that have perhaps never been more timely. And Ryerson ably lets us benefit from that wisdom.
The second book offers a broader view of the insights of the founding generation, and turns out to be at least as well timed. Thomas G. West's The Political Theory of the American Founding is one of the most important books of this young century and belongs on the bookshelf of every thoughtful student of American ideas. West begins from the depressing but plausible premise that the thought of the founders must be presented to contemporary Americans as a novelty, because it is largely unknown. So he begins at the beginning, and offers a compelling case that the doctrine of natural rights bounded by natural law was "the core of the founders' political theory," and for reasons that should still speak to us.
West then pays special attention to the founders' views regarding the place of virtue in political life (and the role of government in inculcating virtue) and to the place of property (and so of economics) in their political thinking. These two large sections of the book break new ground, each in its own brilliant way. And they, too, just like Ryerson's recovery of the depth of John Adams's insights, offer us wisdom that somehow seems perfectly suited to the peculiar times in which we live.
As long as our founding still speaks to us in terms that seem familiar, we can continue to hope that we might prove worthy of our inheritance as Americans. These two new books can help sustain that hope.
— Yuval Levin is the editor of National Affairs, a fellow at the Ethics and Public Policy Center, and a contributing editor of National Review.
John J. Miller
The first book I read this year was The Lost City of the Monkey God, by Douglas Preston — and I zipped through this account of exploration, archaeology, and survival in the jungles of Honduras. Preston is a successful novelist and he knows how to tell a tale, in this case a nonfiction thriller about the discovery of a forgotten ruin. It's a real-life Indiana Jones story. Preston also became one of my podcast victims.
You probably don't need to be a fan of H. P. Lovecraft to enjoy The Night Ocean, by Paul La Farge, but it may help and I couldn't put down this novel about Lovecraft obsession, which afflicts me. The story begins with a missing person and — well, it gets complicated, with its tall tales and unreliable narrators. As a character says toward the end: "Oh, he'd told me a horror story, all right. The horror was that I had believed it." Bonus for National Review readers: Several name drops of William F. Buckley Jr.
I recently profiled Eric Greitens, the governor of Missouri, for National Review. On my trip to Jefferson City, I visited the state capitol and sought out a room called the House Lounge. It contains A Social History of the State of Missouri, a set of murals by the painter Thomas Hart Benton. I've always liked Benton's work, but this was stunning—a Missouri version of Diego Rivera's Detroit Industry Murals, which may be my favorite single work of art. At any rate, I returned home and ordered Thomas Hart Benton: An American Original, by Henry Adams. It was just what I wanted: a good description of the man with images of his work. The pages of a book can't match the experience of standing before the art itself, but I can pull it off the shelf and remember.
— John J. Miller is national correspondent for National Review, director of the Dow Journalism Program at Hillsdale College, and the author, most recently, of The Polygamist King: A True Story of Murder, Lust, and Exotic Faith in America.
David Pryce-Jones
The book I have most enjoyed recently is Victor Sebestyen's Lenin the Dictator, very appropriately subtitled "An Intimate Portrait." Normally an obsessive crank like Lenin would never have come to power, so here is a warning about the part that chance plays in human affairs. Publicly he stopped at nothing to make the world a more blood-stained place. Privately he was living in a ménage à trois in the Kremlin with wife and mistress. Fascinating stuff! Mao Zedong was a character whose impact on humanity was even more dire, probably the most disastrous in all recorded history, and Frank Dikötter, a Dutch historian with the necessary language skills, has been proving it. In his book The Tragedy of Liberation: A History of the Chinese Revolution, 1945–1957, he exposes once and for all that the Communist takeover of China just expressed Mao's murderous instincts, nothing to do with idealism. I wish I had the stamina for the admirable Niall Ferguson's Kissinger: 1923–1968, the Idealist but it is a door-stopper that deals only with the first decades of his life, and a second door-stopper volume is to come. The sole novel by Mario Vargas Llosa that I have read is The War of the End of the World, a historical novel set in 19th-century Brazil. It is a masterpiece of storytelling. My colleague Jay Nordlinger tells me that Llosa's The Feast of the Goat has important things to say and says them beautifully. I have acquired it and read the opening pages, and I expect to be discovering another Llosa masterpiece.
— David Pryce-Jones is a British author and commentator and a senior editor of National Review.
Tevi Troy
Looking for stories of strong presidential leadership, I recently read two worthy books on Dwight Eisenhower: David A. Nichols's Ike and McCarthy: Dwight Eisenhower's Secret Campaign against Joseph McCarthy and Michael Doran's Ike's Gamble: America's Rise to Dominance in the Middle East. Nichols looks at how Eisenhower worked behind the scenes to marginalize Wisconsin senator Joe McCarthy, even going to great lengths to avoid saying McCarthy's name. When it came to emasculating McCarthy, though, Ike wanted it to happen in as public a way as possible. Both Ike and Senate Democratic leader Lyndon Johnson pushed to have the Army–McCarthy hearings televised, understanding, as Nichols understatedly puts it, that "television was not kind to McCarthy." Indeed, it was not.
As for Doran, he shows that Ike was initially not a big fan of Israel. Over time, though, his views on the matter changed. As Doran puts it, "he expressed regret for having treated his allies so harshly at Suez, and he came to see Israel as a strategic asset." Doran also paints a vivid picture of Egyptian dictator Gamal Abdel Nasser, who liked denouncing the West but also indulged in trappings of Western culture. Nasser would visit U.S. diplomat William Lakeland for hot dogs and movies. Nasser, it seems, "had a soft spot for Esther Williams."
Candice Millard in Hero of the Empire, on Winston Churchill's escape during the Boer War, details the incident that made Churchill a household name. Given my interest in leaders and their reading habits, I was fascinated by how much time Churchill devoted to reading: "He read for four or five hours every day, everything from Plato's Republic to Aristotle's Politics to Schopenhauer, Malthus and Darwin."
For a less enlightened form of leadership, you may want to look at Jonathan Allen and Amie Parnes's Shattered: Inside Hillary Clinton's Doomed Campaign. Caveat emptor, though. Clinton aides are a foul-mouthed bunch, and my ten-year-old flipped through the book with a shocked look, saying, "There are a lot of bad words in this book." They had a lot to cuss about, as Parnes and Allen show us that the Hillary campaign was just as dysfunctional as all of us imagined.
Also worth looking at are: Eliot Cohen in The Big Stick makes a compelling case for the limits of soft power; Kay S. Hymowitz's The New Brooklyn, an excellent look at how crime-ridden Brooklyn became the coolest place on earth; and Al Felzenberg's A Man and His Presidents, which includes entertaining tales of the interactions of a "persistent" teenage Felzenberg with National Review founder William F. Buckley Jr. Don't miss them, and happy reading.
— Tevi Troy is a presidential historian and former White House aide. He is the author, most recently, of Shall We Wake the President? Two Centuries of Disaster Management from the Oval Office.
Ian Tuttle
Without Roots: The West, Relativism, Christianity, Islam, by Joseph Ratzinger and Marcello Pera
The contretemps over Donald Trump's use of "the West" in his recent speech in Poland sent me back to this slim volume by Joseph Cardinal Ratzinger (shortly to become Pope Benedict XVI) and Marcello Pera, an Italian philosopher and, from 2001 to 2006, president of the Italian Senate. Published in 2007, it contains one lecture by each author, then an exchange of letters that elaborate the themes and concerns of the original addresses. Sober, thoughtful, and unflinching, it is a tonic against hysteria.
Sober, thoughtful, and unflinching, Without Roots, by Joseph Ratzinger and Marcello Pera, is a tonic against hysteria.
The Signal Flame, by Andrew Krivak
One of the best novels to be written about World War I appeared, strangely enough, in 2011. It was The Sojourn, by Andrew Krivak. Krivak has now published a second novel, about a family in small-town Pennsylvania who are waiting for news about a son, MIA in Vietnam, in 1972. It's a stunning book, shot through with loss and suffering, and beautifully composed; it deserves to be read slowly.
The Great Enigma: New Collected Poems, by Tomas Tranströmer (translated by Robin Fulton)
"Through his condensed, translucent images, Tranströmer gives us fresh access to reality." So said the Nobel Prize Committee in 2011, when they awarded Tomas Tranströmer the prize for literature. The Great Enigma collects twelve books of poems, a cycle of haikus, and Tranströmer's beautiful prose memoir of his childhood in Sweden, Memories Look at Me. Tranströmer's poems are written in plain language and simple lines. The effect is to crystallize moments, like snapshots. From "Allegro": "I play Haydn after a black day / and feel a simple warmth in my hands." Yes, exactly.
— Ian Tuttle is the Thomas L. Rhodes Fellow at the National Review Institute.
Hans A. von Spakovsky
The politics of the nation's capital, where I work, are so intense I usually read fun books in the summer that have nothing to do with reality or the meanness that pervades our current culture. However, since many of NRO's erudite readers may want something serious, I am recommending two nonfiction books and some grand adventure books perfect for the beach or a campfire in the mountains.
First are The Campus Rape Frenzy, by KC Johnson and Stuart Taylor Jr., and Liberty's Nemesis, edited by Dean Reuter and John Yoo. Johnson and Taylor outline how politicians and extremists have pushed the specious claim that our universities are "awash in a violent crime wave" and "indifferent to female sexual assault victims." The resulting mob frenzy has led to Kafka-like kangaroo courts that assume that accused students are guilty, deny the accused fundamental due-process rights, and brand innocent students as sex criminals. This is a must-read for anyone with kids in college or headed there.
Reuter and Yoo have edited a book with writers including former attorney general Michael Mukasey, Senator Orrin Hatch, and yours truly. The frightening theme is the vast expansion of federal power far beyond its constitutional boundaries. In chapter after chapter, the authors illustrate how the inexorable growth of the federal state is restricting our liberties, our economic opportunity and prosperity, and endangering our freedom.
But for fun, I am recommending something old and something new. First is The White Company (1891), by Author Conan Doyle. It was one of Teddy Roosevelt's favorite books. Doyle hated writing the Sherlock Holmes stories but they were so lucrative he couldn't stop. His real love was a series of historical novels that are little known today. The White Company is a romantic adventure that follows a young squire who goes to France during the Hundred Years' War, as part of a free company of English archers led by Sir Nigel Loring.
For something new, check out the Billy Boyle mystery series by James Benn. Boyle is a tough Irish cop from Boston. He ends up on the staff of his uncle, Ike Eisenhower, who uses him for sensitive military investigations all over Europe during World War II. (He even ends up in the Pacific, investigating a murder in which a young John Kennedy is suspected.) There are eleven books in the series and Benn's latest is expected out in September. If you like mysteries and historical fiction, this series is the one for you.