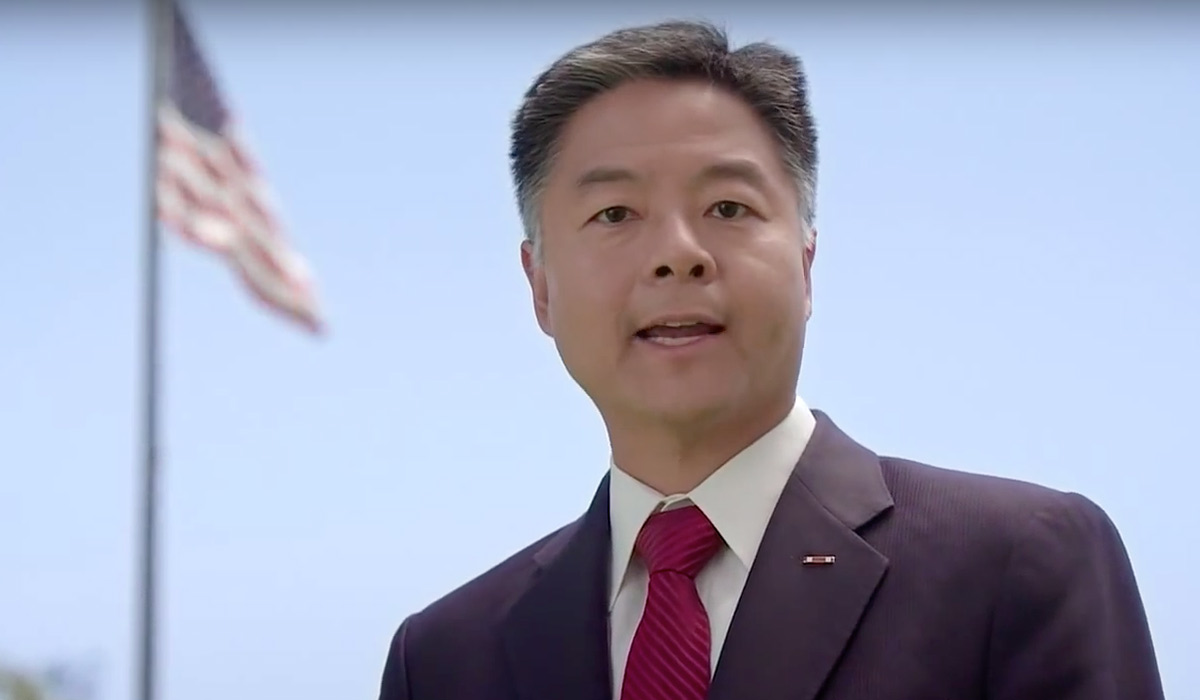 The paranoia strikes deep, on all sides.
In politics, as in physics, certain laws seem to obtain. Exempli gratia: For every stupid thing said or done by someone on the right, an equal and opposite stupid thing is done by someone on the left. This law having gone heretofore unnamed, perhaps it should be called "Lieu's Law."
Ted Lieu is in his second term as U.S. House representative for California's 33rd congressional district. Elected in 2014 to replace the retiring Henry Waxman, Lieu is a former state assemblyman and senator, and a member of the Air Force Reserves, who holds degrees from  Stanford University and, on the opposite coast, the law school at Georgetown. On paper, he is no dummy. Nonetheless, there is no witless partisan talking point, and no baseless conspiracy theory, that Congressman Lieu will not push, mainly from his personal Twitter account.
In adjacent District 43, Maxine Waters has spent the last several months squawking about impeachment. Lieu is way ahead of her. Lieu's office keeps a "Cloud of Illegitimacy Clock," which records the amount of time Donald Trump has "illegitimately" been in office. According to Lieu, "the second after Donald Trump took the oath of office, he violated the Constitution and continues to do so." Lieu maintains that Trump's primary offense (so far) is violating the Emoluments Clause, an obscure constitutional provision under which no federal official has ever been charged and the meaning of which no courts have ever adjudicated.
In a similar stunt, certain press releases from Lieu's office include an asterisk by any reference to "President Trump," directing the reader to a footnote that states:
***In addition to losing the popular vote, Trump — as of January 20, 2017 — is in violation of the Emoluments Clause set forth in Article I, Section 9 of the U.S. Constitution due to massive conflicts of interests and his refusal to put his global business holdings in blind trusts. Trump also benefitted from Vladimir Putin ordering a multifaceted and brazen Russian influence and cyber hacking campaign with the goals of undermining faith in the U.S. democratic process, denigrating Secretary Clinton's electability, and helping Trump's election chances.

 
As a member of the House Judiciary Committee, under whose purview Lieu bangs on about emoluments, he surely knows that he is advertising a legal moonshot — and that his "illegitimacy" claims are not only nonsense but the precise sort of nonsense he would have condemned (rightly) had last November's winner been a Democrat. But this is, to modify a phrase, boob bait for Bel Air types.
For the same reason, Lieu never misses an opportunity to accuse a Republican of criminal behavior. Lieu has declared that Donald Trump Jr.'s secret meeting with a group of Russians in last summer "clearly violated" the Federal Election Campaign Act (it almost certainly didn't), that the president is guilty of "one or more felonies," and that there is a "cloud of treason" hanging around the White House.
Some of this happens in appearances on television and in speeches (for example, at last month's #ResistMarch in Los Angeles). But Lieu particularly enjoys tweaking the president from his personal Twitter feed. Democrats have decided that gratuitous swearing is the best way to show they're really angry, so sometimes Lieu curses: "Was charged $2.99 for coffee listed at $2.59. That's why I have trust issues. Oh, and the fact that @seanspicer at #WhiteHouse makes sh[**] up." He has super-"woke" children: "Our 11 year old just asked me if President Trump was part Russian. That would be really funny if it wasn't so really scary." He even has his own Trump-style nicknames: There's "Amateur [Jared] Kushner," "Shady Donald Trump Jr.," and "Guilty [Paul] Manafort"; Eric Trump is "The Enforcer"; Steve Bannon is "Dr. Evil"; the president's lawyer is "dumb as a rock Jay Sekulow."
Apparently, this is what passes for speaking truth to power in the age of Donald Trump. Lieu's personal Twitter account (@TedLieu) had about 10,000 followers at the beginning of the year; he's now north of 300,000. (His more sedate official account, @RepTedLieu, has a piddling 42,000.) Kathy Griffin calls him a "rock star." The Washington Post — which profiled Lieu in its Style section — reports that his appearances on national and local news programs have increased massively since Inauguration Day.
Was it inevitable, then, that, having dispensed with "When they go low, we go high" — Lieu told the Los Angeles Times, "My view now is that when they go low, we fight back" — Lieu would find himself nearly as disreputable as the object of his ire?
In May, Peter Smith, an 81-year-old Republican operative from Chicago, was found dead in a Rochester, Minn., hotel popular with patients of the Mayo Clinic. His death was determined to be a suicide, caused by "asphyxiation due to displacement of oxygen in confined space with helium." That accorded with the scene. Smith was discovered with a bag over his head and a helium source nearby, and he had placed a file of documents and a suicide note on a table. A hotel worker reported that Smith told him, the day before his death, "Tomorrow is my last day."
Lieu's response to a president he does not like has been to become vulgar, foolish, dishonest, and conspiratorial.
Earlier this month, after public records revealed that Smith killed himself shortly after speaking to the Wall Street Journal about Hillary Clinton's missing e-mails, and that he had been in touch with former national-security adviser Michael Flynn, Smith's death became for elements of the Left what the death of Democratic National Committee staffer Seth Rich has been to the most feverish elements of the Right. Then, last week, Ted Lieu tweeted: "You don't need to be a prosecutor to know that someone writing NO FOUL PLAY WHATSOEVER in connection with a death seems awfully suspicious." He also retweeted Journal reporter Shane Harris, who had written: "When I spoke to Peter Smith I had no indication that he was ill or planning to take his own life."
Back to Lieu's Law: In fact, in politics, unlike in physics, there are no iron laws governing conduct. There are choices, good and bad, but always freely made. Congressman Lieu's response to a president he does not like has been to become vulgar, foolish, dishonest, and conspiratorial.
Now, who does that sound like?
READ MORE:
Anti-Trump Overreach Could Backfire
Trump's Handshakes and the Personalization of Politics