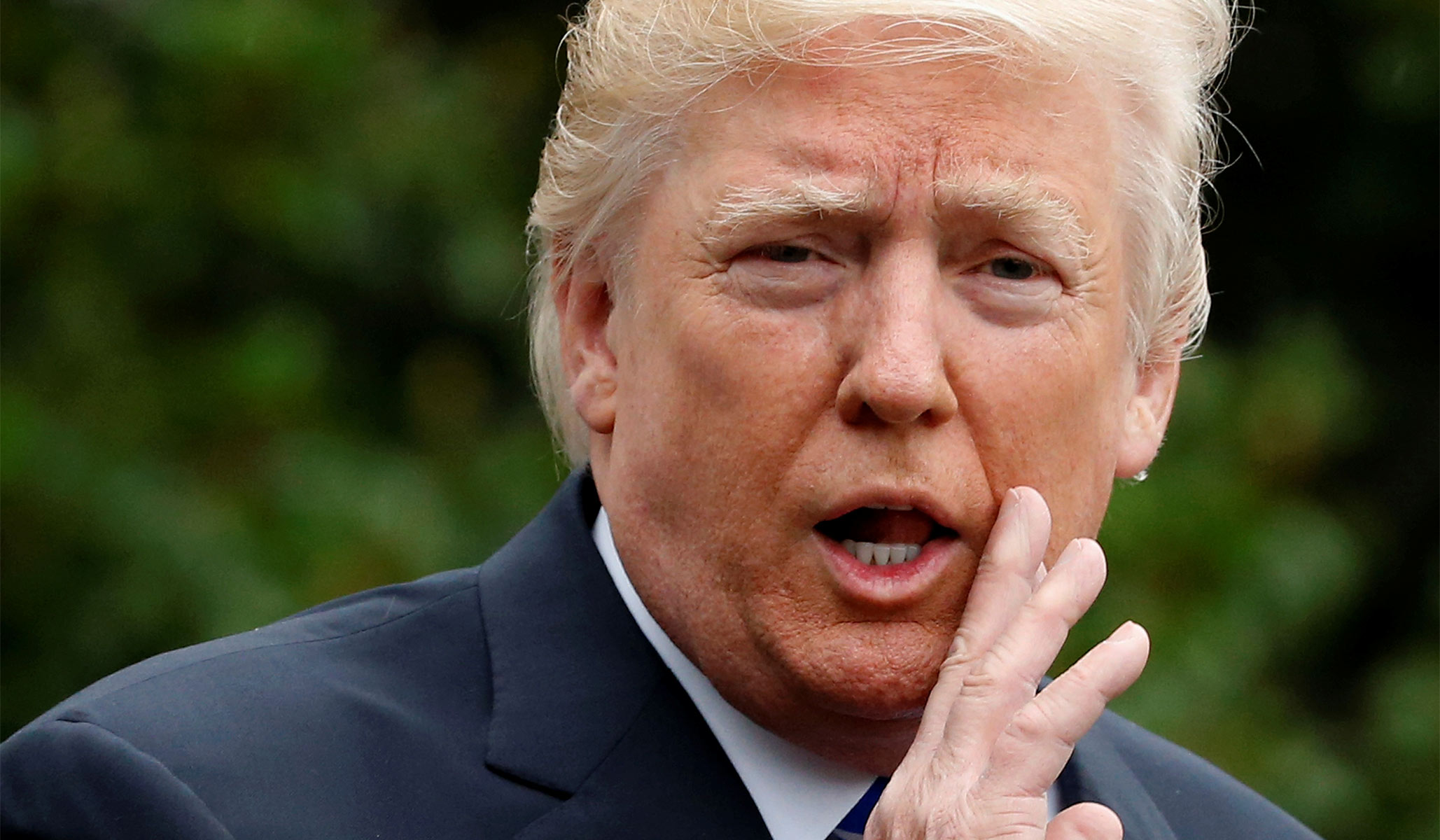 Trump's White House is always moving but rarely getting anywhere.
One of the biggest obstacles to the agenda of President Trump is Donald Trump himself.
Start with the perception that several cabinet members are on the verge of dismissal or departure, just six months into his presidency. For three days, Trump publicly fumes about Attorney General Jeff Sessions being "VERY weak" when it comes to investigating leaks and prosecuting his 2016 rival. While speaking at the Boy Scout Jamboree, the president threatened to fire Health and Human Services Secretary Tom Price if the Senate GOP could not pass an Obamacare repeal. Secretary of State Rex Tillerson, according to sources who spoke to CNN on condition of anonymity, is so frustrated he may quit before serving a year.
National Security Adviser H. R. McMaster and Trump aren't getting along, according to anonymous sources cited by Axios. The Daily Beast, also citing anonymous sources, reported in May that Trump wants to bring back McMaster's short-lived predecessor, Michael Flynn.
Then there are the sudden public shifts in legislative strategy. In a 36-hour span, President Trump tweeted out that Republicans should pass a simple repeal of Obamacare without legislation to replace it; then he urged them to "let ObamaCare fail and then come together and do a great healthcare plan," and then he went back to urging passage of a replacement bill: "Republicans never discuss how good their healthcare bill is, & it will get even better at lunchtime." There's little time to implement the strategy because the strategy changes every twelve hours.
This all comes as White House press secretary Sean Spicer resigns and the new communications director, Anthony Scaramucci, tells reporters "I'm going to fire everybody" if that's what it takes to stop leaks. There is widespread speculation that Scaramucci could replace chief of staff Reince Priebus, who has been rumored to be on the verge of an involuntary departure from the White House since the administration's first day.
Among the more frustrating moments of Spicer's brief tenure was the one-hour warning he was given about the president's decision to fire FBI director James Comey, and the difficulty of the president going out the next day and contradicting the official statements of his own White House about the rationale for firing Comey.
Trump allegedly wants to fire special counsel Robert Mueller, and if Deputy Attorney General Rod Rosenstein refuses an order to fire Mueller, Trump could well fire Rosenstein, too. Wednesday he fumed on Twitter: "Why didn't A.G. Sessions replace Acting FBI Director Andrew McCabe, a Comey friend who was in charge of Clinton investigation but got big dollars ($700,000) for his wife's political run from Hillary Clinton and her representatives. Drain the Swamp!" Presumably Trump wants McCabe removed from the FBI entirely.
Wednesday morning, President Trump announced, also via Twitter, a sweeping change in the Department of Defense policy on transgender individuals. "The United States Government will not accept or allow Transgender individuals to serve in any capacity in the U.S. Military," Trump wrote. Secretary of Defense James Mattis is on vacation this week; Captain Jeff Davis of the Navy, a Pentagon spokesman, referred all questions about the new policy to the White House.
At what point does a president become too erratic to function?
Does the president walk around the White House, wondering why all these bad things keep happening to him through no fault of his own? Does he see himself as a lone, tortured strategic genius constantly held back by the incompetent staff around him? Or can he realize that some of the problems of his White House stem from his own behavior and decision-making?
If President Trump wants the rest of his presidency to be better and more productive than the first six months, he will have to make some changes — not to his staff, and not to his policies, but to himself.
If there are particular tax cuts or infrastructure projects that Trump considers make-or-break for the legislation, he should spell them out and explain why the specific ideas are so important.
The long and difficult road to repealing Obamacare demonstrates that the president had little familiarity with the details of the legislation and even fewer clear priorities; he wants to sign a bill and be able to boast that he did it. On tax reform and infrastructure, which the White House had called its next major goals, the president may need to spell out which provisions he thinks are high priorities. He has a bully pulpit and is sometimes pretty good when he puts his mind to it. If there are particular tax cuts or infrastructure projects that he considers make-or-break for the legislation, he should spell them out and explain why the specific ideas are so important.
To work better in the fights ahead, the White House communications shop might need more than an hour's warning about major decisions. If Trump wants to make a sweeping change in defense policy, he may want to make sure someone at the Pentagon is ready to explain and defend the policy change.
The president might need to stop winging it in interviews. The communications director and press secretary could probably use a heads-up if the president feels like criticizing one of his own cabinet members in an interview with the New York Times.
The president's Twitter account can be a powerful tool, one that is probably best not focused on the face of Mika Brzezinski or the question of who will replace Greta van Susteren on MSNBC.
A common bit of self-help advice is "if you keep doing what you're doing, you'll keep getting what you're getting." If President Trump is genuinely dissatisfied with the results of his presidency so far, he will have to contemplate changing the way he handles his duties.
Presuming, of course, that a 71-year-old man can significantly change the way he operates.