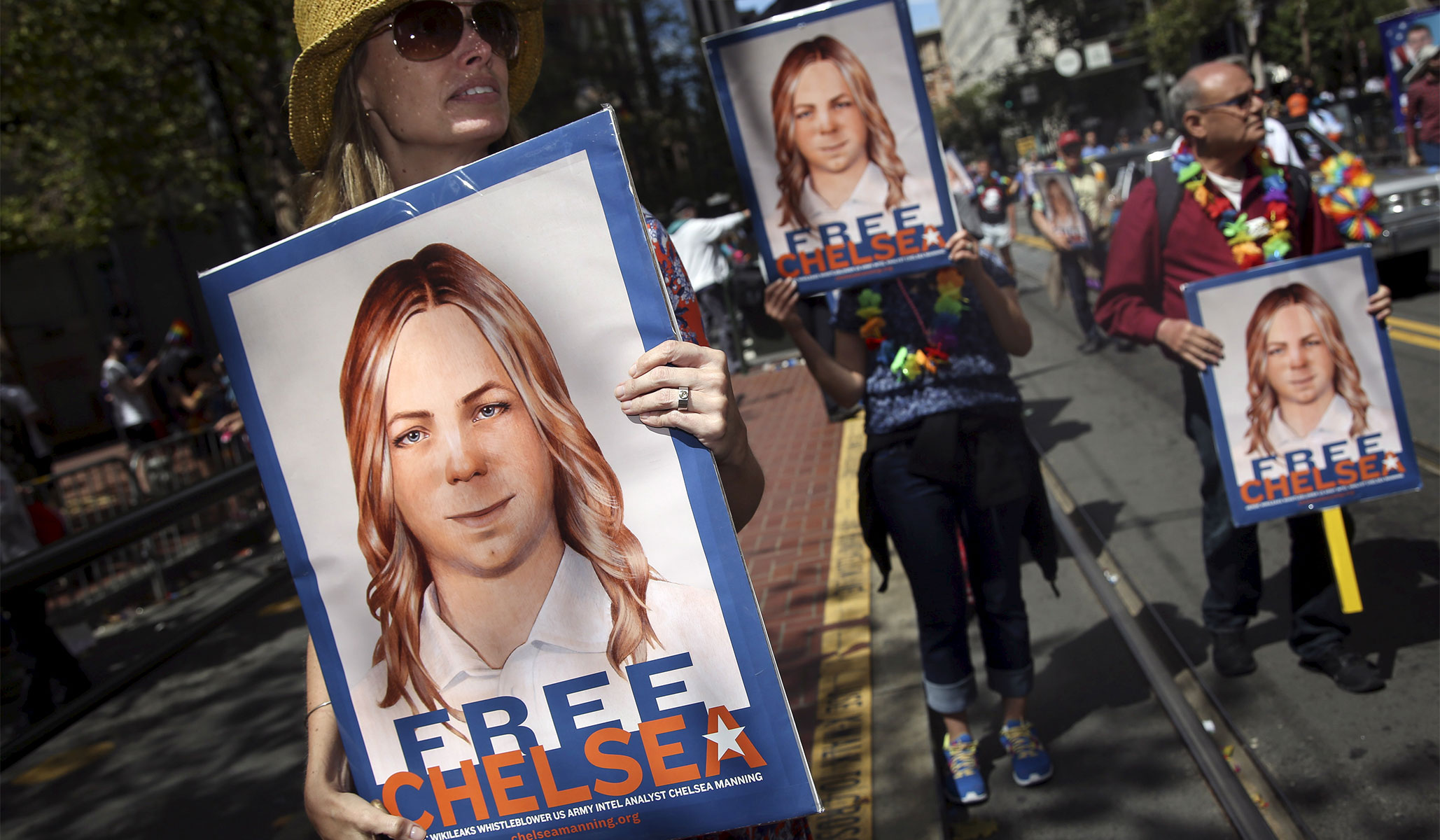 For some on the left, revolutionary identity politics covers the worst of sins.
If Bradley Manning had stayed Bradley Manning, would he still be in prison? If Bradley Manning had stayed Bradley Manning, would he be basking in celebrity, enjoying fawning photo shoots? Given the magnitude of his crimes, I dare say that he'd be in prison today if he still identified as a man. Then he'd be nothing but what he actually is, a garden-variety traitor — a faithless soldier who should count himself fortunate not to face capital punishment.
It's worth remembering what he did. He disclosed, in a gigantic document dump, more than a million pages of classified information, including information about American military operations, American diplomacy, and American allies. The Obama administration was forced to rush to safety foreign friends whom Manning had outed as helping Americans. He broke faith with every relevant provision of the Army's warrior ethos — he abandoned his mission, he actively aided the enemy, and he acted with stunning disregard for the lives of his comrades. He did so because, acting on his own authority, he decided he wanted to stimulate "worldwide discussion, debate, and reforms."
To be clear, this wasn't whistleblowing. He didn't identify a specific wrong and expose it responsibly while taking care to minimize the harm of disclosure. He just disclosed documents without regard for their contents. He didn't know if anyone would die because of his actions. He didn't know to what extent vital missions or programs would be compromised. He just did what he wanted to do. There was no honor in his action. None.
And now look at him. He's the subject of a fawning Vogue profile and photo shoot:
Chelsea Manning will be featured in Vogue magazine's September issue https://t.co/zARmVhCca5 pic.twitter.com/SMRR2EAhLT

— CNN (@CNN) August 10, 2017
These kinds of celebrations are not just morally abhorrent; they're deeply polarizing. They represent the idea that the rule of law — even when the subject is murder or treason — is contingent upon the politics and racial or gender identity of the lawbreaker. Americans on opposing sides of the ideological divide are given a signal — that when it comes to advancing the radical cause, not even human life or national security can stand in the way. There are no lines that can't be crossed.
This is what radical identity politics does. It twists and distorts normal moral analysis. It declares that the ends justify the means, and then goes even farther to say, "By any means necessary." This is an unacceptable ethic not just for a constitutional republic but for any form of civil society. Allegedly "mainstream" media outlets, politicians, or organizations that honor or respect the likes of Manning, Rivera, or Shakur cover themselves in shame.
READ MORE:
NR Editorial: The Injustice of Commuting Manning's Sentence
Chelsea Manning Is Not a Whistleblower
Chelsea Manning and the Problem with Pronouns
— David French is a senior writer for National Review, a senior fellow at the National Review Institute, and an attorney.