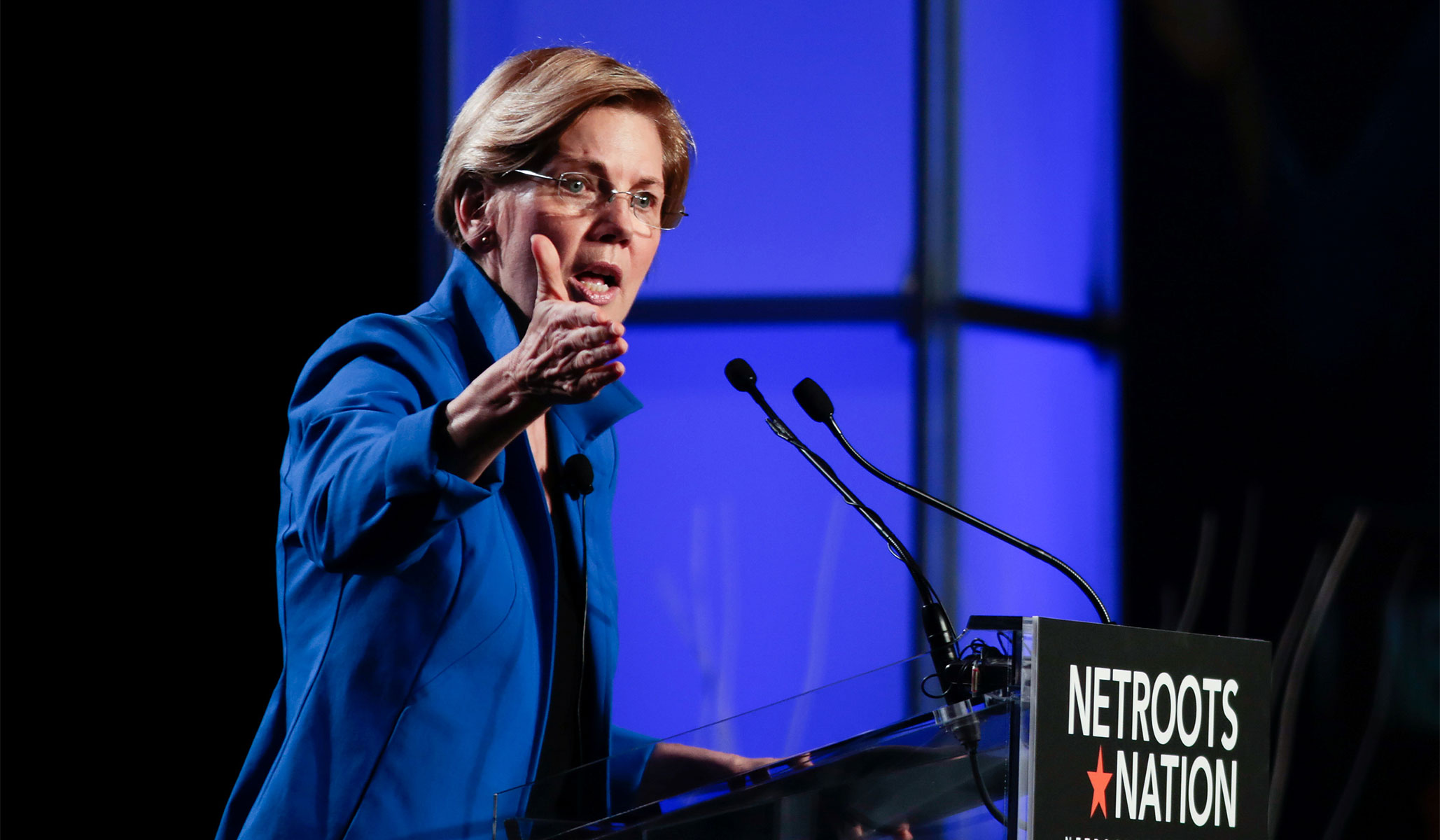 Obama moved the party to the left, but not far enough, progressives say.
While left-wing activists were brawling with white supremacists in Charlottesville this weekend, another political battle was taking place in Atlanta. At Netroots Nation, an annual gathering of the nation's progressive leaders, some Democratic lawmakers declared war against their own party's centrists.
Senator Elizabeth Warren, a likely Democratic candidate for president in 2020, proclaimed that Democrats would not be "going back to the days of welfare reform and the crime bill." She sneered that Democrats used to tell party members to "give up, keep your heads down, be realistic, act like a grown-up, keep doing the same old same old." But in the wake of Donald Trump's victory, the party's left wing has won control, she said, and is now of the soul of the modern Democratic party. "We don't have to tip-toe anymore. We don't have to hedge our bets."
She then proceeded to reel off a host of issues around which she sees Democrats uniting: support for "undocumented" immigrants, single-payer government health care for all, debt-free college, federally funded pre-kindergarten, and a $15-an-hour minimum wage.
This kind of left-wing chest thumping stirs rueful memories for many centrist Democrats. It was precisely their party's excessive attachment to special-interest groups that made Democrats lose three straight presidential elections in the 1980s, leading to the rise of Bill Clinton's "New Democrats." Clinton won back-to-back victories as president, in part because he moved to the center and pursued successful strategies such as welfare reform and tax cuts for businesses.
Centrist Democrats say their current political plight requires a similar move toward the middle, not the left. A few days before Netroots Nation, a number of prominent party elders including Colorado governor John Hickenlooper and New Orleans mayor Mitch Landrieu announced they were forming a group called New Democracy to promote their ideas. Former Kentucky governor Steve Beshear told the Associated Press that Democrats "cannot be a successful national policy by winning races only on our two coasts." They have "to get back to the basics and appeal to folks all over our country."
Independent observers echo Beshear's analysis. Yesterday, Dan Balz, the chief political writer for the Washington Post, wrote:
Democrats can win the popular vote for president by rolling up huge margins in California and New York and big cities elsewhere, as they did in 2016. They can't win the House and particularly the Senate that way. They need a message that appeals beyond their base, and they need more candidates who can compete effectively in less friendly territory.
That grim reality was spelled out by David Wasserman, a writer for the Cook Political Report, who wrote this week that geography and the clustering of Democrats in urban areas have given Republicans an edge in trying to keep control of both the House and Senate:
Even if Democrats were to win every single 2018 House and Senate race for seats representing places that Hillary Clinton won or that Trump won by less than three percentage points — a pretty good midterm by historical standards — they could still fall short of the House majority and lose five Senate seats. . . . They're starting from a truly historic geographic disadvantage, even with the political wind at their back.
It's Democrats' left-wing tilt that voters revolted against throughout the Obama years.
In a subsequent tweet, Wasserman warned that Democrats are deluding themselves if they think the current political map favors them: "If more than 50% of your '16 voters lived in just 9 states & 94 of America's 3,141 counties . . . you're probably not a healthy national party.
The signs of rot have been apparent for years. Barack Obama did win two terms as president, but under his watch, Democrats lost more than 1,000 seats in state legislatures, 63 House seats, 12 Senators, and 15 governorships.
If Donald Trump were to spectacularly belly-flop as president, the political calculus could change. But Democrats are delusional if they now think that moving to the left will improve their prospects. It's their left-wing tilt that voters revolted against throughout the Obama years. Putting all their bets on a Trump tailspin is precisely the kind of wishful wager that an old casino operator like Trump was always glad to see foolish gamblers make at his tables.
READ MORE:
Democrats Who Want to Be President Back Away from Israel
It's Time to Retire the 'Progressive' Label
The Left's 'Hamburger Problem' Is Not Going Away