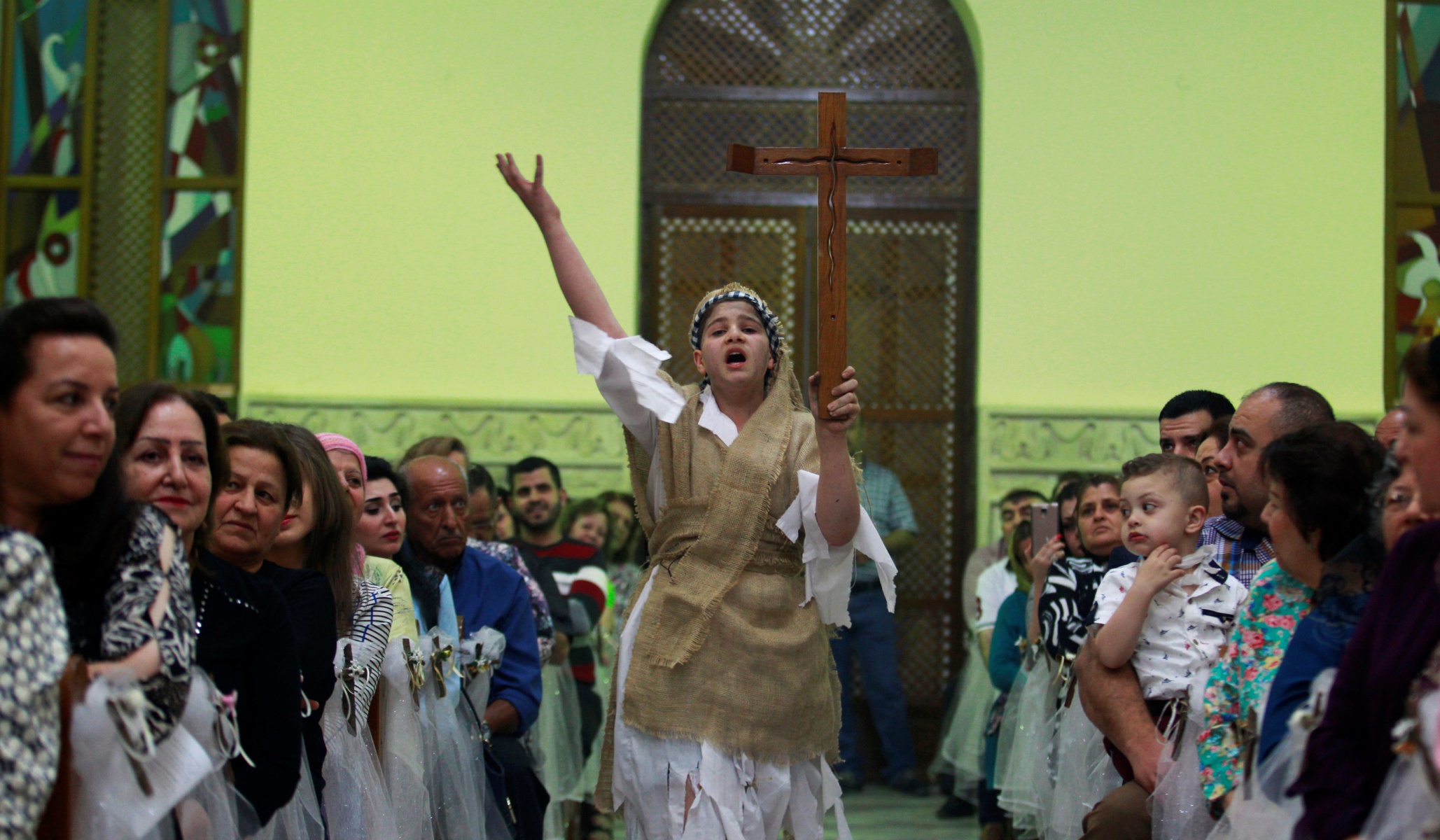 Contributing to the future of the faith in the Kurdistan Region
St. Louis, Mo. — Maybe it was the Iraqi-born bishop praying the Lord's Prayer in Aramaic, the language that Jesus spoke.
Maybe it was being in the same venue here where (Saint) Pope John Paul II spoke in 1999.
Maybe it was my whining about multiple silly inconveniences and humiliations earlier in the day.
Maybe it was the men visibly moved by being members of an organization that is doing real good in the world.
Maybe it was because, as I was listening to the annual report being delivered at the Knights of Columbus annual convention, I couldn't help but think — and not for the first time — "solution." These men, many of them sitting beside their wives, some of them with children and grandchildren, are the solution, perhaps to just about every problem we have. They look around and see need and work to meet it; they're not waiting around for someone else to solve the problem. They've taken to heart the Beatitudes and are men on mission.
Which is why they managed to get me to open my wallet and part with $2,000. That's about the amount of money it took the country of Hungary to move a family back to the town of Teleskov on the Nineveh Plain. And now the Knights are following the lead and doing the same to rebuild the neighboring town of Karamdes in cooperation with the Archdiocese of Erbil in Kurdistan, which has been the temporary home to most of the Christians who fled the so-called Islamic State, or ISIS. In many ways, if these Christian-majority towns do not take on renewed lives, with some of the history and tradition and people who were there, one of ISIS's stated goals, to exterminate Christianity, would have been successful, at least in those locales.
For $2 million, the people of Karamdes can have a future — first of all, getting assessments of the extent of the damage down to their houses and vital supports for rebuilding (something most of the families will do themselves). This initiative is an extension of the Knights Christians at Risk relief fund, which has provided $13 million dollars to help the Christians and other religious minorities in Iraq and Syria. The Knights of Columbus, who besides being the largest fraternal order of Catholic men in the world, runs an insurance agency, take nothing for overhead. All donations go to those in need. I've been in the room when calls have come from Iraq for specific requests, often down to the last bed and desk.
The Knights of Columbus take nothing for overhead. All donations go to those in need. I've been in the room when calls have come from Iraq for specific requests, often down to the last bed and desk.
One of the most piercing blows for a family is to not know how to provide for a child's future — getting him an education and the possibility of putting it to use in the world. What the Knights have contributed in Erbil and now Karamdes is an effort in keeping hope alive and making flourishing possible again. I'm calling it the #SavetheChristians challenge — a few Church and school and other community groups and friends getting together wouldn't be a tremendous sacrifice, but it would be a significant gift in the lives of the persecuted.
Learning of the Karamdes plan and listening to Anderson's address brought me back to Election Day this past year. Faced with two bad choices as far as I was concerned, and living in a state where the election outcome would be a win for Hillary Clinton, I did something I never thought I would do: I wrote in a candidate. And so Carl Anderson, as it happens, was my choice for president. Someone with executive experience and moral character who knows the world around him and works to make a constructive contribution to it with the resources at his disposal. There's leadership and vision there, and that's all what we should be looking for in our political leaders. Not saviors, but men and women who, knowing they are not the ones we have been waiting for, are motivated by good stewardship — gratitude for the gifts they have been given.
It's notable that in his annual address to the Knights, the additional initiative to save 1 million lives in ten years by placing 1,000 ultrasound machines in pregnancy-care centers was almost a footnote. Not because it is not a priority but because the good news about good works were overflowing.
In fact, there were three moments during his address when Anderson's emotions were clear: when he spoke about the ultrasounds, Karamdes, and trust in the Sacred Heart of Jesus. Which may be all you need to know about the Knights of Columbus and what's most important — certainly most significant about their presence in the United States and the world today.
In talking about Iraq, Anderson quotes Winston Churchill in 1940: "Put your confidence in us. . . . We shall not fail or falter, we shall not weaken or tire. We will give you the tools and together we will finish the job." You get the impression, spending a few days around these men, that running the race and being received as a good and faithful servant in Heaven after a life well lived — complete with the sacrifices of love — is what they're aiming for. And so they were good company here, and that $2,000 is in good hands. The lesson of the Knights is that indifference is never an appropriate option. We're never powerless to love.
READ MORE:
Quitting "Angry & Dumb" in U.S. Politics
Opportunity & the American Social Contract
Enough with the 'Same Old Love'