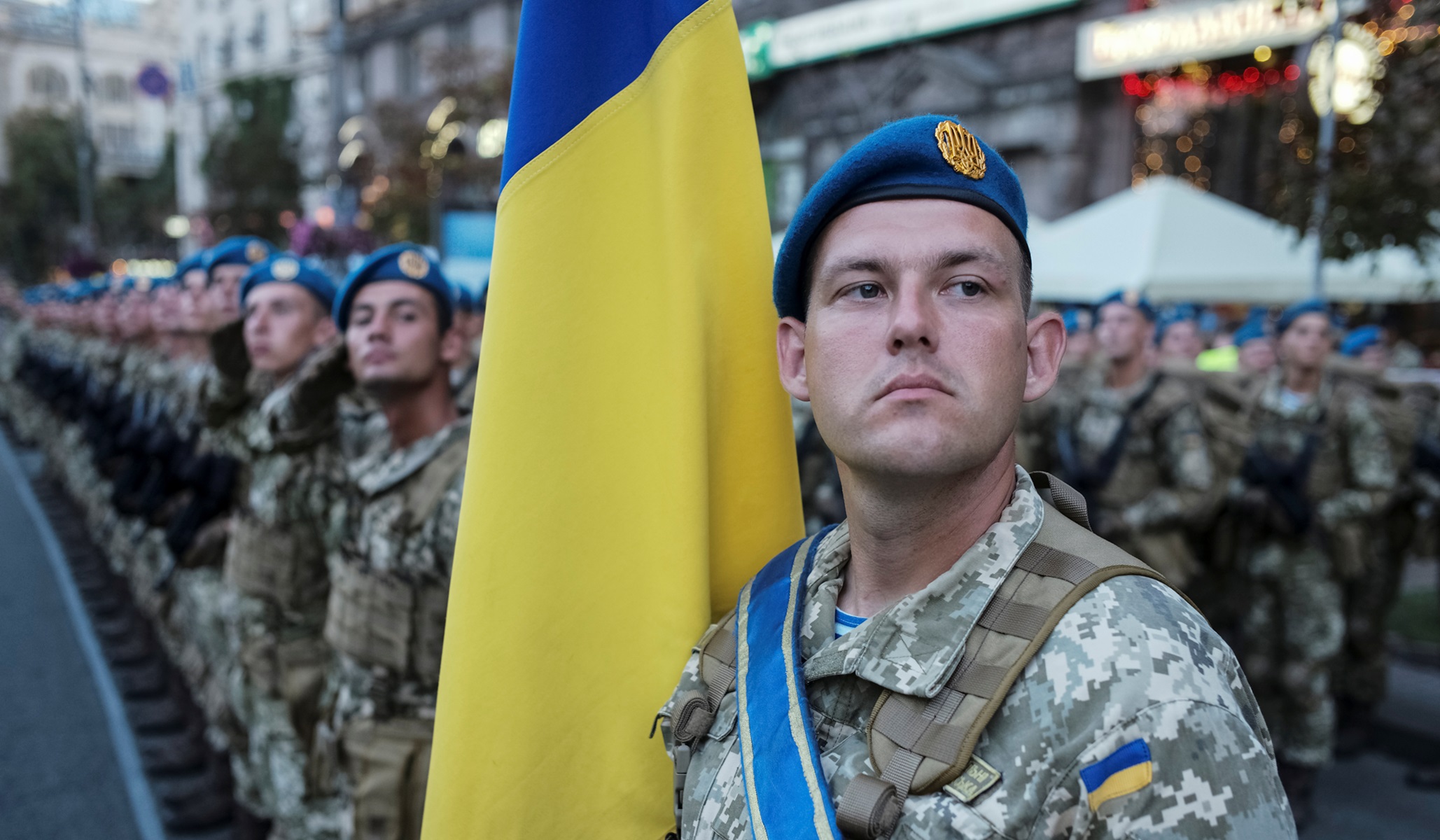 The attempt to reach Western standards of military preparedness follows from the Maidan Revolution of 2014.
The road that runs between the east Ukrainian towns of Marinka and Krasnogovorvka is called, ironically, "the road of life." It is lined with red-and-white signs with skulls and crossbones warning drivers of mines. Locals say that sniper fire from nearby pro-Russian separatist positions targets vehicles at night.
It has been more than three years since the Ukrainian army recaptured these areas in eastern Ukraine and established a shaky cease-fire line with the separatists. After February 2015, when the Minsk II agreement was signed by Ukraine, Russia, and the Donetsk and Lugansk People's Republics, this conflict was supposed to wind down. Instead, it remains very much hot. Every month civilians and soldiers are killed on both sides. Over several days, sleeping adjacent to Ukrainian positions along the line, I heard and witnessed heavy gunfire and heavier weapons nightly. One man was wounded nearby.
This war is on Washington's radar. In July, Secretary of State Rex Tillerson appointed former NATO ambassador Kurt Volker as a special envoy to Ukraine. The Pentagon is also mulling sales of anti-tank weapons to the Ukrainians, according to reports. The U.S. and partner countries including Canada and Poland have been training Ukrainian troops since 2015, as part of a program called the Joint Multinational Training Group–Ukraine. In conversations with Ukrainian soldiers on the front line, with officers and commanders at the brigade level, and with experts and observers in Kiev, I heard the story of Ukraine's attempt to transition its army to Western standards. It is part of the larger revolution that took place in 2014.
In the first months of 2014, a mass protest in Kiev's Maidan square forced Ukraine's pro-Russian president, Victor Yanukovych, to leave office. That set off a rebellion in the Russian-speaking eastern part of the country, and Russia intervened to annex Crimea. Since then, 10,000 have died in the fighting. Eastern Ukraine's separatist mini-states look set to turn out like South Ossetia or Abkhazia in Georgia, two other Russian-supported statelets. From the Kremlin's point of view, these countries in the former Soviet bloc have been pried away by the West. In recent years the narratives have hardened. Ukraine has rallied around its flag, and its once fractured and weak military has withstood the test of war.
Ukraine wants to refit its army along NATO standards by 2020. Many of its weapons and vehicles are aging. I met one man with an AK-47 from 1964, which he lovingly oiled and cared for on the front. But 1960s-era weapons aren't the future. NATO-compatible rifles and armored vehicles are. In addition, the army wants to transition from a Soviet-era mentality of massive units to providing more independence to non-commissioned officers.
Mykhailo Samus, deputy director of international affairs at the Center for Army, Conversion, and Disarmament Studies in Kiev, says that we should understand Russia's stance on Ukraine through the eyes of the old KGB: "It is a KGB strategy. . . . They always used different instruments — the military was always only one part. . . . When we go back to 2013–2014, [we see see that] the main goal was to destroy the current Ukrainian state." The purpose of Russian support for the separatists is to use them against Ukrainian attempts to join NATO, the European Union, or other Western agreements.
For now the Ukrainian men must make up for their lack of some state-of-the-art weapons with morale and good spirits, something they seem to have in abundance.
As for weapons, many say that anti-tank missiles are not the main need. "We have a deficit in UAV [unmanned aerial vehicles], intelligence systems, systems of electronic warfare, because Russia has a very advanced system," Samus explains. On the front line, that was clear when soldiers were warned about drones flying overhead and we were told to go inside their covered sandbagged positions. Units of the Ukrainian armed forces lack enough basic items, such as night-vision technology, and also modern helicopters such as Blackhawks to medevac the wounded.
Lieutenant Colonel Aleksander Samarsky, deputy commander of the 72nd mechanic brigade in Avdiivka on the front, agrees that the Ukrainian army needs a long list's worth of new technology. He's in charge of moral and psychological support for the troops and civilians in the town and adjacent areas and describes efforts to combat separatist propaganda. The Ukrainian army can use simpler methods, such as sending soldiers to repair classrooms hit by shelling. But on the front, more is required. "We need battle drones, we need Reapers. We have other weapons, but Apache [helicopters] would be good, and personal combat computers are needed to see maps and coordinate troops. Scopes. Everything the separatists have, such as new-generation anti-tank [weapons], intelligence."
For now the Ukrainian men must make up for their lack of some state-of-the-art weapons with morale and good spirits, something they seem to have in abundance. This is an army that has faced deep challenges in three years on the front, including low pay (around $600 a month) and a constant trickle of casualties that goes unnoticed by much of the world. It has succeeded in turning the corner on many reforms and in freeing themselves from two decades' worth of Soviet structures that hampered it. Their next step would complete the revolution that began on the Maidan three years ago.
READ MORE:
— Seth J. Frantzman is a researcher, a Jerusalem-based journalist, and an op-ed editor of the Jerusalem Post.