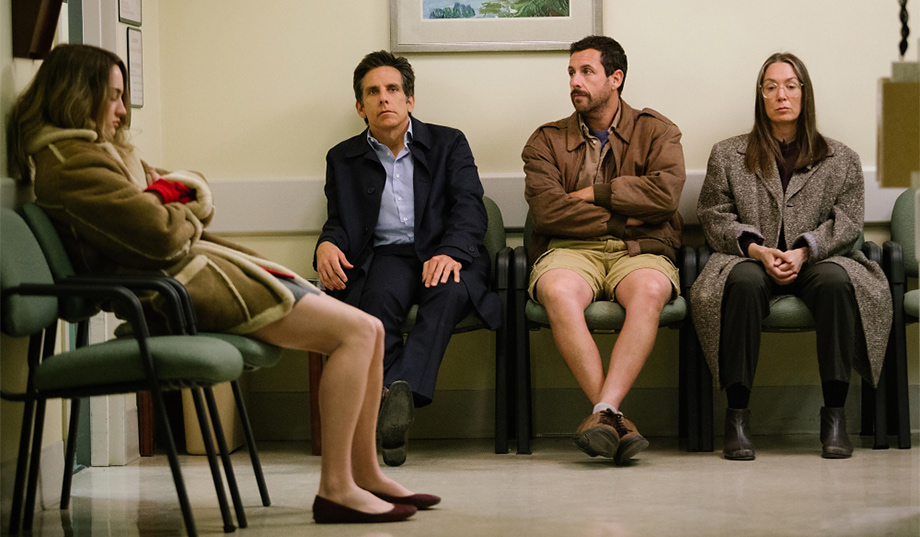 Noah Baumbach's latest movie is touching, hilarious, and boisterous.
If you didn't know them, you might consider the Meyerowitz family to be members of the bicoastal cultural elite. They own a large home, apparently an entire townhouse, in New York City. The dad is a sculptor and longtime teacher at Bard, an elite East Coast college. One son is a wealthy financial manager. Family conversation is sprinkled with references to Cindy Sherman and Thomas Mann. Some of their acquaintances are famous. Mom refers casually to an "ex-lover of mine, Willem Dafoe." Dad is eager to tell you about his connection to Sigourney Weaver.
But the family dynamics exposed in the beguiling, painfully funny new film The Meyerowitz Stories (New and Selected) are powered by sheer misery. Their sources of unease are ones that neither the Meyerowitzes nor anyone else can shake: They are members of a family, and they are constantly being reminded of their relative status. Though the film isn't one of those didactic attempts to explain the red-state/blue-state culture chasm, in an oblique way it's a wonderfully unifying exercise. These people's lives are filled with the kind of details that make others jealous — a Volvo, fancy college affiliations, a glittering opening-night party at the Museum of Modern Art.
But the Volvo is old and worn-out, the college ties bring no joy, and the MoMA party turns out to be an embarrassing disaster. "Everybody thinks they're losing" was the waggish, and perspicacious, insight of Will Rahn. Everyone in this family — from the ne'er-do-well older son (Adam Sandler) to the bicoastal fancy-pants money-manager brother (Ben Stiller) to their father the little-regarded sculptor (Dustin Hoffman) — feels like a loser. Cheer up, Appalachia: Big-city artsy types aren't looking down their nose at you. They're too busy screaming at each other, having psychological breakdowns, and being humiliated in a thousand ways.
The film, by writer-director Noah Baumbach, is part of a strong slate at this year's New York Film Festival, but if you can't make it to Lincoln Center, it'll be on Netflix starting October 13. New York is the ideal place for the film to meet audiences, but, like Seinfeld, it has a specificity that's universal. These could be your brothers, your sister, your dad, your dad's fourth wife.
Hoffman, who seems likely to score an Oscar nomination as the sad-sack Harold, spends the movie passive-aggressively grumbling in a low monotone. Every day is Festivus around this house, and Harold has a lot of grievances to air. A friend (Judd Hirsch) whose work he thinks is trivial is now a celebrated artist, the man whose fabulous exhibition opens at MoMA to much buzzing from celebrities and swells and the New York Times. Harold and Danny, who plays a little piano but has never really worked and has just been dumped by his wife, turn up for the party in tuxedos and discover to their mortification that everyone else is dressed down, in I'm-too-rich-to-care jeans.
Danny, meanwhile, wounded by life in general, is baffled by the smutty art films made by his college-age daughter (Grace van Patten) even as he is constantly being reminded of his inferiority, in their father's eyes, to the financial wizard Matthew. Matthew is the only conversational subject that seems to please the old man. Harold's most treasured sculpture is named "Matthew." His very computer password is "Matthew." Yet when Matthew comes to the family home from Los Angeles while Harold is considering selling it, it's evident that his relationship with his dad is as poisonous as Harold's relationship with anyone else. Attempting to take his father out for lunch, Matthew finds things just sort of fall apart. They wind up leaving without a bite being eaten because Harold incorrectly thinks the guy next to him in the eatery walked off with his jacket. Matthew winds up screaming at his dad as he drives away. Lots of scenes in this movie lead up to frustration conveyed at the top of someone's lungs.
Lots of scenes in this movie lead up to frustration conveyed at the top of someone's lungs.
Harold falls gravely ill. Baumbach places many of his most sharply funny scenes in the hospital, where a doctor carefully explains why she has to put Harold in a coma — then says with her next breath that she's going on vacation for three weeks. A nurse the family likes is inexplicably replaced by one who doesn't seem to grasp the urgency of the situation. The toxic brew of infections cooked up in the hospital could itself kill Dad. When the family receives end-of-life counseling, you can sense exactly how they feel: They love their dad, they realize their lives would be a little bit easier if he passed, they feel guilty about that . . . it's much easier for the brothers to just have a fistfight outside, which they do. Meanwhile, their sister Jean (drolly played by Elizabeth Marvel) has a mini-crisis of her own, and no one quite knows what to do about their drunken stepmother, Harold's latest wife (a hilarious Emma Thompson, cunningly disguised).
Mike Nichols, the director of The Graduate and of caustic films such as Carnal Knowledge and Who's Afraid of Virginia Woolf?, told Baumbach, after seeing his similar 2005 dramedy The Squid and the Whale, "You remind me of why I got into the movies in the first place: revenge." Harold Meyerowitz bears more than a slight resemblance to the father played by Jeff Daniels in the earlier film, a failed novelist who spoke in a grumbly monotone. Yet, deeply personal as it is, The Meyerowitz Stories will strike chords that resonate with those who (like me) come from families that don't resemble the Meyerowitzes in any way. As three generations blame-shift and grouse and pass neuroses from person to person like a cold, the film is so piercingly well-done — so vivid and odd and laugh-out-loud rueful — that at times I almost forgot I wasn't watching a documentary.
READ MORE:
American Made: Fabricating History to Attack President Reagan
Last Flag Flying: Pro-Military, Anti-War
Battle of the Sexes: I Am Woman, Hear Me Bore