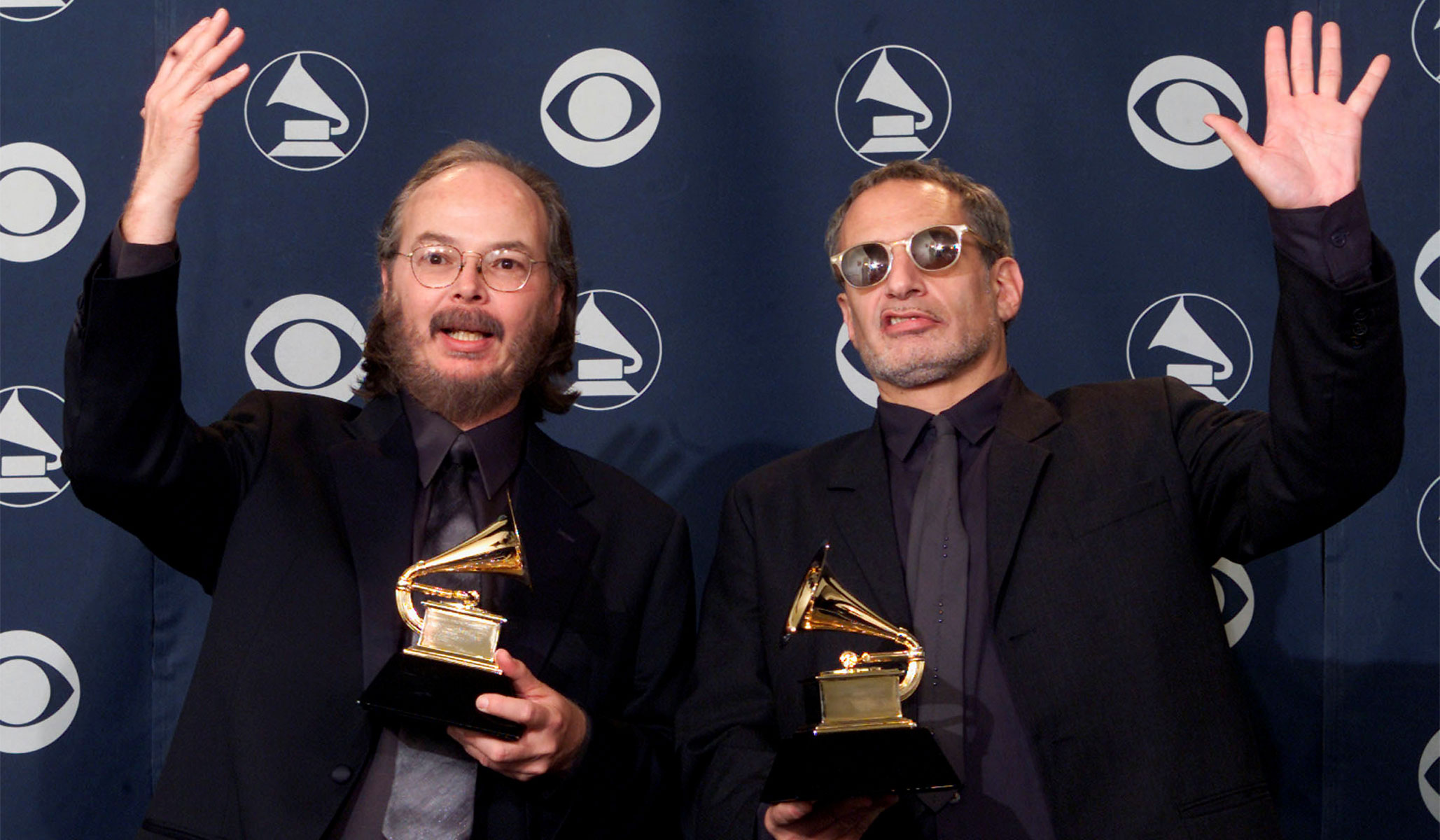 With Walter Becker's death on Sunday, jazz-rock's unlikeliest superstars are no more. They will be missed.
'Polished through countless takes," wrote the New York Times's Jon Pareles in his weekend obituary of Walter Becker, "Steely Dan's musical surfaces were sleek and understated, smooth enough to almost be mistaken for easy-listening pop."
Ouch. No one since about 1965 has wanted to take up, or be assigned, residence in the easy-listening bin. And yet Steely Dan, in essence a two-man jazz-rock partnership between Becker and Donald Fagen, filled out with various backing members, certainly wasn't difficult listening. To rock's rough edges Becker and Fagen brought a belt sander, and to jazz's dreamy meanderings they brought a field sobriety test. Leave it to other bands to churn up generational anthems. Steely Dan preferred to go with mordant pen portraits of colorful Runyonesque lowlifes, fare like "Rikki Don't Lose That Number" and "Kid Charlemagne." If anything was hard about listening to these songs, it was maintaining attention lest they fade into pleasant background music as you chatted intently in your dorm.
The craftsmanship was sublime, but tightly controlled. Becker, who died Sunday of undisclosed causes at age 67, was "a master of musical understatement," as NPR put it. A running joke in the comic Broadway show (and now Netflix special) Oh, Hello has it that two crotchety old Upper West Side pals who fancy themselves hip are inveterate, impassioned Steely Dan fans. Reckless abandonment was not what you loved this band for, even if on their most fully achieved album, 1977's Aja, they did allow themselves to jam out a bit.
Becker and Fagen forsook touring for most of their prime years in the 1970s, preferring to make music exclusively in meticulous, heavily produced studio sessions. Some 42 musicians participated in the making of Gaucho, the 1980 album that proved to be the band's unmaking, at least until Becker and Fagen reunited for a tour in 1993. "There is a level of perfection, polish, sophistication, and abundance of detail and structural stuff that [Fagen] wants to hear in his music that I sort of ran out of patience to do," Becker told Time Out New York in 2008.
Yet if it's the wreckage of authentic suffering you crave in a rock (or jazz) outfit, Steely Dan's discography has that, thanks to Becker. Fagen, upon his friend's passing, spoke vaguely of Becker's childhood misery back in Queens. Like many other rock stars, Becker was separated from his mother far too young, at age five, when she moved to her native England. His father died when he was 16. When he disappeared for much of the 1980s — whole years went by during which he and Fagen didn't speak — heroin was said to be involved. ("To this day when I read some text that somebody writes about alienation, I always think to myself, Gee, they make it sound like it's a bad thing!" Becker told Time Out.)
Though Fagen, the frontman and keyboard player, was the more publicly voluble of the two — Becker, the guitarist and bass player, hardly ever gave interviews — the pair collaborated on both music and lyrics, to the latter of which Becker contributed a tartness similar to that of John Lennon, his neighbor in the Dakota apartment building on the Upper West Side, where both met catastrophe. (Lennon was famously murdered there in 1980; Becker's right leg was shattered when he was hit by a cab outside the building that same year, shortly after his girlfriend Karen Stanley died of a heroin overdose. Her mother blamed him for introducing her to drugs and sued unsuccessfully for damages.)
Guitarist Denny Dias, an early bandmate, told Rolling Stone that "lyrically Walter's got that biting edge. Donald's not nearly as sarcastic." Becker's cynicism was evidently a scab over a tender spot. "Perhaps being fatalistic about things or being cynical about them in a way expresses the deepest kind of optimism: that you're still disappointed that things are the way they are," he said in that 2008 interview. His "Beautiful Boy" was "Little Kawai," a country-tinged ditty about his then-young son, born to his wife Elinor, from the 1994 solo album 11 Tracks of Whack. After noting dryly that "certain homework was not done" and observing "tiny holes in brand-new windows / from an unknown BB gun," the song's narrator proposes a reconciliatory trip to IHOP:
Maple syrup on french fries

They say it's no good for you.

But you're still growing

Little Kawai

What do they know?

Do they love you?

Not the way that I do

Not the way that I do
Becker's other child, daughter Sayan, portrayed him as something of a kid himself, a free spirit who on road trips would invariably stop in a music store as though it were an arcade or a candy shop, and delightedly futz around with guitars for hours on end. After she'd tell him she loved him to the moon and back, he'd reply, "Girly face, I love you more than that, to the next galaxy." In a farewell letter published by his official website, she added, "your love is shining from the next galaxy." For the rest of us, what shines on is Becker's lithe, urbane artistry.
READ MORE:
Prog Rock: A Noble but Failed Experiment
You May Be Wrong about Billy Joel
Today's Left Would Have Called Elvis's Music 'Cultural Appropriation'