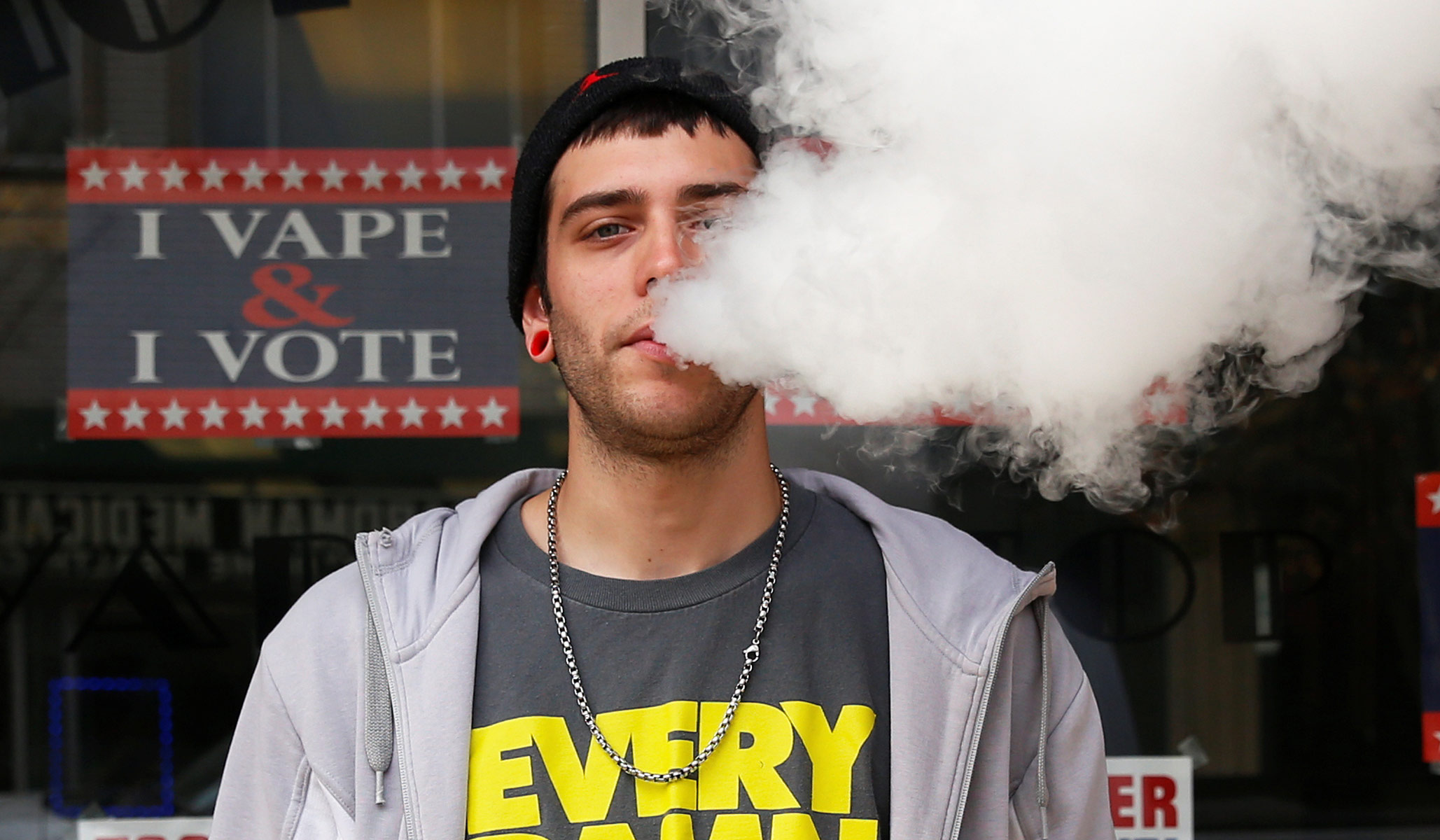 Smokeless tobacco and vapor products are far less dangerous than cigarettes are, but the public-health elite won't admit it.
Last July, President Trump's new FDA commissioner, Scott Gottlieb, announced new approaches to fighting smoking-related death and disease. While not perfect, these tactics represented a sharp break from the government's previous "quit or die" stance on tobacco.
Most important, Gottlieb granted relief to tens of thousands of businesses that sell "vaping" products, which deliver nicotine through an aerosol rather than tobacco smoke, by giving the makers of such products four extra years to complete a Pre-Market Tobacco Application (PMTA) with the FDA. Gottlieb embraced the idea that innovation in non-combustible nicotine products may be the key to helping smokers quit and saving lives — as it's the inhalation of tobacco smoke, not the consumption of nicotine or tobacco itself, that causes as many as half a million preventable deaths from smoking in the U.S. every year.
The new rules requiring PMTAs had been announced by President Obama's FDA after it "deemed" vapor products (which usually contain nicotine, but no tobacco leaf) to be "tobacco products" subject to FDA jurisdiction. The process is unclear (the FDA has yet to issue final guidance on how to complete the application), the cost is prohibitively high (the FDA estimates PMTA costs at $300,000 per application; industry representatives believe it will cost much more), and while the FDA guessed it might receive 1,500 product applications, about 3 million products have already been registered. It's considerably more than the FDA is capable of processing and approving under any circumstance.
While this delay is meaningful and beneficial, it simply isn't enough. It didn't take long for Gottlieb's FDA and its Center for Tobacco Products to announce they would begin a campaign to educate kids about the dangers of e-cigarettes, and the FDA continues to perpetuate deadly misperceptions about the health risks associated with non-combustible tobacco products such as traditional American smokeless products (like Copenhagen and Grizzly) and Swedish "snus" products.
Why question a campaign to protect kids? Because it addresses a nonexistent "epidemic" — and because there is no evidence that vapor products cause significant harm at all, especially taking into account that they almost always substitute for traditional smoking.
A recent paper published in Harm Reduction Journal demonstrates that the explosion of youths' becoming hooked on e-cigarettes, a problem that former U.S. surgeon general Vivek Murthy purported to document at length in a report last year, is nothing but a ruse. The new paper's authors — Riccardo Polosa, Christopher Russell, Joel Nitzkin, and Konstantinos Farsalinos — aren't tobacco-company shills. They are respected researchers and public-health advocates from around the globe whose focus is on fighting smoking-related death and disease, not engaging in an ideological war against nicotine or tobacco companies.
The authors cite the very same government sources Murthy relied upon to reveal his sleight of hand. Murthy conflated the harms of nicotine, tobacco, and smoking — ignoring that, as noted above, cigarettes' biggest dangers come specifically from inhaling smoke. He failed to acknowledge that most teens who have experimented with vapor products, and the tiny minority who use them regularly, primarily use nicotine-free e-liquid; that most youth who experimented with or used e-cigarettes were already smokers; and that as the popularity of e-cigarettes rose, teen-smoking rates declined more sharply than they had been falling previously. Regarding this last item, while correlation doesn't prove causation, in this case it certainly should give pause to policymakers looking to tax and regulate the market for safer products.
An epidemic? Hardly.
The authors conclude that "multiple years of nationally representative surveys indicate the majority of e-cigarette use among U.S. youth is either infrequent or experimental, and negligible among never-smoking youth." Specifically, the Monitoring the Future survey reveals that only 1.7 percent of youth are regular users of e-cigarettes, and the National Tobacco Youth Tobacco Survey shows that 0.6 percent of middle-school and 2.4 percent of high-school students are regular users of e-cigarettes.
An epidemic? Hardly.
And if these users previously smoked or would have become smokers without the option of e-cigarettes, this limited usage mitigates rather than causes damage. After a comprehensive review of all the latest science, both Public Health England and the Royal College of Physicians concluded that vapor products are 95 percent safer than cigarettes.
Those reviews don't suggest that vapor products are completely harmless; few things are. And since these products are only about a decade old, we can't be certain of their consequences over the long term. But we know too well the negative health impacts of long-term smoking, and that vapor products are used almost exclusively by people who currently smoke cigarettes or have used vapor products to quit. We also know that the most deadly constituents of tobacco smoke — carbon monoxide and tar — are nonexistent in e-cigarettes because the products contain no tobacco and produce no smoke. We know further that other harmful constituents in tobacco smoke are dramatically reduced in e-cigarettes, if they are present at all.
Don't hold your breath waiting for the FDA, the Department of Health and Human Services, the Centers for Disease Control, the U.S. surgeon general, politicians, or well-funded anti-smoking groups to start promoting these truths. They've had a similar opportunity for decades — to tell the truth about smokeless tobacco — but have refused to take it because it doesn't fit their prohibitionist agenda.
Brad Rodu of the University of Louisville's James Graham Brown Cancer Center, with Canadian health expert David Sweanor, recently highlighted the benefits of switching from cigarettes to smokeless tobacco: "Decades of epidemiologic studies have documented that the health risks of smokeless tobacco use are, at most, 2 percent those of smoking. Unlike cigarettes, smokeless tobacco does not cause lung cancer, heart and circulatory diseases, or emphysema. The Royal College of Physicians concluded in 2002: 'As a way of using nicotine, the consumption of [smokeless] tobacco is on the order of 10–1,000 times less hazardous than smoking, depending on the product.'"
Sweden, whose smokers switched in droves to a smokeless product called "snus" decades ago and saw their health improve immensely, is a particularly encouraging success story. The U.S. shows little signs of learning from it, though. Government agencies, grandstanding politicians, and groups such as the American Cancer Society and the Campaign for Tobacco Free Kids refuse to spread the word about these findings, preferring to demonize smokeless tobacco and to conflate nicotine, tobacco, and smoking the same way Murthy's vaping report did last year. The government even requires misleading warning labels on smokeless-tobacco products that imply there's no benefit to switching.
The deception keeps smokers smoking and dying. According to a recent study by the FDA's Center for Tobacco Products and the Tobacco Control Research Branch of the National Cancer Institute, only 9–12 percent of Americans correctly believe that smokeless tobacco is safer than cigarettes.
Perhaps it's time for congressional action.
It's helpful that senators such as Ron Johnson (R., Wis.) have written letters to the FDA demanding a rationale for the regulations that Gottlieb delayed for four years. Johnson has written dozens of such letters challenging excessive and misguided regulations in his role as chairman of the Senate Committee on Homeland Security and Government Affairs. But when the responses to those letters are non-existent or unsatisfactory, perhaps it's time for congressional action. It's a 2009 law passed by Congress, after all, that permits the FDA authority to regulate innovative products like e-cigarettes, but it effectively "grandfathered" in traditional cigarettes that almost exclusively are the cause of the death toll related to tobacco or nicotine. And Congress has a critical oversight role to play when it comes to curtailing excessive and expensive executive branch abuses. 
One of the first priorities of those in public health should be to serve the public. But the misrepresentations of government agencies, politicians, and anti-tobacco groups, repeated ad nauseam by the media, mislead smokers — and keep them smoking.
    READ MORE:
    Trump Administration Transforms Policy on E-Cigarettes
    Promote Health by Not Defending E-Cigarette Ban