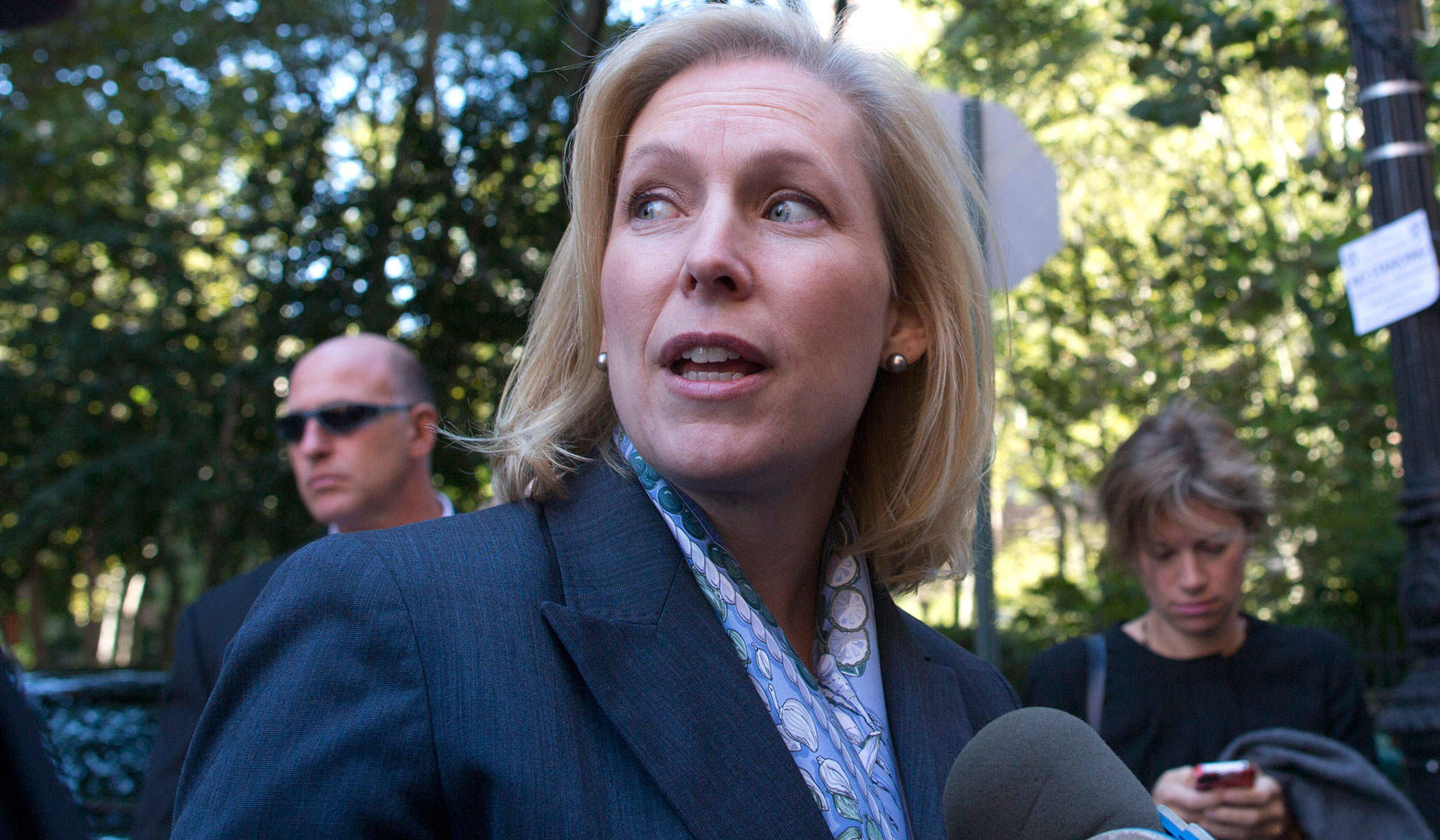 The fashion magazine is blindly smitten with New York's junior senator.
The headline on the Vogue cover next to actress Daisy Ridley's neck grabs attention: "2020 Vision: All Eyes on Kirsten Gillibrand."
Really? Back in May, New York senator Kirsten Gillibrand indicated she wasn't interested in a 2020 presidential bid, declaring, "I'm focused entirely on running for Senate, so yes, I'm ruling it out." But Vogue will have none of that, and Gillibrand's cooperation with the glowing profile suggests she certainly doesn't mind being treated as a top prospect for the next Democratic presidential nomination.
The article declares that she "is hitting her stride in Washington as the 2020 talk builds." The profile's featured photo depicts her seated in a large chair in her office, offering the camera a probing stare, fingers at her temple, in deep contemplative concentration. It's a familiar look, perhaps most famously in glamorous portraits of JFK, and Vogue bestowed the senator the kind of reverential journalistic portrait that many of her peers spend their whole careers seeking.
Vogue is a fashion magazine, so perhaps it's unfair to expect the profile to dive deep into what kind of policies Gillibrand has actually enacted and proposed, instead of aesthetics. (The magazine wrote a similar gushing profile of Gillibrand in 2010, "In Hillary's Footsteps," also written by Jonathan Van Meter.) But the new profile leaves a reader thinking that the senator is an economic centrist, an iconoclast, and a campaigning powerhouse with cross-party appeal. This just isn't the case.
In her editor's letter for the November issue, Anna Wintour describes Gillibrand as standing for Americans who are "socially liberal, fiscally pragmatic, and almost neighborly in their sense of doing what's right." One wonders when the fiscal pragmatism comes in. Gillibrand supports single-payer health care, wants to spend $75 billion over ten years to create universal pre-Kindergarten education, proposed a new family-leave program paid for by "employee and employer contributions of 0.2 percent of wages each" — i.e., new Social Security taxes — and wants to raise the hourly minimum wage to $15.
The National Taxpayers Union gave her a grade of F in 2016, and her score of 19 out of 100 was actually two points lower than Chuck Schumer's. The same year, Citizens against Government Waste gave her 6 points out of a possible 100 and rated her "hostile" to taxpayers. She voted for the stimulus and the auto-industry bailout, and she opposes cutting funding to the National Endowments for the Arts and the National Endowments for the Humanities.
Her preferred ways of fighting the deficit are exactly what one would expect from a deep-blue Democrat with presidential ambitions. In a press release on Sunday, Gillibrand called for "eliminating a company's tax deduction on executive compensation that is 'excessive,' defined in this legislation as more than 25 times the median income of their employees or more than $1 million, whichever is less." (This is less dramatic than it sounds; U.S. law already bars publicly traded companies from deducting pay beyond $1 million.)
As for that that "neighborly" narrative, there's a strong case to be made that Gillibrand's record is much more partisan than the Vogue profile would imply. According to FiveThirtyEight's figures, no senator has opposed more legislation supported by the White House than Gillibrand.
She received a lot of attention for voting against Trump's nominations more than any other Senate Democrat has, which means she voted against the ones that weren't all that controversial: Christopher Wray to be FBI director, Daniel Coats to be director of national intelligence, Elaine Chao to be secretary of transportation. She was the lone senator to vote against the confirmation of James Mattis as secretary of defense. She contends that all of her votes were on the merits, bluntly declaring during an April interview with New York magazine: "If they suck, I vote against them. If they're worthy, I vote for them." How neighborly.
Instead of dwelling on how Gillibrand votes or her proposals, we learn a lot about … the architecture of Gillebrand's house, her furniture, and her husband's record collection.
She has indeed cosponsored legislation with Republicans, a combination of proposals so worthy that they're either bipartisan (renewing the health program for World Trade Center workers, new limits on insider trading by members of Congress, requiring criminal investigations of sexual assault in the military) or really obscure, such as banning microbeads from body wash and toothpaste. Before we started putting reality-show hosts in the Oval Office, this would have been considered a middling record of legislative accomplishment.
You can tell it's a Vogue profile because instead of dwelling on how Gillibrand votes or her proposals, we learn a lot about  . . .  the architecture of Gillebrand's house, her furniture, and her husband's record collection.
We head up the hill to Gillibrand's house. It is nestled on a two-acre slope in a stately 1950s development where the lawns are verdant, the trees are enormous, and no two houses look alike. Gillibrand's is a midcentury modern, with a kind of knocked-off Frank Lloyd Wright aspect. I arrive about fifteen minutes after her, and she greets me at the front door, which is painted purple, with her Labradoodle puppy, Maple, who sizes me up. "She's shy around strange men," she says, and hands me a treat.

Gillibrand's living room is an undecorated glassy box with dark wood paneling, dominated by a brown leather sectional. A seventies vintage hi-fi stereo belonging to Jonathan, who is 48 and works as a financial manager, sits in the corner, with a sizable collection of LPs on a shelf underneath (mostly soul, disco, and New Wave).
At home, Gillibrand laments that the tennis court on her property is in rough shape:
"The court has big cracks in it — see on the right side, there's a big lump? So Jonny and I hit on the good side; we just pound the balls as hard as we can. I took Henry out yesterday and gave him a lesson. I desperately want to redo it, but it's $50,000, so we can't touch it."
We've all been there, right?
One paragraph later, Gillibrand is describing what's wrong with Congress:
"They're in a bubble. A lot of members of Congress are isolated. They tend to be affluent. They tend to have a lot of people doing things for them. So sometimes they don't understand what their constituents are feeling."
The article is too polite to mention Gillibrand's $457,200 cash gift from her in-laws in 2015.
But perhaps the article's most ridiculous assertion is that she's some sort of campaigning powerhouse:
She won the House seat in a two-to-one Republican district in 2006 and had landslide victories across the state in both of her Senate races.
She won that Republican district in 2006 with completely different positions than she now holds. She was pro-gun and anti-gay marriage, and her stand on immigration would sound downright Trumpian today: The New York Times reported that Gillibrand, during her one term as a congresswoman representing New York's 20th district, "opposed any sort of amnesty for illegal immigrants, supported deputizing local law enforcement officers to enforce federal immigration laws, spoke out against Gov. Eliot Spitzer's proposal to allow illegal immigrants to have driver's licenses, and sought to make English the official language of the United States."
Her embrace of a path to citizenship for illegal immigrants directly coincided with her need to win statewide in the senatorial race.
As for the "landslide victories" in her Senate races, her foes were former congressman Joe DioGuardi, who had not won an election in 24 years, and Wendy Long, who had never been elected to any office before. A better-known, well-financed Democrat beating a little-known Republican candidate in New York state really shouldn't count for much. After all, even the woman who lost to Trump managed to do that twice.
By many accounts, Gillbrand is a nice person. The profile quotes James Lankford, Oklahoma Republican: "I like her and would consider her a friend in the Senate. She's not difficult to work with." The accounts of her retail campaigning skills are too numerous to be mere spin. But Vogue has to go one step further, portraying her as a senatorial Mary Poppins.
She laughs at a waitress's joke and "just like that, the two are yakking like sorority sisters at a reunion." The camaraderie continues:
("I love your top!" "You do?") Gillibrand has a knack for this kind of easy connection. She radiates concern for regular people, and in her interactions there is an actual, unperformed engagement that people pick up on everywhere. She is the very soul of approachability.
Back in 2010, the same correspondent wrote:
Gillibrand is nothing if not genuine, and through sheer force of personality she bends the occasion to suit her style, which is essentially folksy and earnest. She radiates kindness. But she is also direct and no-nonsense.
Maybe not all eyes are really on Gillibrand and thinking of 2020, as the magazine's cover asserts. But it's pretty clear that the eyes of the Vogue editorial staff are gazing in admiration at the New York senator, and inconvenient details of her record must be airbrushed away. As they say, love is blind.
READ MORE:
Democrats Who Want to Be President Back Away from Israel
Democrats Embrace Single-Payer, Sort of
Teen Vogue Touts Abortion Gifts for Women