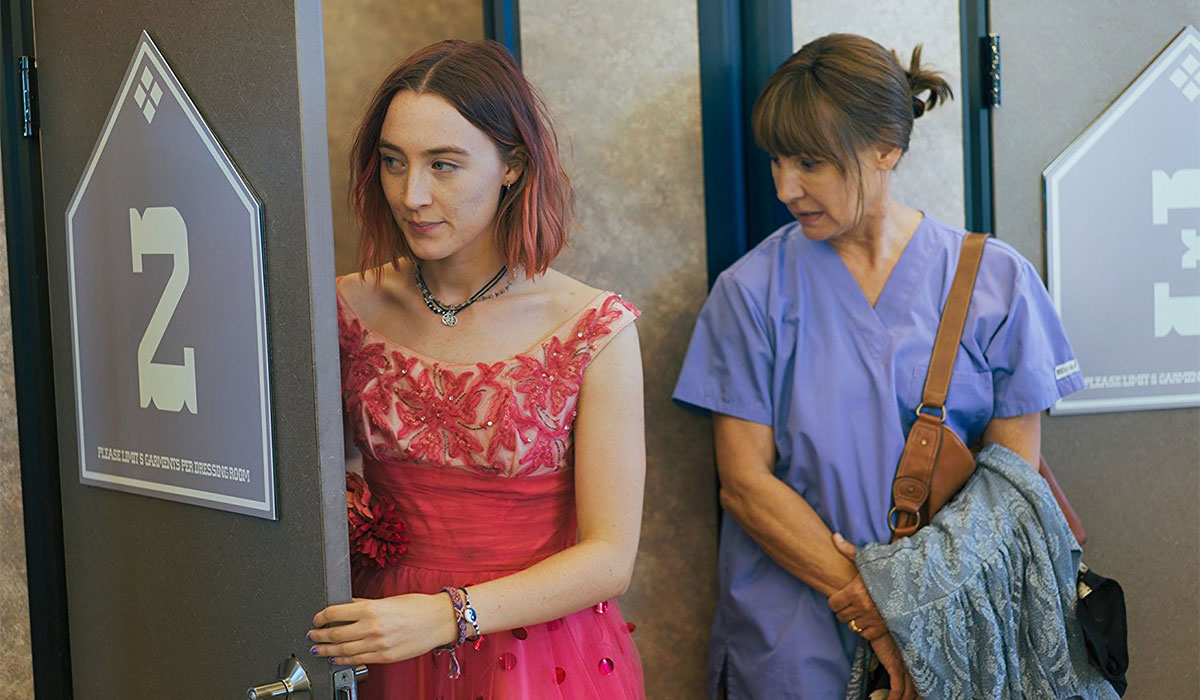 This mother-daughter film is one of the funniest, most genuine, and best movies of the year.
'Do you like me?" a teen girl asks her mother at an especially nervy moment in her chaotic life. "Of course I love you," responds the mom. "But do you like me?" the girl wants to know.
It's one of the most beguiling moments in Lady Bird, a serio-comic coming-of-age movie just launched at this year's New York Film Festival. It's one of the funniest, most genuine, and best films of the year, replete with dead-on humor and acutely observed situations. As the mother and daughter, Laurie Metcalf and Saoirse Ronan seem certain to draw well-deserved Oscar nominations.
Lady Bird has nothing to do with the first lady of President Johnson (although, oddly enough, this movie will arrive in theaters on November 3, the same day LBJ, starring Woody Harrelson as Johnson, is released). The title is a purposefully goofy nickname chosen by the otherwise multifariously stifled Christine, a coltish high-school senior.
At her all-girls Catholic school, Christine/Lady Bird attends Mass, runs a strange campaign for student council, and despite much disrespectful mouthing off manages to earn the respect of the sister (Lois Smith) who acts as principal. Sacramento horrifies her: It's a provincial wasteland from which she must make her escape. State colleges, however, look much more affordable than the ones she wants to go to in New York City, and in a cash-strapped household her mother Marion is making gentle efforts to nudge Lady Bird into being reasonable. Being unreasonable is, however, pretty much Lady Bird's brand, though, and when Mom isn't looking, her dryly funny, gently indulgent but unemployed dad (Tracy Letts) signals the girl that it might be okay to be guided by her dreams.
First, though, Lady Bird has to make it through senior year. Familiar teen-movie fixations — disposal of one's virginity, trying to get into the cool crowd, attending prom — help drive the story, but Lady Bird is much more soulful and poignant in its comedy than the usual offerings, more of a cinematic bildungsroman than a routine teen-angst saga like last year's Edge of Seventeen. General feelings of ungainliness get aired out with a fellow outcast (Beanie Feldstein, often described as a female Jonah Hill even by those who don't know she is Hill's sister), and Lady Bird lusts after cute boys such as an appealingly well-mannered kid (Lucas Hedges, an Oscar nominee for last year's Manchester by the Sea) from a large Irish-American family and a pretentious young Marxist (Timothée Chalamet, who teases out the absurdity of the character).
There is a drolly self-aware tone here that recalls Rushmore, and as with that Wes Anderson film, Lady Bird is so poised and fresh that it seems to herald a stellar career for its author. In this case that is the writer-director Greta Gerwig, previously known as an actress in honest, soulful, very New Yorky independent films and also in the disastrous 2011 remake of Arthur. Gerwig, who also attended Catholic school in Sacramento and is now in her thirties, has enough distance both to sympathize with her protagonist and to take half a step away and marvel at Lady Bird's brazen drama-queen neediness.
Lady Bird and her mother Marion have a relationship that's about as difficult to explain as differential calculus.
Lady Bird and her mother Marion have a relationship that's about as difficult to explain as differential calculus. By turns tender and tortured, the pair's interactions invariably result in pained feelings or slammed doors. The girl, longing to escape, and the hard-working nurse mom, whose favorite leisure activity is playing the martyr, nourish each other's frustration and disappointment. And yet we can sense that the bond between them is as durable as the one between Emma and Aurora in Terms of Endearment, the last mother-daughter film that left as deep an impression as this film. (Neither of the leads dies this time, though.) Ronan, a hugely experienced actress who already has two Academy Award nominations to her credit at age 23, is marvelous in her role, edgy and eager and sweet and sneaky. You won't catch her trying to be adorable, which is why she is.
As in Terms, though, the mom role is particularly rich. Metcalf, an accomplished stage and screen actress still best known for her role, soon to be reprised, in the sitcom Roseanne, has delivered the performance of a lifetime, unshowy but beautifully anchored, full of competing emotional imperatives. She steals scenes with a downward glance or with the slight sag of her mouth. Such is the force of her character that she manages to provoke tears from the audience when she isn't even on screen, during one critical sequence that ties the film together beautifully toward the end. Lady Bird is the rare teen movie that vindicates the world's exasperating moms.
READ MORE:
Call Me By Your Name: The Next Big Oscar Winner
The Florida Project: White-Trash Cinema
The Meyerowitz Stories: All in the Family