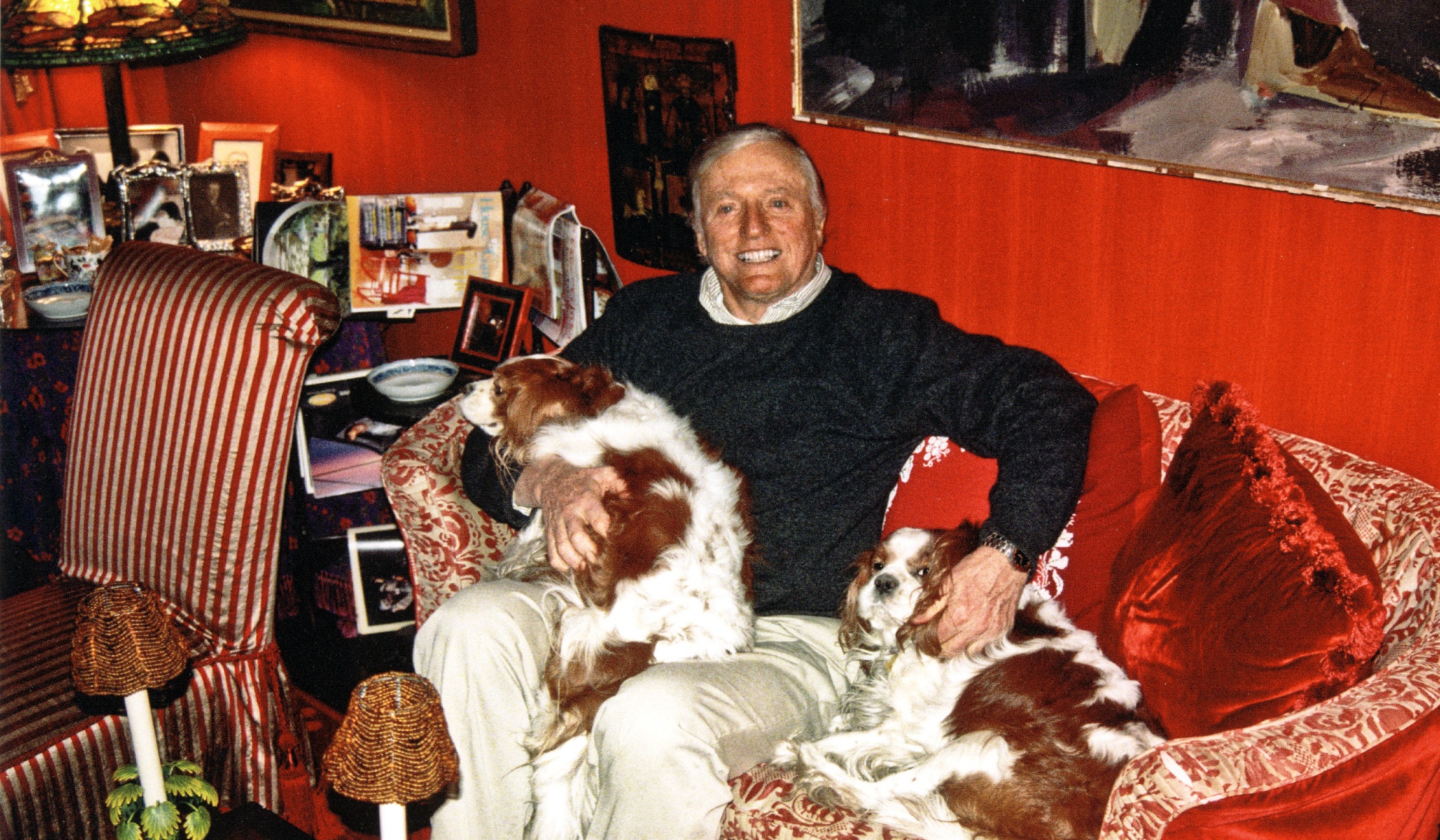 Please support NR as we expand and continue to fight for conservatism.
In the mid '90s, Bill Buckley agreed to be part of a big marketing campaign to promote National Review and its loyal subscribers and supporters. Naturally, the theme begged to include . . . dogs. And Bill was happy to be pictured in the ads (including a huge one that hung for weeks in Grand Central Station) with his beloved King Charles Spaniels.
He figured, too, that it gave them prominence. "I'd do anything for my babies," he joked.
You'll note the image associated with this pitch urging you to donate to the 2017 Fall Webathon: It's a very happy Bill with his pampered pooches (they were all of them friendly). This picture, from 1999, was taken in his NYC home, the room the locale of many a sterling conversation between Bill and NR staff and invited guests.
Besides hanging out with Man's Best Friend, what always made Bill happy was being with Magazine's Best Friend — the many supporters of National Review, in all its print and digital glory, who sustained this cause of modern conservatism that was founded by Bill, via his brassy journal, in 1955. Our friends have always been an integral part of NR, not only in its surviving, but in its thriving.
Thriving is the point of our current month-long webathon (we're hash-tagging it #30DaysHathBucktember). As you know we are soon to reveal an overhauled, super-charged, rocket-speed, spread-the-word website. Related to that — in order to bring the principled conservatism and consequence of NR to many more people — we're hoping NRO readers, especially those who spend a ton of time on this very free website, will support our desire to expand our efforts — to let the dogs out! — in four critical ways. They are:
1. We must hire a tech guru for NRO's burgeoning podcast operation. The current workload is inundating, and we aim to double our programming over the next year, plus add original video content to NRO: So we need a dedicated full-timer for these tasks. The annual cost, very worthwhile, will be $85,000.
2. Related is critical video software that is going to cost $60,000. This investment will not only allow us to provide much more content, it will also pay off in great multiples. We're confident you'll find that this alone will make your generosity worthwhile.
3. Also related: We have hired a revenue officer. This kind of position is very much not inexpensive. That's a double-negative way of saying "costly." In fact, over $100,000, all in all (salary, benefits, necessary software programs, travel, etc.). But, here too, there will be a terrific payoff in anticipated revenue from our talented new hire. Indeed, we might see so much payoff that, someday, we may not need to conduct any more webathons!
4. Last, we want to expand our intern programming. We have so much interest in this area — and we have had so much success in finding and training young and talented conservative writers — that we're looking to double our capacity. So we're looking for an additional $25,000.
To cover just part of these costs, we're hoping to raise $200,000 from our selfless friends who believe that they are making an investment in expanding conservatism, and in helping NR restructure itself into an outfit that is economically viable.
We urge you: Please help NR by making a generous donation here. And if you have some comments and thoughts and even criticisms to share, please leave them: All are taken seriously. Contribute here via PayPal if you prefer. If you are old-school and want to send a check, make it payable to "National Review" and mail it to our new address: 19 West 44th Street, 17th Floor, New York, NY 10036.
Unleash the hounds. Or the King Charles Spaniels anyway: Help make the kind of impactful conservative wisdom you can find only on NRO available to millions more here in America and around the globe.