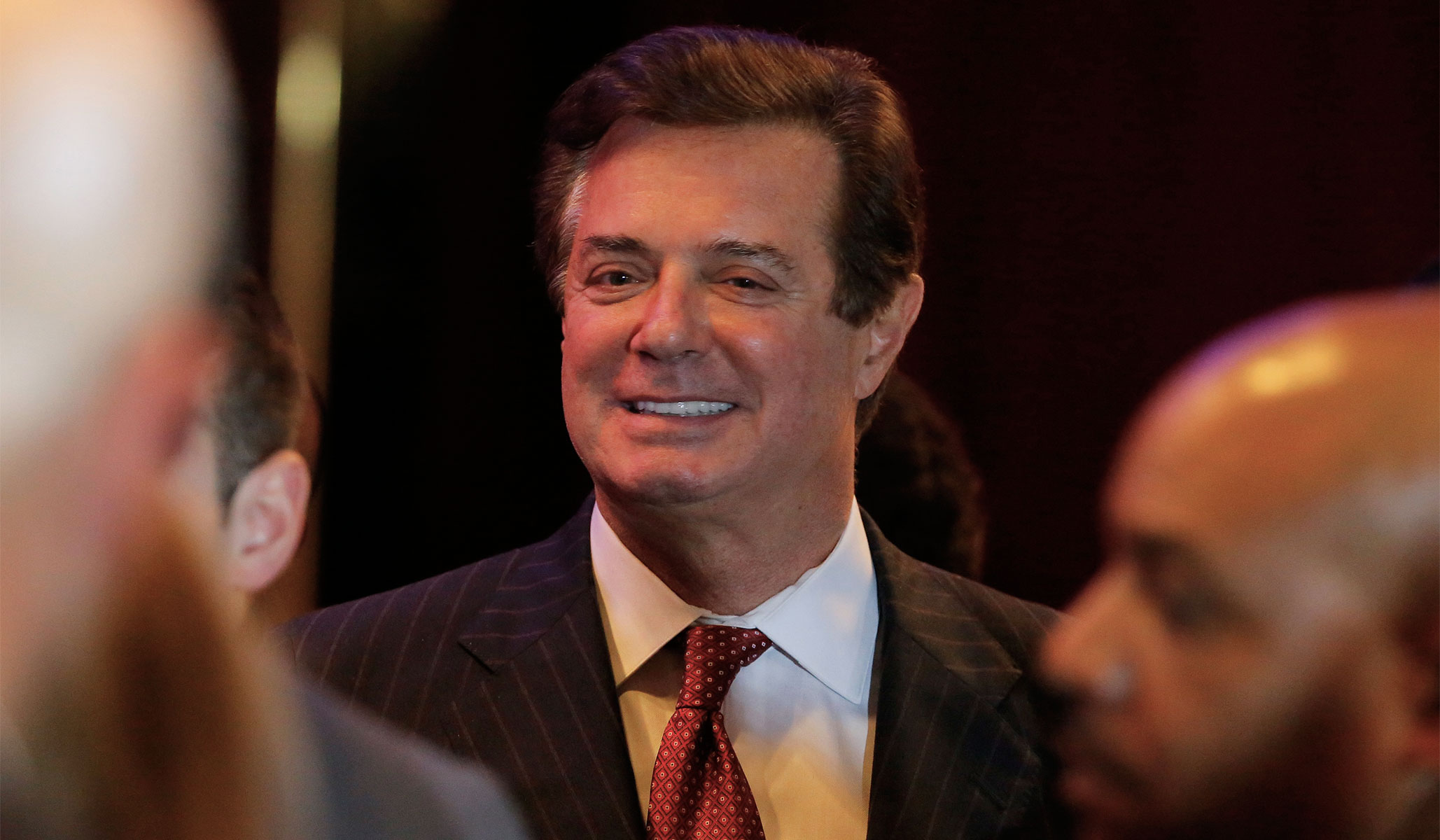 The Manafort scandal dates back a long, long time.
Who is Paul Manafort?
If you believe the federal indictment handed down against him, he is a pretty serious criminal, having engaged in a sprawling tax-fraud and money-laundering scheme to hide income he earned working as the unregistered agent of a foreign government.
But what is most troubling about the Manafort story isn't the new news — it's the old news.
Set aside, for the moment, the criminal indictment against Manafort and consider his curriculum vitae: He is a longtime Washington figure, having worked on Republican presidential campaigns as far back as Gerald Ford's effort. In 1980, he founded a lobbying firm with Roger Stone, one of the most disreputable figures in Washington — no minor distinction — a habitual liar who boasts of his dishonesty and whose entrée into politics was setting up Richard Nixon's dirty-tricks operation. Manafort has earned a fortune working as a lobbyist for corrupt foreign governments and thugs and kleptocrats ranging from Mobutu Sese Seko to Ferdinand Marcos. Another client was Viktor Yanukovych, the Kremlin puppet who served as Ukraine's president and who currently lives in exile in Russia, evading high-treason charges at home. Manafort has been a target of an FBI criminal investigation, separate from Robert Mueller's investigation, since 2014. That case has to do with his Ukrainian business dealings.
A lobbyist for Kremlin puppets and Third World dictators, who set up shop with a minor Watergate figure to milk his proximity to power for every nickel he could get out of it: That's the guy Donald Trump chose to be manager of his presidential campaign.
Tax fraud and money laundering? Sure, add it to the list, if the feds can make it stick. But what's already known about Manafort — what was known about him when Trump selected him as his campaign manager — is quite bad enough.
The usual Trump apologists spent yesterday afternoon eating up a great deal of AM-radio and cable-news airtime emphasizing that the crimes with which Manafort is charged do not relate to his work for the Trump campaign, but preceded it. Tighten in and focus on that word: preceded. It may be the case that Manafort did nothing wrong during his time as Trump's campaign manager, but that does not mean that the indictment against him tells us nothing about the president or his campaign. It tells us a great deal: about his judgment, about his character, about the sort of people with whom he is comfortable doing business.
Drain the swamp? Trump & Co. are the Swamp Things.
Trump has made a great deal of money from political corruption, and we need not rely on a special prosecutor to make that case: Trump boasts of it: "When you give, they do whatever the hell you want them to do." Trump says this kind of corruption is part of being a good businessman, and many of his conservative admirers — including the quondam Savonarolas of Virtue Inc. — accept that justification eagerly. If Trump's standards for his own conduct are loosey-goosey enough to accommodate bribery, then why would he demand anything more — or anything less — from his campaign manager?
It might be the case that Trump's obvious soft spot for Vladimir Putin doesn't have anything to do with the Kremlin's monkeying around in the U.S. election, or whatever nefarious business it was that Trump-campaign operative George Papadopoulos was up to with the Russians that he felt obliged to lie to the FBI about. Instead, it might be simple professionalism, the admiring tribute one would-be oligarch pays to a much more successful one.
The only thing about which Donald Trump is consistent is his dishonesty; like the Clintons, he lies even when he doesn't need to, as though he is simply keeping in practice. He can tweet "NO COLLUSION!" all night, assuming he can spell the words, but this we know: There was collusion between members of the Trump campaign and Russian operatives.
Manafort is exactly the kind of cynical grifter that the 'drain the swamp' gang wants to run out of town on a rail.
Papadopoulos has just pleaded guilty to lying to the FBI about his own efforts on that front. Manafort worked as a front man for a Kremlin front man. Manafort was joined by Jared Kushner, Donald Trump Jr., and others for a meeting with Natalia Veselnitskaya — in search of, in Donald Trump Jr.'s words, "information helpful to the campaign." Michael Flynn, Trump's national-security adviser, resigned after lying about his relationship with the Russian ambassador, the once-ubiquitous Sergei Kislyak, to whom Trump knowingly disclosed classified information about the Islamic State.
Paul Manafort's overseas bank accounts are the least disturbing thing about this story. Caribbean tax havens should be ashamed to be associated with him, not the other way around. He's exactly the kind of cynical grifter that the "drain the swamp" gang wants to run out of town on a rail — that's who Paul Manafort is.
Donald Trump put him in charge of his presidential campaign.
That's who he is.
READ MORE:
A Guide to Understanding the Manafort Indictment
— Kevin D. Williamson is National Review's roving correspondent.