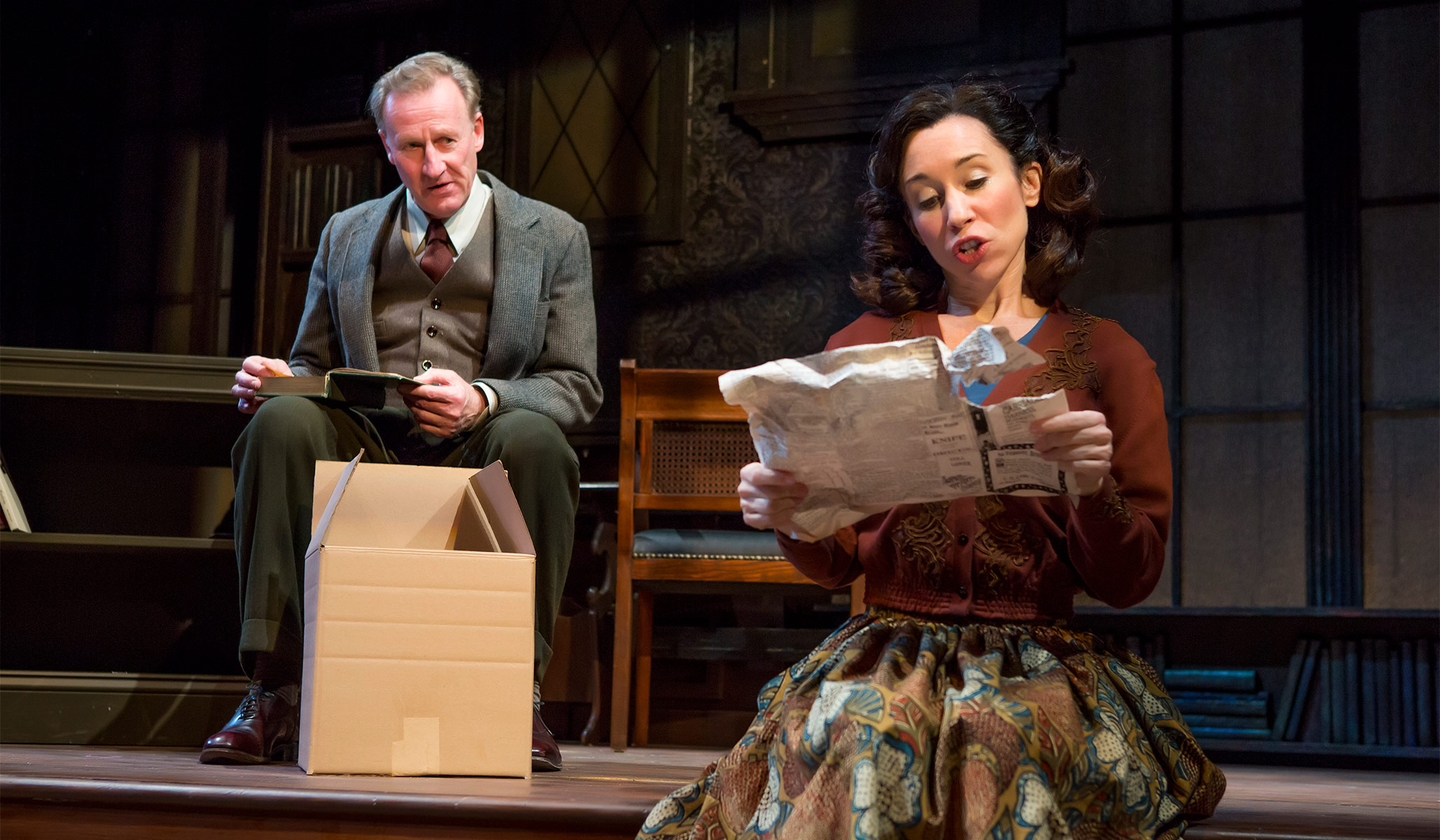 In a new production of Shadowlands, the lightness of romantic comedy is blended with with just enough theological depth.
'Your letters have been the most important thing in my life," says Joy Davidman to C. S. Lewis in the play Shadowlands.
The line is jarring on stage, in a new production, in New York City, from the Fellowship for Performing Arts. That's the way playwright William Nicholson wrote it: Davidman and Lewis have just met, following a correspondence. Each is nervous, not quite knowing what to expect — and almost certainly not imaging that they will marry under odd and compelling circumstances.
Nicholson also knows another thing: Lewis was probably the most important Christian apologist of the 20th century. His writings were important to a lot of lives — not just Davidman's, but also countless others in his own time and in ours.
Shadowlands is the true — or mostly true — story of a beautiful and tragic romance. As the play begins, Lewis seems ready to finish his days in bachelorhood. Then Davidson forces her way into his life, through the power of her personality. At first it's a culture clash: He's a reserved British scholar and she's a brash American. Yet they grow close, as she surprises him with her intelligence and they come to recognize that they need each other.
The new show is a revival: Shadowlands debuted in England in 1989, starring Nigel Hawthorne as Lewis. Later, it moved to Broadway, then television, and finally it became a feature film in 1993 with Anthony Hopkins as Lewis and Debra Winger as Davidman. The Fellowship for Performing Arts, the group behind this production, is a countercultural force: It aims "to engage and entertain its patrons by telling stories from a Christian worldview that can capture the imagination of a diverse audience," writes founder and artistic director Max McLean in the program. When it comes to Lewis and the stage, McLean and his team are veterans: In 2006, I raved about their adaptation of The Screwtape Letters.
Shadowlands blends the lightness and humor of a good romantic comedy with just enough theological depth to engage the intellect without feeling like homework. It begins with Lewis alone on stage: "Good evening. The subject of my talk tonight is love, pain, and suffering." And that about sums it up, though of course it's not really a talk at all, but rather a dramatic performance with characters and dialogue. Shadowlands asks a simple question and proposes a tough answer. Where is God when we suffer? "The suffering in the world is not the failure of God's love for us," says Lewis. "It is that love in action." By the end of Shadowlands, this counterintuitive claim feels like truth.
The cast is excellent, with Daniel Gerroll as Lewis, Robin Abramson as Davidman, and John C. Vennema as Lewis's brother, Warnie. Curiously, Gerroll looks a bit like J. R. R. Tolkien, Lewis's fellow scholar and author and famous friend; he plays his part with the right mix of cool manners and hidden warmth. Abramson is vibrant and commanding. Vennema is a source of comic relief: He doesn't get all of the jokes, but he has some of the best and is a welcome, supporting presence.
So if you're in New York City between now and January 7, when the show closes, walk a couple of blocks beyond the bright brilliance of Times Square and into the Acorn Theater on West 42nd St: "For believe me, this world that seems to us so substantial is no more than the shadowlands."