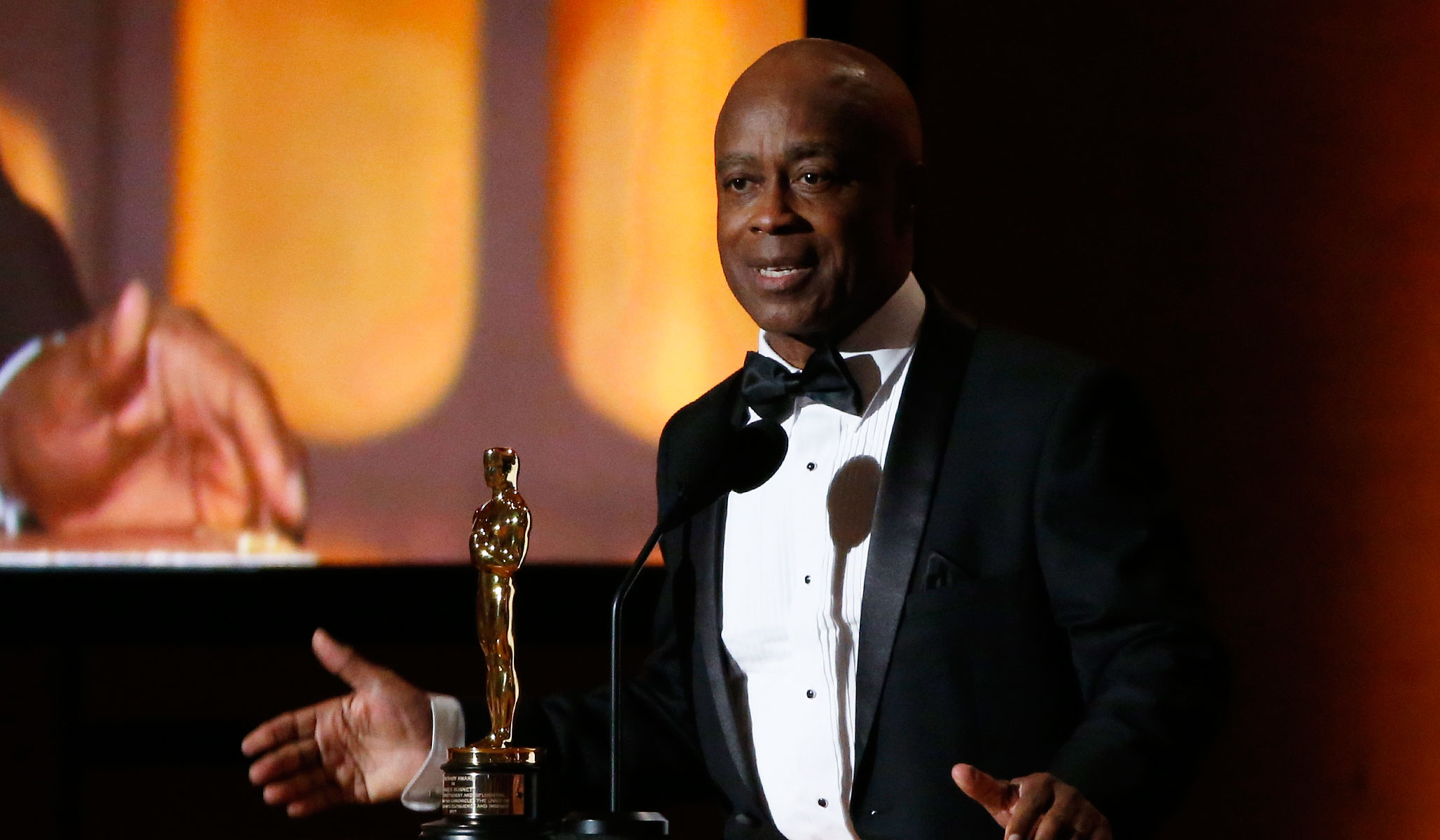 How the Oscar Academy validates racial stereotypes
Filmmaker Charles Burnett was awarded a career-achievement Oscar by the Academy of Motion Picture Arts and Sciences this past weekend. Who's Burnett? That fair question is part of the Oscars' ongoing problem, but it's also part of film culture's ongoing political crisis.
Burnett is an honorable filmmaker whose movies fill the gap left by the racial exclusion of Hollywood studios that refuse to depict black American lives to any regular, authentic, or imaginative degree. But honoring him does not redeem the Academy's current lack of popularity or relevance.
Few people have seen Burnett's best-known films: Killer of Sheep (1976), which was inducted into the Library of Congress's National Film Registry list in 1990; To Sleep With Anger, which played at the Sundance Film Festival that same year and won a screenplay award from the National Society of Film Critics (I played my part in that); and The Glass Shield, a melodramatic replay of Los Angeles's 1990s Ramparts police scandal.
It's more than odd for the Academy to esteem the director of such obscure movies; it's suspicious. Something about this award — small as it is, and coming in the midst of the Academy's recent diversity campaign — is obviously not about art, merit, or cultural impact. It's a political ruse. It's merely an attempt to make film culture's liberal racists feel good about themselves — the same specious show of erudition that inspired AMPAS to offer a Governors Award to France's Jean-Luc Godard in 2010. (Godard inquired if the prize would be part of the Oscar's time-honored televised award ceremony, and when informed that it would be separate from the tradition that even he respected, Godard refused the trinket.)
So there Burnett was last weekend, an ultimate outsider, receiving his mercy-Oscar. His sincerity contrasted with the questionable enthusiasm of the two designated devotees who spoke of his virtues, Reginald Hudlin and Hollywood's ubiquitous race spokeswoman, former publicist, and eternal flack, Ava DuVernay. This peculiarly segregated (blacks only) tribute recalled the moment in 2002 when Oscar host Whoopi Goldberg complained that only white people were shown paying respect to honoree Robert Redford and only black people were seen praising honoree Sidney Poitier. The truth of film-industry racism intrudes on its shallowest efforts to appear unbiased and, here comes that horrible word, "diverse."
Burnett's award is one that Spike Lee got first, not as an act of merit but as a show of politically correct popularity. Popularity is what Burnett has never had, but for the Oscars to pretend otherwise is an offense to Burnett's seriousness and genuine artistry.
Different stereotypes of black decadence, dysfunction, and dependence have constricted recent films about blacks.
No Hollywood film has an equivalent to the scene in Burnett's My Brother's Wedding (1983) where a father and son playfully taunt each other, wrestle, and gambol in the cramped space of the family's dry-cleaning business. The moment mixes male immaturity and maturity, an instance of domestic intimacy more like a Satyajit Ray film than American films, which limit masculine portraiture to machismo and violence. Burnett's casual insight into black American life is not just "personal filmmaking," as indie filmmakers since the 1980s have boasted, but he addressed that experience before the crack era, when the immiseration of urban life became fixed in the public imagination — along with the specter of the broken family — as pop culture's black archetype.
Different stereotypes of black decadence, dysfunction, and dependence have constricted recent films about blacks. Unlike the action-movie stereotypes of 1970s Blaxploitation (which could be stealthily subversive, as in Black Caesar and Original Gangstas, films by Larry Cohen, who equally deserves a career achievement prize), the millennial black movie stereotypes are connected to clichés of victimization whose only use is to enable manipulation by cagey politicians. The idea of black pathology controls the modern liberal perspective, as proven by the Oscar-ratified 21st-century films about black life, Training Day, Monster's Ball, Precious, The Help, 12 Years a Slave, and Moonlight. Not a single one of them shows the influence of Burnett's neo-realistic Killer of Sheep or his folkloric To Sleep with Anger, Nightjohn, and When It Rains.
Making a spectacle of Charles Burnett for his past work fixes him in the nostalgic amber of racial patronization. Certainly no recent Burnett film has competed in the contemporary Oscar race, which now is devoted to politically correct movies that make points about "social change" instead of black Americans' interpersonal dynamics. Burnett's acceptance speech included dubious, repeated mentions of "social change" and "persons of color," as if the Academy's new world order, typified by the commercial-minded, jargon-hip Hudlin and DuVernay, had worn down his outsider's independence and he had finally acquiesced to p.c. orthodoxy rather than personal perspective.
The poetic, trenchant Killer of Sheep has become an albatross, a ubiquitous, delimited symbol of the black American image that our film culture's gatekeeping curators and grant foundations prefer. Its scenes of deprivation and despair are classic, and though still not seen by many, they yet seem familiar through the lingering clichés of impoverishment, neglect, disadvantage, and misery favored in documentaries and tragic news reports that threaten to replace black cinematic artistry. Burnett's misunderstood personal vision — both pitied and admired in that uniquely liberal way — has now received its ultimate acclaim. Thereby, it officially becomes the only route to mainstream acceptance that is open for black filmmakers.
READ MORE:
Hollywood Bullies Try (and Fail) to Play Victim