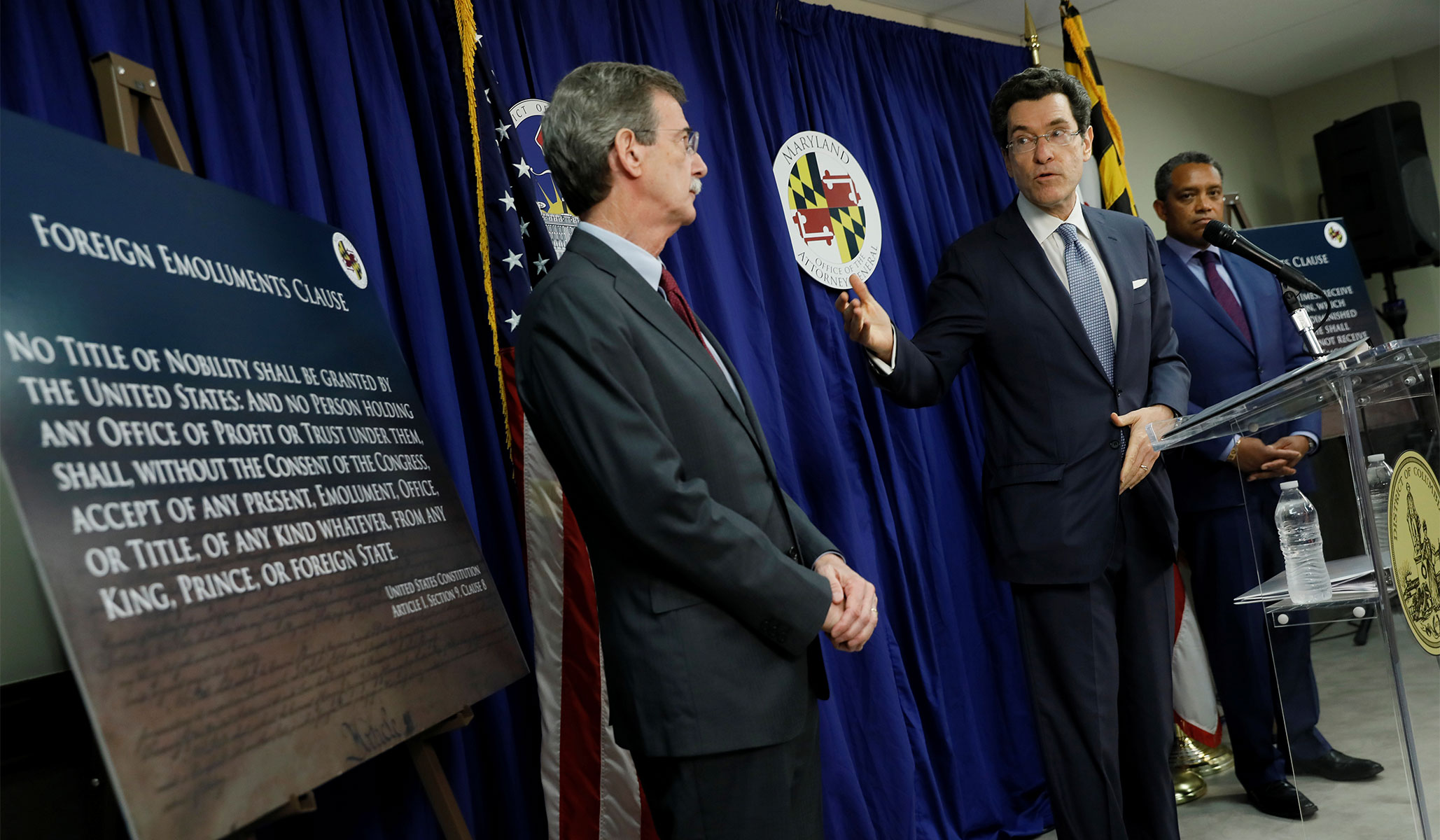 Citizens for Responsibility and Ethics in Washington may have misled the court in an effort to get its case against the president to trial.
Citizens for Responsibility and Ethics in Washington (CREW), a Washington, D.C.-based watchdog group, filed suit against President Trump on Jan. 23 for violating the foreign-emoluments clause of the Constitution. Since then, CREW has amended its complaint to add three more plaintiffs to the suit: an event planner named Jill Phaneuf, a nonprofit called Restaurant Opportunities Center United (ROC), and a hotelier named Eric Goode.
Whether they are right or wrong on the merits, the plaintiffs must first demonstrate that they have standing to bring suit. Law professor Andy Hessick explains that this means "you have to have suffered an injury in fact — a real-world injury, such as a physical wound or a loss of money." According to Hessick, the injury also has to be "particularized to the plaintiff; concrete; imminent, if it hasn't already happened; traceable to the defendant; and redressable by the courts."
Oral arguments in the case were held on Oct. 18, before the District Court for the Southern District of New York. Even if the presiding judge, George B. Daniels, allows the case to move forward and the plaintiffs prevail, the standing issue will loom large on appeal. And a closer look at Phaneuf, Goode, and ROC suggests they are trying to secure standing by twisting key facts about themselves.
CREW
In CREW's original January complaint, it asserted standing on the basis that Trump's alleged misconduct "forced [it] to devote time and energy" to the case. Courts have generally rejected these types of arguments, as law professor Jonathan Adler wrote in January. "CREW will have a hard time showing that it has suffered a cognizable injury from Trump's alleged violation of the emoluments clause," he said.
CREW amended its complaint twice to bolster its standing. It added Phaneuf and ROC to the ranks in April, and brought Goode aboard a month later. With Phaneuf, Goode, and ROC, CREW finally appeared to have found people in the hotel and restaurant business who could claim a real-world injury: business lost when foreign governments chose to hold their events at President Trump's hotels and restaurants, instead.
That, according to law professors Daniel Hemel and Leah Litman, would constitute Article III standing. Hemel and Litman recently wrote that the "competitor-standing doctrine allows individuals and firms to challenge the legality of actions that provide a competitive advantage to other businesses in the same market," and said the plaintiffs "deserve" to be heard.
But are these new plaintiffs telling the truth about themselves?
Jill Phaneuf
"Phaneuf's job is to book events for the Kimpton Carlyle and Kimpton Glover Park Hotels in D.C., with a focus on embassy events and political functions involving foreign governments," CREW wrote in an Oct. 4 filing. The filing further states that Phaneuf "works with a hospitality company" to book these events.
At oral arguments, attorney Deepak Gupta, arguing on behalf of the plaintiffs, said that Phaneuf's "only job is booking events at hotels in Embassy Row in Washington, D.C., that are with governments." Gupta further argued that Phaneuf was "the most obvious competition" with Trump, because "the only thing that she does is these kind of high-end embassy events at an Embassy Row hotel."
It's a compelling story: a woman whose only source of income is commissions from booking diplomatic events in D.C., and who, "as a result of the defendant's illegal conduct, now faces intensified competition from Trump International Hotel D.C." But it's not true. Phaneuf tells National Review that she works full-time for private-equity firm Friedman Capital, and attends law school at night. "Event planning is a very large aspect of what I do and who I am," Phaneuf says. "[But] I'm not going to say that it's a full- or part-time job because I don't rely on anyone but myself."
Asked for the name of the hospitality company she works with, which the filings curiously omit, Phaneuf identifies it as . . . Friedman Capital. She maintains that the newly opened Trump International D.C. has made life harder for her. Yet asked what her event-planning experience has amounted to, Phaneuf lists career fairs at Georgetown and Johns Hopkins, "black-tie events," and, most recently, a panel of D.C. hotel developers. "As far as diplomatic events go, I construe that very broadly," Phaneuf tells NR. "I have a personal friendship with a Mexican senator, and I'm trying to put together his holiday party."
During oral arguments, Judge Daniels questioned whether the plaintiffs had proven that Phaneuf has suffered a real-world injury. "She can't say that she sought customer A, and the president also sought customer A, and customer A went to the president," Daniels said. He was on the right track. Phaneuf did not cite a single diplomatic event that she has booked, and she has exactly one future event in mind — a holiday party for a foreign senator. The claim that her "only job" is to book diplomatic events is false, and appears to have been contrived for the purposes of securing standing.
Eric Goode
"Eric Goode owns several celebrated hotels in New York" as well as "numerous restaurants" that "are frequented by diplomats, other foreign officials, and state and federal officials," CREW wrote in the Oct. 4 filing. Gupta said at oral arguments that the Bowery Hotel, one of these venues, is "owned" by Goode.
"Some of my hotels and restaurants compete with some of [Trump's] hotels and restaurants because they have similar prices, quality and reputations that make both attractive to a common set of customers," Goode told the New York Times. And it's true that the Bowery, the Jane, and the Waverly Inn, are all glitzy venues in New York.
Some assertions made by the plaintiffs in CREW v. Trump — and some assertions made on their behalf — are incomplete. Others appear to be false.
But does Goode own them? No stranger to the press, he is frequently mentioned alongside a "business partner" named Sean MacPherson. Time and again, Goode is said to co-own these venues. The New York State Liquor Authority lists Ira Drukier, Richard Born, John Peter Ruha, and MacPherson, along with Goode, as principals for "The Bowery Hotel LLC." In an email, Goode tells National Review that "the Bowery Hotel has 6 partners altogether and 4 managing partners which I am one of."
What about the other businesses he is purported to own? When Goode was sued for alleged labor-law violations at his venues in 2010, he was never the only defendant; the suit alleging violations at B Bar and Grill, for instance, included MacPherson, Garden Cafe Associates LLC, and Sulcata Corp. as defendants along with Goode.
Goode clearly owns equity in these venues, although it's not clear if he has controlling interests in them. But the plaintiffs have asserted that Goode owns them outright. Were that not the case, his standing would be imperiled. Law professors Josh Blackman and Seth Barrett Tillman, who have filed amici briefs on Trump's behalf in this case, recently wrote that, "Under well-established case law, individual members of commercial entities, such as a limited liability company, generally cannot bring suit on behalf of the organization, unless they are duly authorized to do so."
If Goode is not the owner of these venues, he can't bring suit against the President in his own name — as he is attempting to do in CREW v. Trump. Here, too, it looks like the plaintiffs are playing fast and loose with the facts in order to build a plausible argument for standing.
ROC
ROC is a nonprofit organization that, the plaintiffs wrote in their second amended complaint, "owns and operates the restaurant Colors in New York City." Colors is alleged to be a competitor with a restaurant in Trump Tower, and ROC asserts injury due to business it has lost to that restaurant.
Again, however, the facts presented by the plaintiffs are incomplete at best. Six people, in addition to ROC, are listed by the New York State Liquor Authority as principals for Colors NY Restaurant LLC. Moreover, the plaintiffs allege that Colors — a gluten-free restaurant that is south of the East Village — has lost business to restaurants in Trump Tower without demonstrating how. (Neither ROC nor its president Saru Jayaraman responded to requests for comment.)
*    *    *
Some assertions made by the plaintiffs in CREW v. Trump — and some assertions made on their behalf — are incomplete. Others appear to be false. Perhaps CREW et al. want to fool the court just long enough to send the trial to discovery, which would itself be a bad outcome for the president. CREW's motives are hard to guess, and multiple requests for comment sent to its offices went unanswered.
The bottom line, though, is that the evidence upon which the plaintiffs base their claim to standing seems thinner than they led the court to believe.
READ MORE:
The Emoluments Suit Against Trump Isn't Going Anywhere
The DOJ is Right on Emoluments Clause Suit
States Sue Donald Trump Over DACA
— Theodore Kupfer is a William F. Buckley Fellow in Political Journalism at the National Review Institute.
Editor's Note: This piece originally identified Friedman Capital as a hedge fund. It is in fact a private-equity firm.