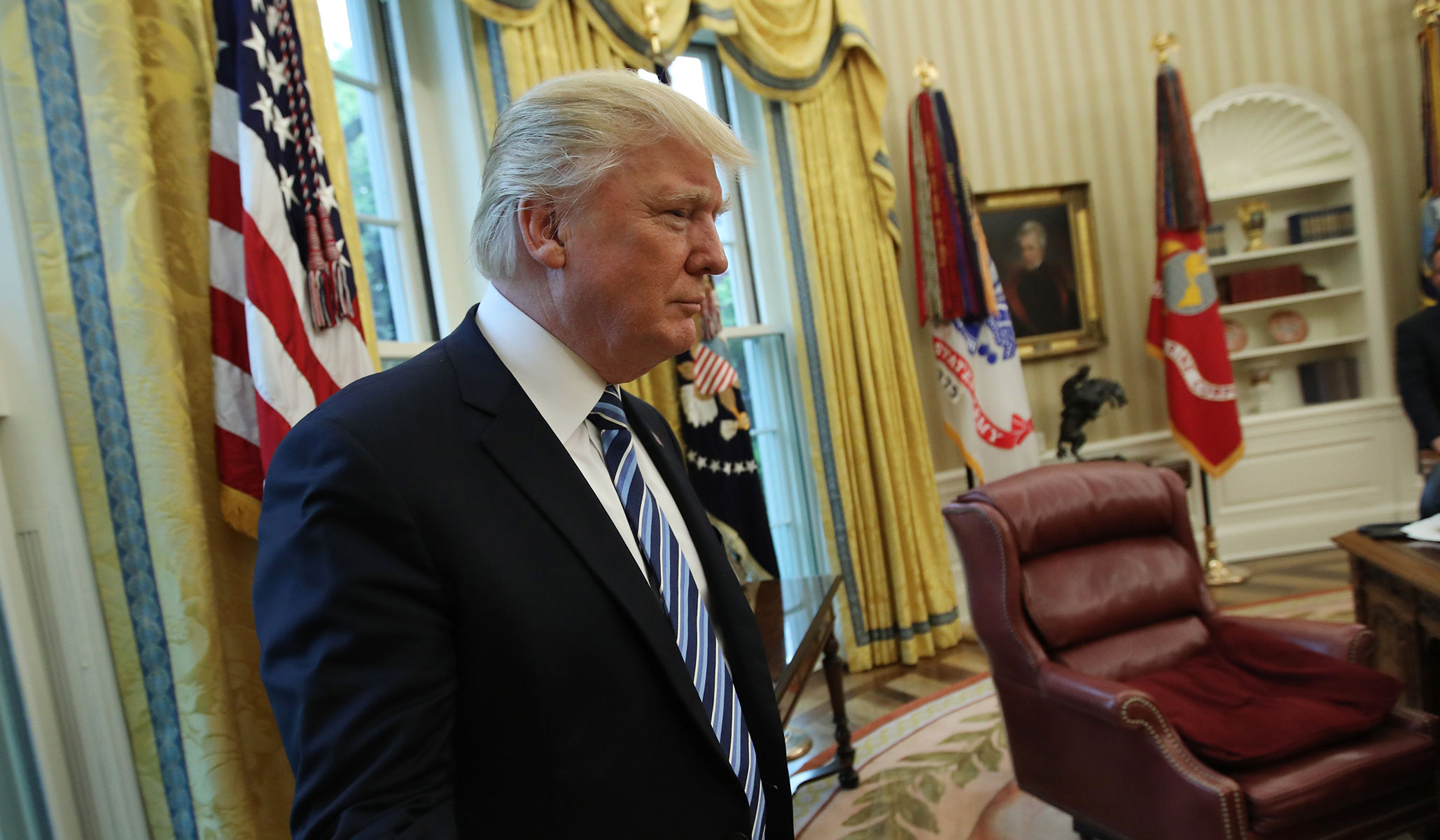 Personal eccentricity, political conventionality
The year since Donald Trump was elected president has not been without accomplishment. The investiture of Justice Neil Gorsuch and several lower-court judges, the successful campaign against ISIS, the rollback of intrusive government regulations, the approval of the Keystone and Dakota XL pipelines, the precipitous reduction in illegal border crossings, the decertification of Iranian compliance with the Joint Comprehensive Plan of Action, withdrawal from UNESCO, and the ongoing boom of record employment and stock-market prices cannot be denied. But those Trump supporters who assumed his election would inaugurate an era of economic nationalism and a rewriting of the rules of the liberal international order have been disappointed so far. The paradox of Trump is that this most idiosyncratic of men has proven to be a rather conventional Republican president.
Of his eccentricities there can be no doubt. Trump has struggled, to put it mildly, to translate the lessons he learned over 40 years in real estate, in entertainment, and in campaigns into governing the complex and recalcitrant executive bureaucracy, negotiating with Congress, and leading a fractured nation. Always improvisational, blunt, controversial, off the cuff, fast-moving, personal, creative, unconventional, and obsessed with appearance, sometimes comedic, sometimes offensive, Trump is no different from the man who told Oprah Winfrey in 1988 that he "would never want" to rule out a presidential campaign "because I really am tired of seeing what's happening with this country."
Thirty years later, he is president. His impulsiveness has gotten him into major trouble three times over the last year. First when, barely a week into office, he signed a rushed and ill-thought-out executive order banning travel from several Muslim-majority nations. The suddenness and shock of his decision, and the images of families separated or stranded in airports, overrode in the public imagination the constitutional argument in the president's favor. (The prudential argument for and against the ban continues.) Second, Trump waited until May to fire FBI director James Comey, leading to the appointment of Special Counsel Robert Mueller, whose ongoing probe into Russian interference in the 2016 election has proven a splitting and long-lasting headache for the president, among others. Finally, Trump flubbed his response last August to the racial and political violence in Charlottesville by saying, in a fiery and somewhat off-the-wall press conference, that there were "fine people on both sides" of a deadly clash between white nationalists and antifa.
The novelty of the first president without government or military experience was in his lack of indebtedness to special and vested interests and in his apathy and on occasion utter contempt for third-party validating institutions such as the media and its ideology of warmed-over, market-friendly political correctness. In fact, Trump was careful always to win over important special interests on the right, such as the NRA and social conservatives, even as he ran against Wall Street and the Chamber of Commerce. The irony of his early days as president is that he chose to work within the parameters set by a Republican establishment he loathes even as he continued to display apathy and irreverence toward cultural arbiters in the press, on late-night television, and in the National Football League.
The upshot was that Trump sided with the legislative calendar of Paul Ryan and Mitch McConnell, privileging Obamacare repeal and tax cuts over funding for the border wall and infrastructure bill. Yet the congressional Republicans, unlike their president, have yet to assimilate the fact that they belong increasingly to a working-class party of the uncredentialed forgotten men and women of the 21st-century digital global economy. The reliance of GOP voters (and of GOP governors and statehouses) on Medicaid, along with the truculence of certain Republican senators, is why Obamacare remains the law of the land. The divergence of interests between lower-middle-class and middle-class Trump voters, traditional upper-middle-class Republicans, the country-club set, and corporations is why the House and Senate tax reforms are such a complicated and unsatisfying muddle. What Trump understands is that corporations may be people but they do not vote. So, for his voters, he provides a steady diet of executive orders, high-profile announcements, and public confrontations.
Yet the bluster and nicknames and Tweets are a veneer for personnel and policies that any Republican president, and perhaps some Democratic ones, would have adopted. Mattis, McMaster, Kelly, and Powell are certified members of the national security-elite; Pence and Sessions and Pompeo and Haley are Republican stars; Mnuchin and Cohn are veterans of Goldman Sachs; Shulkin was an Obama appointee. When subordinates run into controversy, they are dropped, from Michael Flynn on down the line through Scaramucci, Bannon, Price. When his original pick for secretary of labor, CEO Andy Puzder, ran into trouble, Trump replaced him with Alexander Acosta, a nondescript and noncontroversial attorney. Pleased with Janet Yellen's performance as Federal Reserve chair but wanting also to make himself distinct from President Obama, Trump nominated Yellen ally Jay Powell to replace her. Robespierre Powell is not.
The bluster and nicknames and Tweets are a veneer for personnel and policies that any Republican president, and perhaps some Democratic ones, would have adopted.
By spending more on defense, striking Bashar al-Assad, reassuring traditional allies in the Pacific and Middle East, and above all speaking harshly of America's enemies, Trump has prioritized reestablishing America's deterrent over disrupting the geo-economic status quo. The continuation of the American presence in Afghanistan, the pursuit of an elusive Middle East peace deal, the war on ISIS, even the desire for improved relations with Russia are shared characteristics of the last three presidential administrations.
The president's recent trip to China is no exception. Candidate Trump blamed the People's Republic for devaluing its currency, dumping commodities into American markets, and stealing U.S. production through mercantilist policies. If China did not change its predatory economic behavior, Trump said, he would label it a currency manipulator and slap tariffs on Chinese imports. Yet, once in office, Trump decided personal diplomacy with Chinese autocrat Xi Jinping was the way to improve relations between the two powers and to reel in North Korean dictator Kim Jong-un. When he spoke at the Great Hall of the People Thursday, Trump said he did not blame China for the gargantuan trade surplus it enjoys with the United States. It was his predecessors who were responsible.
Trump is no panda-hugger. The Navy has conducted at least three freedom-of-navigation operations in the South China Sea during his presidency, and three carrier battle groups have accompanied him on his tour of the Pacific. He wants to see additional Chinese and Japanese investment in the American market, and it remains possible that Trump will invoke Section 301 of the 1974 Trade Act to punish China for its forced technology transfer of U.S. intellectual property. What is noteworthy, however, is that a year after his election President Trump has yet to impose any harsh measures on the nation whose entry into the global economy devastated the voters at the nucleus of his coalition.
Trump is neither the first nor the last president to change his approach once confronted with the realities of presiding over the government of the richest and most powerful country in the world. Missed opportunities for completing the Republican transition into a worker's party aside, the lesson of Trump year one is that objective reality plays little to no part in assessments of his tenure. Trump the president is subsumed in the operatic character of Trump the man. On one hand, his most loyal voters won't abandon him because their connection is psychic, personal, and charismatic. On the other, his most vehement opponents cannot be won over by the conventionality of his governing choices or the success of his policies. The ultimate referent in political debate is Trump's personal behavior, his outbursts and moods, his likes and dislikes, his Tweets and asides and insults and flattery. Not only is America divided along lines of education and class. It is polarized by attitudes toward the personality and aesthetics of Donald Trump. And I do not think he would want it any other way.
— Matthew Continetti is the editor-in-chief of the Washington Free Beacon, where this column first appeared. © 2017 All rights reserved