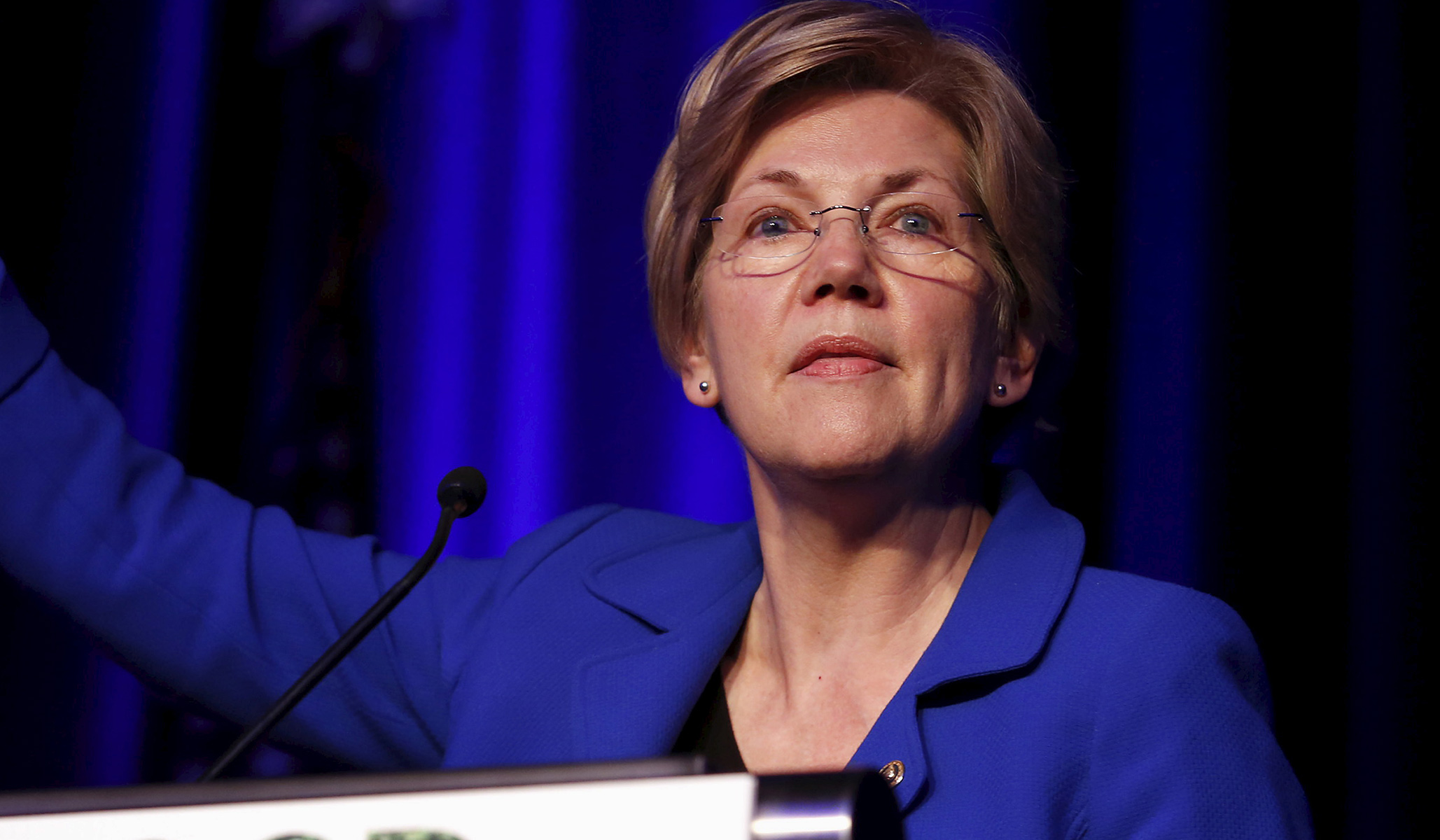 The desire to lionize those Donald Trump attacks shouldn't blind anyone to the great Warren con.
My favorite Elizabeth Warren story involves a cookbook. Warren, who was at that time posing as a trailblazing Cherokee, actually contributed recipes to a recipe book with the name, I kid you not, "Pow Wow Chow." But here's the best part of the story. She plagiarized some of the recipes. Yes indeed, her version of "pow wow chow" came directly from a famous French chef.
My second-favorite Warren story involves breastfeeding. She once claimed to be the first "nursing mother" to take the New Jersey bar exam, making her, I suppose, the Jackie Robinson of lactating lawyers. The problem? There's no evidence this is true. Women have been taking the New Jersey bar since 1895, and the New Jersey Judiciary was "not aware" whether they tracked the nursing habits of test-takers.
Warren is a bit of an academic grifter. She's willing to fake her way to the top. When she came to Harvard Law School, she was — believe it or not — considered by some to be a "minority hire." She listed herself as a minority on a legal directory reviewed by deans and hiring committees. The University of Pennsylvania "listed her as a minority faculty member," and she was touted after her hire at Harvard Law School as, yes, the school's "first woman of color."
This was no small thing. At the time, elite universities were under immense pressure to diversify their faculties (as they still are). "More women" was one command. "More women of color" was the ideal. At Harvard the pressure was so intense that students occupied the administration building, and the open spaces of the school were often filled with screaming, chanting students. One of the law school's leading black academics, a professor named Derek Bell, left the school to protest the lack of diversity on campus.
I remember it vividly. I was there. I arrived on campus in the fall of 1991, just after Bell left, and liberal activists were seething with outrage. They were demanding new hires, and the place almost boiled over when the school granted tenure to four white men. My classmate, Hans Bader, notes that the school wasn't just under political pressure to make a "diversity" hire, it was under legal pressure as well. The Massachusetts Commission Against Discrimination had issued a "probable cause finding" that the school had discriminated against a professor named Clare Dalton when it denied her tenure. In Bader's words, "Harvard's faculty badly wanted to racially and sexually diversify their ranks to show their commitment to diversity, so that MCAD would not view future denials of tenure to unqualified minorities and women as being motivated by a discriminatory animus."
No one can know whether Warren would have landed at Harvard without faking her ethnicity (Harvard of course denies her alleged minority status was a factor), but we do know that she spent years holding herself out as a Native American. We do know those claims were extremely dubious. We also know that she made those claims exactly at the time when they could most help a young career.
These facts would be bad enough, but the great Warren con doesn't end there. Let's take, for example, her signature work of academic scholarship. She made a name for herself in the pre-Obamacare years with a pair of studies claiming that medical bills were responsible for an extraordinary share of American bankruptcies. This research presented the Left with an ideal talking point. The American medical system wasn't just broken, it was oppressing the little guy.
No doubt medical bills do drive some bankruptcies, but you wouldn't know how many from Warren's scholarship. As Megan McArdle points out in a detailed take-down in The Atlantic, Warren and her co-authors not only classified a "medical bankruptcy" as any bankruptcy that included at least $1,000 in medical debt (in her 2001 paper) or $5,000 (in her 2007 paper), their methodology was "quite explicitly designed to capture every case where medical bills, or medical loss of income, coexist with some other causal factor — but the medical issues are then always designated as causal in their discussion."
Warren's work even obscured the fact that medical bankruptcies fell dramatically between 2001 and 2007. McArdle noted, "This is, to put it mildly, sort of a problem for the thesis that exploding medical bills are shoving people into bankruptcy."
McArdle's conclusion was devastating:
Does this persistent tendency to choose odd metrics that inflate the case for some left wing cause matter? If Warren worked at a think tank, you'd say, "Ah, well, that's the genre." On the other hand, you'd also tend to regard her stuff with a rather beady eye. It's unlikely to have been splashed across the headline of every newspaper in the United States. Her work gets so much attention because it comes from a Harvard professor. And this isn't Harvard caliber material — not even Harvard undergraduate.
It's a neat trick Warren's accomplished. She's likely leveraged her fictional Native American heritage into a plum spot at Harvard Law School. She leveraged her Harvard job to foist garbage scholarship on a gullible media. And now she has leveraged all of that into a plum Senate seat, from which a multimillionaire Ivy League professor has recast herself as progressive populist heroine.  
But it turns out that past ideologically convenient incompetence is a good predictor of future ideologically convenient incompetence. Her signature public achievement (aside from trash-talking Donald Trump on Twitter) is proposing and helping establish the Consumer Financial Protection Bureau (CFPB), an unconstitutional monstrosity that was designed to exist above and outside our nation's system of checks and balances.
Last year, the United States Court of Appeals for the District of Columbia Circuit ruled that the CFPB was "unconstitutionally structured." Its opinion was not subtle. According to the Court,
The CFPB's concentration of enormous executive power in a single, unaccountable, unchecked Director not only departs from settled historical practice, but also poses a far greater risk of arbitrary decisionmaking and abuse of power, and a far greater threat to individual liberty, than does a multi-member independent agency.
But wait, there's more:
In short, when measured in terms of unilateral power, the Director of the CFPB is the single most powerful official in the entire U.S. Government, other than the President. Indeed, within his jurisdiction, the Director of the CFPB can be considered even more powerful than the President. It is the Director's view of consumer protection law that prevails over all others. In essence, the Director is the President of Consumer Finance.
The Constitution doesn't provide for bureaucratic god-kings. The CFPB's structure was rotten from its inception — more bad fruit from Warren's poisonous tree.
Yesterday Donald Trump made headlines when he once again called Warren "Pocahontas." This time in front of Navajo "code talkers" — heroic veterans of World War II. Outrage abounded, but it was disproportionate to the offense. Yes, Trump was rude, but Warren is still the primary offender here. The desire to lionize the victims of Trump's wrath should blind no one to Elizabeth Warren's progressive fraud.
READ MORE:
No, Elizabeth Warren Doesn't Belong in the Same Breath as Harriet Tubman and Rosa Parks
The Queen Is Dead: Long Live the Queen?