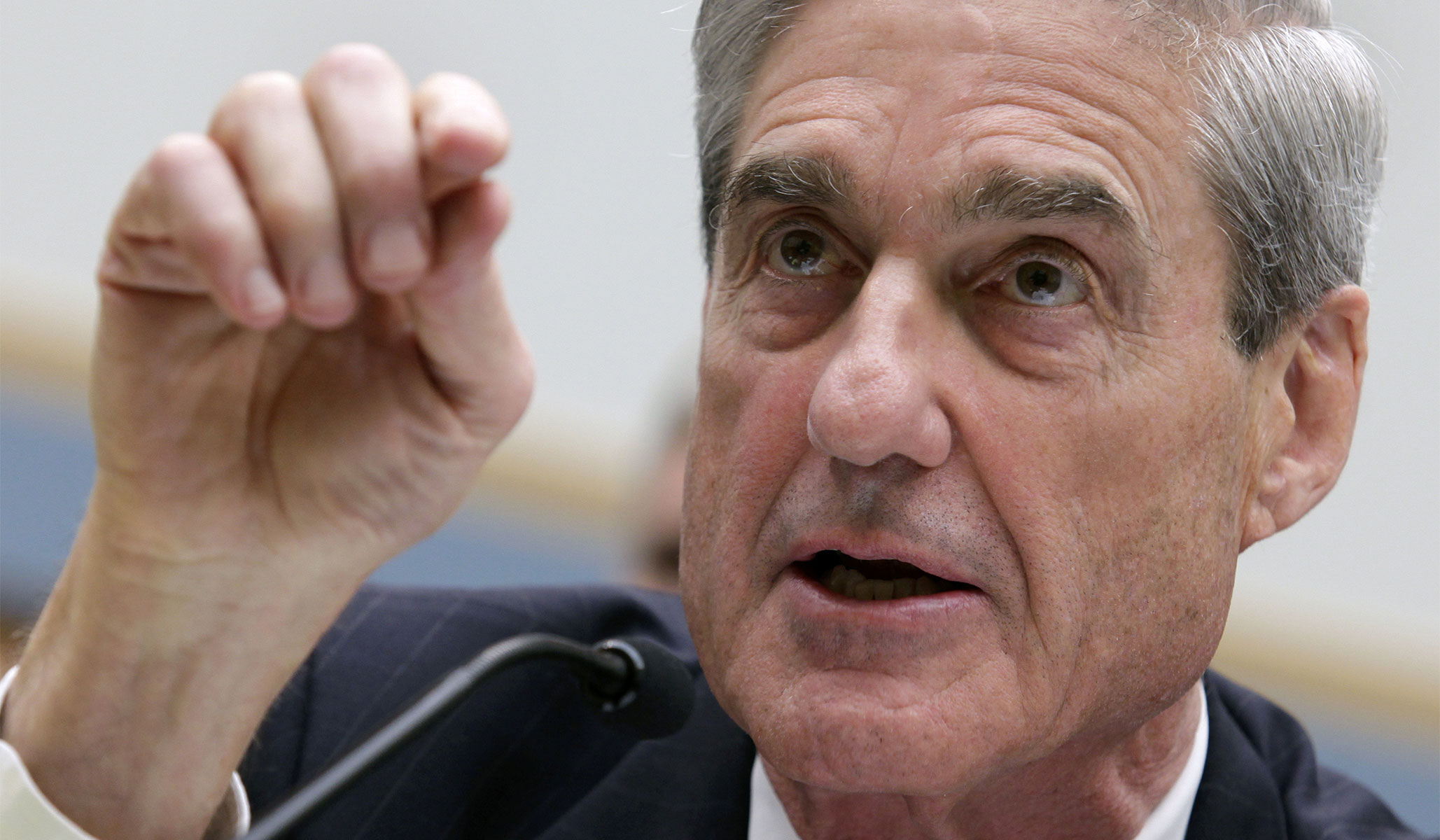 If the Justice Department is hell-bent on making a case, it plays an intimidating game of hardball.
In July 2016, the Obama administration announced its decision not to prosecute Hillary Clinton for felony mishandling of classified information and destruction of government files. In the aftermath, I observed that there is a very aggressive way that the Justice Department and the FBI go about their business when they are trying to make a case — one profoundly different from the way they went about the Clinton emails investigation. There, they tried not to make the case.
That observation bears repeating today, as we watch Special Counsel Robert Mueller's investigation of any possible Trump-campaign collusion in Russia's alleged interference in the 2016 presidential campaign. Mueller is a former FBI director and top Justice Department prosecutor. To say he is going about the collusion caper aggressively would be an understatement. The earth is being scorched by the stunningly large team he has assembled, which includes 16 other prosecutors (among them, Democratic party donors and activists) along with dozens of investigators (mostly from the FBI and IRS).
At the end of October, Mueller announced the first charges in the case. In the intensive commentary that followed, another investigative development attracted almost no attention. But in terms of Mueller's seriousness of purpose, it speaks just as loudly as the George Papadopoulos guilty plea and the indictment of Paul Manafort and Richard Gates.
Mueller succeeded in convincing a federal judge to force an attorney for Manafort and Gates to provide grand-jury testimony against them. As Politico's Josh Gerstein reports, just as the charges against these defendants were announced with great fanfare, the U.S. district court in Washington, D.C., quietly unsealed a ruling compelling the testimony of the lawyer — who, though not referred to by name in the decision, has been identified by CNN as Melissa Laurenza, a partner at the Akin Gump law firm.
Interestingly, the jurist who rendered the 37-page memorandum opinion is Beryl A. Howell, who served for years as a senior Judiciary Committee adviser to the fiercely partisan Democratic Senator Pat Leahy (of Vermont) before being appointed to the bench by President Obama. Howell is now the district court's chief judge. Why do I think that, in choosing to set up shop in Washington, Mueller and his team noted the district court's local rule that vests the chief judge with responsibility to "hear and determine all matters relating to proceedings before the grand jury"? (See here, Rule 57.14 at p. 168.)
And why do I think that the Trump collusion case is not getting the kid-glove Clinton emails treatment?
Lest we forget, President Obama had endorsed Mrs. Clinton, his former secretary of state and his party's nominee, to be president. Moreover, Obama had knowingly participated in the conduct for which Clinton was under investigation — using a pseudonym in communicating with her about classified government business over an unsecure private communication system.
Obama prejudiced the emails investigation. Long before it was formally ended, he publicly pronounced Clinton innocent. He theorized that she had not intended to harm the United States. Even if true, that fact would be irrelevant — it is not an element of the statutory offenses at issue, under which several military officials, who also had no intent to harm our country, have nevertheless been prosecuted. (It also had nothing to do with her quite intentional destruction of thousands of emails, many relating to government business — also a serious crime.)
As night follows day, the FBI and the Justice Department relied on Obama's errant and self-interested rationale in dropping the case against Clinton and her accomplices. What did Obama's subordinates do after he patently interfered in the investigation? Well, then-FBI director James Comey began drafting a statement exonerating Clinton months before the investigation ended — i.e., before over a dozen key witnesses, including Clinton herself, had been interviewed. Indeed, it has now been reported that Comey's draft initially declaimed that Clinton had been "grossly negligent" in handling classified information — an assertion that tracked the language of one of the statutes Clinton violated. Later, in the statement he made publicly on July 5, 2016, Director Comey instead used the term "extremely careless" — substantively indistinguishable from "grossly negligent," but the semantic shift appeared less tantamount to a finding of guilt.
In the aftermath, we extensively examined the Clinton investigation's hyper-sensitivity to the attorney-client privilege.
Note that the lawyer for Manafort and Gates was forced to testify against her clients based on the theory that she had participated — however unwittingly — in their scheme to cover up their lobbying efforts on behalf of a Ukrainian political party. Aggressively, Mueller's team contended that even if the lawyer had not intended to help her clients mislead the government, their use of her services was intended to dupe the government. That, Mueller argued, brought their communications with the lawyer under the crime-fraud exception to the attorney-client privilege. Chief Judge Howell agreed. As a result, the lawyer's communications with Manafort and Gates lost their confidentiality protection, such that Mueller could compel her to reveal them to the grand jury.
Compare that with the Justice Department's treatment of the lawyers representing Mrs. Clinton and her accomplices. Actually, I shouldn't really put it that way because . . . Mrs. Clinton's lawyers were her accomplices.
As we've previously explained, the Justice Department refused to invoke the crime-fraud exception to explore what advice Clinton lawyers gave her information technology contractor before he supposedly took it on himself to delete and destroy her emails.
Furthermore, the Justice Department and the FBI tolerated unlawful arrangements whereby subjects of the investigation were permitted to act as private lawyers in the probe regarding matters in which they had been involved as government officials. Perhaps more astonishingly, subjects of the investigation — such as Cheryl Mills and Heather Samuelson, who participated directly in the process by which Clinton decided which emails to surrender to the State Department and which to withhold as "private" — were permitted to act as attorneys for the principal subject of the investigation, Clinton herself.
This arrangement was not merely unethical; it would have badly compromised the case if there had been any real intention to prosecute. As the highly experienced government investigators and attorneys involved had to know, if there had been an indictment, prosecutors would have been accused both of bringing the witnesses together to get their story straight, and of undermining Clinton's right to prepare a defense by having government witnesses participate in the formulation of her legal strategy.
This arrangement was not merely unethical; it would have badly compromised the case if there had been any real intention to prosecute.
While Mueller's prosecutors subpoenaed Manafort's lawyer to the grand jury to testify against him, the Obama Justice Department largely shunned the grand jury while colluding with lawyers representing the Clinton emails subjects. The FBI, for example, was foreclosed from pursuing obvious lines of inquiry in an interview of Cheryl Mills.
Even though Manafort was cooperating with congressional investigators, providing them with hundreds of pages of documents, Mueller did not request documents from him and his lawyers. Instead, his prosecutors and investigators obtained a search warrant to rifle through Manafort's Virginia home, which they executed in a predawn raid, reportedly breaking in with guns drawn while the Manaforts were sleeping and not allowing Mrs. Manafort to get out of bed before checking her for weapons.
In stark contrast, the Obama Justice Department would not even issue grand-jury subpoenas to compel the production of physical evidence — such as the private laptop computers used by Clinton's subordinates to store her emails (a number of which contained classified information). Instead, investigators politely asked lawyers to turn over pertinent items, and they made extraordinary agreements to restrict the information they would be permitted to look at (such as an agreement that prevented agents from looking at information on the Mills and Samuelson computers during the time frame when attempts to obstruct congressional investigations may have occurred).
It is worth noting that, very similarly, the Obama Justice Department and the FBI did not seize the servers of the Democratic National Committee, even though much of the collusion case hinges on the conclusion that these servers were hacked by Russian operatives. Instead, the FBI politely requested that the servers be surrendered so the Bureau's own renowned forensic investigators could examine them. When the DNC refused, the Justice Department did not issue a subpoena or obtain a search warrant; to the contrary, the FBI and DOJ agreed to accept the findings of CrowdStrike, a private investigative firm retained by the DNC's (and the Clinton campaign's) attorneys.
Manafort has been charged with multiple felonies for failure to register as a foreign agent, an offense the government almost never prosecutes — the Justice Department's practice is to encourage foreign agents to comply with the law rather than indict them for failing to do so. By contrast, the FBI and Justice Department rationalized their failure to charge Clinton for mishandling classified information by claiming that her offense was so rarely prosecuted that it would be unfair — it would smack of invidious selective prosecution — to charge her with even a single offense. Clinton's homebrew server system stored well over 2,000 emails that contained classified information, including over 100 that were undeniably classified at the time they were sent. Eight of those involved chains of communications classified as top secret, the classification the government assigns to information the mishandling of which could be expected to cause "exceptionally grave damage" to national security (and seven of these were designated as "special access program," meaning mishandling could be expected to expose critical intelligence programs and endanger the lives of intelligence sources).
George Papadopoulos is a low-level subject of the collusion investigation who did not commit any crimes in his many contacts with Russia-connected sources. Yet Mueller induced him to plead guilty to a felony count of lying to investigators about the timing of his first meeting with such a source. In stark contrast, while a number of Clinton subordinates asserted their Fifth Amendment right to refuse to answer questions on the ground that truthful answers could incriminate them, none of them was prosecuted. Instead, the Obama Justice Department gave them immunity.
Mueller alleges that Manafort lied to the Justice Department when he finally (in late 2016 and early 2017) filed paperwork under the Foreign Agent Registration Act (FARA). Although Congress has made the making of false statements in FARA submissions a misdemeanor, Mueller charged Manafort with both this misdemeanor offense and a separate felony (under the statute that generally makes lying to government investigators a crime). Thus, he turned a single offense into two crimes and drastically inflated the potential penalty — well beyond what Congress intended for the offense.
Although Congress has made the making of false statements in FARA submissions a misdemeanor, Mueller charged Manafort with both this misdemeanor offense and a separate felony.
By contrast, several subjects of the Clinton emails investigation made blatant misrepresentations in FBI interviews but were not prosecuted at all. For example, Secretary Clinton's former top aides, Cheryl Mills and Huma Abedin, claimed not to have known about Clinton's private server system when they were working for her at the State Department — even though there is an email exchange in which they discussed it (and Abedin had an email address on the system).
For her part, Mrs. Clinton claimed not to know what the designation "[C]" means in classified documents. As a longtime consumer of classified information, Clinton obviously knew it means "confidential." Upon becoming secretary of state, Clinton signed an acknowledgment that she had been indoctrinated in the rules and procedures governing the secure handling of classified information. In it, she represented that she had read and understood an executive order — signed by her husband when he was president — that describes the levels of classification, including confidential. Yet, Clinton ludicrously told interviewing agents she thought "[C]" might have something to do with putting information in alphabetical order.
Clinton further claimed that she could not recall the indoctrination in the handling of classified information. Not only had she signed the acknowledgment; she had also written in her memoir, Hard Choices, about the extraordinary measures national-security officials are required to take when reviewing and storing classified information.
In addition, Mrs. Clinton also testified under oath at a congressional hearing that she had provided the State Department with "all my work-related e-mails." She knew she had done this, she explained, because her lawyers carefully "went through every single e-mail." Both of these statements were patently false.
But that's the way it goes. Often, the Justice Department is so hell-bent on making the case, it will play an intimidating game of hardball if that's what it takes. On rare occasions, though, it works just as hard to not make the case — to see no evil. We can all be thankful, I'm sure, that politics has nothing to do with it.
READ MORE:
Manafort's Initial Indictment is a Good Sign for Trump
Hillary's Lengthening List of Lies