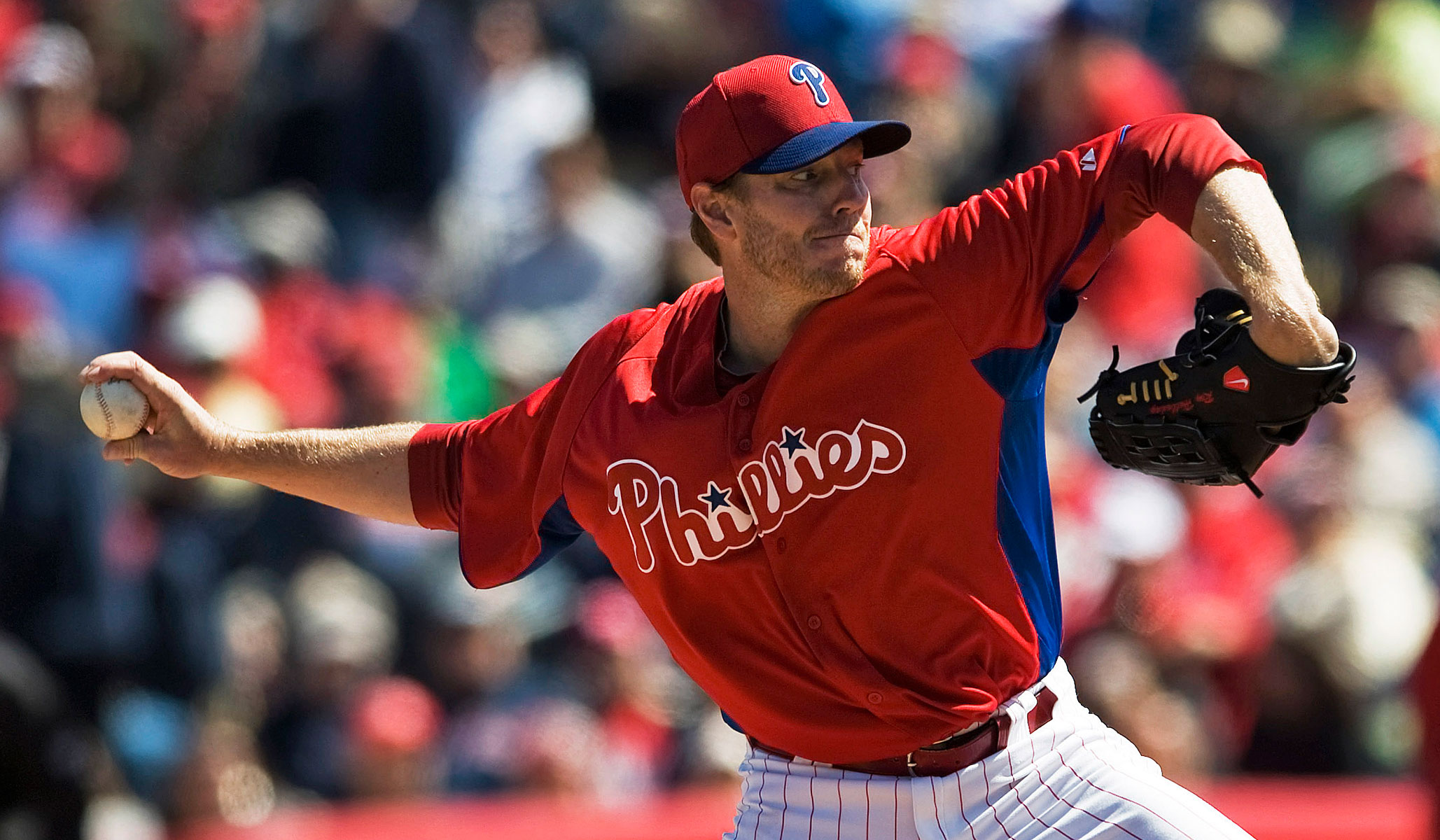 Waive the waiting period, and show the great pitcher — and the family his sudden death leaves behind — the love and respect he deserves.
The baseball world was stunned by the sudden death of Roy Halladay. The former Toronto Blue Jays and Philadelphia Phillies pitcher was killed on November 7 while flying his sport plane in the Gulf of Mexico. He was only 40 and leaves behind a wife and two children.
In 16 big-league seasons, Halladay won the Cy Young Award twice (once each in the American League and National League), finished in the top five in Cy Young balloting six times, was named to eight All-Star teams (six in the AL and two in the NL), led the league in complete games seven times (five in the AL, twice in the NL), led the league in shutouts four times (thrice in the AL, once in the NL), and led the league in innings pitched four times (twice each in the AL and NL).
It is amazing to think that Halladay's career nearly ended before it began. A first-round draft pick by the Blue Jays in 1995, Halladay would make his big-league debut late in the 1998 season. In his second big-league start, on the last day of that season, Halladay came within an out of throwing a no-hitter against the Detroit Tigers. But by 2000, Halladay couldn't get anyone out, and his ERA ballooned to an astronomical 10.64. The Blue Jays demoted Halladay all the way down to their Class A affiliate in Dunedin, Fla., to work with minor-league pitching instructor Mel Queen. Most pitchers would have been demoralized by the demotion and would not have taken kindly to Queen's less-than-diplomatic approach. Queen, who died in 2011, admitted: "I verbally abused him pretty hard that first week. A lot of guys wouldn't have taken it. A lot of guys would have walked away. A lot of guys would have punched me." But Halladay swallowed his pride, changed his pitching mechanics, and became the best pitcher in the game between 2002 and 2011.
A shoulder injury would diminish Halladay's effectiveness, and he would retire following the 2013 season. Halladay finished his career with 203 wins, 2,117 strikeouts, an ERA of 3.38, and 67 complete games. Measured against the likes of Bob Gibson, Juan Marichal, Sandy Koufax, Steve Carlton, or Ferguson Jenkins, 67 complete games might not seem like a great deal, but after a post-season where starting pitchers were regularly lifted before the fifth inning, it is an insurmountable figure that no current or future big-league pitcher can ever hope to match.
Halladay is probably best remembered for throwing a no-hitter in Game 1 of the 2010 National League Division Series against the Cincinnati Reds, becoming the first pitcher to throw a no-hitter in a post-season game since Don Larsen threw a perfect game for the New York Yankees against the Brooklyn Dodgers in the 1956 World Series.
On a personal note, I remember seeing the final three outs of that no-hitter while waiting for an open-mic poetry night at the Cantab Lounge in Cambridge, Mass. When I got on stage downstairs, I made a point of mentioning Halladay's no-hitter. While many in the audience were not exactly hardcore sports fans, they knew who Halladay was and understood the significance of what he had done. They reacted with a hum of awe. All the more remarkable, Halladay also threw a perfect game against the Miami Marlins earlier that season. It marked the first time a pitcher had thrown two no-hitters in the same season since Nolan Ryan in 1973.
Halladay's work ethic, low-key personality, and gentle sense of humor endeared him to teammates and rivals alike.
Halladay was equally feared and respected by his contemporaries. Although the Blue Jays were never in contention in the AL East, the Boston Red Sox and the New York Yankees played some of their toughest games when Halladay was on the mound. If you think I'm exaggerating, please read this article by ESPN's Mark Simon, detailing Halladay's dominance against the Yankees, including a career ERA of 2.84 ERA against them. Only one pitcher with 200 or more innings against the Bronx Bombers had a better ERA: Walter Johnson. That would be the Walter Johnson with 400-plus career wins. Halladay's work ethic, low-key personality, and gentle sense of humor endeared him to teammates and rivals alike.
Perhaps the most notable tribute came from his former Phillies teammate Chase Utley, who had just finished playing the World Series with the NL champion Los Angeles Dodgers. Taking to Instagram, Utley wrote:
My heart hurts writing this. I can still remember the first day we met. It was 5:45 a.m. on the first day of spring training when I arrived. He was finishing his breakfast but his clothes were soaking wet. I asked if it was raining when he got in. He laughed and said, "No I just finished my workout."

I knew right then — he was the real deal. Thank you Roy for allowing us to witness what it takes to be the best. We will all miss you.
In 2019, Halladay will be eligible for induction into the Baseball Hall of Fame. However, under the circumstances, I think the Baseball Writers Association of America (BBWAA) should waive the five-year waiting period and induct him posthumously as part of the Class of 2018 when they vote in January. There is, of course, precedent for such a move. The BBWAA held a special vote for Roberto Clemente in 1973 after he was killed in a plane crash delivering relief supplies to an earthquake-stricken Nicaragua. Given Halladay's stellar reputation both on and off the field, there is nothing to prevent the BBWAA from giving him an early induction.
Of course, he can't be there to enjoy such an honor, but it would bring some measure of comfort to his family. It would also serve as a public memorial for baseball fans in Canada and the United States to pay their respects. Roy Halladay's place is in Cooperstown, and the BBWAA should bestow this honor upon him without delay.
READ MORE:
SLIDESHOW: Remembering Roy Halladay
Baseball: Game Length, a Problem
Aaron Judge, Rookie Slugger Extraordinaire