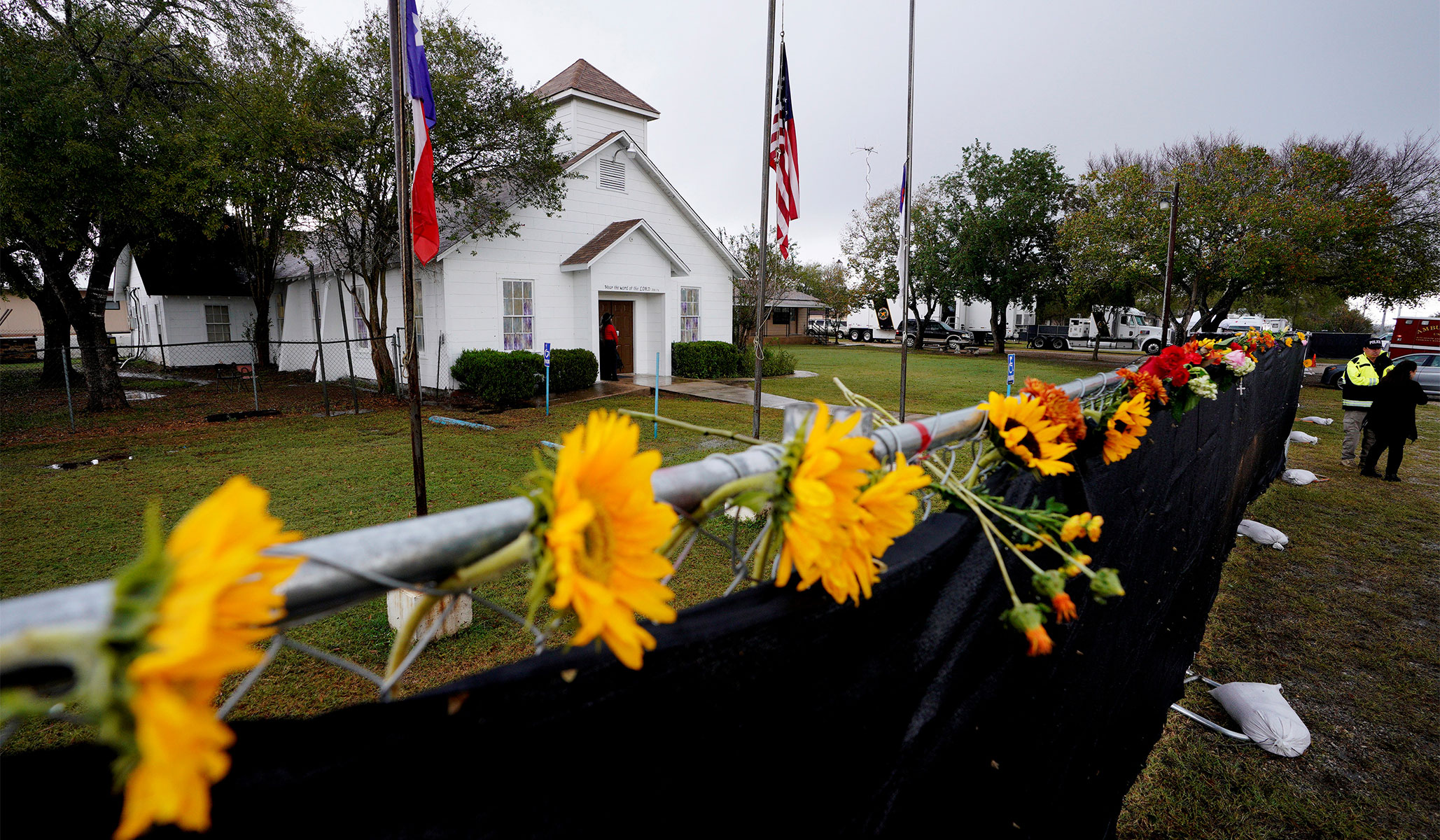 The people who survived the shooting at First Baptist witness to the value of our shared vulnerability.
The first thing you notice when you fly into Texas in recent days is the flags at half-staff. The second thing I noticed is churches with doors open. In Dallas, where I happened to be a few days after the Sunday shooting in Sutherland Springs, a funeral was going on when I walked through the doors of St. Catherine of Siena Church, looking for a midday Mass. It was holy business as usual, as it continues to be in churches throughout the country, many of them united in prayer with their brothers and sisters in Christ, who suffered the largest mass shooting in a church in United States history.
Listening to Frank Pomeroy, the pastor of First Baptist Church of Sutherland, we seem to see the antidote to evil: the witness of people of hope. Because they've encountered redemption and know God as a person, not a theory, and they have a freedom from fear, even as they confront some of the greatest of human fears, losing some of those you love the most in the world. In the hours after the shooting, which included the murder of his own, youngest child, he declared an act of faith in his most vulnerable state, still leading his church with his witness to trust in God's Providence, telling reporters, and a good deal of the country watching, "I don't understand, but I know my God does."
Writing about that Christian hope on display in Pomeroy, the now pope emeritus Benedict said in 2007:
It is not the elemental spirits of the universe, the laws of matter, which ultimately govern the world and mankind, but a personal God governs the stars, that is, the universe; it is not the laws of matter and of evolution that have the final say, but reason, will, love — a Person. And if we know this Person and he knows us, then truly the inexorable power of material elements no longer has the last word; we are not slaves of the universe and of its laws, we are free. In ancient times, honest enquiring minds were aware of this. Heaven is not empty. Life is not a simple product of laws and the randomness of matter, but within everything and at the same time above everything, there is a personal will, there is a Spirit who in Jesus has revealed himself as Love.
On Thursday morning at St. Dominic's in San Francisco (I was moving around a bit this week), the priest celebrating the 8 a.m. Mass said, "This is a safe place, where you can commune with God." Days after the massacre in Texas, to anyone who just happened to be walking in without context, it may have sounded like an act of defiance or a tempting of fate. In his homily, he explained the significance of the day on the Church calendar, marking the dedication of the Basilica of St. John Lateran in Rome, the official seat of the bishop of Rome — the pope. This year, it seemed to have so much more added meaning about why we have such sacred spaces and what they're meant for: not an earthly escape but a strengthening for mission, for witnessing to the world why faith is important and what it's all about. St. John Lateran, the first basilica built in Rome, was hit by all kinds of destruction (fire and earthquake) and would be rebuilt with love, but ultimately it is about not the structure itself but communion with God, for whom it was built to praise.
Pope Francis visited Colombia this summer, and one night in Bogotá, a group of children and teenagers waited for him to return to the Apostolic nunciature, where he was staying for the night. One girl named Maria said to him: "We want a world where vulnerability is recognized as essential in the human. That far from weakening us, strengthens and dignifies us. A place of mutual encounter that humanizes us."
"Vulnerability is the essence of the human person," he responded to her, visibly moved. "We are all vulnerable," he said. "All of us. Inside, in our feelings, there are many things that do not work inside us, but no one sees them. And others we see, all of them. And this vulnerability needs to be respected, caressed, healed as far as possible, so that it bears fruit for others. We are all vulnerable."
The First Baptist Church will become a memorial to the lives lost that Sunday. But doors open to churches and to the witnesses of people whose vulnerabilities are exposed are like lanterns for a world that tends to cover them over in a false declaration of strength. Faith and hope is seeing the world as it is, and the human person as it was created, and wanting to love people into that same understanding. We're all united to the people of First Baptist Church of Sutherland Springs in our vulnerability, and don't we pray to display the same kind of hope in the face of all evil?
READ MORE:
Why Prayer is the Best Response to a Mass Shooting
Government Action Is Not the Answer to Mass Shootings
A Good Guy With a Gun Stopped a Bad Guy With a Gun