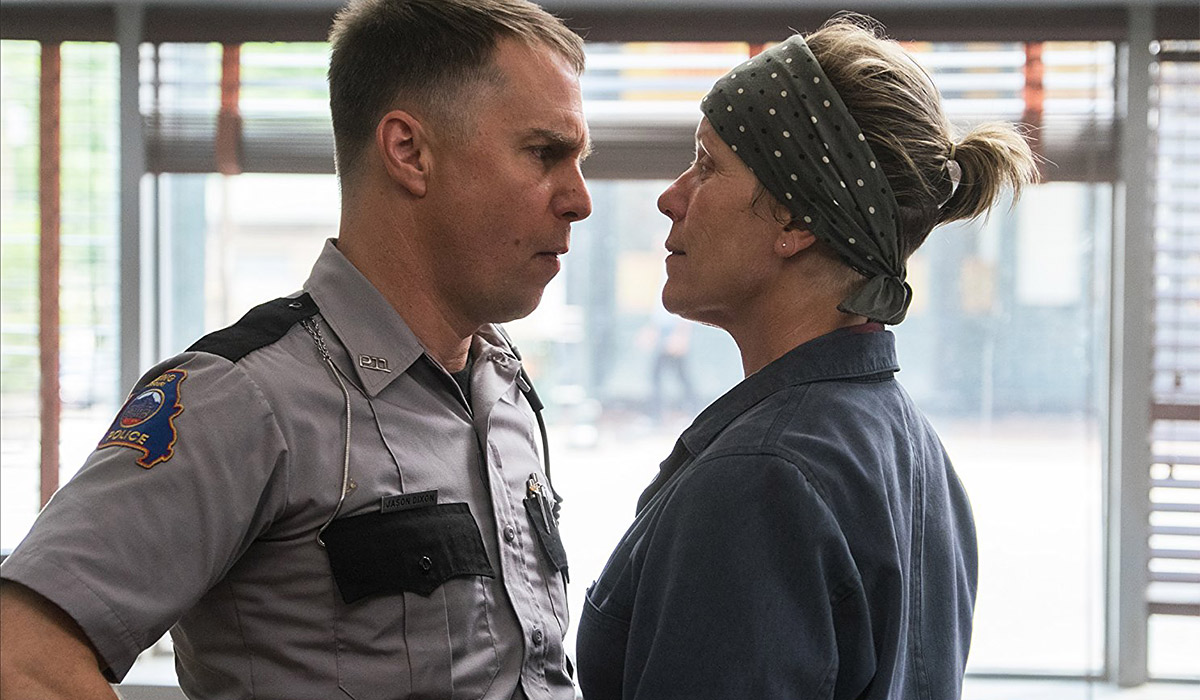 Martin McDonagh's latest work shows he still hasn't figured out how to make a film as compelling as his plays.
The speech that is likely to earn Frances McDormand an Oscar nomination next winter for her showy turn in Three Billboards Outside Ebbing, Missouri is set up when her character, Mildred, a grieving mom whose daughter has been raped and murdered, finds in her home a priest who is speaking to her son. The priest sympathizes with her plight, but he questions the method she is using to put pressure on cops to solve the case: She has rented three billboards on a little-used road to blast out a disparaging message to the police chief for not having made an arrest.
Insisting that the billboards must stay (although they are doing no good whatsoever), the mom tears into the priest by bringing up gang members in Los Angeles and a law that allows any member of the gang to be prosecuted for the crimes of other members because they're all part of the same racket. As a priest he should be punishable, she says, for any act of child sexual abuse carried out by any other priest, because all priests are partners in the same racket: the Catholic Church.
It's practically an invitation for Catholic-hating Hollywood and media pros to stand up and cheer.
There is much else that will tickle the Left in this strange and ultimately exasperating tale from England's Martin McDonagh, the finest playwright of his generation. McDonagh's violent, profane, demented, hilarious plays — The Beauty Queen of Leenane, The Pillowman, A Behanding in Spokane, The Lonesome West — are fiendishly well plotted and full of curare-tipped dialogue. His films, though, keep falling short of his stage work. In Bruges and Seven Psychopaths, his first two efforts as a writer-director, were by turns brilliant and frustrating. Billboards, his third, is the most and indeed the first politically topical work he has yet created, which is an unfortunate turn to the mundane for a man of his enormous talents. Yet the film gradually gets bored with its own grandstanding and winds up saying not much of anything.
The state mentioned in the title is meant to evoke Ferguson, and it does: Sam Rockwell, a longtime McDonagh collaborator, also gives a performance that is being touted for an Oscar nomination, playing Jason Dixon, a crude, racist, numbskull of a police officer who keeps comic books on his desk at work and lives with his mom. When Mildred derides him for beating up black suspects, he insists he doesn't "torture n*****s." No, he, says, "I torture people of color." Woody Harrelson, as the cop's boss, a police chief named Willoughby, seems to be cut from the same cloth and patiently informs Mildred that if everyone of a racist persuasion were removed from the Ebbing police department, there'd only be three guys left — and they'd all hate gays. Combine that with what Mildred believes to be indifference on the part of police toward the rape and murder of her daughter, and you've almost got a woke, intersectional Fargo, a movie that takes a stand calling for justice for three different oppressed minorities.
Yet Billboards essentially sheds its political message as the police chief becomes more sympathetic and Mildred becomes less so. McDormand plays her as a one-woman rage movement whose tactics grow indefensible. Her open face and gruff frankness make her hard to dislike, but she should be behind bars. Dixon, meanwhile, loathsome though he is, accepts chastisement for his flaws and undergoes a kind of conversion.
Much like a Coen-brothers movie, Billboards bursts with violence, comedy, memorably strange characters, and unexpected reversals. Yet, as in some Coen-brothers films, all of this doesn't add up to much more than a cosmic shrug. Violence begets nothing but more violence, we're told, and this is a solid-enough message for a movie even if it isn't necessarily true, but it is undercut by its source: a dimwit who gleaned it from a bookmark. Both eye-for-an-eye vengeance and turn-the-other-cheek pacifism get considered, and dismissed. How about painstaking, sober, procedure-based justice? Nope, the movie deems that useless, too.
McDonagh will perhaps be credited with "raising questions" or "grappling with all sides of these important issues" or "resisting easy solutions." For me, that's all a cop-out. If he is going to throw his hands in the air, I'd prefer that he do so via the all-out black comedy of his scabrous stage works. Billboards isn't funny enough to justify its nihilism.
READ MORE:
Suburbicon: George Clooney's Latest Oscar Bait
Novitiate: Why Nuns Are Dying Out
The Killing of a Sacred Deer: The New Stanley Kubrick?