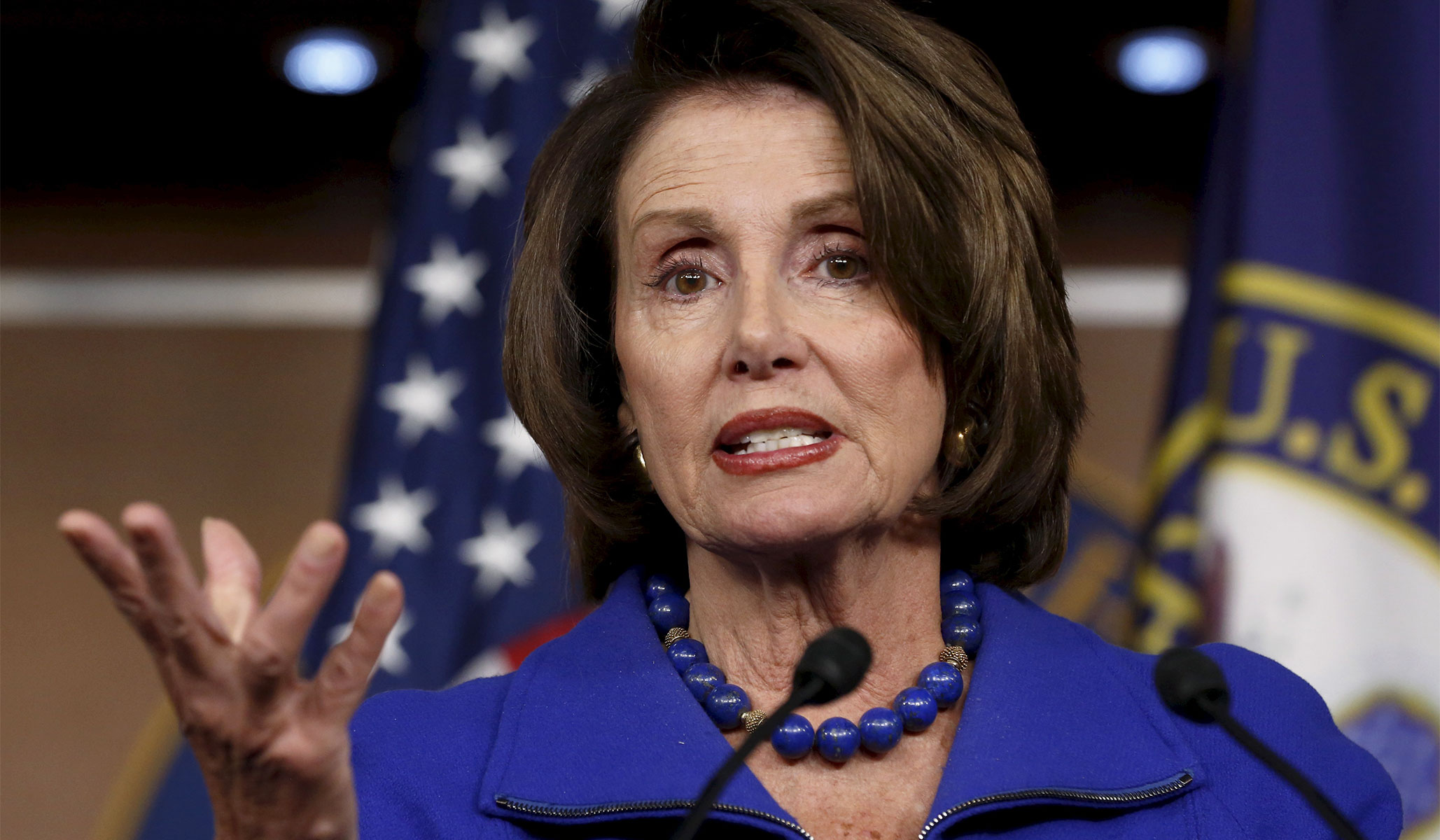 They denounce a decision that they previously endorsed — because now Trump is president.
President Donald J. Trump's recognition of Jerusalem as Israel's capital and his decision to move the U.S. embassy there from Tel Aviv were reckless and destabilizing, and will fuel regional chaos.
At least that's what top Democrats think.
‐"Moving the U.S. embassy to Jerusalem now may needlessly spark mass protests, fuel tensions, and make it more difficult to reach a durable peace," House minority leader Nancy Pelosi (D., Calif.) said in response to Trump's new policy, which he unveiled on December 6.
‐Senate Democratic whip Dick Durbin of Illinois said: "I hope this does not incite violence and death."
‐ "The future of Jerusalem is an issue that should be decided by Israel and the Palestinians, not unilaterally by the United States," Senator Dianne Feinstein (D., Calif.) declared December 1. "Relocating our embassy to Jerusalem will spark violence and embolden extremists on both sides."
‐Trump's move "will further set back any hope of a deal between Israel and the Palestinians," Senator Chris Murphy (D., Ct.) said in the New Haven Independent. "If we mess this up, it could lead to violence in Israel and across the Middle East, put American diplomats in harm's way, and jeopardize the fragile regional partnerships we have in our fight against ISIS."
‐ "The president's irresponsible decision to move our nation's embassy to Jerusalem goes against decades of bipartisan American foreign policy and will likely increase tensions between Israelis and Palestinians, instead of moving us toward a lasting peace agreement," said Representative Rosa DeLauro (D., Conn.).
Oddly enough, these statements are foursquare at odds with these legislators' voting records.
Pelosi, Durbin, Feinstein, and DeLauro all backed the Jerusalem Embassy Act of 1995. As this measure's official roll call describes it, this was "a bill to provide for the relocation of the United States Embassy in Israel to Jerusalem." Feinstein voted Yea on this measure, in the Senate, 22 years ago. Before he became a senator, Congressman Durbin voted Aye on this legislation. So did Pelosi and DeLauro, who were in the House in 1995 and remain there today.
Senators Durbin, Feinstein, and Murphy all voted just last June for S. Res. 176, a resolution that, among other things, "reaffirms the Jerusalem Embassy Act of 1995 (Public Law 104–45) as United States Law, and calls upon the President and all United States officials to abide by its provisions."
So, what changed?
For pro-Jerusalem Democrats like these, Trump must be slammed, even for his pro-Jerusalem policies.
Those bills were introduced by fellow members of Congress. No sweat.
But the actual implementation of these measures was set in motion by President Trump. So, for pro-Jerusalem Democrats like these, he must be slammed, even for his pro-Jerusalem policies. If Trump is for it, it must be wrong, these Democrats apparently believe, even when he has done something they have asked to have done.
Another example of high-level Trump Derangement Syndrome occurred on Saturday, when President Trump visited the Mississippi Civil Rights Museum in Jacksonville. Congressmen John Lewis (D., Ga.) and Bennie Thompson (D., Miss.) reacted allergically to the news and threatened to boycott the opening ceremony if Trump were there.
 "President Trump's attendance and his hurtful policies are an insult to the people portrayed in this civil rights museum," Lewis and Thompson said in a joint statement.
Trump arrived and addressed a private gathering of civil-rights veterans.
"Today we pay solemn tribute to our heroes of the past and dedicate ourselves to building a future of freedom, equality, justice, peace," Trump said.
But just as Lewis, Thompson, and other liberals screamed in disgust when they heard Trump would fly to Mississippi to honor their noble cause and recognize its pioneers, they would have rebelled just as fervently if Trump had been invited and then declined the invitation.
"Trump rejects civil rights," they would have moaned. "Now we have proof that he hates black people."
Too many of Trump's critics will fight him every day, no matter what — even when he does what they want and celebrates their cherished ideals.
READ MORE:
NR Editorial: Trump's Non-Radical Decision on Jerusalem
With Jerusalem Move, Trump Strikes at the 'Psychological Barrier'
Trump Exposes the Cause of Palestinian Rage