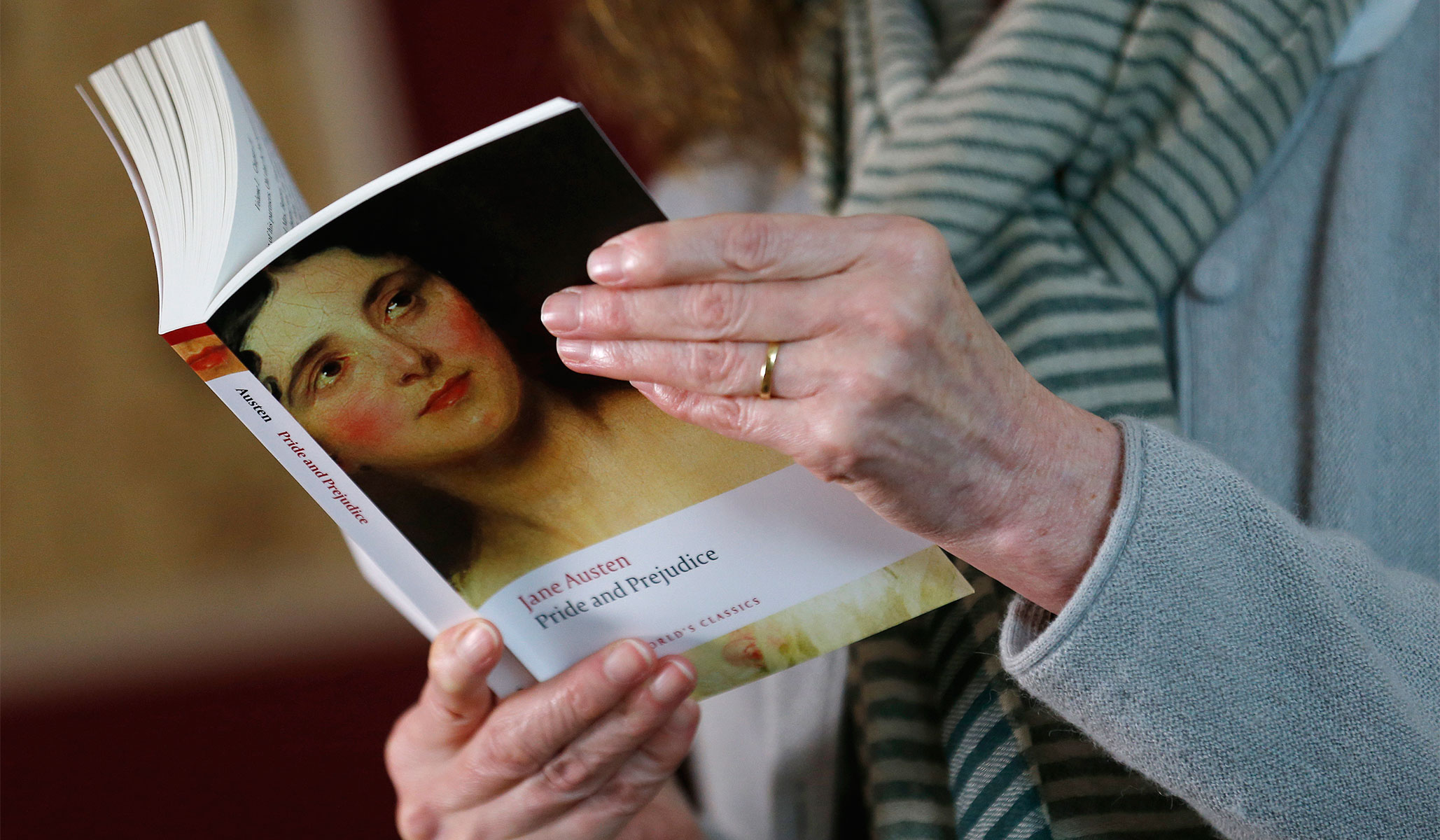 Jane Austen and Madame de Staël deserve renewed attention for their pioneering witness against systemic injustices.
Two great female writers died prematurely in 1817, just two hundred years ago: one in relative obscurity in Winchester, in the heart of traditional southern England, the other at the peak of her fame in Paris. Jane Austen (1775–1817) and Germaine Necker de Staël (1766–1817) were great personalities, great writers, and influential moralists. In the light of our long-overdue exposure of "sexploitation" scandals, with their dramatic and hygienic revelations about the long-accepted dirty secret of the sexual exploitation of women, both these women deserve renewed attention as pioneering witnesses and rebels against systematic injustices that still afflict many women throughout the world, in ways blatant and obvious (the Islamic and Hindu worlds) and more subtle but pervasive, in varying degrees (everywhere else).
Jane Austen has rightly become recognized as one of the greatest of all English-language novelists and is now depicted on the British ten-pound note, as well as on a two-pound commemorative coin: No other figure than a monarch has ever been given this honor. Her literary reputation is in the very highest sphere of English novelists, and no other English novelist since Dickens has been so widely loved. Her self-depreciating estimate of her own work, written in a letter of December 1816, a few months before her death, has been completely rejected by critical opinion: "The little bit (two inches wide) of ivory on which I work with so fine a brush . . . produces little effect after much labour." On the contrary, at least since the Shakespearean scholar A. C. Bradley wrote an important essay on her in 1911, she has been seen as a powerful moralist in the direct classical-Christian tradition of Samuel Johnson, himself perhaps the most impressive and authoritative literary moralist since Aristotle and Saint Paul. A vast and distinguished body of literary criticism has subsequently treated her not only as a superlative fictional artist, satirist, and comic genius but as a Johnsonian moralist of great distinction and importance. Powerful arguments for her large-scale significance have been made by D. W. Harding (1940), C. S. Lewis (1954), and the great contemporary philosopher Alasdair MacIntyre (After Virtue, 1981). This exalted view of her, sustained over the century since Bradley's 1911 essay, has been usefully summarized in Christopher O. Blum's introduction to his recent edition of Austen's Pride and Prejudice (Ignatius Critical Editions).
Germaine de Staël, daughter of the vastly wealthy French-Swiss banker and French statesman Jacques Necker (one of King Louis XVI's last finance ministers), lived a very different life contemporary with that of Austen, but she too left a large mark on the literary world and should also be seen in the light of the rather different French tradition of literary moralists. Although she immensely outshines the preceding 18th-century French salon madames (salonièrres), she is in some degree in their lineage, but with important differences: her French-Swiss background, her intense early education, and the great family wealth, which enabled her to live a radically different, more glamorous and mobile, and freer life than that of the shabby-genteel clergyman's daughter Jane Austen, whose lack of money and abundance of sharp wit and deep intelligence kept men clear of her when it came to marriage.
Madame de Staël played a quite heroic, articulate role as a constant, eloquent critic of the corruptions of the French Ancien Régime, the fanaticism of the Jacobins, and the amoral military dictatorship of Napoleon, who hated her, censored and destroyed her works, and banned her from France. At the end of her tumultuous, tempestuous, cosmopolitan life, she said she had loved three things: God, her father, and liberty; and her understanding of liberty was dogged and noble, both morally and politically. She admired English constitutionalism and inspired classical-liberal contemporaries and successors such as Benjamin Constant, François Guizot, and Alexis de Tocqueville.
Although Jane Austen's life and art were lived and developed on the small canvas of rural society in the south of England, she nevertheless achieved a literary-moral perspective on life of extraordinary depth, power, and implication, attested by millions of devoted readers ever since her own time and by a body of politically sophisticated literary criticism that includes revealingly titled works such as Marilyn Butler's Jane Austen and the War of Ideas (1975) and Warren Roberts's Jane Austen and the French Revolution (1979). Two of our greatest Anglophone literary and social critics, F. R. Leavis and Lionel Trilling, make massive claims for her importance and greatness: Trilling in notable essays on Austen's Mansfield Park (1954) and Emma (1957) and in his Sincerity and Authenticity (1971). C. S . Lewis (Essays in Criticism, 1954) claimed Austen as a remarkable social psychologist and moralist, a disciple of Johnson who endlessly teaches her readers the truth about human reality by a kind of affective stylistics that is also moral hygiene: Austen helps us, and her characters, to "undeceive" ourselves of self-serving and self-flattering illusions, in the interest of real, unostentatious Christian self-understanding and virtue.
It is too easy, simple, and invidious to see Jane Austen as the "sense" and Madame de Staël as the "sensibility" of Austen's great 1811 novel Sense and Sensibility, where Elinor Dashwood represents Apollonian-Johnsonian "good sense" and piety and her sister Marianne represents the self-indulgent, histrionic "sensibility" of the incipient Romantic movement. Of course it is true that Madame de Staël had a histrionic sensibility and lived an epic, kaleidoscopic, dramatic life as a witness of great events (e.g., Paris, 1788–1803); a hated and harassed critic of Napoleon; an unhappy, anxious exile from France (1803–13); a traveler and observer throughout Europe; and an influential novelist, critic, and statesman. After Napoleon's 1812 invasion of Russia, to which she had fled, an observer wrote that there were only three independent powers left on the European continent—Russia, Sweden, and Madame de Staël. Francine du Plessix Gray's Madame de Staël: The First Modern Woman (2008) cannot help reading like a melodramatic novel, because her subject's life was itself a melodramatic novel. Gray argues strongly that Germaine de Staël suffered throughout her life from manic depression, or bipolar disorder, and also that in her last phase she was an opium addict. Her own numerous, passionate love affairs, always mésalliances of one kind or another, are easy to mock and laugh at, or superciliously to condemn, but such simplifications miss the point. Given our contemporary, long-overdue understanding of pervasive "sexploitation," we should look with sympathy at a woman who wrote in her Ten Years in Exile (posthumous, 1818): "Take a look at the social order and you will quickly realize how ready it is to attack any woman who seeks to put herself on an equal plane with men of repute." Or her ironic comment: "Un homme doit savoir braver l'opinion; une femme s'y soumettre" (A man must know how to oppose mere opinion; a woman to submit to it). It is no small achievement to have consistently outraged a despotic, murderous, Machiavellian tyrant such as Napoleon, who feared and hated her conversational and literary powers and gave as a reason for censoring and banning her from France that "she will make inroads among my entourage. I live in Paris and I don't want anyone living here except those who love me."
Austen helps us, and her characters, to 'undeceive' ourselves of self-serving and self-flattering illusions, in the interest of real, unostentatious Christian self-understanding and virtue.
In 1791, when Jane Austen was only 16 years old, she wrote a History of England for her large and loving family circle, and in it we can already see her witty, ironic, but profound ethical sensibility at work. Of another tyrant, King Henry VIII (in some sense the founder of the Church her father and some of her brothers served as clergymen), she wrote: "Nothing can be said in his vindication, but that his abolishing Religious Houses and leaving them to the ruinous depredations of time has been of infinite use to the landscape of England." (William Cobbett, A. W. N. Pugin, and John Henry Newman would later meditate these depredations, to powerful effect.)
Madame de Staël's most powerful novel, Corinne, or Italy (1807), inspired many women throughout the 19th century, including the American feminist Margaret Fuller (1810–50), who also went to Italy as a pioneering female journalist and was as deeply affected by it as de Staël. There are two recent translations of Corinne, one by Avriel Goldberger (Rutgers, 1987) and one by Sylvia Raphael (Oxford, 1998). It is in a different world, both in style and setting, from the works of Jane Austen, and in some ways is more of a travelogue or guidebook to the great Italian cities, and a confessional autobiography, than a novel. In it de Staël develops a kind of artistic and literary commentary that makes her a cultural critic, and along with other, literary-critical works such as The Influence of Literature on Society (1800) and On Germany (1813), it enabled her to become a theorist and partisan of Romanticism, an early practitioner of the study of comparative literature, and a forerunner of great, synthetic commentators on civilization such as John Ruskin, Jacob Burckhardt, T. S. Eliot, Kenneth Clark, Jacques Barzun (who discusses her in his final work, From Dawn to Decadence, 2000), and Roger Shattuck.
Shattuck calls Madame de Staël "the enthusiast in all things," and he is rightly suspicious (Candor and Perversion, 1999) of the incipient Romantic German pantheism that she helped to promote and of the aestheticism and relativism that her generous sensibility unwittingly encouraged (see Shattuck's "Guilt, Justice, and Empathy in Melville and Camus," in Forbidden Knowledge: From Prometheus to Pornography, 1996). She certainly praised, and practiced and incarnated, imagination and enthusiasm, the "sensibility" that also concerned Jane Austen in Sense and Sensibility and Mansfield Park (1814). Educated intensively, privately, and eccentrically, Germaine de Staël was early drenched by her French-Swiss mother with both Rousseau and fervent late-Calvinist Protestantism (Germaine's first book, in 1788, was on Rousseau), but also, precociously, in the Paris salons in which she would later herself become such a formidable figure. Like the twisted, anti-social genius Rousseau, she seems to have been obsessed with escaping from "amour-propre," from the competitive envy and social self-definition that torment many thoughtful and sensitive adolescents when they feel themselves confined by a vast social inheritance that they never purposely or sincerely chose.
Jane Austen's view of the "social institutions," about which Madame de Staël wrote in her book on Rousseau and in her 1800 book on literature and society, was very different, yet she was also painfully and lucidly aware of involuntary social self-definition, of the profound restrictions suffered by women generally and by women of her condition specifically (a poor clergyman's daughter from a large family). Perhaps the greatest difference, brilliantly meditated by Trilling, can be initially discerned or understood by considering Warren Roberts's assertion that for Jane Austen "a hard core of religion and morality was essential to [her] comic art, in which the exposure of error required norms" (Jane Austen and the French Revolution, 1979). And in very profound, trenchant, and touching language about the great, central Western literary-ethical tradition, Leavis writes that language itself, properly used (compare the phrase and the project "English composition"), "is a vehicle of collective wisdom and basic assumptions, a currency of criteria and valuations" that "entails on the user a large measure of accepting participation in the culture of which it is the active living presence." Like her master Samuel Johnson, Jane Austen had "a mind in possession of its experience" with "a considered scale of values," to use Leavis's phrasing.
Madame de Staël's imaginative capacity to know and identify with others, and with 'the other,' has a noble quality. But it also has a dark side.
Germaine de Staël was also the inheritor of an old, elaborate literary-moral culture, but despite her parents' intense Protestantism, she was shaped by the culture of Paris that in its salons, its manners and literature, was the culture of polite, elegant, witty corruption, the reign of those skeptical, clever, volatile, libertine thinkers whose influence Tocqueville was later to deplore in The Old Regime and the French Revolution (1856). In the Forbidden Bestsellers of Prerevolutionary France (1995), the historian Robert Darnton documents a widespread subversive literature that was at a great remove from the classical rationalism of the great French 17th century (Racine, Corneille, Molière, Bossuet, Descartes), and particularly from the powerful Christian orthodoxy of the elegant Augustinian Blaise Pascal. Germaine de Staël's contradictory inheritance of both Rousseau and late-Calvinist influences was also anomalous, accentuated by her eccentric, wealthy, privileged upbringing. To her credit, she learned, in addition to the classical languages, Italian and German and made unusually strong imaginative efforts to get to know these cultures (not as yet unified countries), as well as Russia. As the distinguished French literary historian Louis Cazamian wrote 70 years ago, her 1813 book on Germany was "noble advocacy" for "a genuinely cosmopolitan spirit, . . . a European point of view"; and if "intellectual nationality is to be transcended, Madame de Staël must be ranked permanently among the prophets of international culture." (Her cosmopolitan French-Swiss Protestant successor Denis de Rougemont (1906–1985), equally buffeted by the world, followed nobly on this path.)
If her enthusiasm and "sensibility," and her wide, glamorous, and cosmopolitan experience, put her at a great remove from the insular genius of Jane Austen, both are nevertheless exemplary figures in the quest for true justice for women in the sense of equal treatment under law and equal educational opportunities (an idea Napoleon detested and about which de Staël wrote a famous report). De Staël's imaginative capacity to know and identify with others, and with "the other," has a noble quality. But it also has a dark side. The great English Catholic liberal historian Lord Acton (1834–1902) noted that Madame de Staël's most famous aphorism was illuminatingly critiqued by her own brilliant descendant, the Duc de Broglie. In Corinne (1807), she wrote: "Tout comprendre rend très indulgent." To be totally understanding makes one very indulgent. De Broglie commented that we should beware of a mode of imaginative understanding of individuals that exculpates them deterministically from blame and guilt (or credit), from moral evaluation itself: "Beware of too much explaining lest we end by too much excusing."
Both Roger Shattuck and Christopher Ricks have worried about this tendency of a certain modern, liberal, relativistic, and desiccated rationalism: Shattuck in commentary on de Staël herself; Ricks in a lapidary 1974 essay on Milton. In Paradise Lost, Ricks wrote, "Milton wishes to exclude us from certain intimacies of feeling; he wishes to preclude our softening towards Satan's hardening. The poetry is of a kind which is deeply suspicious (rightly, to my mind) of the treacherous glissade from empathy to sympathy."
Austen knew that some degree of free will in a universe that is not merely empirical but also metaphysical — containing reason, conscience, will, and language — is an absolute, irreducible datum of human self-knowledge.
"Tout comprendre c'est tout pardonner," the popular, proverbial form of de Staël's assertion in Corinne, Shattuck notes, is abbreviated in English as "To understand is to forgive." But greater writers, such as Milton, Pascal, and Jane Austen, knew better, knew that some degree of free will in a universe that is not merely empirical but also metaphysical — containing reason, conscience, will, and language — is an absolute, irreducible datum of human self-knowledge, without which we have only contradiction, decomposition, "deconstruction," illusion, or madness. After Shattuck's brilliant cautionary book Forbidden Knowledge: From Prometheus to Pornography was translated into French as Le fruit défendu de la connaissance (1998), the savant Rémi Brague noted that, inter alia, its critique of the fashionable cult of the transgressive immoralist Marquis de Sade was widely attacked by the "guard-dogs of intellectual Paris" ("les chiens de garde du Tout Paris intellectuel"). The emancipatory thrill of opening Pandora's box, or Sade's books, is apparently never to be resisted.
When Madame de Staël was in Germany she met and conversed with German scholars and writers, including Goethe, one of whose insights in this regard is worth savoring: "Everything that liberates our minds without at the same time adding to our resources of self-mastery is pernicious." Ricks and Shattuck know this.
To her eternal credit, so did Jane Austen.
READ MORE:
After Weinstein, a Cultural Revolution