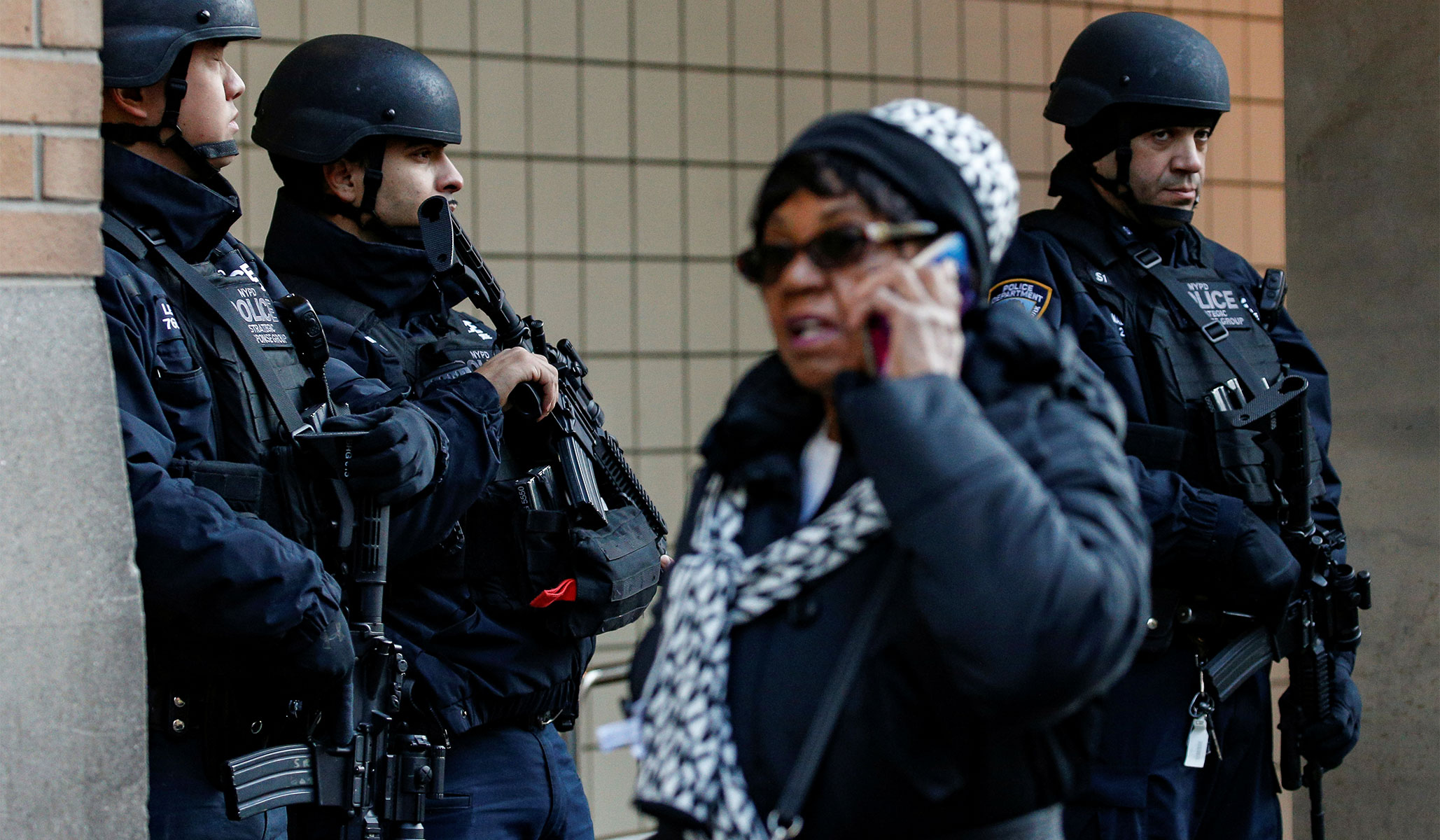 On living with terrorism over the holidays
So this is Christmas. The perpetrators of this week's violence against Swedish synagogues and New York's would-be pipe bomber say they were driven by a desire to punish the U.S. for recognizing Jerusalem as the capital of Israel. How throwing Molotov cocktails at a Swedish mosque or blowing up your own pelvis on the subway expresses this sentiment, I will never understand. It seems like an excuse. But the effect is just the same regardless.
In important cities on both sides of the Atlantic and unimportant ones that happen to have a large disaffected population of Muslims, Islamist terrorism and a sense of danger to public spaces is being added as a new feature of the Christmas season. Perhaps soon it will be just one of those things. You'll hear a complaint that the decorations are out too early after Halloween, or eavesdrop on someone grumbling about "the most wonderful time of the year" and wonder when some jerk is going to blow himself up in a subway, or ram his car into an unfortunate column of shoppers.
Since last Christmas, European cities have gone on a building spree of barriers around parks, promenades, and other public spaces. One city whose leaders had decided against concrete barriers in its pedestrian spaces was Barcelona. Then this summer thirteen people were run down by a truck in that city's famous Las Ramblas. The attackers originally intended to deliver a bomb to Gaudi's great cathedral on the opposite end. Seeing that, how could a mayor or other politician be against the barriers once they are proposed? The Spectator's Ed West acidly calls them "diversity bollards."
Western European Christmas markets have been particularly disfigured by this trend. After the gruesome attack on one in Berlin last year, Germany has rung in season's greetings by promising a "Ring of Steel" around Christmas markets this year. Sometimes they make a point of trying to make the new barriers unthreatening. In Bochum, the bollards themselves have been wrapped up like Christmas presents. A gift from the city!
In these places a menacing look is preferred. For people of a certain age, unarmed police were the norm in most Western European cities. But things change. Police in Liverpool have unwrapped Operation Exemplar, a "new, highly visible tactic used to tackle all forms of criminality, including terrorism, whilst engaging with the public to encourage them to report suspicious activity." Liverpudlian police officers are being put in highly conspicuous spots, decked out in black from head to toe, and outfitted with machine guns, as if in preparation for full-blown urban warfare. Merry Christmas, sir, we're here for your protection.
The smart response to terror attacks, however lame it may seem, is to make a show of being unfazed: We will go on; it's just a delay in the commute. God forbid you get angry. Yesterday morning, people hunted for the reactions on Twitter, including my own, that weren't up to snuff. Dark humor was labeled, "Not cool," especially if it was pointed. Unable to whip the Islamist-terrorism problem, we could at least lash out at each other.
Admittedly, it is worse in Europe, as many things are. But, yesterday's incident in New York doesn't make me feel like broadcasting that I kept my indifference on point. It makes me angry. It makes my loved ones more nervous about my commutes into the city. It requires a price and I don't like the price on offer.
In Europe the price, at first, was much more surveillance. Increasingly, it has been a circumscription of the bounds of political rhetoric and even thought, in the hopes that by keeping quiet more violence can be avoided. Now the price is physical barriers meant to keep us safe even as they remind us of danger. After a New Year's celebration gone horribly wrong, one German mayor suggested that perhaps women shouldn't move about unaccompanied or be so frisky. I don't want any of these trends coming to America. But I suspect I won't get my wish. Another year over, a new one just begun.
READ MORE:
Why Rush to Civilian Court With Subway Terrorist
The Timeline of New York City Subway Bombing