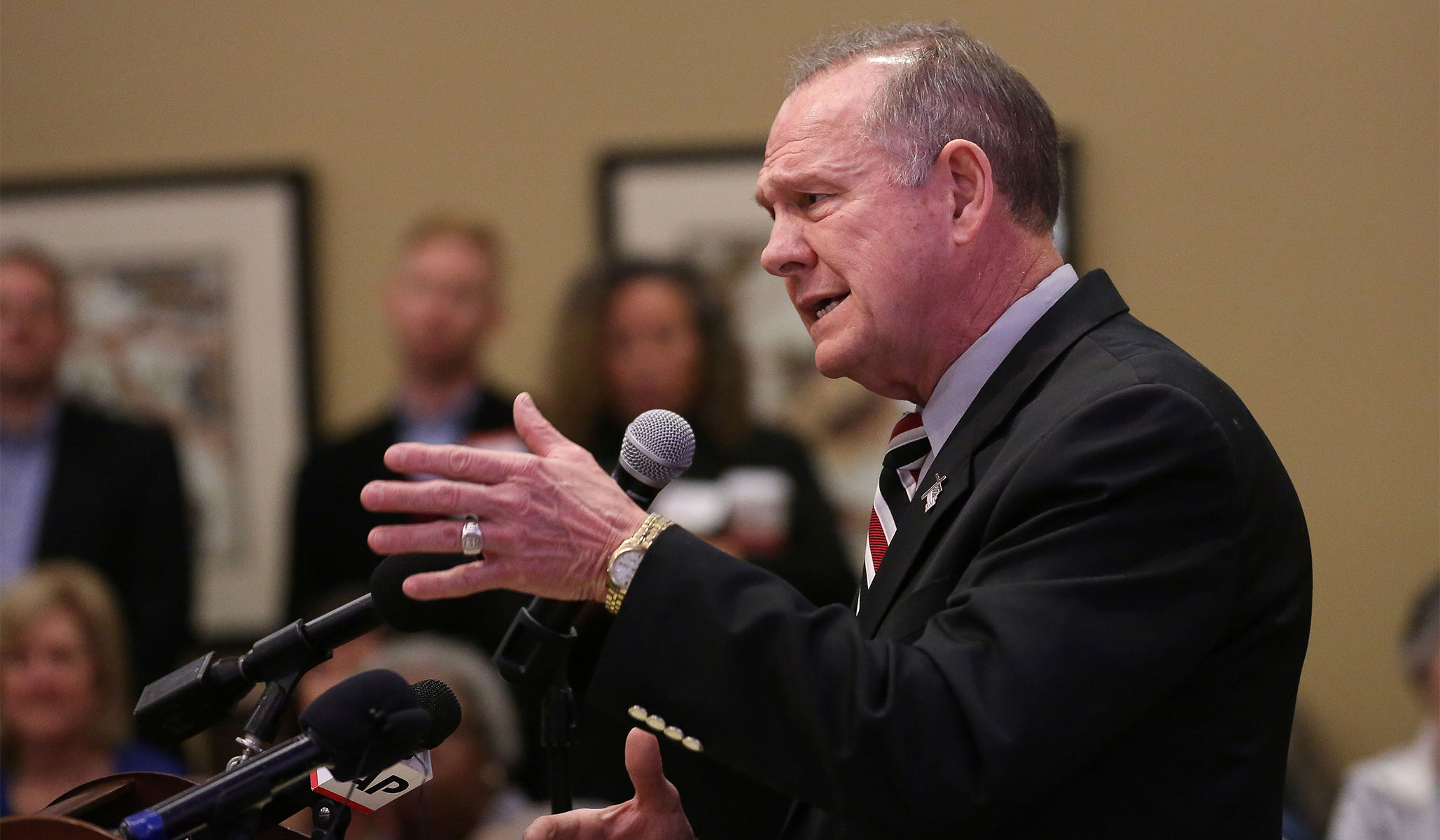 Prominent social-conservative leaders would do well to steer clear of the Alabama Senate race.
Editor's Note: This piece has been amended since its initial publication.
This week, while campaigning in an Alabama church — as a Bible-believing Christian, I'll note that this story is already off to a questionable start — Judge Roy Moore, the state's embattled Republican Senate candidate, faced down a rather spirited heckler. "The entire time, all the girls are lying?" the man shouted, right before he was escorted out of the event. "Why would they lie?"
If you've been following our very depressing national news cycle, you know the story: Moore, age 70, has faced multiple accusations of sexual misconduct dating back four decades, two of them involving underage girls, including one alleged assault of a fourteen-year-old. No charges have been filed, and that's unlikely to change; the statute of limitations on any potential crimes stemming from the allegations appears to have long ago expired. Moore, for his part, argues that his accusers are part of a coordinated hit job orchestrated by Washington-establishment insiders. "They don't want to hear about God," he declared this week. "And they don't want to hear about the Constitution of the United States and its foundational principles in God."
We'll get back to the Constitution — and Moore's understanding of it — in a moment. But for now, let's hear what the pastor of the church said, his doughy chin raised high, once the heckler had been neatly dispatched: "I would remind everyone," he sniffed, "that this is a worship service."
One could laugh, or cry, or marvel at how much this strange episode eerily resembles a cut-rate, mawkish cable-TV stereotype of a benighted Southern church. A "worship service?" It was a clear-cut campaign event! (To be fair, these days, many Christian leaders certainly seem bent on worship . . . but for an alarming number, it's often at the altar of our nation's tragicomic politics.)
I'll get this out the way: If you're in Alabama and you want to vote for Roy Moore, vote for Roy Moore. But let's at least try to keep things real: If you vote for Moore, you're doing it because he's not a Democrat, rather than because he's some holy soldier on a special mission for God.
Bizarrely, many high-profile Christian leaders seem hell-bent on convincing America that Moore is just that. Jerry Falwell Jr. recently threw in his support for Moore. Radio host and author Eric Metaxas has vigorously promoted theological defenses of why Christians can vote for Moore. Franklin Graham, who took the time to rip Matt Lauer for his "sin" on Twitter, is decidedly more sanguine in his defense of Moore: "Whoever is without sin, let them throw the first stone."
Personally, I would suggest a different scripture, from Proverbs: "Those who guard their mouths and their tongues keep themselves from calamity." Seriously, Christian leaders: It's okay to occasionally zip it when it comes to politics. There are better ways to be a witness for Christ than inserting yourself into a cringe-worthy Alabama Senate race. But don't tell that to Dr. James Dobson, the highly respected leader of Focus on the Family, who recently cut this doozy of a radio ad: "You know, last November I believe God gave America another chance with the election of Donald J. Trump. But he now needs the presence and leadership of Judge Roy Moore to make America great again."
Excuse me for a moment, as I may have blown a gasket just typing that. First of all, is it Donald Trump or God who "needs" Roy Moore in the Senate? Also, isn't this all just a tad presumptuous? How is Dr. Dobson so sure that God's plan matches his personal plan? The Bible, in fact, tells us that God's plans often clash with our own.
In any case, Roy Moore is ahead in the polls, so I suppose his supporters can breathe easy for now. In the meantime, Democrats might want to shelve some of their Alabama-related smugness. To a significant segment of the population, their party is so unpalatable that people will vote for a guy who once, while dressed like a dime-store cowboy, halfheartedly whipped out a gun at a rally and almost pointed it at the crowd. Instead of their candidate, who is largely known for his abortion fandom, Alabama voters will probably elect a person who claimed that there was sharia law "in Illinois, Indiana — up there, I don't know," sometimes seems confused about basic legal concepts despite his decades-long career in the law, has somehow focused our national discussion on the propriety of adults dating minors, and who was once reportedly almost banned from a shopping mall.
Life is never boring, is it? We'll see what December 12 holds. Only heaven knows.
READ MORE:
Latest Polls Show Roy Moore Winning
A Philosophy Professor's Terrible Argument for Roy Moore
If Politics Affect How You Feel About Roy Moore, There May Be a Problem