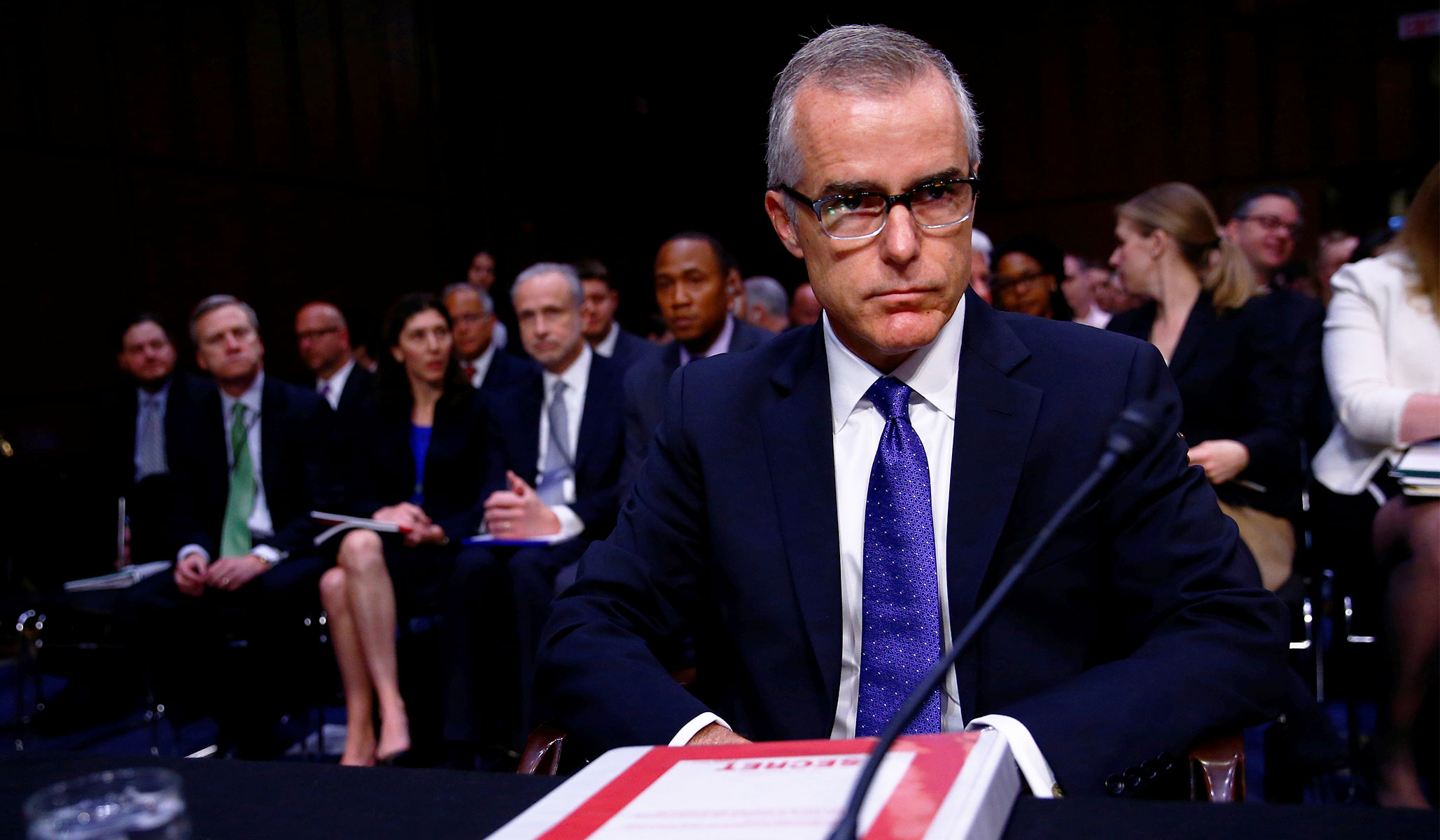 Clinton campaign propaganda appears to have triggered Obama administration spying on Trump's campaign.
The FBI's deputy director Andrew McCabe testified Tuesday at a marathon seven-hour closed-door hearing of the House Intelligence Committee. According to the now-infamous text message sent by FBI agent Peter Strzok to his paramour, FBI lawyer Lisa Page, it was in McCabe's office that top FBI counterintelligence officials discussed what they saw as the frightening possibility of a Trump presidency.
That was during the stretch run of the 2016 campaign, no more than a couple of weeks after they started receiving the Steele dossier — the Clinton campaign's opposition-research reports, written by former British spy Christopher Steele, about Trump's purportedly conspiratorial relationship with Vladimir Putin's regime in Russia.
Was it the Steele dossier that so frightened the FBI? I think so.
There is a great deal of information to follow. But let's cut to the chase: The Obama-era FBI and Justice Department had great faith in Steele because he had previously collaborated with the bureau on a big case. Plus, Steele was working on the Trump-Russia project with the wife of a top Obama Justice Department official, who was personally briefed by Steele. The upper ranks of the FBI and DOJ strongly preferred Trump's opponent, Hillary Clinton, to the point of overlooking significant evidence of her felony misconduct, even as they turned up the heat on Trump. In sum, the FBI and DOJ were predisposed to believe the allegations in Steele's dossier. Because of their confidence in Steele, because they were predisposed to believe his scandalous claims about Donald Trump, they made grossly inadequate efforts to verify his claims. Contrary to what I hoped would be the case, I've come to believe Steele's claims were used to obtain FISA surveillance authority for an investigation of Trump.
There were layers of insulation between the Clinton campaign and Steele — the campaign and the Democratic party retained a law firm, which contracted with Fusion GPS, which in turn hired the former spy. At some point, though, perhaps early on, the FBI and DOJ learned that the dossier was actually a partisan opposition-research product. By then, they were dug in. No one, after all, would be any the wiser: Hillary would coast to victory, so Democrats would continue running the government; FISA materials are highly classified, so they'd be kept under wraps. Just as it had been with the Obama-era's Fast and Furious and IRS scandals, any malfeasance would remain hidden.
The best laid schemes . . . gang aft agley.
Why It Matters
Strzok's text about the meeting in McCabe's office is dated August 16, 2016. As we'll see, the date is important. According to Agent Strzok, with Election Day less than three months away, Page, the bureau lawyer, weighed in on Trump's bid: "There's no way he gets elected." Strzok, however, believed that even if a Trump victory was the longest of long shots, the FBI "can't take that risk." He insisted that the bureau had no choice but to proceed with a plan to undermine Trump's candidacy: "It's like an insurance policy in the unlikely event you die before you're 40."
The Wall Street Journal reported Monday that, "according to people familiar with his account," Strzok meant that it was imperative that the FBI "aggressively investigate allegations of collusion between Donald Trump's campaign and Russia." In laughable strawman fashion, the "people familiar with his account" assure the Journal that Strzok "didn't intend to suggest a secret plan to harm the candidate." Of course, no sensible person suspects that the FBI was plotting Trump's assassination; the suspicion is that, motivated by partisanship and spurred by shoddy information that it failed to verify, the FBI exploited its counterintelligence powers in hopes of derailing Trump's presidential run.
But what were these "allegations of collusion between Donald Trump's campaign and Russia" that the FBI decided to "aggressively investigate"? The Journal doesn't say. Were they the allegations in the Steele dossier? That is a question I asked in last weekend's column. It is a question that was pressed by Chairman Devin Nunes (R., Calif.) and Republican members of the House Intelligence Committee at Tuesday's sealed hearing. As I explained in the column, the question is critical for three reasons:
(1) The Steele dossier was a Clinton campaign product. If it was used by the FBI and the Obama Justice Department to obtain a FISA warrant, that would mean law-enforcement agencies controlled by a Democratic president fed the FISA court political campaign material produced by the Democratic candidate whom the president had endorsed to succeed him. Partisan claims of egregious scheming with an adversarial foreign power would have been presented to the court with the FBI's imprimatur, as if they were drawn from refined U.S. intelligence reporting. The objective would have been to spy on the opposition Republican campaign.

(2) In June of this year, former FBI director James Comey testified that the dossier was "salacious and unverified." While still director, Comey had described the dossier the same way when he briefed President-elect Trump on it in January 2017. If the dossier was still unverified as late as mid 2017, its allegations could not possibly have been verified months earlier, in the late summer or early autumn of 2016, when it appears that the FBI and DOJ used them in an application to the FISA court.

(3) The dossier appears to contain misinformation. Knowing he was a spy-for-hire trusted by Americans, Steele's Russian-regime sources had reason to believe that misinformation could be passed into the stream of U.S. intelligence and that it would be acted on — and leaked — as if it were true, to America's detriment. This would sow discord in our political system. If the FBI and DOJ relied on the dossier, it likely means they were played by the Putin regime.
How Could Something Like This Happen?
We do not have public confirmation that the dossier was, in fact, used by the bureau and the Justice Department to obtain the FISA warrant. Publicly, FBI and DOJ officials have thwarted the Congress with twaddle about protecting both intelligence sources and an internal inspector-general probe. Of course, Congress, which established and funds the DOJ and FBI, has the necessary security clearances to review classified information, has jurisdiction over the secret FISA court, and has independent constitutional authority to examine the activities of legislatively created executive agencies.
It appears that the FBI corroborated few of Steele's claims, and at an absurdly high level of generality.
In any event, important reporting by Fox News' James Rosen regarding Tuesday's hearing indicates that the FBI did, in fact, credit the contents of the dossier. It appears, however, that the bureau corroborated few of Steele's claims, and at an absurdly high level of generality — along the lines of: You tell me person A went to place X and committed a crime; I corroborate only that A went to X and blithely assume that because you were right about the travel, you must be right about the crime.
Here, the FBI was able to verify Steele's claim that Carter Page, a very loosely connected Trump-campaign adviser, had gone to Russia. This was not exactly meticulous gumshoe corroboration: Page told many people he was going to Russia, saw many people while there, and gave a speech at a prominent Moscow venue. Having verified only the travel information, the FBI appears to have credited the claims of Steele's anonymous Russian sources that Page carried out nigh-treasonous activities while in Russia.
How could something like this happen? Well, the FBI and DOJ liked and trusted Steele, for what seem to be good reasons. As the Washington Post has reported, the former MI-6 agent's private intelligence firm, Orbis, was retained by England's main soccer federation to investigate corruption at FIFA, the international soccer organization that had snubbed British bids to host the World Cup. In 2010, Steele delivered key information to the FBI's organized-crime liaison in Europe. This helped the bureau build the Obama Justice Department's most celebrated racketeering prosecution: the indictment of numerous FIFA officials and other corporate executives. Announcing the first wave of charges in May 2015, Attorney General Loretta Lynch made a point of thanking the investigators' "international partners" for their "outstanding assistance."
At the time, Bruce Ohr was the Obama Justice Department's point man for "Transnational Organized Crime and International Affairs," having been DOJ's long-serving chief of the Organized Crime and Racketeering Section. He also wore a second, top-echelon DOJ hat: associate deputy attorney general. That made him a key adviser to the deputy attorney general, Sally Yates (who later, as acting attorney general, was fired for insubordinately refusing to enforce President Trump's so-called travel ban). In the chain of command, the FBI reports to the DAG's office.
To do the Trump-Russia research, Steele had been retained by the research firm Fusion GPS (which, to repeat, had been hired by lawyers for the Clinton campaign and the DNC). Fusion GPS was run by its founder, former Wall Street Journal investigative journalist Glenn Simpson. Bruce Ohr's wife, Nellie, a Russia scholar, worked for Simpson at Fusion. The Ohrs and Simpson appear to be longtime acquaintances, dating back to when Simpson was a senior fellow at the International Assessment and Strategy Center. In 2010, all three participated in a two-day conference on international organized crime, sponsored by the National Institute of Justice (see conference schedule and participant list, pp. 27–30). In connection with the Clinton campaign's Trump-Russia project, Fusion's Nellie Ohr collaborated with Steele and Simpson, and DOJ's Bruce Ohr met personally with Steele and Simpson.
The Department of Justice and FBI were favorably disposed toward Christopher Steele and Fusion GPS.
Manifestly, the DOJ and FBI were favorably disposed toward Steele and Fusion GPS. I suspect that these good, productive prior relationships with the dossier's source led the investigators to be less exacting about corroborating the dossier's claims.
But that is just the beginning of the bias story.
At a high level, the DOJ and FBI were in the tank for Hillary Clinton. In July 2016, shortly before Steele's reports started floating in, the FBI and DOJ announced that no charges would be brought against Mrs. Clinton despite damning evidence that she mishandled classified information, destroyed government files, obstructed congressional investigations, and lied to investigators. The irregularities in the Clinton-emails investigation are legion: President Obama making it clear in public statements that he did not want Clinton charged; the FBI, shortly afterwards, drafting an exoneration of Clinton months before the investigation ended and central witnesses, including Clinton herself, were interviewed; investigators failing to use the grand jury to compel the production of key evidence; the DOJ restricting FBI agents in their lines of inquiry and examination of evidence; the granting of immunity to suspects who in any other case would be pressured to plead guilty and cooperate against more-culpable suspects; the distorting of criminal statutes to avoid applying them to Clinton; the sulfurous tarmac meeting between Attorney General Lynch and former President Clinton shortly before Mrs. Clinton was given a peremptory interview — right before then–FBI director Comey announced that she would not be charged.
The blatant preference for Clinton over Trump smacked of politics and self-interest. Deputy FBI director McCabe's wife had run for the Virginia state legislature as a Democrat, and her (unsuccessful) campaign was lavishly funded by groups tied to Clinton insider Terry McAuliffe. Agent Strzok told FBI lawyer Page that Trump was an "idiot" and that "Hillary should win 100 million to 0." Page agreed that Trump was "a loathsome human." A Clinton win would likely mean Lynch — originally raised to prominence when President Bill Clinton appointed her to a coveted U.S. attorney slot — would remain attorney general. Yates would be waiting in the wings.
The prior relationships of trust with the source; the investment in Clinton; the certitude that Clinton would win and deserved to win, signified by the mulish determination that she not be charged in the emails investigation; the sheer contempt for Trump. This concatenation led the FBI and DOJ to believe Steele — to want to believe his melodramatic account of Trump-Russia corruption. For the faithful, it was a story too good to check.
The DOJ and FBI, having dropped a criminal investigation that undeniably established Hillary Clinton's national-security recklessness, managed simultaneously to convince themselves that Donald Trump was too much of a national-security risk to be president.
The Timeline
As I noted in last weekend's column, reports are that the FBI and DOJ obtained a FISA warrant targeting Carter Page (no relation to Lisa Page). For a time, Page was tangentially tied to the Trump campaign as a foreign-policy adviser — he barely knew Trump. The warrant was reportedly obtained after the Trump campaign and Page had largely severed ties in early August 2016. We do not know exactly when the FISA warrant was granted, but the New York Times and the Washington Post have reported, citing U.S. government sources, that this occurred in September 2016 (see here, here, and here). Further, the DOJ and FBI reportedly persuaded the FISA court to extend the surveillance after the first warrant's 90-day period lapsed — meaning the spying continued into Trump's presidency.
The FBI and DOJ would have submitted the FISA application to the court shortly before the warrant was issued. In the days-to-weeks prior to petitioning the court, the FISA application would have been subjected to internal review at the FBI — raising the possibility that FBI lawyer Page was in the loop reviewing the investigative work of Agent Strzok, with whom she was having an extramarital affair. There would also have been review at the Justice Department — federal law requires that the attorney general approve every application to the FISA court.
Presumably, these internal reviews would have occurred in mid-to-late August — around the time of the meeting in McCabe's office referred to in Strzok's text. Thus, we need to understand the relevant events before and after mid-to-late August. Here is a timeline.
June 2016
In June 2016, Steele began to generate the reports that collectively are known as the "dossier."
In the initial report, dated June 20, 2016, Steele alleged that Putin's regime had been "cultivating, supporting and assisting TRUMP for at least 5 years." (Steele's reports conform to the FBI and intelligence-agency reporting practice of rendering names of interest in capital letters.) The Kremlin was said to have significant blackmail material that could be used against Trump.
In mid-to-late June 2016, according to Politico, Carter Page asked J. D. Gordon, his supervisor on the Trump campaign's National Security Advisory Committee, for permission to go on a trip to Russia in early July. Gordon advised against it. Page then sent an email to Corey Lewandowski, who was Trump's campaign manager until June 20, and Hope Hicks, the Trump campaign spokeswoman, seeking permission to go on the trip. Word came back to Page by email that he could go, but only in his private capacity, not as a representative of the Trump campaign. Lewandowski says he has never met Carter Page.
July 2016
Page, a top-of-the-class graduate of the U.S. Naval Academy with various other academic distinctions, traveled to Moscow for a three-day trip, the centerpiece of which was a July 7 commencement address at the New Economic School (the same institution at which President Obama gave a commencement address on July 7, 2009). The New York Times has reported, based on leaks from "current and former law enforcement and intelligence officials," that Page's July trip to Moscow "was a catalyst for the F.B.I. investigation into connections between Russia and President Trump's campaign." The Times does not say what information the FBI had received that made the Moscow trip such a "catalyst."
At a meeting in deputy FBI director Andrew McCabe's office, it was discussed that the bureau needed something akin to an "insurance policy" even though Trump's election was thought highly unlikely.
Was it the Steele dossier?
Well, on July 19, Steele reported that, while in Moscow, Page had held secret meetings with two top Putin confederates, Igor Sechin and Igor Diveykin. Steele claimed to have been informed by "a Russian source close to" Sechin, the president of Russia's energy conglomerate Rosneft, that Sechin had floated to Page the possibility of "US-Russia energy co-operation" in exchange for the "lifting of western sanctions against Russia over Ukraine." Page was said to have reacted "positively" but in a manner that was "non-committal."
Another source, apparently Russian, told Steele that "an official close to" Putin chief of staff Sergei Ivanov had confided to "a compatriot" that Igor Diveykin (of the "Internal Political Department" of Putin's Presidential Administration) had also met with Page in Moscow. (Note the dizzying multiple-hearsay basis of this information.) Diveykin is said to have told Page that the regime had "a dossier of 'kompromat'" — compromising information — on Hillary Clinton that it would consider releasing to Trump's "campaign team." Diveykin further "hinted (or indicated more strongly) that the Russian leadership also had 'kompromat' on TRUMP which the latter should bear in mind in his dealings with them."
The hacked DNC emails were first released on July 22, shortly before the Democratic National Convention, which ran from July 25 through 28.
In "late July 2016," Steele claimed to have been told by an "ethnic Russian close associate of . . . TRUMP" that there was a "well-developed conspiracy of co-operation" between "them" (apparently meaning Trump's inner circle) and "the Russian leadership." The conspiracy was said to be "managed on the TRUMP side by the Republican candidate's campaign manager, Paul MANAFORT, who was using foreign policy adviser, Carter PAGE, and others as intermediaries."
The same source claimed that the Russian regime had been behind the leak of DNC emails "to the WikiLeaks platform," an operation the source maintained "had been conducted with the full knowledge and support of TRUMP and senior members of his campaign team." As a quid pro quo, "the TRUMP team" was said to have agreed (a) "to sideline Russian intervention in Ukraine as a campaign issue," and (b) to raise the failure of NATO nations to meet their defense commitments as a distraction from Russian aggression in Ukraine, "a priority for PUTIN who needed to cauterise the subject."
Late July to Early August 2016
The Washington Post has reported that Steele's reports were first transmitted "by an intermediary" to the FBI and other U.S. intelligence officials after the Democratic National Convention (which, to repeat, ended on July 28). The intermediary is not identified. We do not know if it was Fusion, though that seems likely given that Fusion shared its work with government and non-government entities. Steele himself is also said to have contacted "a friend in the FBI" about his research after the Democratic convention. As we've seen, Steele made bureau friends during the FIFA investigation.
August 2016
On August 11, as recounted in the aforementioned Wall Street Journal report, FBI agent Strzok texted the following message to FBI lawyer Page: "OMG I CANNOT BELIEVE WE ARE SERIOUSLY LOOKING AT THESE ALLEGATIONS AND THE PERVASIVE CONNECTIONS." The Journal does not elaborate on what "allegations" Strzok was referring to, or the source of those allegations.
On August 15, Strzok texted Page about the meeting in deputy FBI director McCabe's office at which it was discussed that the bureau "can't take that risk" of a Trump presidency and needed something akin to an "insurance policy" even though Trump's election was thought highly unlikely.
September 2016
Reporting indicates that sometime in September 2016, the DOJ and FBI applied to the FISA court for a warrant to surveil Carter Page, and that the warrant was granted.
Interestingly, on September 23, 2016, Yahoo's Michael Isikoff reported on leaks he had received that the U.S. government was conducting an intelligence investigation to determine whether Carter Page, as a Trump adviser, had opened up a private communications channel with such "senior Russian officials" as Igor Sechin and Igor Diveykin to discuss lifting economic sanctions if Trump became president.
It is now known that Isikoff's main source for the story was Fusion's Glenn Simpson. Isikoff's report is rife with allegations found in the dossier, although the dossier is not referred to as such; it is described as "intelligence reports" that "U.S. officials" were actively investigating — i.e., Steele's reports were described in a way that would lead readers to assume they were official U.S. intelligence reports. But there clearly was official American government involvement: Isikoff's story asserts that U.S. officials were briefing members of Congress about these allegations that Page was meeting with Kremlin officials on Trump's behalf. The story elaborated that "questions about Page come amid mounting concerns within the U.S. intelligence community about Russian cyberattacks on the Democratic National Committee." Those would be the cyberattacks alleged — in the dossier on which Congress was being briefed — to be the result of a Trump-Russia conspiracy in which Page was complicit.
Isikoff obviously checked with his government sources to verify what Simpson had told him about the ongoing investigation that was based on these "intelligence reports." His story recounts that "a senior U.S. law enforcement official" confirmed that Page's alleged contacts with Russian officials were "on our radar screen. . . . It's being looked at."
Final Points to Consider
After his naval career, Page worked in investing, including several years at Merrill Lynch in Moscow. As my column last weekend detailed, he has been an apologist for the Russian regime, championing appeasement for the sake of better U.S.–Russia relations. Page has acknowledged that, during his brief trip to Moscow in July 2016, he ran into some Russian government officials, among many old Russian friends and acquaintances. Yet he vehemently denies meeting with Sechin and Diveykin. (While Sechin's name is well known to investors in the Russian energy sector, Page says that he has never met him and that he had never even heard Diveykin's name until the Steele dossier was publicized in early 2017.) Furthermore, Page denies even knowing Paul Manafort, much less being used by Manafort as an intermediary between the Trump campaign and Russia. Page has filed a federal defamation lawsuit against the press outlets that published the dossier, has denied the dossier allegations in FBI interviews, and has reportedly testified before the grand jury in Robert Mueller's special-counsel investigation.
Even though the FISA warrant targeting Page is classified and the FBI and DOJ have resisted informing Congress about it, some of its contents were illegally and selectively leaked to the Washington Post in April 2017 by sources described as "law enforcement and other U.S. officials." According to the Post:
The government's application for the surveillance order targeting Page included a lengthy declaration that laid out investigators' basis for believing that Page was an agent of the Russian government and knowingly engaged in clandestine intelligence activities on behalf of Moscow, officials said. 

Among other things, the application cited contacts that he had with a Russian intelligence operative in New York City in 2013, officials said. Those contacts had earlier surfaced in a federal espionage case brought by the Justice Department against the intelligence operative and two other Russian agents. In addition, the application said Page had other contacts with Russian operatives that have not been publicly disclosed, officials said.
I've emphasized that last portion because it strongly implies that the FISA application included information from the Steele dossier. That is, when the Post speaks of Page's purported "other contacts with Russian operatives that have not been publicly disclosed," this is very likely a reference to the meetings with Sechin and Diveykin that Page denies having had — the meetings described in the dossier. Do not be confused by the fact that, by the time of this Post report, the Steele-dossier allegations had already been disclosed to the public by BuzzFeed (in January 2017). The Post story is talking about what the DOJ and FBI put in the FISA application back in September 2016. At that time, the meetings alleged in the dossier had not been publicly disclosed.
Two final points.
First: The FISA application's reliance on 2013 events as a basis for suspicion in 2016 that Page was a foreign agent of Russia is curious. The 2013 investigation involved Russian intelligence operatives who were trying to recruit business people, such as Page, as sources — i.e., Page was being approached by Russia, not acting on Russia's behalf. In the 2013 investigation, Page met with a Russian agent, whom he apparently did not realize was an agent. They met at an energy symposium in New York and Page did networking-type things: exchanging contact information and providing his jejune assessment of the energy sector's prospects. The Russian agent described Page as an "idiot" in a recorded conversation. According to Page, he cooperated with the FBI and helped prosecutors in the case against one of the suspects — claims that the government could easily disprove if he is lying.
Second: In reporting on the FISA warrant that targeted Page, the Washington Post asserted that "an application for electronic surveillance under [FISA] need not show evidence of a crime." That is not accurate.
Under federal surveillance law (sec. 1801 of Title 50, U.S. Code), the probable-cause showing the government must make to prove that a person is an agent of a foreign power is different for Americans than for aliens. If the alleged agent is an alien, section 1801(b)(1) applies, and this means that no crime need be established; the government need only show that the target is acting on behalf of a foreign power in the sense of abetting its clandestine anti-American activities.
By contrast, if the alleged agent is an American citizen, such as Page, section 1801(b)(2) applies: The government must show not only that the person is engaged in clandestine activities on behalf of a foreign power but also that these activities (1) "involve or may involve a violation of the criminal statutes of the United States"; (2) involve the preparation for or commission of sabotage or international terrorism; (3) involve using a false identity to enter or operate in the United States on behalf of a foreign power; or (4) involve conspiring with or aiding and abetting another person in the commission of these criminal activities. All of these involve evidence of a crime.
The only known suspicions about Page that have potential criminal implications are the allegations in the dossier, which potentially include hacking, bribery, fraud, and racketeering — if Russia were formally considered an enemy of the United States, they would include treason.
The FBI always has information we do not know about. But given that Page has not been accused of a crime, and that the DOJ and FBI would have to have alleged some potential criminal activity to justify a FISA warrant targeting the former U.S. naval intelligence officer, it certainly seems likely that the Steele dossier was the source of this allegation.
In conclusion, while there is a dearth of evidence to date that the Trump campaign colluded in Russia's cyberespionage attack on the 2016 election, there is abundant evidence that the Obama administration colluded with the Clinton campaign to use the Steele dossier as a vehicle for court-authorized monitoring of the Trump campaign — and to fuel a pre-election media narrative that U.S. intelligence agencies believed Trump was scheming with Russia to lift sanctions if he were elected president. Congress should continue pressing for answers, and President Trump should order the Justice Department and FBI to cooperate rather than — what's the word? — resist.