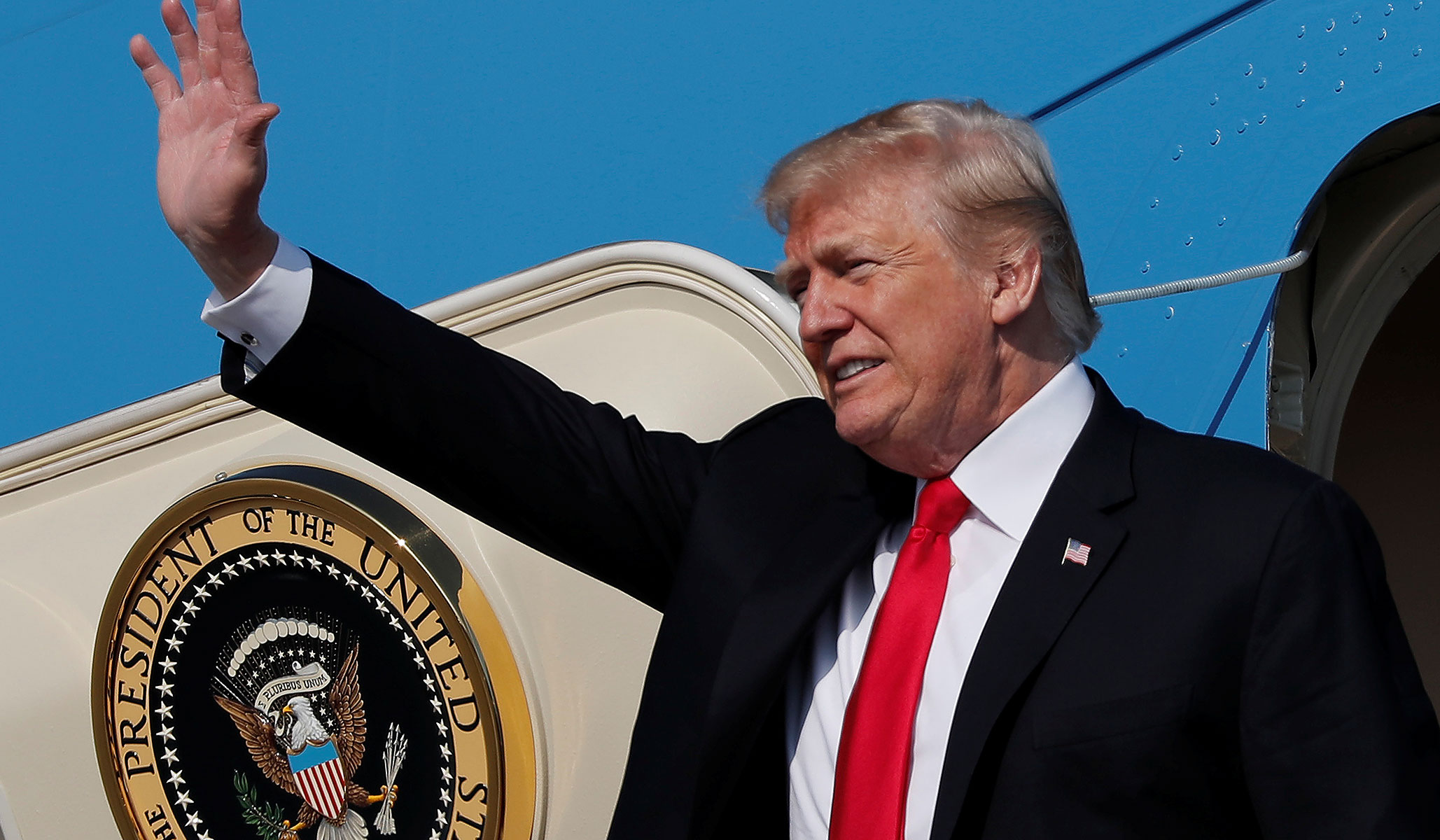 While hysterical opponents hurl baseless charges, the president governs deftly.
After 18 months of scrutiny, the accusation that Donald J. Trump colluded with the Kremlin to win the White House looks as empty as a Soviet store shelf. Far-left Democrats screamed for Trump's impeachment even before his inauguration. Nonetheless, the House considered articles of impeachment on December 6. The measure was massacred 364–58. House minority leader Nancy Pelosi of California and minority whip Steny Hoyer of Maryland were among the 126 Democrats who just said "Nay."
Undeterred, the Trump-loathing Left's latest gambit is that the president is "unfit for office" due to mental illness.
‐ "Trump needs to be medicated and hospitalized," Joy Behar, co-host of ABC News's The View, said last week. NBC News's Peter Alexander asked at a White House daily press briefing, "Should Americans be concerned about the president's mental fitness?"
‐ Representative Jamie Raskin (D., Md.) told CNN that "there's basically no real medical cure for the condition that he's demonstrating" and added: "My interest is doing our institutional duty under the 25th Amendment," which would remove Trump for mental incapacity.
‐ Never having examined Trump, Yale psychiatry professor Bandy X. Lee nonetheless told congressional Democrats that he "is unraveling" and "becoming very unstable very quickly." The American Psychiatric Association admonished its members on Tuesday: "Arm-chair psychiatry or the use of psychiatry as a political tool is the misuse of psychiatry and is unacceptable and unethical."
Such Trumpophobes wave their copies of Fire and Fury, Michael Wolff's new Trump-bashing extravaganza, as if it were the Diagnostic and Statistical Manual of Mental Disorders. The president's alleged "childishness," unfamiliarity with former House speaker John Boehner, and taste for cheeseburgers and fried chicken supposedly require his immediate ouster due to insanity.
Rubbish.
Few would bellow in sorrow if Trump deployed Twitter more sparingly. But his repeated discussion of Boehner on that medium since at least 2011, and their golf together, detonates that lie.
Could Trump eat better, especially at age 71? Couldn't we all? But if devouring fast food equals mental illness, then hundreds of millions of Americans must be institutionalized. Besides, when President Bill Clinton devoured burgers, the Left cheered: "Let Bubba be Bubba!"
Wolff's reputation makes him difficult to believe.
"I have a certain combination of fearlessness and foolishness," he told the Washington Post in 2001. "I don't really care. I will say anything." The Post observed 16 years ago: "He has been accused of not just re-creating scenes in his books and columns, but of creating them wholesale." In his prologue to Fire and Fury, Wolff describes "looseness with the truth" as "an elemental thread of the book."
Here's how one of Wolff's editors described him in a 2004 New Republic profile: "He is adroit at making the reader think that he has spent hours and days with his subject, when in fact he may have spent no time at all."
"How many fairly grievous lies had I told?" Wolff wrote in Burn Rate, his book on how he ran Wolff New Media into bankruptcy in the 1990s. "How many moral lapses had I committed? How many ethical breaches had I fallen into? . . . Like many another financial conniver, I was in a short-term mode."
Unable to meet his payroll, Wolff hid from his bankers by concocting weepy lies about his father-in-law undergoing open-heart surgery. Wolff also used a staged phone call to defraud his underwriters.
The Left trusts this charlatan, who confessed on January 8 to CBS This Morning's Norah O'Donnell that he didn't bother to interview Vice President Mike Pence or any cabinet members for this so-called tell-all.
If Trump's foes would unclench their jaws and open their eyes, they could see clearly now that a mentally fit Donald J. Trump is executing skillfully the office of President of the United States.
Trump hosted bipartisan, bicameral lawmakers in the White House Cabinet Room on Tuesday. Topic: What he called "a bill of love" encompassing young illegal aliens in DACA status, the southern border wall, and related matters. A peerlessly transparent Trump let news cameras watch him, several cabinet secretaries, and members of Congress negotiate these topics. Trump was in charge, informed, and humorous. Never in those 55 televised minutes did he appear psychotic.
Trump just secured a massive reform of the U.S. Tax Code, the first in 31 years. He made incredibly detailed, complex decisions — in person and by phone — among his aides, lawmakers, activists, and voters.
"Mr. President, I have to say, you're living up to everything I thought you would. You're one heck of a leader," Senate Finance Committee chairman Orrin Hatch (R., Utah) told Trump at the White House on December 20. "This bill could not have passed without you."
Was this legislative triumph the work of a madman?
Trump met overseas with Arab, European, and Asian leaders last year. He urged Muslim officials to "drive out" militant Islam, persuaded NATO allies to pay their fair share (2 percent of GDP) for collective security, and unified Pacific nations against North Korea. Were these the antics of a lunatic?
Even something that raised eyebrows across the political spectrum now seems crazy like a fox.
"A nuclear button is always on the desk of my office," North Korean dictator Kim Jong-un announced on January 2. Trump retorted: "Will someone from his depleted and food starved regime please inform him that I too have a Nuclear Button, but it is a much bigger & more powerful one than his, and my Button works!"
Trump's foes immediately suffered convulsions.
But just one week after Trump's comments, North Korean diplomats met their South Korean counterparts at the Demilitarized Zone's Joint Security Area at the Panmunjom border post. These were the first North–South talks since December 2015. Both sides agreed that the North would send athletes to the Winter Olympics in PyeongChang, South Korea. The two governments reestablished a military-communications hotline, and their armed forces conducted tension-reduction conversations.
"I think President Trump deserves big credit for bringing about the inter-Korean talks," South Korean president Moon Jae-in said Wednesday. "I want to show my gratitude."
"President Trump is absolutely right," Moon's adviser Moon Chung-in told NBC Nightly News on Tuesday. "American pressure yielded some positive outcomes."
If anyone seems mentally unbalanced, it's not Trump, but rather his deranged critics.
If anyone seems mentally unbalanced, it's not Trump, but rather his deranged critics.
It has been 51 weeks since he was sworn in and 14 months since he was elected. Yet Trump's antagonists still remain in a canyonesque state of denial that he legitimately clobbered 16 GOP rivals, the House of Bush, the Obama operation, the Clinton machine, the Republican establishment, and the old-guard media en route to the White House — in his very first political campaign. Trump's stunning achievement hardly seems that of a maniac.
‐ Leftists, not Trump, needed straitjackets on the first anniversary of Election Day 2016. Trump's detractors gathered across America in public parks and literally hollered themselves hoarse.
‐ Madonna announced: "I have thought an awful lot about blowing up the White House."
‐ Comedian Kathy Griffin published a photo of herself holding a mock-up of Trump's blood-soaked, chopped-off head.
‐ The Public Theater's production of Julius Caesar featured a Trump-like version of the Roman emperor who gets stabbed to death on stage.
‐ Antifa terrorists have silenced conservative speakers, shattered storefront windows, ignited blazes, and assaulted people in Make America Great Again hats — all to resist Trump's "fascism."
‐ Inflamed over Trump's disposal of Obama's useless and needless "net neutrality" regulations, Trump haters hurl obscenities and racial slurs at FCC chief Ajit Pai, an American-born citizen of Indian descent. Someone on the FCC's comment page called Pai a "dirty sneaky Indian." Another wrote, "Keep in mind: We all have the power to murder Ajit Pai and his family." Pai took such bigotry and death threats seriously and cancelled his address to this week's Consumer Electronics Show in Las Vegas.
Unhinged left-liberals, yet again, psychologically project their own emotional volatility onto an effective, successful president of the United States. They should make themselves productive and propose a positive agenda, rather than unleash juvenile, ad hominem attacks that abuse psychiatry to boot.