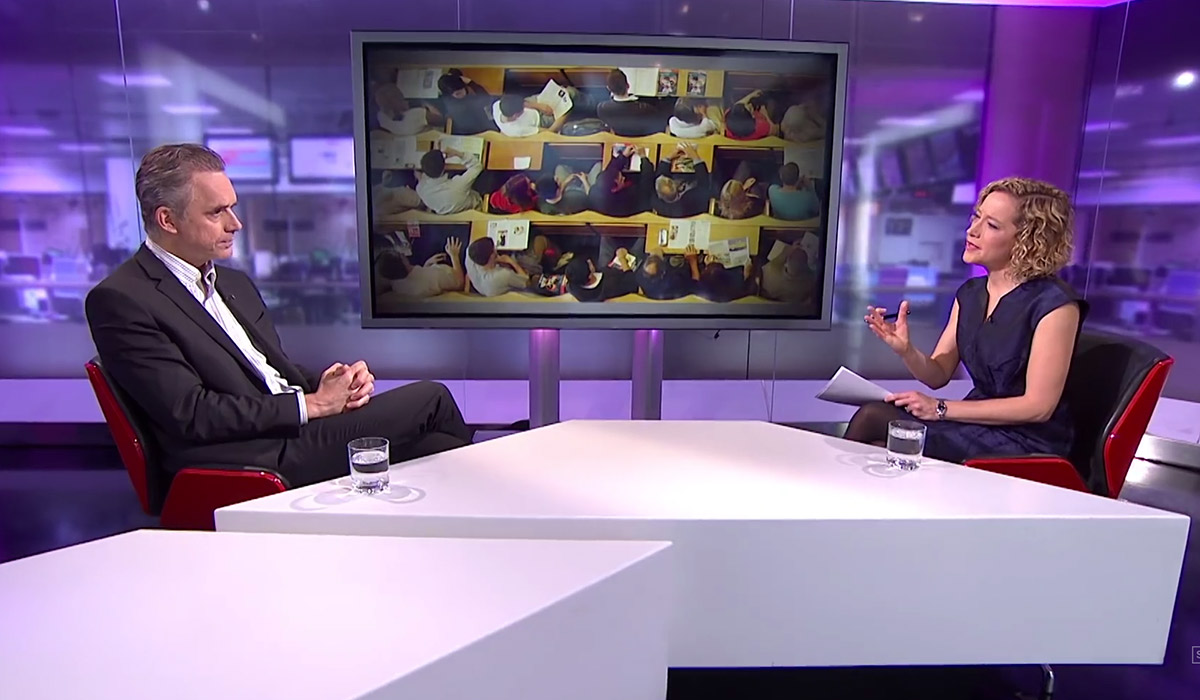 A Canadian professor questions a key tenet of current Leftist thinking.
Earlier this week, Professor Jordan Peterson of the University of Toronto burst into the international headlines again, this time thanks to a shockingly polite interview with British interviewer Cathy Newman. The entire interview was an insipid exercise in Newman attempting to cram her own words into Peterson's mouth; as Conor Friedersdorf of The Atlantic points out, Newman's technique was to "restate what [Peterson] said so as to make it seem as if [his] view is offensive, hostile, or absurd." Peterson, with the patience and mildness of a saint, doggedly refused to be boxed in that way.
But the segment of the interview that grabbed the public's imagination wasn't Peterson's discussion of the wage gap or the biology of hierarchical relationships. It was a very simple exchange over the value of truth. Newman questioned Peterson on why he refused to go along with the trendy leftist cause du jour: using pronouns chosen by individuals rather than pronouns that describe their biology. "Why should your freedom of speech trump a trans person's right not to be offended?" Newman asked. Peterson, ever the gentleman, answered the question without guffawing: "Because in order to be able to think, you have to risk being offensive. I mean, look at the conversation we're having right now. You're certainly willing to risk offending me in the pursuit of truth. Why should you have the right to do that? It's been rather uncomfortable."
Newman misdirected: "Well, I'm very glad I've put you on the spot." But Peterson pursued: "Well, you get my point. You're doing what you should do, which is digging a bit to see what the hell is going on. And that is what you should do. But you're exercising your freedom of speech to certainly risk offending me, and that's fine. More power to you, as far as I'm concerned."
Newman had no answer. Point to Peterson.
But despite Peterson's obvious logic, the Left refuses to concede this particular point. Any statement — any statement — must be gauged not only on the basis of its truth-value, according to the Left, but on the basis of whether such truth is likely to offend — or, at least, whether such truth is likely to offend groups the Left perceives as victimized. According to the Left, any and all truth must take a back seat to "your truth," so long as you claim minority status in any way.
There's heavy irony to the fact that Victorian prudishness of manners suddenly abounds on the same Left that champions wearing pussyhats and shouting its abortions. But it's that Victorian prudishness that tends to win the day — or at least has, for the past several decades. Perhaps that's because many on the right tend to value manners; good religious men and women studiously avoid causing offense if they have the capacity to do so. It's worked, too. The Left has wielded the Right's preference for manners as a club against the Right, claiming offense in order to cow them into silence.
The Left has wielded the Right's preference for manners as a club against the Right, claiming offense in order to cow them into silence.
Of late, however, the Left has simply gone too far. No longer do they ask whether objectively offensive statements ought to be made; they now take each statement and ask whether it is subjectively offensive to anyone. First person to claim offense wins. Which is precisely why Peterson's logic trips up Newman: He plays her own card against her. By demonstrating that anyone can be offended by anything, he returns the conversation from the vague recesses of subjective reaction to the hard and fast ground of objective truth.
This is the ground on which conservatives should fight, of course: acknowledgement that while manners matter, truth matters more. Unfortunately, too many conservatives have responded to leftist censorship not with truth-above-manners politeness, but with theatrical displays of unconcern with manners themselves. Rudeness is now seen as a substitute for facts. If the Left uses manners as a weapon, the logic goes, let's just discard manners altogether.
But there's no reason to do that. We all ought to behave with decency and truth. Those are the twin pillars of conservatism, after all: virtue and reason. Discarding reason undermines virtue by replacing virtue with emotion-based reactivity; discarding virtue undermines the social fabric necessary to undergird the effectiveness of reason. Yes, let's behave with manners. But let's recognize that only a society that values truth can afford manners.
READ MORE:
Outrage Over Ben Shapiro's Berkeley Speech