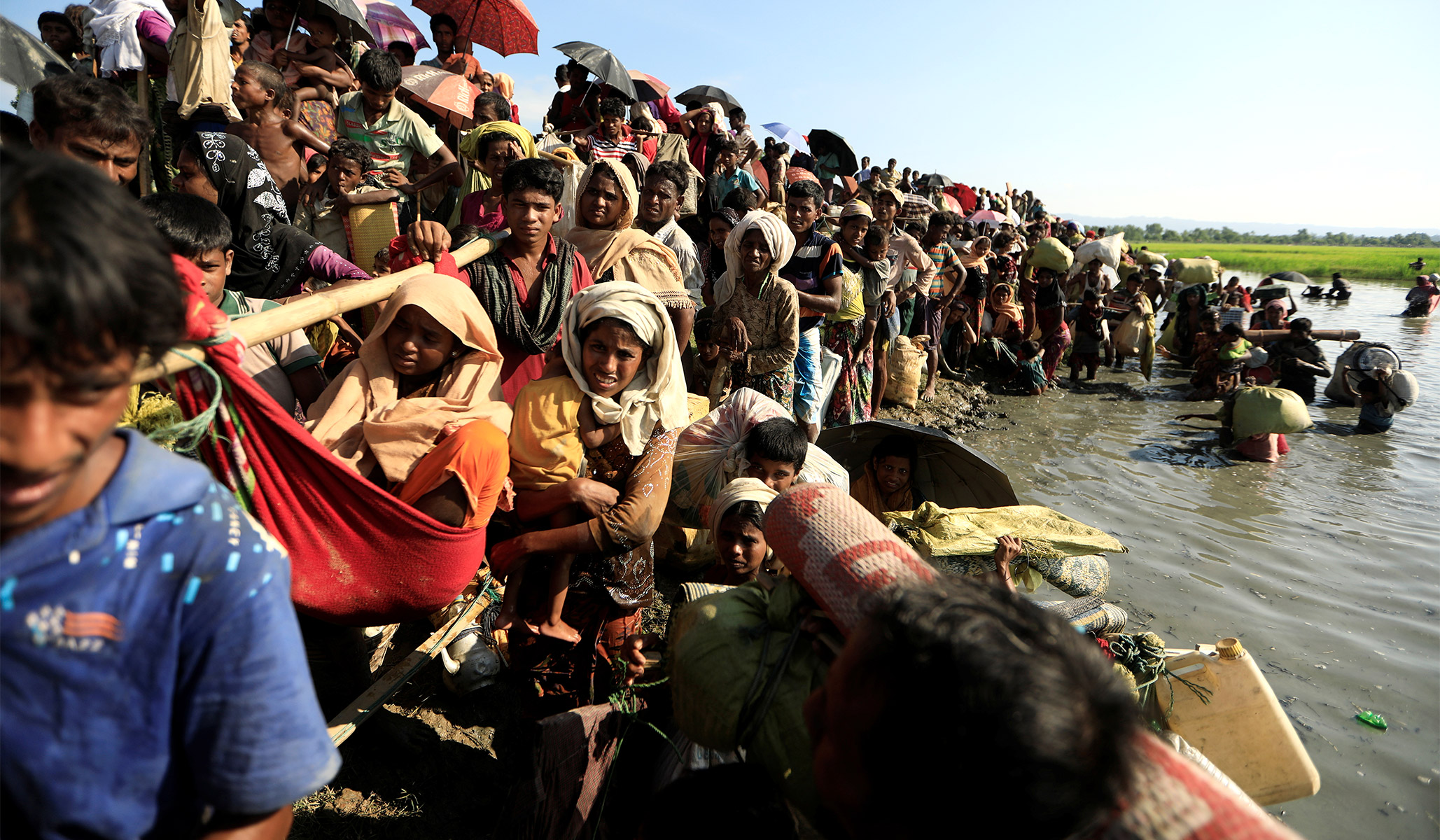 A revered lady and a persecuted people
Editor's Note: What follows is an expanded version of a piece published in the current issue of National Review.
The Rohingyas must be the most despised and persecuted people in the world right now. And there are many such peoples. The Rohingyas live, or lived, in Burma, also known as "Myanmar." This is the country now led by Aung San Suu Kyi, the Nobel peace laureate, and one of the most admired people of our time. In general, her admirers are shocked and saddened. Rarely has someone so admired — idolized, even — fallen so fast from grace.
Let's pause for some pronunciation: "Rohingya," in English, may be pronounced "Roh-HIN-ja." (The last two syllables rhyme with "ninja.") And the name of the leader is usually pronounced "Awn Sahn Soo Chee."
The Rohingyas belong to a distinct ethnicity, having their own language and culture. They have lived in the Rakhine region for 500 years or more. (That name is pronounced "Rah-KINE," with the last syllable rhyming with "line.") Rakhine State is in western Burma. There are 55 million Burmese, 90 percent of whom are Buddhists. Most Rohingyas are Muslim, though some are Hindu. They never mix with the Buddhists of Rakhine.
The Associated Press, however, reported an amazing exception. A Rakhine Buddhist named Setara married a Rohingya man named Mohammad. The marriage is kept secret from the community in which she grew up. "If they knew, they would kill me right away," she says. Her husband has this to say about their marriage: "She sees me as a human being and I see her as a human being, and it's that simple." An astonishing statement, in a madly, viciously tribal world.
In the past, the Rohingyas were partially accepted in Burma. They were allowed a political party and seats in parliament. Today, they are not accepted, denied citizenship, denied any recognition at all. They are even denied their very name. The government wants you to call them "Bengalis," not "Rohingyas." The government views them as immigrants and squatters from Bangladesh.
At the end of November, Pope Francis went to Burma and carefully avoided the word "Rohingya." This pained many of his supporters because he had freely spoken of the Rohingyas before. But things were different in Bangladesh, his next stop, where he talked with Rohingya refugees. "We won't close our hearts or look away," he said. "The presence of God today is also called 'Rohingya.'"
In 2016, the Burmese military conducted a campaign of suppression against the Rohingyas. They did this in concert with Buddhist ultra-nationalists, whom they armed and whipped up. Some of the leaders of the violence were Buddhist monks, a fact that may be jarring.
Wai Wai Nu made this point at the Oslo Freedom Forum last year. She is a young Rohingya, a former political prisoner, and a human-rights advocate. She participated in a special democracy forum for Burma at the George W. Bush Presidential Center in Dallas.
Among the Rohingyas are militants, who form rebel groups: militias. They have existed for decades. In 2016 and '17, some of these militants attacked police posts, killing at least a dozen officers. This led to massive reprisals against Rohingya people at large.
In 1942, two Czechoslovakians killed General Heydrich, the Reich Protector. In response, the Nazis burned the village of Lidice to the ground. They killed all the men and sent the women and children to concentration camps, where many were gassed to death. In Rakhine State, Burmese forces had one Lidice after another — scores or hundreds of them.
The whole range of human savagery was unleashed on the Rohingyas. Villages razed, women raped in front of their husbands, the husbands killed, babies murdered in front of their mothers, the mothers killed, etc. This is exactly what ISIS recently did to the Yazidi people in Iraq. In Burma, Rohingyas trying to flee by boat were gunned down in the water.
The Burmese government has banned foreign journalists and U.N. officials from the Rohingya area of Rakhine. But the atrocities are known to a host of verifiers, including the U.N., the U.S. State Department, the U.S. Holocaust Memorial Museum, the Holy See, and human-rights groups such as Doctors Without Borders.
There are approximately 1 million Rohingyas. About 700,000 of them have fled into Bangladesh. About 100,000 are confined to camps in Rakhine. The U.N. high commissioner for human rights, Zeid Raad al-Hussein, said, "The situation seems a textbook example of ethnic cleansing."
Of all people, Aung San Suu Kyi is the head of this state (though we must qualify this statement, as I will in due course). Also, she is the daughter of the nation, in this sense: Her father, Aung San, is Burma's independence hero. He was assassinated in 1947, when his daughter was two. (Today, she is 72.) She went to Oxford University and remained abroad for many years.
While at Oxford, she met her future husband, Michael Aris, a scholar of Himalayan culture. During their courtship, she wrote to him, "Sometimes I am beset by fears that circumstances and national considerations might tear us apart just when we are so happy in each other that separation would be a torment."
They married on New Year's Day 1972. She asked him to take a vow before the vows. As Aris explained it later, she asked him to promise that he would not "stand between her and her country." They went on to have two sons, Alexander and Kim.
In 1988, Aung San Suu Kyi returned to Burma, to care for her mother. That same year, the country was seized by a military junta. With her allies, Aung San Suu Kyi formed the National League for Democracy, thereby embarking on a political life.
She was very, very brave. In a famous incident, she was walking with some associates when soldiers lined up in front of them and ordered them to stop — otherwise, they would shoot. Aung San Suu Kyi asked her associates to step aside, and she went forward by herself. After what must have been some heart-stopping seconds — for all concerned — the commanding officer ordered the soldiers to hold fire. Later, Aung San Suu Kyi said, "It seemed so much simpler to provide them with a single target than to bring everyone else in."
Soon, the Burmese dictatorship put her under house arrest. For 15 of the 21 years between 1989 and 2010, she would be under house arrest. She won the Nobel Peace Prize in 1991. (Her husband and sons accepted for her.) All around the world, she became a symbol of democracy, perseverance, and spiritual poise. It didn't hurt that she was — and is — so beautiful.
Burma loosened, and in 2012 Aung San Suu Kyi was elected to parliament. Later in the year, she traveled to America, where the Oslo Freedom Forum held a special session in San Francisco. There, the organization gave her its Václav Havel Prize for Creative Dissent. (The late Czech leader, in fact, had nominated Aung San Suu Kyi for the Nobel Peace Prize.) In Washington, she received the Congressional Gold Medal.
In 2016, the daughter of the nation became the leader of the nation — but here comes the qualification: She is the civilian leader, having to share power with the military, which is very powerful indeed. There are questions about how much freedom of action she has, and how high she can raise her voice.
Her admirers, or former admirers, around the world are begging her to raise her voice. Vijay Nambiar, adviser to the U.N. secretary-general on Burma, said, "I call upon Aung San Suu Kyi to reflect on the situation and, as she has done on so many occasions, listen to her inner voice." Malala Yousafzai has urged the same. She is the young Pakistani who is Aung San Suu Kyi's fellow Nobel peace laureate. As a girl, she was badly injured in a murder attempt by the Taliban. Today, she is an undergraduate at Oxford, as Aung San Suu Kyi was. She wants the Burmese leader to say something about today's horror: "The world is waiting and the Rohingya Muslims are waiting."
On the subject of today's horror, see if you can bear a short portion of a news account — a news account illustrating the general situation:
Discarded and left for dead, Mumtaz says she found herself on top of a mound of charred, entangled bodies.

"They killed and killed and piled the bodies up high. It was like cut bamboo," says Mumtaz, a Rohingya woman from the village of Tula Toli in western Myanmar. "In the pile there was someone's neck, someone's head, someone's leg. I was able to come out, I don't know how."

The horrors Mumtaz says she endured didn't stop there. After escaping the mass grave, Mumtaz says she was dragged to a village house and raped by soldiers. The wooden house was then locked and set on fire.

It was her seven-year-old daughter Razia, who was in the hut, that ultimately saved her.

"I called to my mum. And my mum said, 'Who are you?'" Razia says. "My mother's head was split. She was thrown aside. They struck me and threw me aside. I said, 'Your finger is on fire.' Then my mum and I got out and left."
Mass murder aside, the reports of rape are especially horrifying, perhaps. They are copious, seeming to be without end. One could go into revolting detail, but one line from one report may suffice: "The rape of Rohingya women by Myanmar's security forces has been sweeping and methodical." (If you can bear the article, it is here.) The U.N.'s leading official on sexual violence, Pramila Patten, described rape as "a calculated tool of terror aimed at the extermination and removal of the Rohingya as a group."
This problem pre-dates Aung San Suu Kyi's rise to power, as the Rakhine problem in general does. In 2011, speaking to the Nobel Women's Initiative, Aung San Suu Kyi said, "Rape is rife. It is used as a weapon by armed forces to intimidate the ethnic nationalities and to divide our country."
Recently, however, the Burmese government has labeled reports of rape "fake." Indeed, Aung San Suu Kyi herself has apparently used the new Americanism "fake news." According to reports, she has used it about stories from Rakhine in general. In that state, a border official, Phone Tint, was asked about rape. He answered, "These women were claiming they were raped, but look at their appearances. Do you think they are that attractive to be raped?"
The hatred that many Burmese feel toward the Rohingyas is shocking. Last year, the U.N. high commissioner, Hussein, said, "The devastating cruelty to which these Rohingya children have been subjected is unbearable. What kind of hatred could make a man stab a baby crying out for his mother's milk?"
Aung San Suu Kyi is embattled. She is also defensive, as can be glimpsed in a statement she made in October 2016: "Show me a country without human-rights issues. Every country has human-rights abuses. I am taking seriously allegations of human-rights violations in this country."
People disbelieve her, with good reason. And her international support is dwindling. Last September, Time magazine had a dramatic cover, showing an old refugee woman struggling ashore, with the help of a younger man (although who can tell the ages of traumatized people?). Accompanying the photo were the words "Myanmar's Shame: The plight of the Rohingya tarnishes Aung San Suu Kyi's name." The leader declined to attend the U.N. General Assembly, claiming that she and her country were victims of a "misinformation campaign."
Many have called on the Norwegian Nobel Committee to revoke her prize. Yet a Nobel is not revokable — a person wins it for his achievements in the past, regardless of the future.
Cities in Britain have revoked the honors they bestowed on Aung San Suu Kyi. These cities include Oxford, where she of course lived. The Oxford City Council said it did not want to celebrate "those who turn a blind eye to violence." Another city council, in Sheffield, accused Aung San Suu Kyi of "willful ignorance."
She formed an international advisory board to deal with Rakhine. On it was an old friend and ally of hers, Bill Richardson, the American politician who, under President Clinton, served as ambassador to the United Nations. In January, he resigned from the board, accusing it of a "whitewash." He said he did not want to be part of "a cheering squad for the government."
He raised with Aung San Suu Kyi the case of two Reuters reporters, Wa Lone and Kyaw Soe Oo. They are being held prisoner in Burma after trying to investigate a mass grave in Rakhine. Richardson said that Aung Sun Suu Kyi exploded in fury at him. "Her face was quivering, and if she had been a little closer to me, she might have hit me, she was so furious."
(For an Associated Press report on mass graves, published on February 1, go here.)
"I like her enormously and respect her," said Richardson of Aung San Suu Kyi. "But she has not shown moral leadership on the Rakhine issue." He also said, "She is in a bubble where she has people always telling her how great she is. She's in the classic situation that politicians and leaders get themselves in when they don't want to listen to bad news and they have sycophants around them who don't want to tell them the real situation." Richardson said that the great lady "has developed an arrogance of power."
Thor Halvorssen says much the same. He is the founder of the Oslo Freedom Forum. Aung San Suu Kyi is a politician, he observes, and politicians aim to gain and hold on to power. If human rights interfere with those interests, then human rights will have to wait. Halvorssen says that a great many people around the world are asking a question about Aung San Suu Kyi: Who is this person? What happened to the great lady we knew?
It is a tragedy, mainly for the people we should not shrink from calling by their name, the Rohingyas.
READ MORE:
In Burma, A Dangerous and Marvelous Love
Aung San Suu Kyi and Her Peace Prize
The Persecution of Minority Religious Groups in Iran
A word from the National Review Store: To get Digging In: Further Collected Writings of Jay Nordlinger, go here.