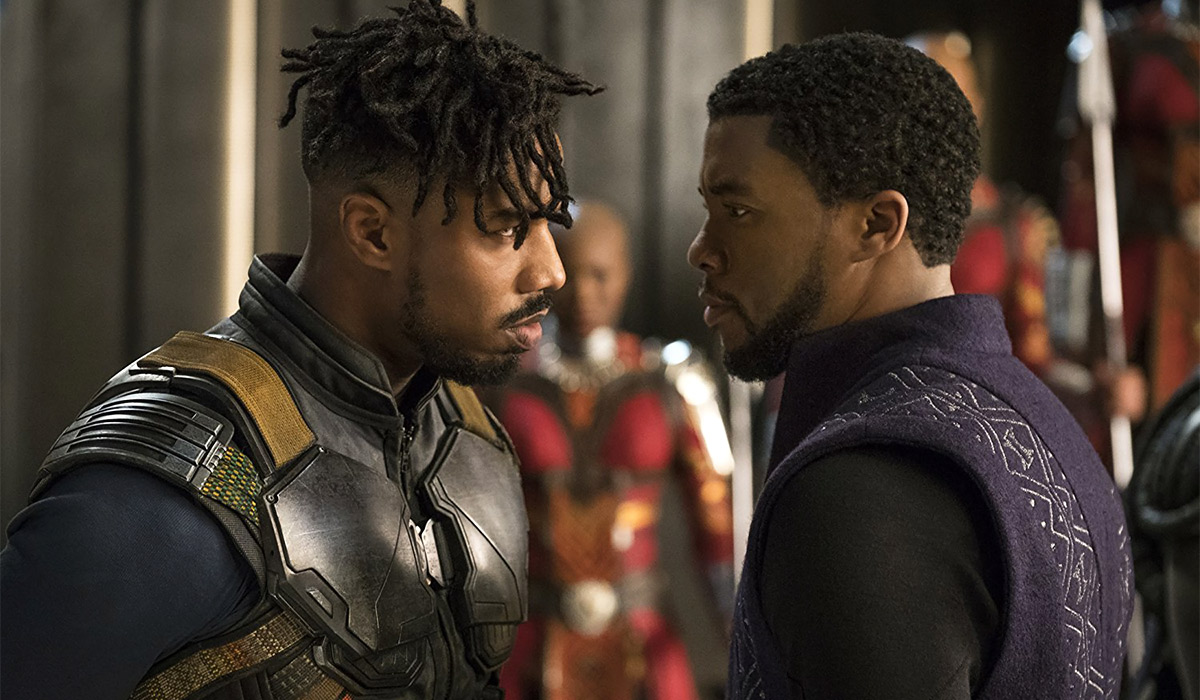 A powerful villain catapults the film into the top rank of Marvel Cinematic Universe movies.
'The world's going to start over," exclaims the villain in Black Panther, channeling many a Year Zero megalomaniac down through the centuries. This one has an unnervingly contemporary way of expressing himself, though. "I'ma burn it all," he vows.
The latest Marvel movie is a blackbuster: For the first time ever in this budget range (roughly $200 million), there's a nearly all-black cast and a black lead creative crew, including the production designer (Hannah Beachler), cinematographer (Rachel Morrison), writers (Joe Robert Cole and Ryan Coogler), and director (Coogler). Thanks to the Movie We Need Right Now Phenomenon identified by Noah Gittell in the Guardian, Black Panther is being framed as more than just a film. It isn't, but we certainly need to be entertained right now, as ever.
Told with a jovial wit and at a fast pace, the movie begins with the origin myth of Wakanda, a mountainous African country assumed by the rest of the world to be poor and backward. Actually, it's a kind of reverse Krypton: An ancient meteor strike brought the miracle substance vibranium to the area, enabling Wakandans to build the most advanced civilization on Earth and cloak it under an invisibility shield. Its monarchy was established by a panther goddess who lent her superpowers to an ancestor of T'Challa (Chadwick Boseman), who has inherited those powers and is now the king.
One piece of vibranium that made it out of Wakanda — and is stolen from a British museum — is the movie's MacGuffin, yielding a snappy fight and chase in South Korea between the vibranium thieves and T'Challa/Black Panther's crew, led by the pike-wielding warrior Okoye (Danai Gurira). Academy Award winner Lupita Nyong'o, another warrior, makes a fine love interest for T'Challa, though her character is a bit underwritten. Even better is Letitia Wright, a real find as Wakanda's tech leader, the equivalent of James Bond's gadget master Q.
Boseman, who was so lively as James Brown in Get On Up and played Jackie Robinson as contained combustibility in 42, is this time calm to a fault: Unlike the actors behind most of the Marvel protagonists, from the amusingly arrogant Tony Stark and Stephen Strange to the amusingly sheepish Scott Lang and Peter Parker, he is a bit too reverent toward the character. Like Henry Cavill's Superman, Bosemen's T'Challa is so noble and upstanding that he's a bit of a stiff.
You'll hardly notice, though, because the bad guy is so brilliantly realized by Coogler's frequent collaborator Michael B. Jordan as Erik "Killmonger" Stevens, a former Navy SEAL gone bad. Along with a one-armed psycho (Andy Serkis), he plans to use vibranium to rule the world, and it's his backstory and motivation that gives Black Panther the thematic fuel it needs to power it into the top rank of Marvel Cinematic Universe movies. (By my count, the 18-movie saga includes ten successes, three mediocrities, and five duds, a superb success rate).
Growing up amid criminals in Oakland in the 1990s, Erik developed a rage-based Black Power worldview that harkens back to Malcolm X, or indeed to the revolutionary black nationalism of the Black Panther radical group that, notably, also grew out of Oakland. Like many a great movie villain, Killmonger is seductive but wrong, and he stands for ideas that have considerable resonance in the real world. He channels the sense, memorably popularized by Malcolm, that the natural state of black people is to be kings. Black ghettoization was purposely engineered by duplicitous white people, who at first used enslavement but later turned to subtler methods of oppression. Killmonger seems on board with the conspiracy theory that drugs were genocidally planted in black communities by outsiders such as the CIA, and in response to oppression he proposes to use vibranium's power to finally unite black people and destroy the white power structure.
Killmonger wants the kind of race war Charles Manson dubbed helter skelter.
Killmonger, then, wants the kind of race war Charles Manson dubbed helter skelter. That a large majority of the world's most successful black people are American rather than African escapes the notice of such African-American radicals, who dismiss America's opportunities for blacks and instead sentimentalize Africa in the same way Killmonger does. (A resurgence of the 19th century Back-to-Africa movement reached an apotheosis in the Black Panther era, in 1974, when Americans Muhammad Ali and George Foreman agreed to fight "the rumble in the jungle" in what is now Congo.)
Such a conflict would be horrific, T'Challa says, and the magical power of vibranium would best be steered toward international aid, not weaponry. That means Black Panther stands for much the opposite of what its namesake political movement advocated. I expect this point to be lost on many of its fans, but Black Panther takes the side of sober, wise elites patiently enacting incremental change rather than of charismatic mob leaders fanning the flames of rage and revolution. Its most compelling character may be an analogue to Malcolm X, but it's very much a Martin Luther King Jr. kind of film.