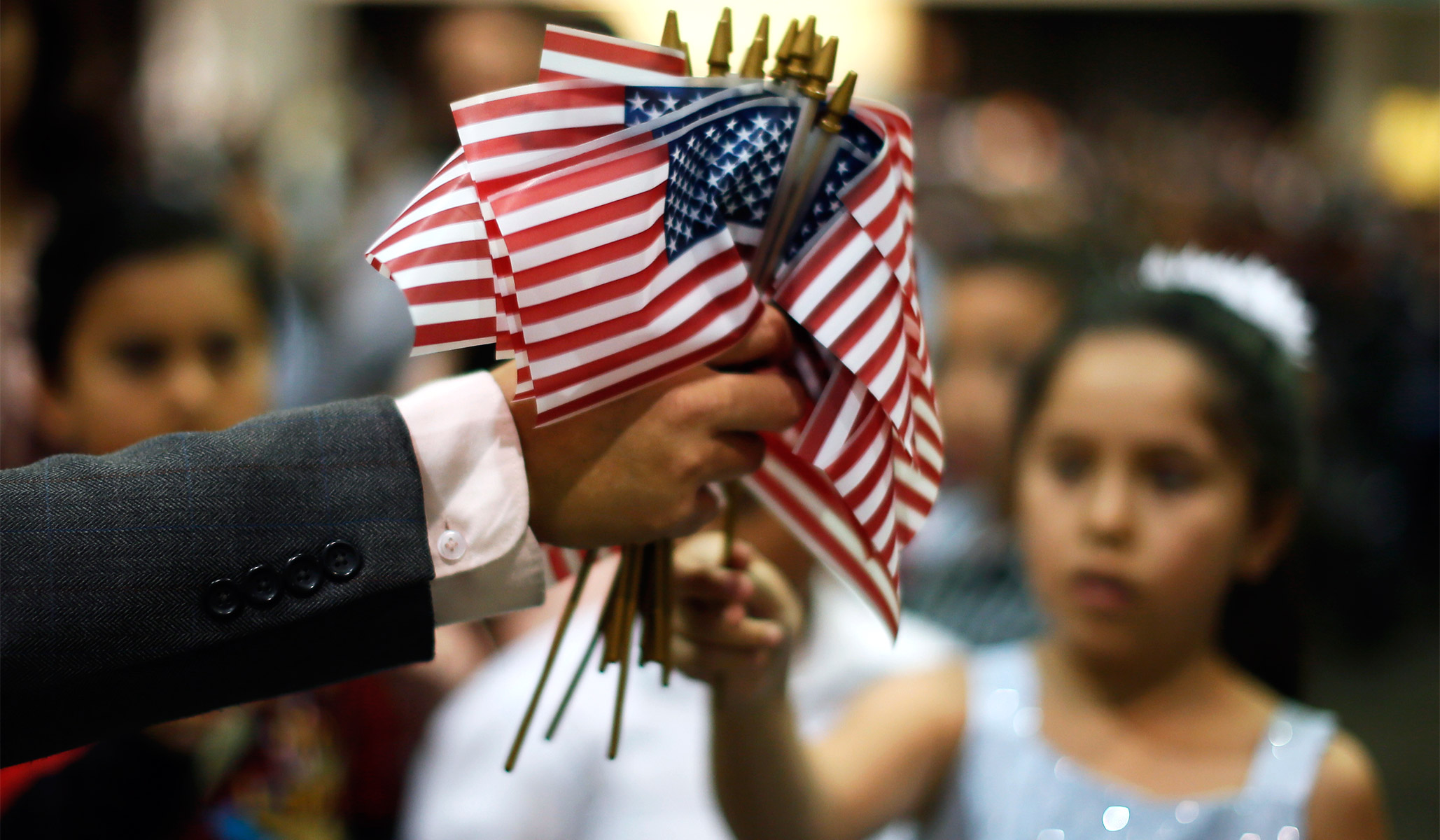 What about the deserving, imperiled group of immigrants brought here legally as children?
With DACA (Deferred Action for Childhood Arrivals) set to expire on March 5, politicians on both sides of the aisle are looking for a legislative solution that would grant residency to the 690,000 individuals shielded from deportation by the program.
DACA itself was the result of an executive order issued by the Obama administration. Both Congress and the White House now want to see a bill passed that would enshrine the program's protections in law, and further, offer its recipients a path to citizenship. Where Democrats and Republicans differ is on whether such a bill should be tied to reform in other aspects of the legal-immigration system. The White House and many congressional Republicans want such a bill to include an end to the Diversity Lottery and funding for border fencing. They also want to reduce family-based immigration, ensuring that the eventual beneficiaries of DACA are not allowed to sponsor parents or other relatives. Democrats in general have opposed these measures, and many on the left would prefer a "clean" DACA fix (i.e., one with no strings attached).
Lost in all this legislative jockeying is a striking feature of DACA that no one seems to mention: Its protections only apply to children present in the country illegally. The current USCIS regulations on DACA require that applicants, among other things,  arrived in the U.S. prior to their 16th birthday and had no lawful status as of June 15, 2012. This means that if you had lawful status as of that date, you are ineligible for DACA status — the U.S. government effectively penalizes you for having followed its immigration laws.
Now, you might ask, why does this matter? If you were lawfully present in the U.S. as of June 15, 2012, doesn't that mean you get to stay in the country anyway? Not necessarily. It all depends on your visa.
Several types of visas issued by the U.S. are temporary. For example, the F-1 student visa typically expires when the recipient finishes his education within the country, while the H1-B visa allows the recipient to work in the U.S. for three years, and is renewable for up to three more. Now, both of these visas allow recipients to bring their families on a temporary basis. Spouses and children under a certain age can thus come to the U.S. as "dependents," who are typically not allowed to seek any employment in the country.
If a child entered the U.S. before his 16th birthday but was legally present — as a dependent — on June 15th, 2012, she can't be granted DACA status. That is, she must leave the country when her parents' visas run out or she becomes too old to qualify as a dependent. Of course, if her parents get green cards (granting legal permanent residence) before she gets too old, they can sponsor her as well.
Punishing people for jumping through the immigration system's many hoops while rewarding immigrants who broke the law is just plain wrong.
But that is a big "if," since it can take more than a decade to get a green card depending on individual circumstances. Due to peculiar features of the law, immigrants born in India and China in particular face extremely long wait times — almost ten years for certain employment-based categories. That is, it can take ten years to receive a green card after being sponsored by an employer — and finding an employer willing and able to serve as a sponsor often adds several more years to the process.
Immigrants who enter the U.S. legally are far from guaranteed the right to stay indefinitely. Writing for Vox in 2015, William Han explained how he spent 15 years seeking a green card, all the while present in the country legally, but ultimately failed. Han had gone to college here and earned a law degree from Columbia University. He was not a child when he entered, but if he had brought children with him, their dependent status would have expired when his visa did — they would have had to leave with him, because DACA offers no help in such cases.
The commonly cited reasoning behind the DACA program is that those brought to the U.S. illegally as children should get the right to stay because it is the only country they've known (though this applies less to children brought as teenagers), and because it was no fault of theirs that their parents chose to bring them. As they work toward a legislative path through the DACA impasse, it is morally incumbent upon lawmakers to apply the same reasoning to children brought by parents who followed U.S. immigration law. If anything, they have a greater claim on staying, because their parents made sacrifices to get them into the country legally as dependents and to maintain their legal status. Indeed, it can often be hard to maintain such status. F-1 visas, for instance, prohibit their holders from working. H1-B holders must find a new job within 60 days of being laid off. And all visa recipients must pay substantial fees to the government every time they request a change of visa status.
Punishing people for jumping through the immigration system's many hoops while rewarding immigrants who broke the law is just plain wrong, and it would send a terrible message to the rest of the world.