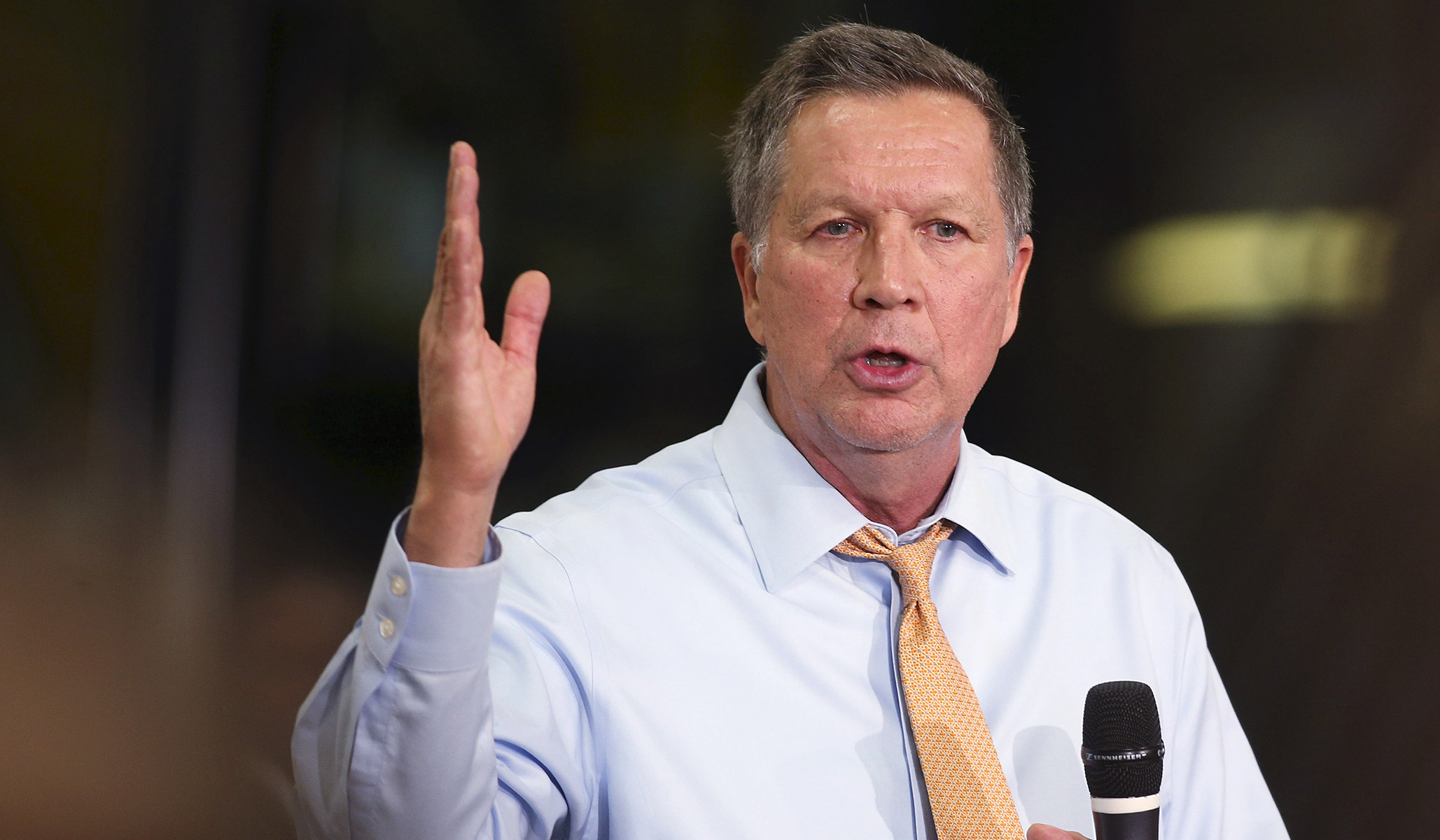 Bigger government, major problems left unsolved, and no change in sight
In tragic Ohio fashion, the Republican candidate favored to replace term-limited governor John Kasich is also the least likely to break from Kasich's legacy of expanding government while forgoing chances for reform.
Counterintuitively, the candidate who most threatens Kasich's legacy is Mary Taylor, his lieutenant governor. But Attorney General Mike DeWine is expected to easily defeat Taylor in the May primary, and the other two GOP contenders have left the race: Secretary of State Jon Husted dropped out in November to become DeWine's running mate, and Congressman Jim Renacci decided to run for a Senate seat instead.
Taylor is clamoring for a debate, but all signs indicate that DeWine — who has been a fixture in statewide politics for nearly 30 years — plans to coast through to November on name recognition, money, and the sense of inevitability that comes with both.
Kasich formally endorsed Taylor when she announced her candidacy last year, citing her loyalty through two gubernatorial campaigns and his 2016 presidential run, but by then Kasich's inner circle was already lining up behind DeWine. According to a source close to Taylor, the last time the governor had a conversation with the lieutenant governor, it was to berate her for backing Jane Timken's upset win over Matt Borges, Kasich's pick, for the chairmanship of the Ohio Republican party.
Timken and Taylor are both supporters of President Donald Trump, whom Kasich regularly criticizes in national-TV interviews and newspaper op-eds. Trump won Ohio handily in 2016 and remains popular with Ohio Republicans, giving Taylor and DeWine cause to distance themselves from Kasich during the primary — an especially precarious balancing act for Taylor.
Taylor has committed to ending the Obamacare Medicaid expansion that Kasich implemented unilaterally, and wants to protect workers from mandatory labor-union fees by passing a right-to-work law, which Kasich opposes.
Taylor "would never have allowed the unsustainable Medicaid expansion to happen in Ohio," says spokesman Michael Duchesne. "She believes we have a duty to be responsible stewards of public funds and has proposed an alternative plan to provide health care to Ohio's most vulnerable citizens. Medicaid was never intended for able-bodied citizens capable of work."
Duchesne says Taylor "regrets the adversarial relationship that exists between President Trump and Governor Kasich, as she feels it may restrict opportunities for Ohio," but added that "Governor Kasich's most enduring legacy will be the work he and Lieutenant Governor Taylor accomplished cutting taxes and creating jobs by making government more business-friendly."
A spokesman for DeWine declined to comment on Kasich's record or name anything DeWine would do differently. The sole policy proposal on DeWine's campaign website is a twelve-point plan for new and expanded government programs to address the state's opioid crisis, which has worsened since Kasich added hundreds of thousands of able-bodied, working-age Ohioans to the Medicaid rolls. In his responses to a candidate survey from the Columbus Dispatch, DeWine took no concrete position on Medicaid expansion or right-to-work.
With Republican supermajorities running Ohio's legislature for the past seven years, Kasich has focused more on growing government than on reforming it. For multiple budget cycles, Kasich fought for huge tax hikes on e-cigarettes and on energy companies that use fracking in Appalachian Ohio. He proposed a sharp increase in the state's gross-receipts tax on businesses, opposed legislative efforts to roll back "green energy" mandates, and expanded Medicaid without General Assembly approval after spending the better part of a year trying to bend the legislature to his will.
At the same time, Kasich has argued against right-to-work; failed to implement meaningful changes to project labor agreements and prevailing-wage laws, which drive up public construction costs; opted not to make simplifying one of the nation's worst municipal tax systems a priority; and enacted only minor tweaks to the state's defined-benefit public pensions, which could leave taxpayers on the hook for billions in unfunded liabilities.
The latest Tax Foundation State Business Tax Climate Index ranks Ohio 45th of the 50 states, and Ohio's unfunded public-pension liabilities per capita are the nation's third-worst, according to a recent American Legislative Exchange Council study.
In 2012, the first year of Kasich's first budget, state spending totaled $57.9 billion; last year, it totaled $68.3 billion. Ohio Medicaid spending has increased by 35 percent in the past four years alone thanks to Kasich's expansion of the program.
Kasich's spending increases were not necessitated by population growth; Ohio's population has grown barely 1 percent since the 2010 census, a rate less than a fifth of the national average. More people moved out of the state than moved in between 2011 and 2016, and despite the efforts of Kasich's secretive, publicly funded JobsOhio, the state's private-sector job growth has trailed the national average every month since November 2012. Inflation doesn't explain the growth, either, having totaled just 7 percent between 2012 and 2017.
Few Ohioans could have predicted that Governor Kasich's legacy would resemble that of a pro-life, pro–Second Amendment Democrat, or that he would spend his final years in office preparing for a third presidential campaign by attacking congressional Republicans from the left. Running as a tea-party candidate in 2010, Kasich promised to use the skills he'd learned as head of the House Budget Committee in the 1990s to trim Ohio's overgrown government and fix a projected $8 billion deficit.
With his first biennial budget in 2011, Kasich cut spending, phased out Ohio's estate tax, retained scheduled income-tax cuts, expanded school vouchers, and reduced Medicaid costs by making it easier for elderly Ohioans to receive care in their own homes. The same year, he signed a late-term-abortion ban and reduced state restrictions on citizens' Second Amendment rights.
Like Wisconsin governor Scott Walker — another Republican elected in the 2010 tea-party wave — Kasich rejected federal spending for a costly passenger-rail project and signed a sweeping reform of his state's public-employee union laws. Kasich also infuriated labor unions by cutting funding to local governments to help balance the state budget and refusing to offset the expiration of the federal "stimulus" with new state spending.
Unlike Scott Walker, Kasich backed down.
But unlike Walker, Kasich backed down after unions spent $40 million to overturn the reform package that was meant to help Ohio school districts and municipalities control their spending. By 2014, Kasich's acceptance of the status quo was so complete that construction unions Ohio Laborers' District Council, International Union of Operating Engineers Local 18, and Indiana-Kentucky-Ohio Regional Council of Carpenters endorsed his reelection.
When Kasich took office, Ohio and all five of its neighbors allowed unions to take mandatory fees from workers as a condition of employment; today, four of Ohio's neighbors are right-to-work states, but Ohio is not.
Last year, Kasich was named to the Ohio Hospital Association's "Hall of Fame" for catering to the hospital lobby by expanding Medicaid, opposing congressional Obamacare-repeal efforts, and deciding not to enforce a health-care price-transparency law he signed in 2015. In his final biennial budget, Kasich vetoed both a freeze on Medicaid-expansion enrollment and a waiver plan that would have required the program's able-bodied enrollees to pay meager contributions into a health savings account.
Kasich may see the Ohio governorship as little more than a stepping-stone to the job he really wants, but the state's government has serious problems that are likely to get worse before they get better — regardless of whether Kasich's successor is Mike DeWine or any of several competing Democrats.
READ MORE:
John Kasich, The Thing That Wouldn't Leave
Trump's Republican Enemies, Lurking in the Shadows