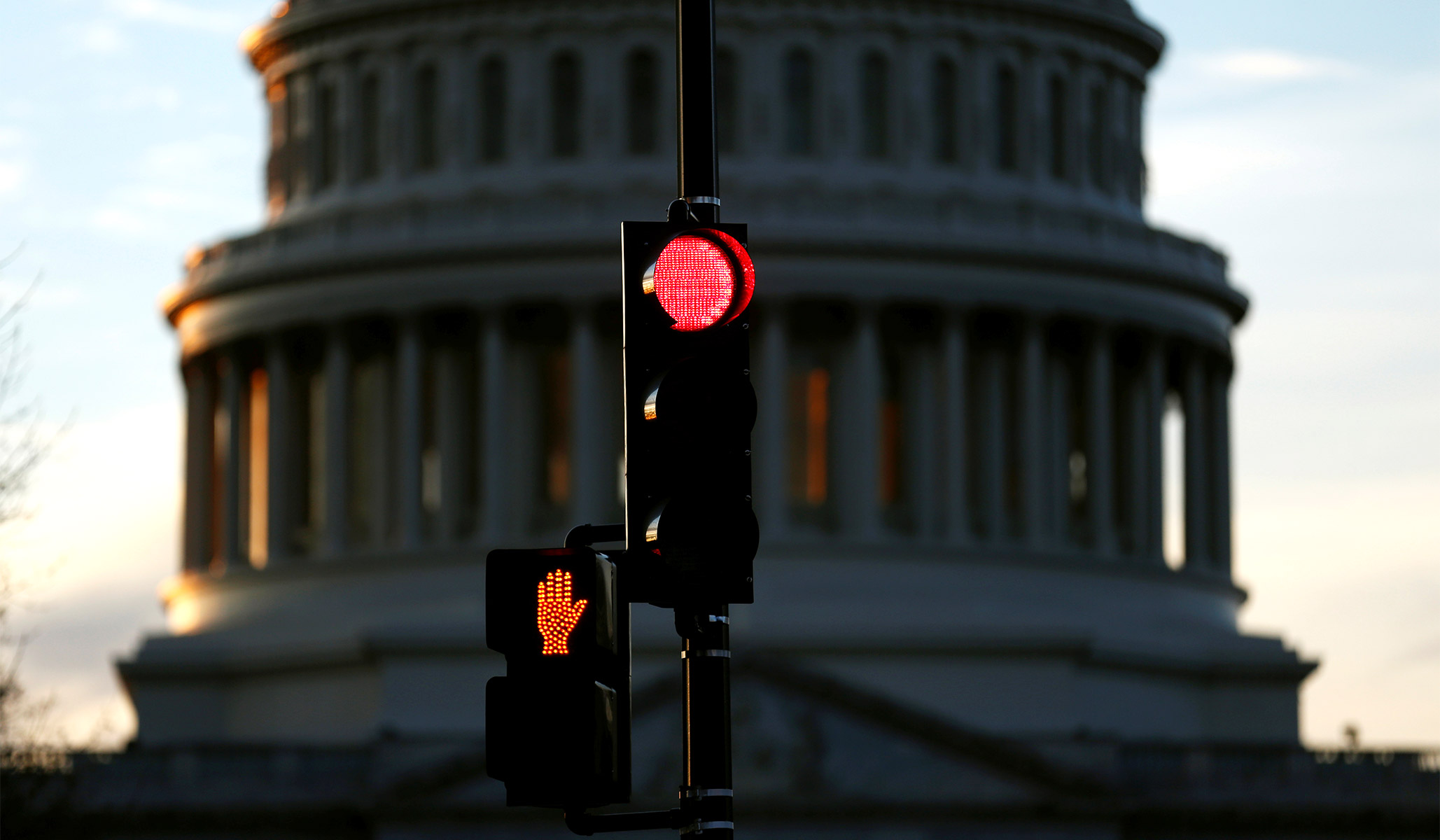 Require that the president explain his decision to Congress, and give the special prosecutor 30 days to provide it with his report.
One of the questions that have occupied official Washington for months now is what to do if President Trump decides to fire Special Counsel Robert Mueller, currently overseeing both the Russia counterintelligence probe and various related criminal investigations, most notably the investigation into whether Trump obstructed justice. Trump has aimed a lot of criticism in the direction of Mueller's team and reportedly had to be talked down in July from firing Mueller after telling White House counsel Don McGahn to do so, though Trump continues to deny any intention to fire him. Here's how Congress should go about protecting the integrity of Mueller's investigation without setting a bad precedent or tying the hands of the presidency.
Recall that Mueller was appointed as special counsel after Attorney General Jeff Sessions recused himself from the Russia probe and Trump fired FBI director Jim Comey. Trump had legitimate grounds to fire Comey, but the firing exhausted any presumption of good faith in the event that Trump fired a second head of the investigation. As is, it triggered an investigation into whether Trump's motives and his discussions with Comey about the investigation of Michael Flynn amounted to obstruction of justice.
A special counsel's authority does not come from the Constitution or any specific statute, so at present, the president retains the absolute and unlimited power to fire Mueller. The independent-counsel statute, passed in 1978 after Watergate, provided for a truly independent prosecutor appointed by a three-judge panel and removable only for good cause. However, that statute's constitutionality was questionable, and it was allowed to expire in 1999 after both parties concluded following the Clinton impeachment that it had created an unaccountable monster.
The only rules governing the special counsel currently come from internal Justice Department regulations. Those rules permit the appointment of a special counsel when "the Attorney General, or in cases in which the Attorney General is recused, the Acting Attorney General . . . determines that criminal investigation of a person or matter is warranted" and investigation or prosecution through the regular Justice Department channels "would present a conflict of interest . . . or other extraordinary circumstances." They then require the person appointing the special counsel (here, Rod Rosenstein) to provide, in writing, "a specific factual statement of the matter to be investigated" (which can be expanded through the same procedure) as well as authority to pursue "perjury, obstruction of justice, destruction of evidence, and intimidation of witnesses" aimed at interfering with the investigation. But while the regulations allow the Justice Department to supervise and discipline the special counsel, their other provisions may not be binding on the president or enforceable in court, let alone by Congress.
Congress can and should change that, and strengthen the rules that already exist for disclosure of the reasons why a special prosecutor was fired and of what he had found.
The Proposed Solutions: Too Much and Too Little
There are, for now, two main restraints being considered to limit Trump from firing Mueller, at least without a very good reason (which, based on what we currently know, he doesn't have). But both have problems.
On the one hand, two bipartisan bills introduced in the Senate in August would effectively reinstate parts of the old independent-counsel statute's procedures to bar Mueller from being fired without a showing of good cause to the satisfaction of a court. The Washington Post reports:
The two proposals — one from Tillis and Sen. Christopher A. Coons (D-Del.) and the other from Sens. Lindsey O. Graham (R-S.C.) and Cory Booker (D-N.J.) — each seek to check the executive branch's ability to fire a special counsel, by putting the question to a three-judge panel from the federal courts. . . .

Graham and Booker's proposal, which also has backing from Judiciary Committee Democrats Sheldon Whitehouse (R.I.) and Richard Blumenthal (Conn.), would require the judges panel to review any attorney general's decision to fire a special counsel before that firing could take effect.

Tillis and Coons' proposal would let the firing proceed according to current regulations, which they codify in the bill — but the fired special counsel would have the right to contest the administration's decision in court. In that scenario, the judges panel would have two weeks from the day the special counsel's case is filed to complete their review and determine whether the termination was acceptable.
The House has shown little interest in passing such a bill, and critics have argued instead that Trump should be on notice that he could be impeached if he fires Mueller.
Neither of these proposals is satisfactory. The legislative solution goes too far: The president's exclusive constitutional authority to hire and fire executive branch officials charged with implementing his core Article II duty to "take Care that the Laws be faithfully executed" cannot be divided without working long-term mischief to our constitutional structure, as Justice Scalia eloquently explained nearly 30 years ago. Our system is designed to leave that power in the hands of the president, and to impose the costs of its misuse through the political process (elections, impeachment, Congress withholding funds, etc.), not the judicial system. The courts are too powerful already to take a central congressional oversight function over a central presidential power and delegate it to three life-tenured judges, so that if the voters are dissatisfied, they have nobody to blame.
On the other hand, restraining Trump with a threat that the Republican-controlled Congress might impeach him is too weak. True, the need to work with Republicans has disciplined Trump more than commonly thought, in ways ranging from McGahn's dissuading him from firing Mueller to Trump's endorsing Mitch McConnell's preferred candidate in the Alabama Senate primary. But on the whole, Trump knows full well that the Republican Congress's own voter base still doesn't want him impeached and is more likely to punish them for being too hard on Trump than too lenient. Some Republicans, especially in the Senate, would be ready to impose real punishments on Trump if he sacked Mueller, but from where Trump sits right now, it looks like an empty threat to get enough on board to pull the trigger.
Congress Can Require Sunlight
My own long-term solution to these sorts of problems, as I've explained before, is to permanently house these kinds of investigations in a separate, cabinet-level inspector-general department. But in the immediate term, Congress doesn't have to do anything that dramatic to present Trump with consequences that would be immediate and politically painful without unduly trampling his executive authority or empowering the judiciary. All it really needs to do is pass a bill that codifies key elements of the Justice Department's regulations into self-enforcing law.
First, the regulations currently require Rosenstein (acting as attorney general in place of Sessions, who is recused) to relieve Mueller only for cause and to provide Mueller, in writing, with reasons for his dismissal:
The Special Counsel may be disciplined or removed from office only by the personal action of the Attorney General. The Attorney General may remove a Special Counsel for misconduct, dereliction of duty, incapacity, conflict of interest, or for other good cause, including violation of Departmental policies. The Attorney General shall inform the Special Counsel in writing of the specific reason for his or her removal.
They also currently require that any such report be provided to both parties in both the House and the Senate:
The Attorney General will notify the Chairman and Ranking Minority Member of the Judiciary Committees of each House of Congress, with an explanation for each action —

[ . . . ]

Upon removing any Special Counsel; . . . and

Upon conclusion of the Special Counsel's investigation, including . . . a description and explanation of instances (if any) in which the Attorney General concluded that a proposed action by a Special Counsel was so inappropriate or unwarranted under established Departmental practices that it should not be pursued.
Congress does not need to restrict the president's power by requiring him to defend in court his reasons for the firing, but it has the right and the power to require not just Rosenstein but Trump himself to provide such a written statement of reasons both to Mueller and to Congress, which has oversight authority. The need to provide a written statement of justification would place Trump's decision under an immediate miscroscope.
The regulations also require Mueller to provide a confidential report to Rosenstein when the investigation is over: "At the conclusion of the Special Counsel's work, he or she shall provide the Attorney General with a confidential report explaining the prosecution or declination decisions reached by the Special Counsel." Notice, however, that both this provision and the requirement of the Attorney General's report to Congress are somewhat ambiguous about whether a report is required if the Special Counsel is replaced before the investigation concludes.
The current rules also give the Justice Department a lot of wiggle room to squelch disclosure to Congress:
The notification requirement . . . may be tolled by the Attorney General upon a finding that legitimate investigative or privacy concerns require confidentiality. At such time as confidentiality is no longer needed, the notification will be provided.

The Attorney General may determine that public release of these reports would be in the public interest, to the extent that release would comply with applicable legal restrictions. All other releases of information by any Department of Justice employee, including the Special Counsel and staff, concerning matters handled by Special Counsels shall be governed by the generally applicable Departmental guidelines concerning public comment with respect to any criminal investigation, and relevant law.
In other words, Mueller can't go public unless he's subpoenaed by Congress, and Rosenstein can just sit on any report. That's not acceptable. If Trump fires Mueller, Congress and the public have a right to know immediately not just what his justifications are but what Mueller has learned so far. The political significance of the investigation outweighs any of the usual interests for secrecy in a criminal case. Thus, in addition to requiring a statement of reasons for the firing and taking out of Rosenstein's hands the power to avoid providing such a report to Congress, Mueller himself should be given 30 days to provide a report to Congress of his findings (with any appropriate cautions about things he was still investigating), and given full and complete access to his investigative files and staff until that report is complete.
The onus should be on Congress to suppress publication of any part of either report that it considers too sensitive to release to the public, because it either violates an individual's privacy or compromises national security.
Finally, the onus should be on Congress to suppress publication of any part of either report that it considers too sensitive to release to the public, because it either violates an individual's privacy or compromises national security. But the reports should automatically become public unless a two-thirds vote of both houses acts to suppress such information. That's a high bar, but even if the parties are at each other's throats, they should be able to agree on the most clear-cut commonsense redactions before release.
All of these reforms would trigger an automatic system of disclosures to Congress and the voters. None of them would depend on further steps being taken by hesitant Republicans in Congress. None would infringe on the legitimate powers of the executive, but they would instead strengthen the ability of Congress to provide oversight. None would get the courts involved, unless the administration took the drastic step of just refusing to comply with the new rules. And a disclosure-oriented bill would be much harder for Trump to veto.
Sunlight is not just a disinfectant but, at times, a deterrent. Congress should act now, before we face a crisis, to ensure that anything Trump does to remove Mueller will have to be done in the harsh glare of daylight and will force his closed-door investigation itself out into the open.
READ MORE:
Forget Collusion. Can Mueller Prove Russia Committed Cyberespionage?
Donald Trump & Mueller Investigation – Embarrassment to America