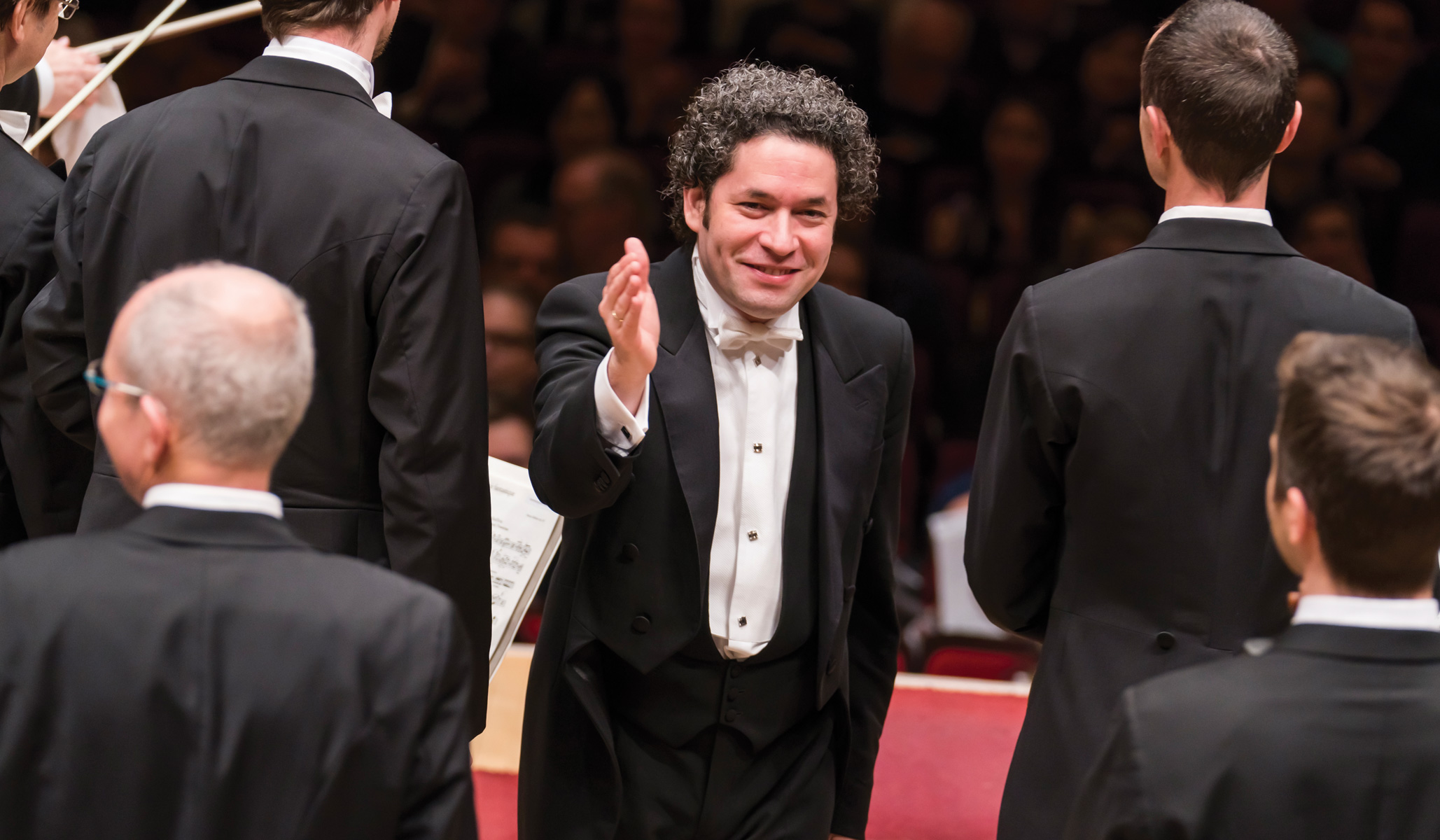 The Vienna Philharmonic Orchestra came to Carnegie Hall, for a three-concert stand. They appear in New York regularly. And in other musical capitals, too.
At Carnegie Hall, they were led by Gustavo Dudamel, the young Venezuelan conductor. He is the music director of another Philharmonic, in Los Angeles, and also of the Simón Bolívar Symphony Orchestra, in his home country.
Who's the music director of the Vienna Phil.? No one. They have an endless series of guests — and these conductors are the crème de la crème. The VPO is pretty creamy itself. Pound for pound, they are as good as any orchestra, and they have few rivals. Their chief one is probably in Berlin.
Yet an orchestra is not an independent entity when it comes to music. A great deal depends on the conductor standing in front of it. He is the straw that stirs the drink, to borrow a line from baseball history. I have heard the VPO led by probably 25 different conductors over the years, mainly in Salzburg, its summer home. What the conductor does with this fabulous instrument (the VPO) is up to him.
Does an orchestra ever simply refuse to play for a conductor, despite his best efforts? Yes, that happens, but the VPO should be maturer than that.
Above, I referred to Gustavo Dudamel as "the young Venezuelan conductor." I suppose it's time to stop. People like me have been doing it out of habit for about 15 years. Dudamel is now 37. When the L.A. Phil. hired him, he was a hotshot of 26. I discussed this once with Esa-Pekka Salonen, in an interview. He is the Finnish conductor who preceded Dudamel in L.A. "I was the hotshot once," he said, wistfully.
At Carnegie Hall, the VPO's three concerts featured no soloists — no pianist or violinist playing a concerto, no singer singing arias or songs. Each program was purely orchestral. I interpreted this as a tribute to Dudamel, or a vote of great confidence in him. This is just conjecture, I should caution.
The first concert was all-Brahms, anchored by his First Symphony — immortally dubbed "Beethoven's Tenth" (by Hans von Bülow, the conductor who married Liszt's daughter, who later ran off with Wagner). The performance was shocking.
Shockingly dull. It was careful, pedestrian, and "auto-piloty," as I wrote in my notes. It had almost no intensity or uplift. To add insult to injury, it was sloppy, with poor entrances and the like. There were some good moments, of course — the VPO is not going to lay a total egg on you. In the third movement, the woodwinds were sunny and fluid, just as the doctor ordered (Doktor Brahms, that is). But these moments could not rescue the overall tepidity.
What went wrong? It could be that Dudamel was overly deferential, to this venerable orchestra. (Too grateful for the opportunity?) He exercised almost no leadership. He was barely involved. This is on him, but the VPO is not without guilt. Where was their pride? Where was their dignity? Where was their vanity?
I have heard them play with this level of indifference in New York before. It may be that they figure the American audience will applaud them heartily anyway, so what does it matter? It ought to. The VPO under Dudamel managed the impossible: to make the Brahms First sound like a nothingburger.
They played two encores, starting with a Bernstein waltz, from his Divertimento for Orchestra. Then they played something homegrown — something Viennese — namely Winterlust, by Josef Strauss (son of the old man and brother of the splendid Johann Jr.). In my notes, I wrote, "Some approximation of life."
So, the first concert was a frustrating write-off. But there were two more to go.
Dudamel was born in 1981, in Barquisimeto, in the northwest of Venezuela. Both of his parents were musicians. So was Gustavo, at the earliest possible age. He was enrolled in El Sistema — The System — the famous web of music academies and youth orchestras founded by José Antonio Abreu in 1975. By twelve, Gustavo was on the podium, leading concerts. At 18, he was appointed music director of El Sistema — the whole shebang.
Music has always been filled with child prodigies. They are usually pianists and violinists. Seldom are they conductors, for conducting takes wisdom, experience, leadership. But kid conductors are not unknown. An outstanding example is Lorin Maazel, who conducted the NBC Symphony Orchestra — Toscanini's orchestra — when he was eleven.
Half a million Venezuelan kids have grown up in El Sistema. Mainly, these are poor kids, tough kids, street kids. I know an American violinist who went to Venezuela to do some mentoring. When he came back, he said, "The kids in Wisconsin who beat up orchestra nerds like me? They're in the orchestra!"
In 2002, when he was 21, Dudamel was invited to study with Sir Simon Rattle at the Berlin Philharmonic. Four years later, he was appointed music director in Gothenburg (Sweden). In almost no time, he was everywhere, guest-conducting or otherwise headlining. The music world had Dudamel fever.
Indeed, the headline over a review of mine in December 2007 was "New York's Dudamel Fever." He often conducted in a way that would induce such a condition. I described one performance as "snappy, alert, and kinetic." Yet then there would be bouts of indifference, as Dudamel put the music on auto-pilot. For years, I have found him a strange mixture of charisma and dullness.
Extraordinarily charismatic — and extraordinarily musical — was a performance of Bernstein's West Side Story, at Salzburg in 2016. The composer himself did not do better, when he conducted this work — and he did extraordinarily.
As Bernstein was a Mahler-lover, so is Dudamel. He opened his second VPO concert at Carnegie Hall with the Mahler Tenth. Say, didn't that composer write nine symphonies, plus The Song of the Earth? Yes, but he completed one movement of a tenth. From Dudamel and the VPO, it was tentative. They handled the music with sugar tongs — as though they were afraid to break it. They might as well have placed the music on a lace doily.
The playing was burnished and beautiful, no doubt. But the Tenth had the air of a sweet swansong. It was completely bereft of its weirdness, and its visionary nature, and its streaks of pain.
Yet, as in the Brahms, individual members of the orchestra were impressive. One such was Rainer Honeck, the concertmaster, who comes from a notably musical family: One of his brothers is Manfred Honeck, the music director in Pittsburgh, who is one of the best conductors in all the world.
After intermission, Dudamel conducted Berlioz's Symphonie fantastique. That should have been right up his alley. It calls out for charisma, wizardry, which Dudamel has in abundance. Think of it: opium dreams, marches to the gallows, witches' sabbaths!
The symphony was well played. Pretty. Polite. Pleasant. Zzzzzz . . . Let me say that this was a respectable performance, within the realm of the reasonable, but, played like this, the piece would never have become famous, never have become a sensation.
They offered one encore, another number by Josef Strauss: his waltz Delirien. It was very good — classically Viennese — though a little long, in my opinion, for an encore. (I remind myself of an old joke: "The food in this restaurant has gotten so bad." "Yes, and such small portions.")
I might pause to note that Maestro Dudamel conducts without a score. Opinion varies on this. André Previn, for one, is against this practice, saying that conducting without a score is always "a conceit." Maazel, on the other hand, often did without one. In fact, he usually did, boasting a phenomenal memory.
A word, now, about Dudamel and politics: He has long been associated with the chavista regime in Venezuela, led first by Hugo Chávez and then by Nicolás Maduro, the incumbent. In 2013, he conducted at Chávez's funeral. As Venezuela became more oppressive, and hungrier, many criticized Dudamel for what seemed his closeness to the regime. These included another Venezuelan musician, Gabriela Montero, who called Dudamel an "accomplice to a dictatorship."
In September 2015, Dudamel took to the op-ed pages of the Los Angeles Times. "I am neither a politician nor an activist," he wrote. "I will not publicly take a political position or align myself with one point of view or one party in Venezuela or in the United States." In May 2017, however, he wrote a Facebook post under the heading "I raise my voice." A young musician had been killed at a rally in Caracas. "We must stop ignoring the just cry of the people suffocated by an intolerable crisis," wrote Dudamel.
"A little late," scoffed his detractors. "Better late than never," said others (including some detractors).
The third Vienna Phil. concert at Carnegie Hall opened with a nod to America, in the form of a symphony by Ives: his Second. Ives wrote this piece in about 1900, and it did not get a hearing until 50 years later, when Bernstein performed it with the New York Philharmonic. This symphony is "music about music," as Bernstein once quipped. More than a quip, it is true. Ives had a jumble of music in his head, as many people do, and it spilled out into this symphony. We hear suggestions of classical music — such as the Brahms First — and popular music, such as "Camptown Races."
How did our forces do with the Ives Second? Fine. The symphony was very nice. Unobjectionable. There were some lovely horn solos. Etc. But the raucous nature of the music was missing, and every possible edge was rubbed smooth. The symphony was oddly innocuous. Still, this performance was within the realm of the reasonable, to borrow an earlier phrase.
"Made up for the Brahms," said an approving critic, seated across the aisle from me. "Nothing can make up for that," I snarled.
On the second half of the program was Tchaik 4, the Symphony No. 4 of Tchaikovsky. The VPO played this in Salzburg last August, under Riccardo Muti. It was a splendid performance, beautiful and exciting. This one? Well, the brass bobbled the beginning, which was unpromising. And the first movement had a feeling of stagnation about it. There was little movement in this movement, so to speak. In the Finale, there was a shocking number of missed notes. But the music was loud, which might have passed for exciting.
Afterward, the orchestra played the waltz from Tchaikovsky's Swan Lake, in authentic fashion. So that was a positive note on which to conclude the three concerts. Yet the Vienna Philharmonic did not represent itself well, and neither did Gustavo Dudamel. Both can do much, much better. This series of concerts was a bad dream, like Berlioz's in his symphony — only his are interesting.