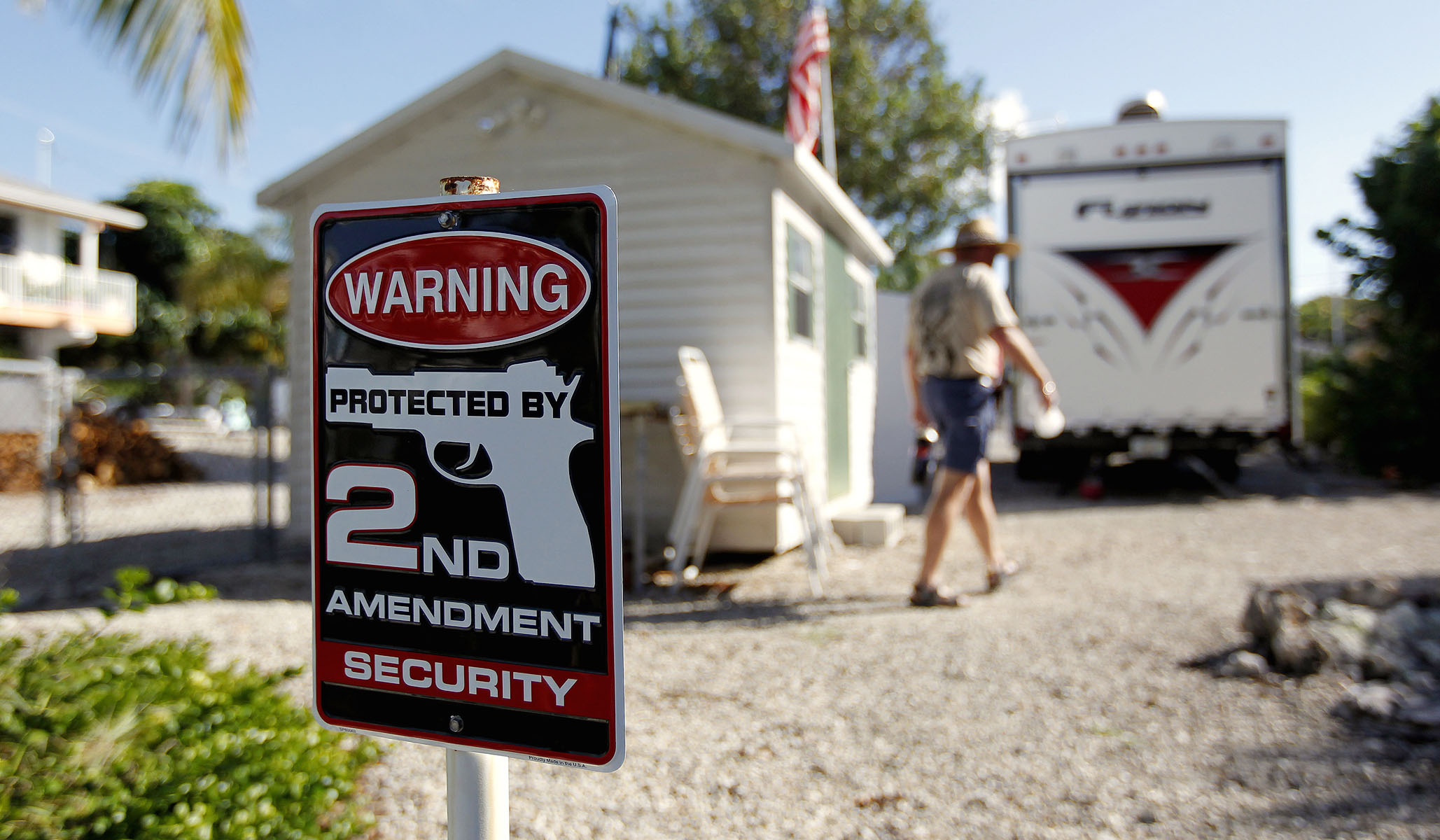 Even when threats are known, law enforcement drags its feet.
It's hard to imagine the horror in Elaine Simon's home on Monday night, March 12. According to an ABC News report, the Palm Beach Gardens mother woke up to a "commotion," went to the stairs to investigate, and was immediately attacked by 17-year-old Corey Johnson. He started stabbing her repeatedly. Her 13-year-old son, Dane Bancroft, intervened to protect his mother, and Johnson attacked him also.
Simon and Bancroft, suffering multiple stab wounds, were able to flee their house and dial 911. Police arrived and arrested Johnson. Simon and Bancroft are in stable condition, suffering a total of 44 stab wounds between them — twelve inflicted on Simon, 32 on Bancroft. Sadly, the mother and son were not Johnson's only victims. Lying dead in the house, his throat slashed, was 13-year-old Jovanni Band.
[jwplayer QnerdS4m-wKJ9CRQU]
It's a terrible story, made all the more tragic by the fact that Johnson had been under federal and state investigation for 14 months. The Palm Beach Post has the details:
In January 2017, several local law-enforcement agencies and the FBI came together with the staff at William T. Dwyer High School in Palm Beach Gardens, where he was a student at the time. The Palm Beach County Sheriff's Office received information that Johnson supported the terrorist organization ISIS and had reached out to the group online, expressing his desire to join them.
It gets worse:
After the meeting, the FBI told Jupiter police that a counter-intelligence agency in Europe investigated Johnson's connection to several threats made on Instagram to McAuley Catholic High School in Doncaster, England. Though the report does not say what the threats were, authorities said they "were so severe in nature that up to 100 students were removed from the school fearing some kind of attack." British news outlets reported that in October 2016, a threat posted on Instagram stated "we will kill every single infidel student at this school."
The FBI monitored Johnson, spoke to him, and initially decided not to arrest him, reportedly believing that a "redirection approach" would be "most beneficial" for the teen. But he kept making ominous online posts, and in 2017 the FBI began "working" to bring charges against him. By February, the charges were ready.
The Palm Beach Post's next two paragraphs are haunting:
On March 5, Jupiter police checked in with the FBI to see where they were with the federal charges and the agent said the affidavits would be "coming in the next several weeks."

A week later, Johnson was in jail for the fatal stabbing in Palm Beach Gardens.
Second Amendment advocates are fond of repeating the truth that "when seconds count, the police are minutes away." Police failures prior to the horrific school massacre in Parkland — and now the FBI delays before this terrible stabbing in Palm Beach Gardens — remind us of a different truth. Even when threats are known, law enforcement will all too often drag its feet.
Any close examination of the violent-crime problem in the United States shows us that law enforcement can't adequately protect Americans. Police aren't a sufficient answer "right of boom" (after an attack starts), and — crucially — law enforcement is often ineffective "left of boom," before the attack. In fact, these left-of-boom failures are more important even than police response times in determining the necessity for armed self-defense.
To put it simply, our law-enforcement apparatus simply can't keep dangerous people off the streets. And it can't keep guns (and other weapons) out of their hands.
Even putting aside the sensational and unusual stories like the Parkland shooting or the Palm Beach Gardens stabbing, it's a simple fact that violent crime, including gun crime, is carried out "by predictable people." In the Daily Signal, John Malcolm and Amy Swearer of the Heritage Foundation compile studies showing that mass shooters typically have "extensive histories" of "mental health issues, disturbing behaviors, or interpersonal violence."
Even criminals who commit more-"normal" crimes tend to have their own violent pasts. "Intimate partner conflict and domestic violence history are major risk factors for homicide-suicides," and a "small number of recidivist violent offenders" are "responsible for the majority of gun violence," Malcolm and Swearer report. Ask anyone who lives in a high-crime area, and he can tell you. The most dangerous people are well known. Their violent crimes are rarely a surprise.
Those who work with victims of domestic violence can tell similar stories. Fatal attacks don't typically come out of the clear blue. Violence escalates. Even in the age of mass incarceration, our nation does a terrible job keeping the truly violent from walking America's streets. The gun-homicide problem in this country is disproportionately dominated by previously violent criminals using illegally obtained guns.
I know there are those who read about the Palm Beach Gardens stabbing and immediately think, "Thank God he didn't have a gun." But it's worth noting that knife attacks claim far more lives annually than the dreaded AR-15. Moreover, terrorist organizations have been urging followers to use knives, a particularly gruesome, intimate, and terrifying method of killing. I think it's fair to say that the vast majority of Americans would prefer to bring a gun to a knife fight.
Finally, I'm not at all arguing that a gun would necessarily have made a difference that terrible night in Elaine Simon's home. Given the sheer terror, chaos, and confusion of any violent incident, one can never definitively predict different outcomes with different facts. Even armed homeowners can be taken by surprise and overpowered. But we do know there are countless examples where guns have made a difference, and it's the difference between life and death.
Human beings possess the right to protect themselves. Even more, they possess a duty to protect their families from harm. When the evidence is overwhelming that citizens cannot effectively delegate that duty to the police, the decision to arm yourself isn't just defensible, it's responsible. How much more evidence do we need that law enforcement is not our first line of defense?