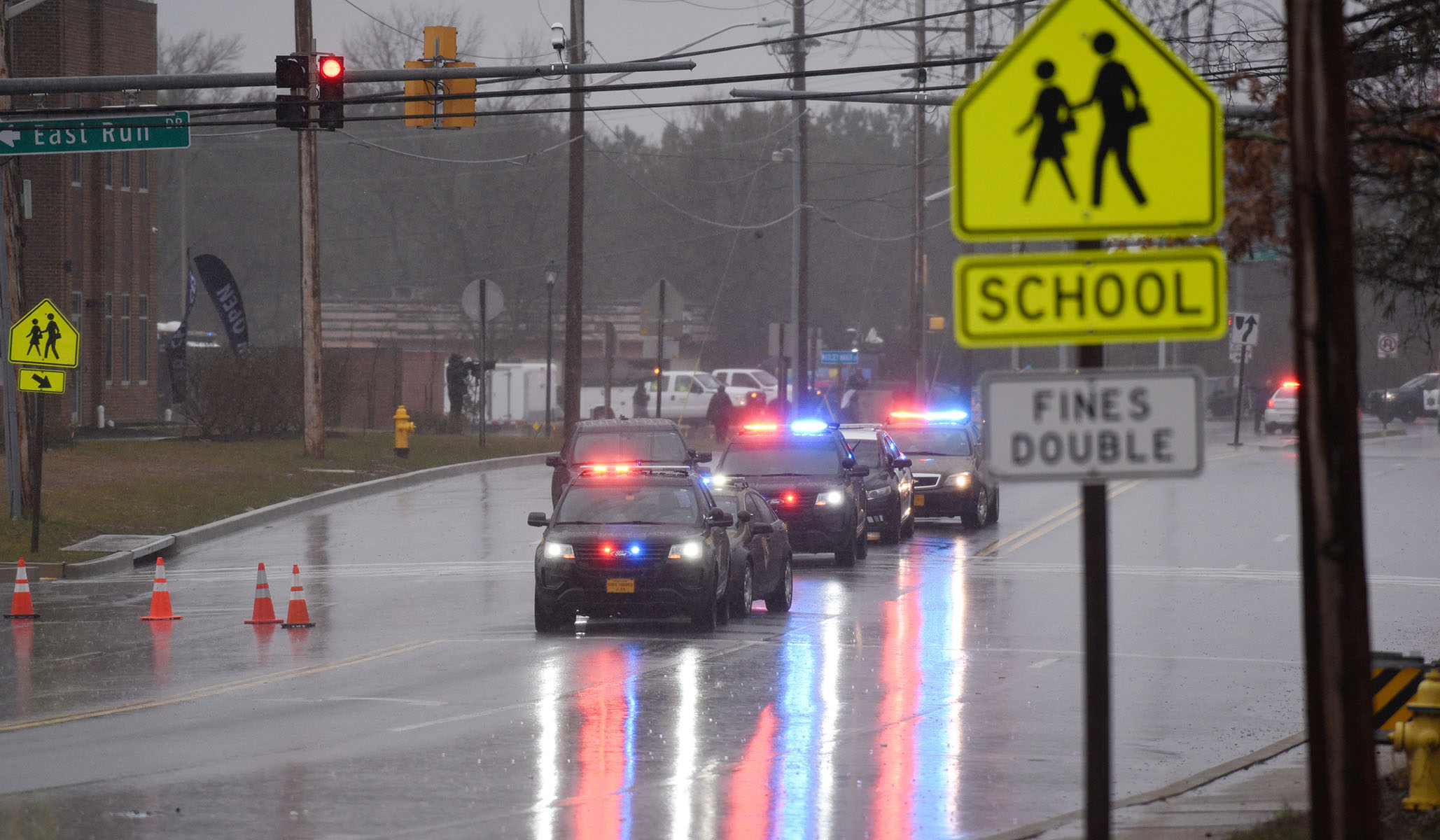 Deputy Blaine Gaskill rushed toward the sound of gunfire Tuesday morning, disrupting what could have been yet another high-school mass-slaughter.
Gaskill, 34, was working as the lone school resource officer at Great Mills High School when a 17-year-old student opened fire with a Glock 9mm. Gaskill rushed in to find himself face-to-face with the shooter. They exchanged fire simultaneously, and the shooter was killed while Gaskill, a SWAT-trained officer with six years on the job, was left unscathed.
It remains unclear whether the gunman killed himself or was fatally struck by Gaskill's round, and officials could not immediately say whether one of two other injured students — a 14-year-old boy — was struck by the gunman or Gaskill. However, there is "no question" that Gaskill's quick intervention prevented further tragedy, according to St. Mary's County Sheriff Tim Cameron.
Maryland governor Larry Hogan was quick to praise the "very capable" resource officer.
"This is a tough guy who apparently closed in very quickly and took the right kind of action," Hogan said. "And while I think it's still tragic, he may have saved other people's lives."
Isiah Tichenor, a Great Mills student who witnessed the exchange, told the Washington Post that Gaskill tried to deescalate the situation before opening fire, yelling, "Put the gun down! We know you don't want to hurt anyone."
Despite his relatively short tenure as an officer, Gaskill has engaged in an armed confrontation before. In July, 2016 he confronted an armed man standing on his front porch not far from Great Mills High School. He convinced the man to drop his weapon without firing a shot, body-camera footage later confirmed.
Gaskill's actions stand in sharp contrast to those of the armed school resource officer present during the Valentines Day mass-shooting in Parkland, Fla. Rather than engaging the shooter, that officer remained outside the building as 19-year-old Nikolas Cruz murdered 17 people.
"Had our resource officer taken action immediately, the result of the Stoneman Douglas Valentine's Day Massacre would have been different," Parkland student Kai Koerber told CNN. "We might not have had to walk over the bodies of our classmates, once lovely and wonderful people, as we were led away from murderous tragedy."