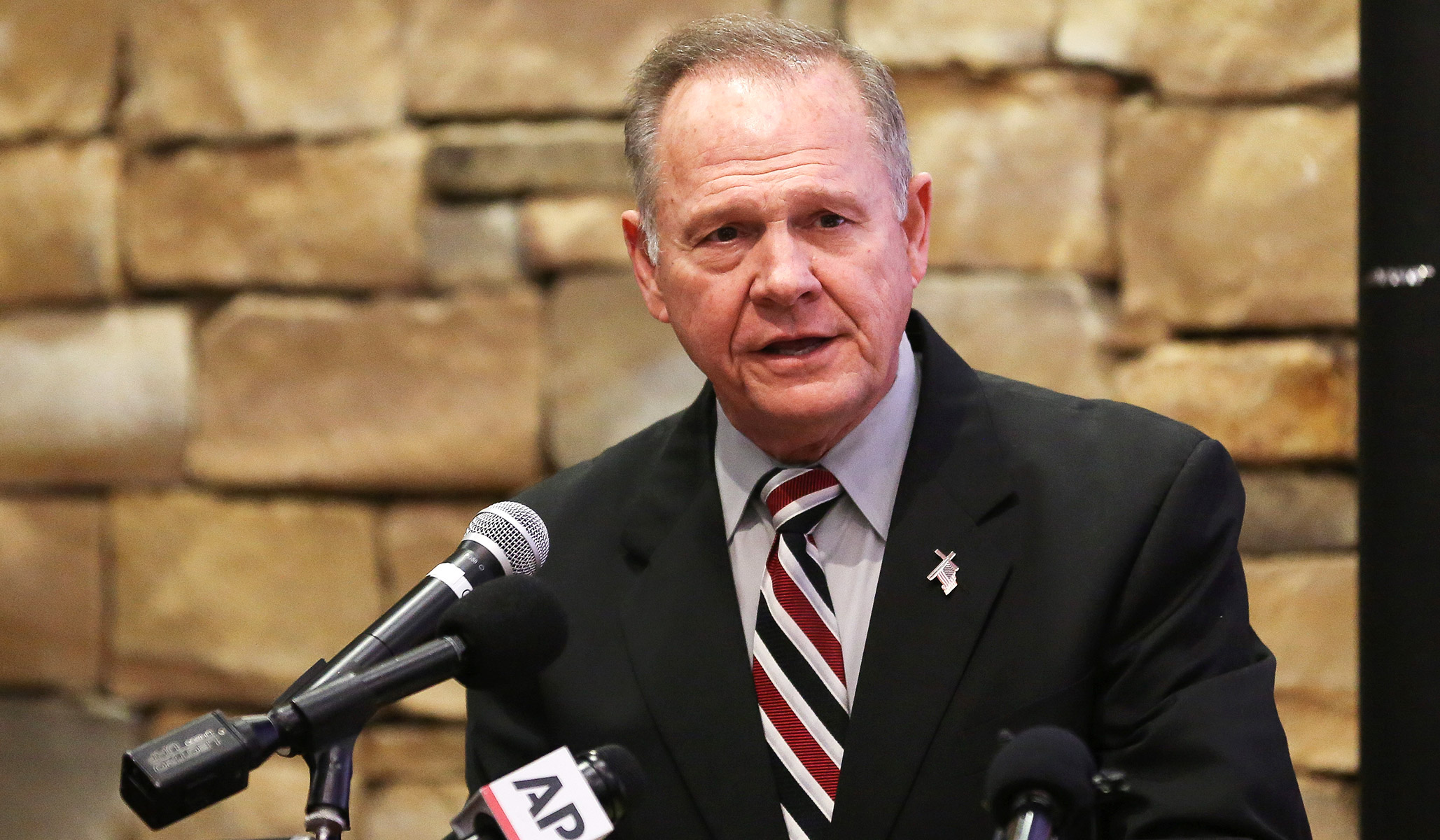 Two Breitbart reporters dispatched to Alabama during last year's Senate special election involved themselves in a scheme to pay an attorney representing one of Roy Moore's accusers $10,000 for him to denounce his client, according to the Washington Post.
The lawyer, Eddie Sexton, was apparently approached by two men who were his clients in an unrelated case. They offered him $10,000 to cut ties with Leigh Corfman — the woman who accused Moore of molesting her when she was 14-years-old — and issue a statement to Breitbart saying that he did not believe Moore victimized her.
The two men — Gary Lantrip, who attended at least one private fundraising event for the Moore campaign, and his business partner, Bert Davi — also offered to introduce Sexton to Breitbart executive Stephen Bannon in exchange for his cooperation.
"What they're saying, all they want to do is cloud something," Lantrip said during a phone call recorded by Sexton and obtained by the Post. "They said if they cloud, like, two of them [the accusers' stories], then that's all they need."
Lantrip also cryptically described the payment, at one point referencing "the ten [pause] dollars," a shorthand term used to describe the $10,000, Sexton said.
"We got some chance to do something, make some quick little-bitty for you…and then, on down the line, we can go to D.C.," Lantrip added.
Sexton claims he met with Lantrip and Davi on November 13 of last year, roughly one month before the election.
During the meeting Lantrip offered him the cash payment shortly before Breitbart reporters Matt Boyle and Aaron Klein entered the room. Once the reporters joined them, Sexton was given a statement to sign denouncing his client. When he protested, arguing he wouldn't be believed, the reporters said that was unimportant.
Text messages exchanged following the meeting suggest the money would have been provided by one of the Breitbart reporters, though a Breitbart spokesman denied the reporters had any knowledge of the payment.
"I mean, have y'all — have they already paid y'all money?" Sexton asked.
"No, just what I'm about to give you," Lantrip replied.
"We got the 10," Lantrip said, pausing briefly, "dollars. We got that, but it, it don't matter."
When asked who was supposed to provide the payment, Davi deflected and said he didn't know but he thought Lantrip would have.
Sexton ultimately decided against making the statement and reported the overtures to federal prosecutors, who, after reviewing the case, declined to press charges.