It's been a long road for the House Intelligence Committee chairman, now at the center of the political hurricane.
The odds are good that until recently you had barely heard of House Intelligence Committee chairman Devin Nunes. By congressional standards, he was obscure; last month, Senate Minority leader Chuck Schumer kept mispronouncing Nunes's surname. (It is NEW-nes, not NOON-yez.) The tumultuous presidency of Donald Trump catapulted the once-little-known congressman into the harshest glares of the Washington spotlight, and his critics contend that he's comically underqualified for his role and the moment.
House Minority leader Nancy Pelosi dismisses Nunes as "a stooge of the White House."
"There's certainly nothing in his résumé that would have qualified him for the post," scoffed Peter Lance in the Huffington Post. Roll Call's David Hawkings concluded that "the match between his backstory and his prominence seems wholly incongruous and helps underscore the perception that Nunes is cavalierly playing at a very high-stakes game while in way over his head."
The Left has created a hostile caricature of Nunes, while conservatives know little about him beyond his work on his explosive memo. But Nunes didn't come from nowhere. He's a farmer turned politician whose career began with a near-accidental run for the board of trustees at a community college. He delved deeply into foreign policy as part of his work for the intelligence committee, and he was respected by Democrats with whom he worked — until the divisive post–2016 election debate changed everything.

Immigrants in the Fields
The backstory of Devin Nunes begins not really in Washington or California but in the Azores, a tiny group of islands more than 800 miles off the coast of Portugal. These distant, isolated volcanic islands, settled in the 1400s, offered a harsh and difficult life. Inhabitants faced starvation, harsh weather, and earthquakes. Ships crossing the Atlantic stopped regularly in the Azores, and the locals often felt tempted by the thought of new life on a distant shore; some joined the gold rush to California in 1849.
Nunes's grandparents came from the Azores and, like many other Portuguese, settled in California's San Joaquin Valley, which holds some of the best land for farming in the country, or perhaps on earth. Previous generations of Portuguese Azorean immigrants and their children had turned to farming after the sheepherding industry declined in the 1870s. This is the region that John Steinbeck wrote about so frequently, a fertile, sunny Eden that offered many opportunities for work — and at least a slim chance at a fortune and the American dream. As Nunes described it in his 2010 book Restoring the Republic, the valley was "a place where someone with few belongings, little education, and even no ability to speak English could prosper by picking grapes, milking cows, or hoeing cotton fields." Nunes's family ultimately worked and saved enough money to buy a 640-acre farm outside Tulare.
"We're in the agricultural center of the planet," Nunes boasts. "Over 300 crops grow here, year-round for the most part." The congressman grew up surrounded by extended family, all working on the farm and finding work on other farms nearby. Family and the land were closely intertwined in this immigrant subculture. Tony Jerome, a Portuguese Azorean immigrant who moved to Turlock, Calif., in 1912, wrote:
Sometimes when I am working in the fields, I reach down and get a handful of good clean dirt. It feels warm in the palm of my hand. I let it dribble through my fingers and I feel as if I had just shaken hands with all my ancestors.
"It's little bit of a dying breed now, not a lot of people my age or younger grew up like that," Nunes tells me. He describes the family milieu:
You get together for every single birthday, Sunday afternoons are family dinners or lunches, and it's not just your immediate family, it's all your aunts and uncles and cousins and great-aunts and uncles and all of that. . . . Until I was a freshman in high school, I grew up with a dozen cousins who were all [aged] within three or four years of me.
When the extended Nunes family wasn't farming, its members were serving in the armed forces. Since his election to Congress in 2002, Nunes has always had cousins and relatives serving in uniform and often in Iraq and Afghanistan. At the moment, Nunes and his wife together have five cousins serving in the military; among them, one is an officer, one just returned from Afghanistan, and one is about to deploy to Afghanistan. The congressman says his many relatives in the military are one of the factors that made him want to join the intelligence committee.
When the extended Nunes family wasn't farming, its members were serving in the armed forces.
In the early 1990s, the congressman's father, Anthony Nunes, urged his son to not merely go out and find work but to start his own business. The teenage Devin Nunes and his younger brother, also named Anthony, started their own business, leasing a swather — a farm instrument that cuts hay or small grain crops such as alfalfa or wheat and forms them into a windrow.
"I went around to neighbors, and my brother and I would do this custom work," Nunes recalls. He figured his whole life would be in agriculture. "I never pictured myself running for office. I always wanted to be a winemaker and make cheese, that sort of thing."
At this time, agricultural life in California's Central Valley was changing dramatically. Besides the rain, water for the valley's farms largely came from California's Central Valley Project, a complex network of dams, reservoirs, canals, hydroelectric power plants, and other facilities, built over five decades. In 1992, Congress passed the Central Valley Improvement Act, sponsored by George Miller, then a Democratic representative from California's eleventh district, and Bill Bradley, a Democratic senator from New Jersey. The new law diverted at least 800,000 acre-feet of water from agricultural use to preserving wetlands. The Audubon Society called it "an ambitious effort to move federal water policy in a more balanced and sustainable direction." Farmers saw it as diverting water — water they had enjoyed access to for decades — out farther west, so far that it ended up in the Pacific Ocean.
Among those farmers convinced that the federal government was taking usable fresh water and diverting it out to the sea in the name of environmentalism was young Devin Nunes. In his teen years and later when he owned his own farm, he found federal policies hitting home.
"The only land that I could afford [to buy] was the land with the worst water," Nunes says. "It's been 15 years since I sold my land, and a lot of that land out there where I farmed just isn't being farmed anymore. It's basically turned back to desert — not sand, but dry scrub and tumbleweeds. It's sad to see. There's beautiful land out there, with very fertile soil" — presuming, of course, that the soil gets enough water.
In addition to the fights over water use, Nunes's future path was shaped in part by an obscure critter, the Tipton kangaroo rat.
During the early 1990s, enforcement of the Endangered Species Act grew increasingly controversial, as landowners and the government fought over protections for the spotted owl in the Pacific Northwest. During this period, Taiwanese immigrant Taung-Ming Lin bought 700 acres of farmland west of Bakersfield, Calif., on the southern end of the San Joaquin Valley. The U.S. Fish and Wildlife Service contended that it sent Lin a certified letter explaining that endangered species, including the Tipton kangaroo rat, lived on his land; they urged him to work with the service on a habitat-conservation plan. Lin insisted he never saw the letter.
On February 20, 1994, armed federal agents arrested Lin, charging that he had tilled land he allegedly knew to be the home of three endangered species: the San Joaquin Valley kit fox, the blunt-nosed leopard lizard, and the Tipton kangaroo rat. Lin faced up to three years in jail and $300,000 in fines.
The soft-spoken immigrant, who spoke little English, turned into an unlikely symbol of government overreach and trampled property rights. The late Tony Snow wrote about Lin's case in his syndicated column, noting that "a squadron of more than two dozen state and federal agents, accompanied by helicopters, descended on the farm." (Agents disputed that they used helicopters.) Rush Limbaugh discussed it on his radio program.
The controversy even caught the eye of Donald Trump. In his 2000 book The America We Deserve, the future president told the story of Lin. "These regulations begin with the assumption that hardworking, thrifty people deserve to be treated like common criminals," Trump wrote. "And they are all but designed to kill jobs and opportunity."
Federal prosecutors ultimately decided to drop criminal charges after Lin agreed to pay $5,000 to a fund to preserve endangered species.
'I'm in politics because of what the government did to my family, to my region, to where I live and the people I represent.' — Devin Nunes
"When all this is happening, I'm trying to make payments by the month," Nunes says. "We were the guinea pig. And that's what drove me into politics. I'm in politics because of what the government did to my family, to my region, to where I live and the people I represent."
Back in the early Nineties, Cathy Abernathy was chief of staff to Representative Bill Thomas, who would go on to become chairman of the powerful tax-writing Ways and Means Committee. She remembers Nunes as an enthusiastic teenager showing up at town halls, asking detailed questions about federal water policies.
"It was a shock to see a young person so astute on federal policies!" she says.
After high school, Nunes attended the College of the Sequoias, a two-year community college in Visalia, and then he spent three years completing a bachelor's and master's degree at California Polytechnic State University, at San Luis Obispo. About a month after getting his master's degree, Nunes's grandfather passed away, and he started working with his uncle managing his grandmother's dairy farm — as well as working on his own farmland.
In 1996, Nunes's community college announced a controversial decision to sell the farmland used for the school's vocational training. Farmers had donated the land, and the college planned to use the profits from the land sale to build new buildings: "building more bureaucracy on campus," as Nunes saw it.
One of his former community-college professors heard that Nunes had worked at political campaign fundraisers during his time at Cal Poly, San Luis Obispo, and he reached out, urging Nunes to help two students who planned to run against the sitting president on the college's board of trustees. But Nunes's experience had been vastly overstated by the rumor mill. "I didn't know a damn thing about running a campaign, I had parked cars and poured wine," Nunes recalls with a laugh.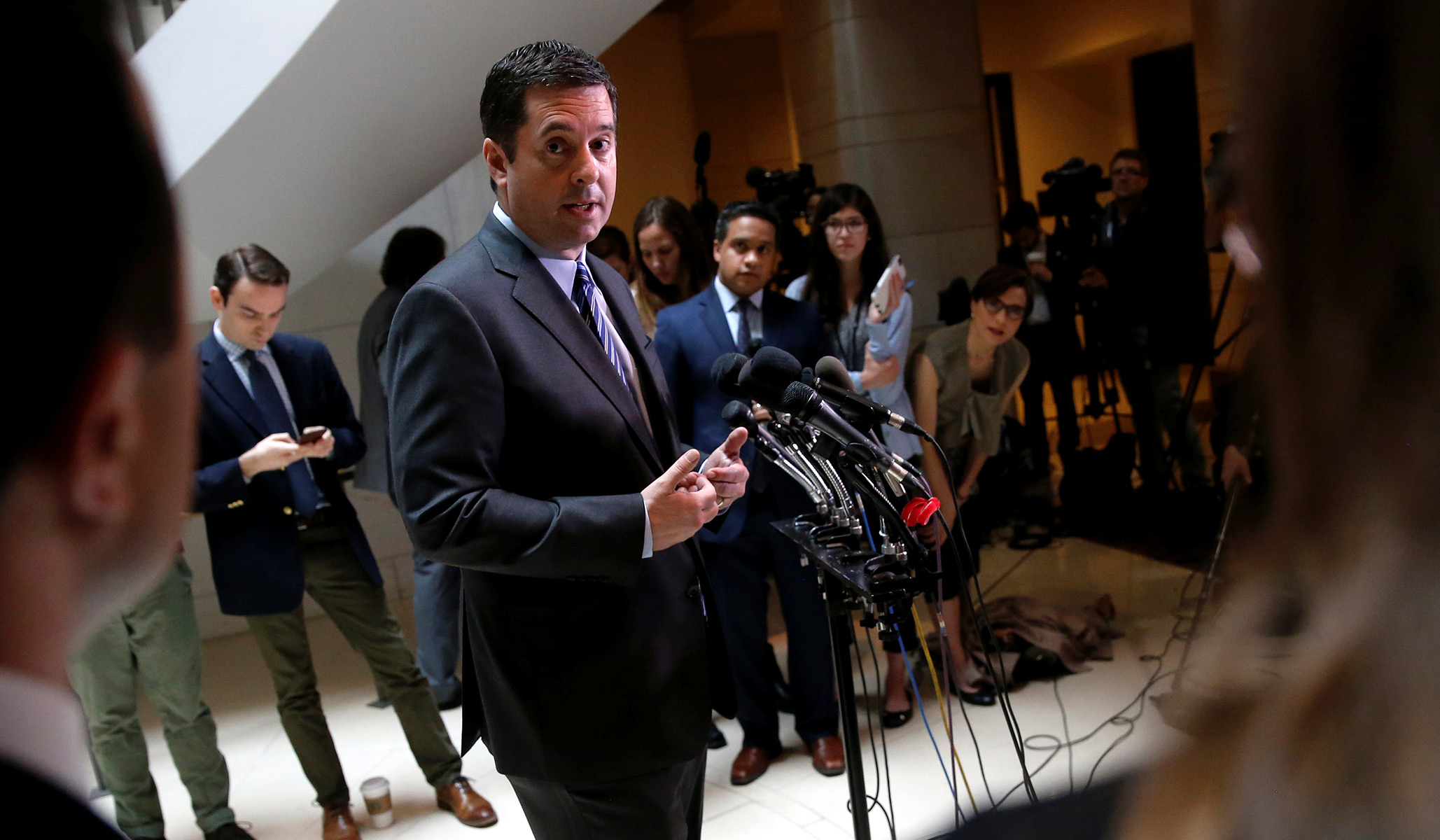 'Why Don't You Run?'
Nunes agreed to help, but fate had a consequential twist ahead of him: "Literally the day of the deadline, the two guys who had been talking about running both backed out and said, 'Why don't you run?'"
Nunes drove out to the farm of Ron Quinn. The father of a college friend and housemate, Quinn grew to become a mentor to Nunes and, as Nunes puts it, "kind of like my godfather."
"He said, 'Oh yeah, you're going to win, and I'm going to help you.' I thought he was going to tell me, 'No, don't run!'" Nunes says. "It's the little things that happen in life. If he had said 'You're out of your mind,' I would have never done it."
"He was nervous because he was young," Quinn says. (At 22 going on 23, Nunes was younger than the average student at the College of the Sequoias.)
I said, "Your personality, and your stature, you're going to win. . . . We need younger generations, your generation, to start getting involved with what's going on in our community. We're an ag-based community. You grew up in agriculture. You know what kind of problems we're having. You're really schooled in this, you'll be really good at this."
Quinn remembered a prophetic observation: "I said, 'You never know what can happen after that.'"
"He defeated a guy who was in his sixties, a well-established real savvy guy," says John Zumwalt, vice president of the College of the Sequoias, who served as college-board president when Nunes was on the board. "He was a 22-year-old kid, and we were in our fifties and sixties, so we were . . ." He paused to chuckle. "Real skeptical of him when he first came on. It didn't take long for us to realize that this was a kid with potential. He ended up being a leader."
Once on the college board, Nunes played a key role in moving the agricultural vocational program from Visalia, where the property had been increasingly surrounded by housing, to a new, expansive college farm in Tulare.
"He and another board member had the vision to see that if you put a farm down there and made it big enough, that someday it might be a college," Zumwalt says, meaning a new branch campus about 16 miles away. "Sure enough. He was driven to make sure the ag program was sound. It had been a hodge-podge when he first came in. Now it's a first-class program."
The college's Tulare center now consists of a 500-acre site that includes 220 acres of farmland.
As a young, up-and-coming Republican in one of the few remaining heavily GOP parts of the state, Nunes got to know, and built useful relationships with, lots of local Republicans. None would prove to be more consequential than former congressman Bill Thomas, the Republican who chaired the tax-writing House Ways and Means Committee from 2001 to 2006 and represented a large portion of the valley. Another key player was Thomas's staffer Kevin McCarthy, who went on to run for Congress himself and is today the House majority leader.
In 1998, Nunes's ambitions turned to Washington, perhaps a bit too early. He announced a bid in California's 20th congressional district against Democrat Cal Dooley, who had represented the region since 1990. Nunes, then only 25 years old, fell short of the Republican nomination by about 1,100 votes.
"He just wasn't well known enough," Quinn says, pointing out that the district lines at that time covered some of Fresno's more urban, less agriculture-focused suburbs.
In 2000, Nunes volunteered on the presidential campaign of George W. Bush. He was torn between the desire to work for the administration and the desire to stay close to his family and farm. After Bush won, Nunes was appointed to his ideal job, as the U.S. Department of Agriculture's state director of rural development.
"That was the coolest job you could ever have," Nunes says. "I was all over the state and still able to farm, and still able to serve on the community-college board."
The 2000 census added a U.S. House seat to California, and the state's Democratic-controlled legislature set out to redraw the lines for maximum partisan advantage. But the process of creating safe Democratic-leaning seats left a large Republican-leaning chunk of the San Joaquin Valley that included less of Fresno. The 2002 election was the first under the new district lines. Nunes ran again, facing the top two primary rivals, state assemblyman Mike Briggs and former Fresno mayor Jim Patterson. Briggs and Patterson represented the Fresno area, while Nunes, who had now served in an influential USDA position, had the votes of Tulare County more or less to himself.
Nunes's campaign strategist for that 2002 race was Mark Abernathy. Cathy Abernathy, his wife, recalls:
[Mark] advised Devin that water didn't poll highly with the average voter, so it was important to explain it. Devin insisted upon making it the issue in his campaign. He stuck to the issues of water and agriculture, and slowly climbed ahead over four months.
Nunes won the three-way primary with 37 percent, and the general election that November with 70 percent. Since then, Nunes has never won less than 62 percent of the vote; he ran unopposed in 2010.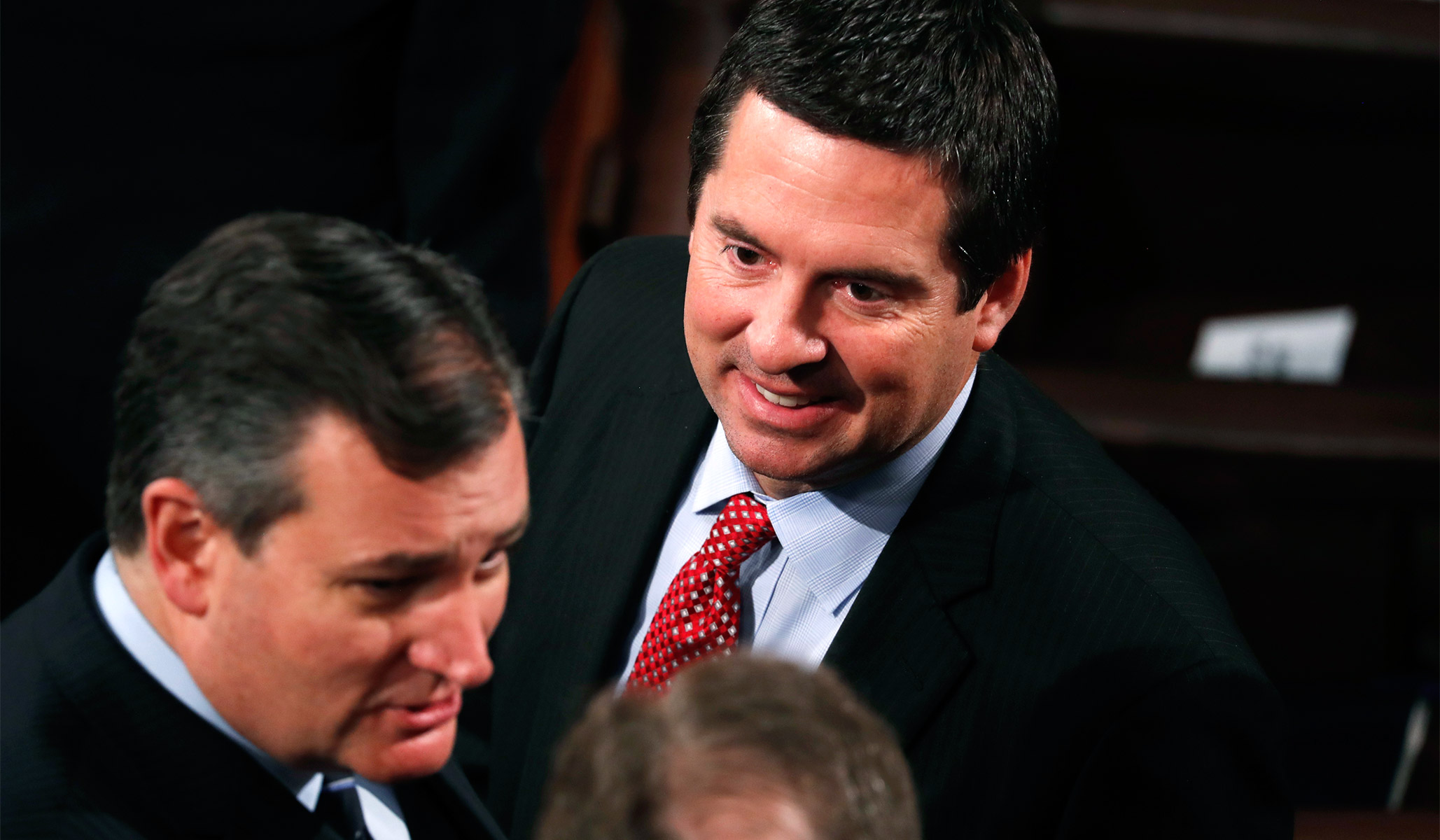 Welcome to D.C.
When Nunes took the oath of office, he was 29, the second-youngest member in the House of Representatives. Nunes recounts an early conversation with Thomas about being the fresh-faced kid in the hallways of the Capitol Building:
I asked him, "Being this age, is anybody going to think lesser, or greater, one way or the other about me?" And he said, "You see that card you've got there?" He pointed to my voting card. He said, "Everybody got here some way just like you, and your vote counts as much as anybody else's. You're not going to have any problems."
Of course, a preexisting relationship with the House Ways and Means Committee chairman doesn't hurt. And he also struck up a friendship with another particularly young member of the House Republican Caucus, a wonky numbers-focused Wisconsinite named Paul Ryan.
"Devin's been working on fiscal issues with me since he got to Congress," says Ryan. "He was an early supporter of the Road Map," Ryan's far-reaching budget proposal. "And he played a big role in advancing tax reform for years, long before we actually achieved it."
For most of his early terms in Congress, Nunes had little profile outside of his district and his colleagues — which was how his constituents liked it, seeing him as a tenacious fighter in their crusade for more water.
"He's a person who can really focus," says Connie Conway, the former Republican minority leader of the California Assembly from Tulare. "He can be a bulldog. He's not backing down, the way some people have. In California, it's easy to get worn down by the [Democratic] majority and their constant criticism."
In 2011, the San Joaquin Valley faced increasingly serious drought conditions. Year after year, Nunes kept pushing Congress and, in particular, his state's Democratic senators to provide relief to the region. He wanted to see more water flowing through the Central Valley Project canals to the valley farmers, and less steered west to the oceans. The House kept passing legislation, but it often died in the Senate, and the Obama administration signaled its opposition.
Nunes's persistence finally bore fruit in late 2016, when Congress passed and President Obama signed legislation that included $335 million for water-storage projects; the law also eased limits on moving water south of the Sacramento–San Joaquin Delta to help San Joaquin Valley farmers. The bill's language was hashed out by Senator Dianne Feinstein and Representative McCarthy; it was one of the rare splits between Feinstein and fellow California Democratic senator Barbara Boxer, who called the bill "ugly," "wrong," and "horrible."
John Boehner became House Majority Leader in 2005 and started arranging for GOP members to take trips to places such as Iraq and Afghanistan. Nunes joined Boehner on those trips, which usually would occur twice a year. Nunes had declared his 2002 bid shortly after 9/11, and members of the extended Nunes clan, wearing the country's uniform, kept heading off to war.
When Boehner became Speaker after the 2010 GOP wave, he put Nunes on the intelligence committee; by all accounts, he fit in fine. Representative Adam Schiff, the California Democrat who is now the ranking member on the intelligence committee and who has become one of Nunes's toughest critics, once had high praise for him, telling the Fresno Bee in April 2014, "I have always been impressed by him. He works in a very bipartisan way."
He has found himself on a creaky, nearly century-old barge, loaded up with trucks and livestock, crossing the Danube River at a remote spot in Eastern Europe, and driving through the Balkans, following the paths of Syrian civil-war refugees.
Membership on the intelligence committee meant that Nunes was soon traveling to far-flung corners of the earth, and he quickly made clear he wanted more than the usual embassy meetings and tours of capital cities. In 2011, he and Representative Mac Thornberry of Texas drove eight hours along the Indian side of the India–Pakistan border, starting in Kashmir. He has found himself on a creaky, nearly century-old barge, loaded up with trucks and livestock, crossing the Danube River at a remote spot in Eastern Europe, and driving through the Balkans, following the paths of Syrian civil-war refugees.
Last year, while visiting a North African country (he can't disclose certain details about his trips), Nunes's convoy, protected by about 25 members of a security force loyal to the head of state, encountered ten members of rival local police forces. A tense showdown ensued. Through the window of his bulletproof vehicle, Nunes saw "two guys with 9 millimeters [pistols] pointed at each other's heads." Thankfully, after a few minutes, cooler heads prevailed, and Nunes's convoy was allowed to pass.
In 2014, Nunes wanted to meet with a representative of a Libyan faction that opposed the Muslim Brotherhood and that was not favored by the Obama administration. In a Middle Eastern country that wasn't Libya, Nunes returned to his hotel late at night from his scheduled meetings, waited for his security and embassy escort to leave, and then snuck out, grabbed a taxi, and headed to a secret meeting — with the entire leadership team of the faction.
"We go off the beaten path, taking cars and trains," Nunes says. "You can only truly learn what's going on in a country if you talk to people outside the bubble. In my mind, if I meet with someone and they're just repeating the conventional wisdom or reading talking points, it's a red flag" that there's something more to uncover.
In March 2014, Mike Rogers, then chairman of the intelligence committee, announced his intention to retire. The House Steering Committee decides most committee chairmanships, but the chairman of the intelligence committee is picked by the House speaker alone. Several members of the intel panel had more experience than Nunes did, but they had either already served as chairman or they were set to chair other important panels: Representative Mac Thornberry of Texas was expected to become the next chairman of the Armed Services Committee; Jeff Miller of Florida was already chairman of the Veterans' Affairs Committee, and Peter King of New York already chaired a key subcommittee of the Homeland Security Committee.
Boehner selected his longtime ally, and Nunes, at 41, became the youngest committee chairman in Congress.
His first day on the job as chairman was the day of the Charlie Hebdo terrorist attack in Paris, and he quickly earned goodwill from the panel's Democrats. Representative C. A. Dutch Ruppersberger of Maryland, the committee's former top Democrat, called Nunes a "good man" in the Fresno Bee back in 2015. "He's smart, he's hardworking, and he's taking his job very seriously." By December of that year, Nunes and ranking member Schiff had worked out a previously thorny disagreement on the Intelligence Authorization Act.
Nunes is an unlikely candidate to be, in Pelosi's term, a "Trump stooge." He didn't endorse any of the Republican candidates for president in the 2016 primary, and he never had a conversation with Trump until the summer of 2016. Nor does Nunes share in Trump's skepticism that Russia would attempt to hack sensitive information at the DNC or try to influence the election. A month before the election, Nunes told reporters it was "no surprise" that Russia would target U.S. political organizations.
Nor is there much evidence that Nunes is a fan of Russia, or outside of the Republican foreign-policy mainstream. He supported trade-promotion authority and the Trans-Pacific Partnership, doesn't believe the country can sufficiently screen Syrian refugees, and opposed the Iran nuclear deal.
In 2014, he denounced the "shameless propaganda" of RT, the Kremlin's flagship international media outlet. And, in an op-ed in the Washington Times, he warned: "While [Vladimir Putin] may be willing to sacrifice Russia's own economy for his geo-political ambitions, we cannot afford to be a mere bystander as his destabilizing actions begin to threaten the economies of the Baltics and other NATO allies, possibly including our own."
In 2015, he joined a bipartisan group of lawmakers urging the Obama administration to authorize the transfer of "lethal, defensive weapons systems to the Ukrainian military." In an appearance on CNN in April 2016, he criticized the Obama administration for being too soft with Putin:
After the Georgian invasion, maybe we thought some diplomacy might work. Clearly, after the invasion of Crimea, that should have been a red line, and we immediately should have moved quickly in to bolster our NATO allies. But instead we continued to negotiate with the Russians, we continued to talk to the Russians, and then they invaded Eastern Ukraine. We missed that. Then we completely missed entirely when they put a new base with aircraft into Syria. We missed it, we were blind. . . . We misjudged Putin for many, many years.
Nunes joined Trump's transition team three days after the election and recommended James Mattis to be secretary of defense, and his congressional colleague Mike Pompeo to be director of the Central Intelligence Agency.
But Nunes's past stances were forgotten as Democrats touted Russian meddling as the most satisfying explanation for the president's surprise victory and as President Trump publicly fumed about the FBI's investigation of his campaign. Nunes's relatively good relationship with the president, and his belief that the FBI and Department of Justice had abused their powers in the run-up to the 2016 election, spurred an avalanche of criticism — some fair, and much downright unhinged.
In November, Andrew Janz, a Democratic congressional candidate, unveiled a billboard that depicts Trump and Nunes on Putin's leash. In January, MSNBC contributor John Heilemann asked Connecticut Democratic Senator Chris Murphy on air, "Is it possible that we actually have a Russian agent running the House Intel Committee on the Republican side?"
Nunes is no Russian agent, but that doesn't mean he isn't willing to lock horns with top officials in the intelligence community and federal law enforcement.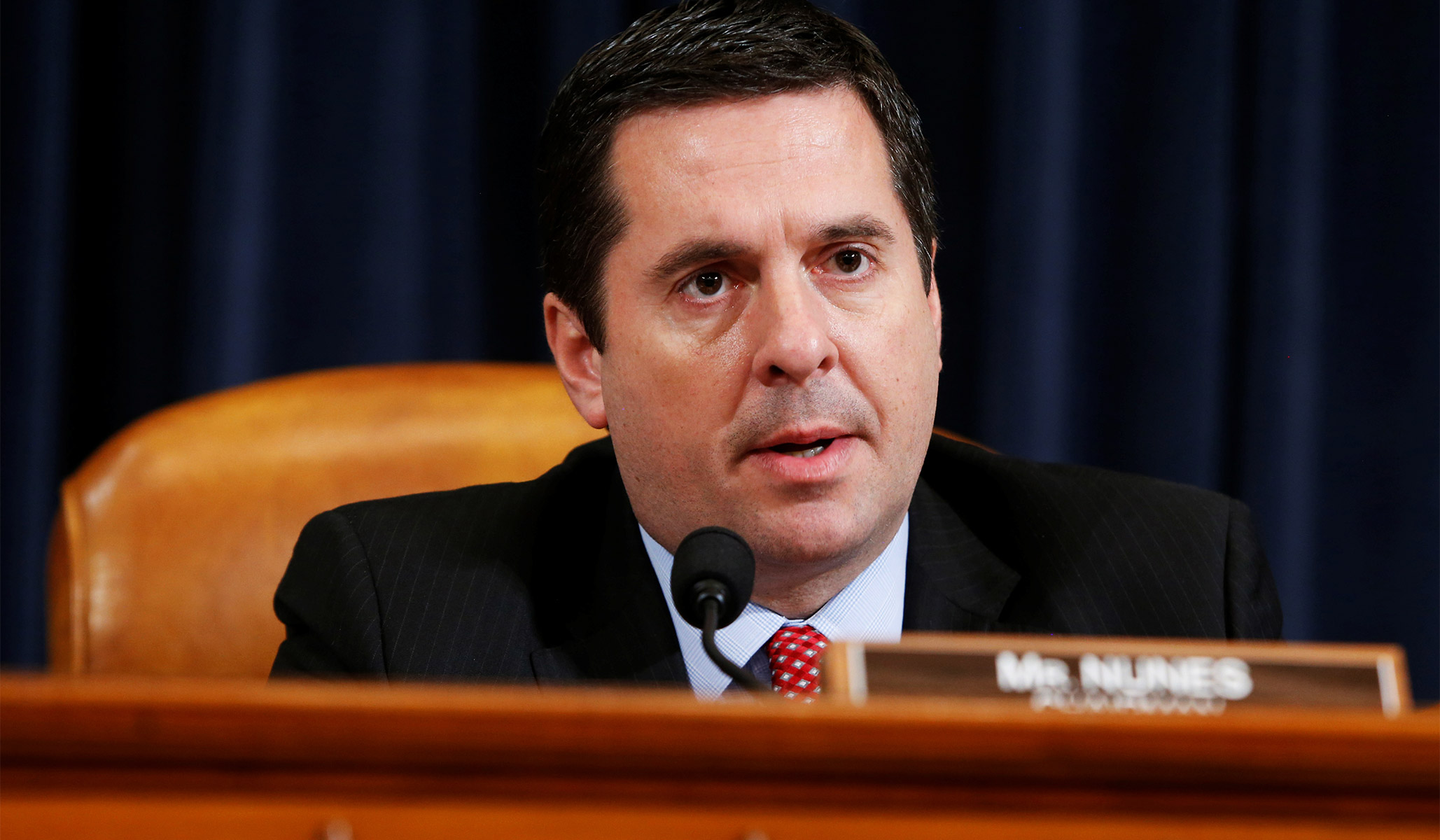 The FBI and the FISA Court
The FBI and the U.S. Foreign Intelligence Surveillance Court are going to need to make "major changes," Nunes says.
They don't even know what hit them yet. I've been trying to tell DOJ and FBI, "Look, your best [move] is to get in front of this." In fact, I begged them. I said, "Look, you guys, I didn't even want to come out with the memo. But if you guys aren't going to investigate this, if you're not going to appoint either a second special counsel or give us some confidence that something's going to happen . . . " All they would do is say, "Well, there's an IG investigation." That is not what I was talking about. There was a big disagreement between myself and my committee members [on one side] and the top people at DOJ and FBI [on the other]. They're a little bit in denial. And I think that the longer they stay in that position, crouched down, thinking they can weather this . . . They haven't seen anything yet. You can only imagine the amendments that are going to come on the floor come appropriations-bill time in a couple of months. It's going to be ugly. And by them not getting in front of it, it's going to make it worse.
In its initial application for a wiretap on Carter Page, the FBI told the FISA court, in a footnote: "The FBI speculates that the identified U.S. person was likely looking for information that could be used to discredit Candidate #1's campaign." The description is technically accurate but painfully generic; we now know that opposition researcher Christopher Steele was being paid indirectly by the Hillary Clinton campaign and the Democratic National Committee.
"The footnote that they're so hot to talk about, from our perspective, that was evidence that they actually went out of their way to not tell the court," Nunes says, adding:
It's a cute lawyer trick to somewhere down the line be able to say, "Oh yeah, we did tell you." It was kind of like an escape hatch. Just come right out and say, "Hey judge, the Democrats and the Hillary Clinton campaign paid for this dossier, they hired this Christopher Steele guy to go talk to Russians." That's the right way to handle it, and that's what the American people expect, and if we're going to have secret courts, they damn sure should expect total and full transparency when something of this nature happens.
There's another detail indicating that an even less reliable source was involved in getting the information to the FBI. On February 8, former State Department special envoy to Libya Jonathan Winer wrote in a Washington Post op-ed that in late September 2016 he met with Sidney Blumenthal. Speaking of Blumenthal, Winer wrote: "He showed me notes gathered by a journalist I did not know, Cody Shearer, that alleged the Russians had compromising information on Trump of a sexual and financial nature." Winer said he let Steele keep a copy of the Shearer notes, and "I learned later that Steele did share them — with the FBI, after the FBI asked him to provide everything he had on allegations relating to Trump, his campaign and Russian interference in U.S. elections."
In other words, at least some information was passed through notorious Clinton attack dog Blumenthal to Winer, who then passed it to Steele, who then passed it to the FBI. This is the same Sidney Blumenthal whom his colleagues nicknamed "Grassy Knoll" for his paranoia when he worked in the White House, who was rebuked in the courtroom for his false characterization of grand-jury proceedings during the Ken Starr investigation, who was obsessed with a mythical "whitey tape" in the 2008 Democratic primary, and whom the Obama team deemed too dishonest and unethical to work in the State Department under Hillary Clinton.
In 2003, in a Slate essay titled "Insidious Sid," Michael Isikoff wrote of Blumenthal: "He rearranges facts, spins conspiracy theories, impugns motives, and besmirches the character of his political and journalistic foes — all for the greater cause of defending the Clintons (and himself). . . . Distortion is standard fare for Blumenthal."
This doesn't prove that the entire Trump dossier is entirely false — only that one of the most dishonest figures ever to haunt Washington had a hand in assembling its material. It is very difficult to imagine a scenario in which the FBI would carefully consider statements from comparably controversial figures (say, Roger Stone or Alex Jones) alleging crimes committed by Hillary Clinton.
A key question before Nunes and his committee overlaps with an investigation by the Justice Department's inspector general, Michael E. Horowitz. The IG's office is trying to determine why Andrew McCabe, deputy director at the FBI in autumn of 2016, appeared to take no action for about three weeks on a request to examine a batch of Hillary Clinton emails that contained classified information. The emails were discovered during an investigation of Anthony Weiner, the ex-husband of Clinton aide Huma Abedin. McCabe left the FBI in January; the IG report is expected sometime this spring. A Washington Post report on March 1 said that the IG's office has already concluded that McCabe leaked information inappropriately and then misled investigators.
Nunes sees a pattern: FBI senior leaders were moving cautiously and glacially on a matter related to Clinton, but they were determined to dig into Carter Page's electronic communications as quickly as possible.
Put the FISA request alongside 1) McCabe's decisions, 2) the FBI chief of counterespionage Peter Strzok's softening of the language in James Comey's July 5 statement that he would not recommend prosecution of Hillary Clinton, and 3) the anti-Trump comments in texts between Strzok and FBI lawyer Lisa Page . . . and Nunes sees a pattern: FBI senior leaders were moving cautiously and glacially on a matter related to Clinton, but they were determined to dig into Carter Page's electronic communications as quickly as possible.
He lays out the core issue:
The obvious challenge here is, "Is it ever okay to use the FISA court to open up a counterintelligence investigation into another campaign?" That, in my book, is a big no-no, and when you go one step further and you use the FISA court to get a warrant on somebody within one campaign, using dirt from the other campaign, that is totally unacceptable. If the media would actually cover that, 80 percent of Americans would be on one side. Maybe 90.
On March 1, Nunes wrote to Attorney General Jeff Sessions, citing the FBI's Domestic Investigations and Operations Guide. The guide states: "Accuracy of information contained within FISA applications is of utmost importance. . . . Only documented and verified information may be used to support FBI applications to the court." Nunes asked Sessions whether those protocols were changed, and if not, what steps the DOJ or FBI had taken to hold accountable the officials who used the dodgy Steele dossier, with its unverified information, as part of the FISA application.
All of this would naturally be a formula for tension with the new FBI director, Christopher Wray, but Nunes characterizes his relationship with Wray as productive:
I like Wray, and I told him, "We're counting on you to clean this up. We want to support you." But so far, we haven't seen it yet. That doesn't mean It's not going to happen. I think we need to give him a lot more time and space to see if he can perform. It's not like the guy walked into easy shoes to fill here, with all the problems that were left.
Now Nunes seems to run into new controversies like clockwork, disputes and accusations that he dismisses as partisan nonsense. In April 2017, the House Ethics Committee opened up an investigation into claims that he had illegally disclosed classified information when he said he'd found instances of Obama officials doing improper unmaskings of Trump team members. (This came after President Trump claimed he'd been illegally wiretapped at Trump Tower; there seems to have been no wiretapping of Trump Tower, but the FISA surveillance did include wiretapping Page.) In December, the House Ethics Committee announced that it had consulted with classification experts in the intelligence community and concluded that the information that Nunes disclosed was not classified.
In February, Fox News reported that Senator Mark Warner, the top Democrat on the Senate Intelligence Committee, had extensive contact last year with Adam Waldman, a Washington lawyer and a lobbyist for a Russian oligarch who was offering Warner access to former British spy and dossier author Christopher Steele. The report quoted text messages between Warner and Waldman. The Fox News report said the messages "were obtained from a Republican source."
The New York Times reported March 1 that Warner and the Senate panel chairman, Richard Burr of North Carolina, had met with House speaker Paul Ryan in February to complain about Nunes, blaming Nunes for the leak. But after the Times report came out, Burr told CNN's Manu Raju that much of the paper's account was flat wrong. He denied that the Senate Intelligence Committee had concluded that Nunes or House Republicans were behind the leak of the Warner texts. He also denied that they he and Warner had raised their concerns with Ryan. "We met with Speaker Ryan to update him on our investigation," Burr told Raju. "That was it."
"We're not investigating Warner, we don't give a sh** about him," Nunes tells me. The copies of the texts had been sent by a law firm to the staff of the House Intelligence Committee, he says, and the staffers quickly realized they didn't want to start snooping in the communications of their Senate counterparts. "No member [of the committee] looked at them. The staff looked at them and said, 'We don't want to have anything to do with this.'" He said the documents were sent back to the law firm.
Nunes dismisses the accusation that the House Intelligence Committee has grown more divided and contentious on his watch: "There was a toxic environment on the Intelligence Committee for many, many years, because of the Iraq War and the intelligence leading up to the war. It started under [former chairman] Porter Goss and got worse, to the point where the committee didn't operate."
Three of Nunes's predecessors as chairman of the House Intelligence Committee had a previous career tie to one of the agencies the committee oversees. By comparison, Nunes is a true outsider.
The tensions on the committee did alleviate somewhat during Obama's presidency, but it's worth remembering that for several years the chairman was Mike Rogers, who had spent five years as an FBI special agent, and the ranking member was Ruppersberger, whose home district includes the headquarters of the National Security Agency. The two men were, at least in the broadest sense, sympathetic to their former employers and key constituents.
In fact, three of Nunes's predecessors as chairman of the House Intelligence Committee had a previous career tie to one of the agencies the committee oversees: Rogers with the FBI; Texas Democrat Silvestre Reyes worked for the U.S. Border Patrol for 26 years; and Florida Republican Porter Goss spent a decade working in the clandestine services of the Central Intelligence Agency. By comparison, Nunes is a true outsider.
"The more time that I've been involved in this, [I've learned that] the fewer people you have who come from the agencies or the area that's represented, the better off you are to oversee them," Nunes said. "There's nothing that you can't learn if you spend time studying it."
Nunes doesn't expect the denunciations from Democrats or the on-background criticism from members of the agencies he oversees to cease any time soon. While amiable, he's not here to make friends.
"I don't really judge this by, 'Is the committee bipartisan? Do people cooperate?' I don't really give a damn about that," Nunes says. "What I care about is: Do you have members doing their work? Are they doing their work in an honest, hard-working fashion to get to the truth, whatever the truth is? Our job is to oversee these agencies, and when they go awry, to rein them in. That's our job. We're the legislative branch of government. We created these guys, and they're not above the law. And they're going to be reined in for as long as I'm chairman."