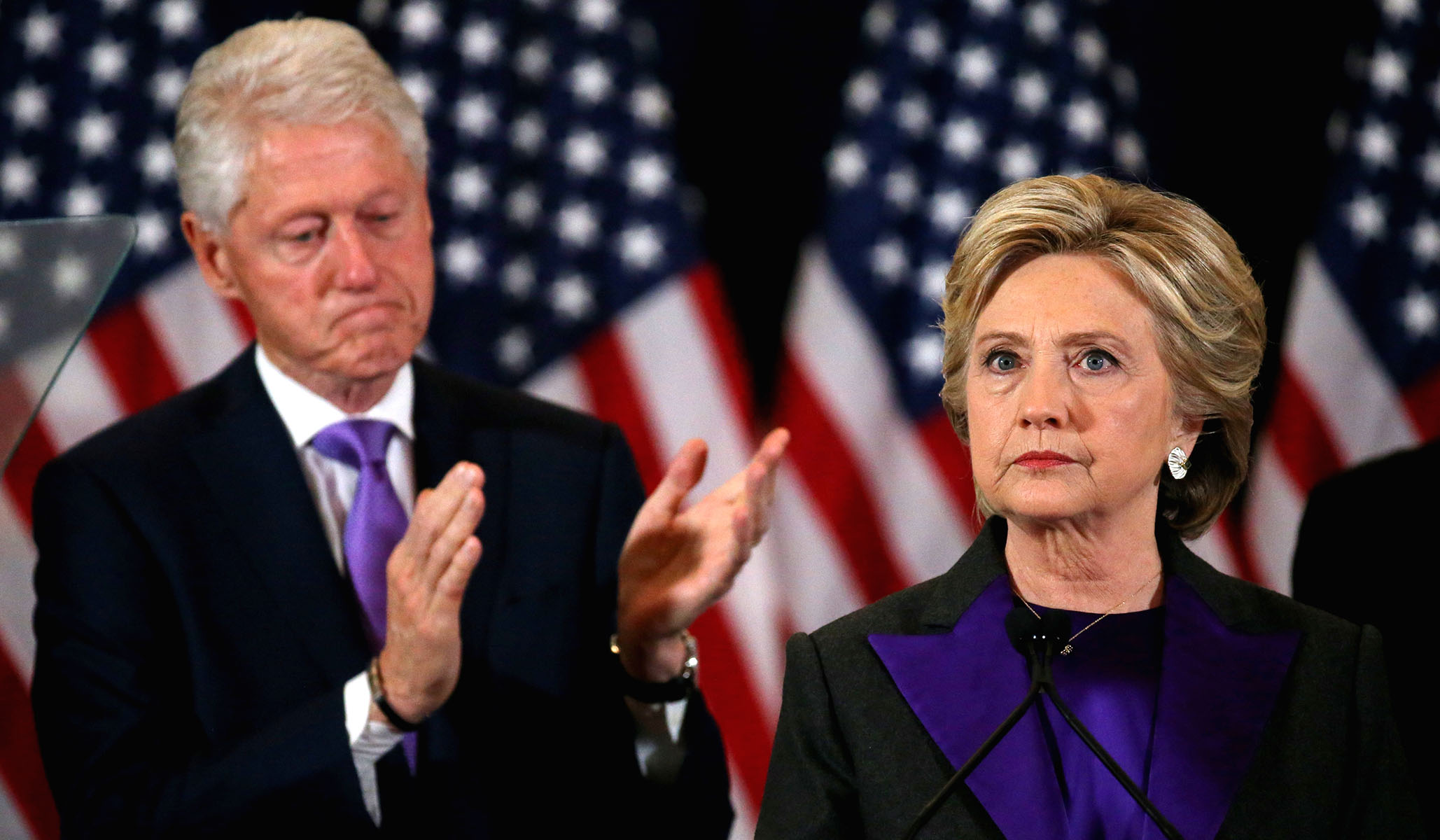 Remember the Clinton scandals. They provoked no decisive legal thunderbolt but a series of agonizing, consequential defeats.
It's happening again. As first an Apprentice contestant, then a porn star, and now a Playboy playmate sue Donald Trump, the lawsplainers are springing up. This is how Trump will go down. Was the payment to Stormy Daniels an illegal campaign contribution? Will Trump lie under oath in a civil deposition? Will the Apprentice litigation yield a smoking gun, proving once and for all that Trump committed sexual harassment or sexual assault?
Of course, the porn-Playboy lawsuits are but one alleged silver bullet in the legal gun pointed at the Trump administration. There are still those who fervently believe that Robert Mueller will come forward with unequivocal evidence of obstruction or collusion (or, better yet, both). They're expecting a cathartic national moment — not unlike, they imagine, the Watergate aftermath — when justice will rain down from the heavens, and the bad man will be expelled from American politics.
I'm getting an eerie sense of déjà vu.
In modern times we've seen a colorful, scandal-ridden family ride into the White House . . . and then behave exactly the way they've always behaved. The Clintons came to D.C., much like Trump, enjoying a tidal wave of partisan relief and gratitude. If you think Republicans were desperate to retake the White House after eight years of Obama, imagine the Democratic angst after twelve years of Reagan and Bush. For those keeping score, that's more than 570 federal judicial nominations, including five Supreme Court justices.
Democrats loved the Clintons, the liberal media loved the Clintons, and the Clintons behaved abominably.
You truly have to have lived through the Nineties to understand the sheer number and magnitude of the scandals. Whitewater, Travelgate, Filegate, cattle futures, bimbo eruptions, the Lincoln Bedroom for sale, perjury, obstruction of justice, allegations of rape, groping, and — yes — an affair with an intern in the actual Oval Office. If you want to talk about foreign influence on elections, the funneling of Chinese money into the 1996 Clinton presidential campaign is still stunning, even these many years later.
Liberals still mock conservatives for their alleged "obsession" with Clinton scandals, but the scandals were real, they were significant, and they never stopped. The Clintons remained the Clintons, after all, and Emailgate was greeted with such fury in part because it was all happening again. Could anything finally rid us of this troublesome family?
Well, no. Not any one thing. But all the things could, and all the things ultimately did.
If the Clinton wing of the Democratic party is honest with itself, it has to understand the price it paid for its corruption. In 2000, the Democrats lost a presidential election they should have won. After all, in a previous time of peace and prosperity, the Republicans got three terms, even when the vice president wasn't half the political talent that Ronald Reagan was. In 2000, America was on an economic roll, there was an actual budget surplus, and the threat of jihad was barely on the national radar screen. Yet Gore felt as if he had to distance himself from Clinton. He had to distance himself from the drama.
In 2008, most observers believed that Hillary was guaranteed to win the nomination for president. She lost. In 2016, she almost lost the nomination even after that the party all but rigged the primaries for her to win. Then, she lost a general-election campaign to the most disliked politician in the history of favorability ratings of presidential candidates.
In 2000, the Democrats lost a presidential election they should have won.
So, yes, there was accountability. It didn't come in the form of a legal thunderbolt but rather in a series of agonizing, consequential political defeats.
While it may well be the case (though I'm skeptical) that some sort of climactic scandal will topple Trump, I think it's far more likely that he'll live the way he's always lived — the way the Clintons always lived — doing what he wants, when he wants, as a phalanx of lawyers clean up his mess and a squadron of associates and allies take the fall.
But that doesn't mean that Trump doesn't have a porn-star problem. It means that his most significant problem isn't campaign-finance law or perjury. It's exhaustion. It's one more embarrassment among many. And with each new embarrassment, a few more people tune out. A few more Evangelical Christians give up. In other words, it's more likely that his future resembles Hillary's than Richard Nixon's.
During the presidential campaign I was often asked, "Where's the Never Hillary Left? Why don't progressives stand up to the corruption in their midst?" We got the answer on Election Day. Never Hillary was in the more than 231,000 fewer votes Hillary received in Wisconsin than Barack Obama did in 2012. It was in the 293,000 fewer votes in Michigan, 303,000 fewer votes in Ohio, and the 162,000 fewer votes in Iowa. It was in the hundreds of thousands of Obama voters who didn't just stay home but switched parties to vote for Trump.
A few days ago, I was talking to a Christian Trump supporter, a person who didn't support Trump in the primaries but happily voted for him in the general election. He doesn't regret his vote. He's glad Hillary isn't president, but his sentiment was clear. "I'm just tired of it," he said. "I'm sick of the scandals." In 2020, the MAGA base will turn out for Trump, and millions of tired Republicans will still trudge to the polls to vote in self-defense against the Democrats' progressive alternative, but others will be too exhausted by scandal to leave their homes. Barring unexpected, dramatic developments, that's Trump's porn-star problem. That's his tweet problem. That's his Russia problem. That's the problem most likely to cost him his presidency.