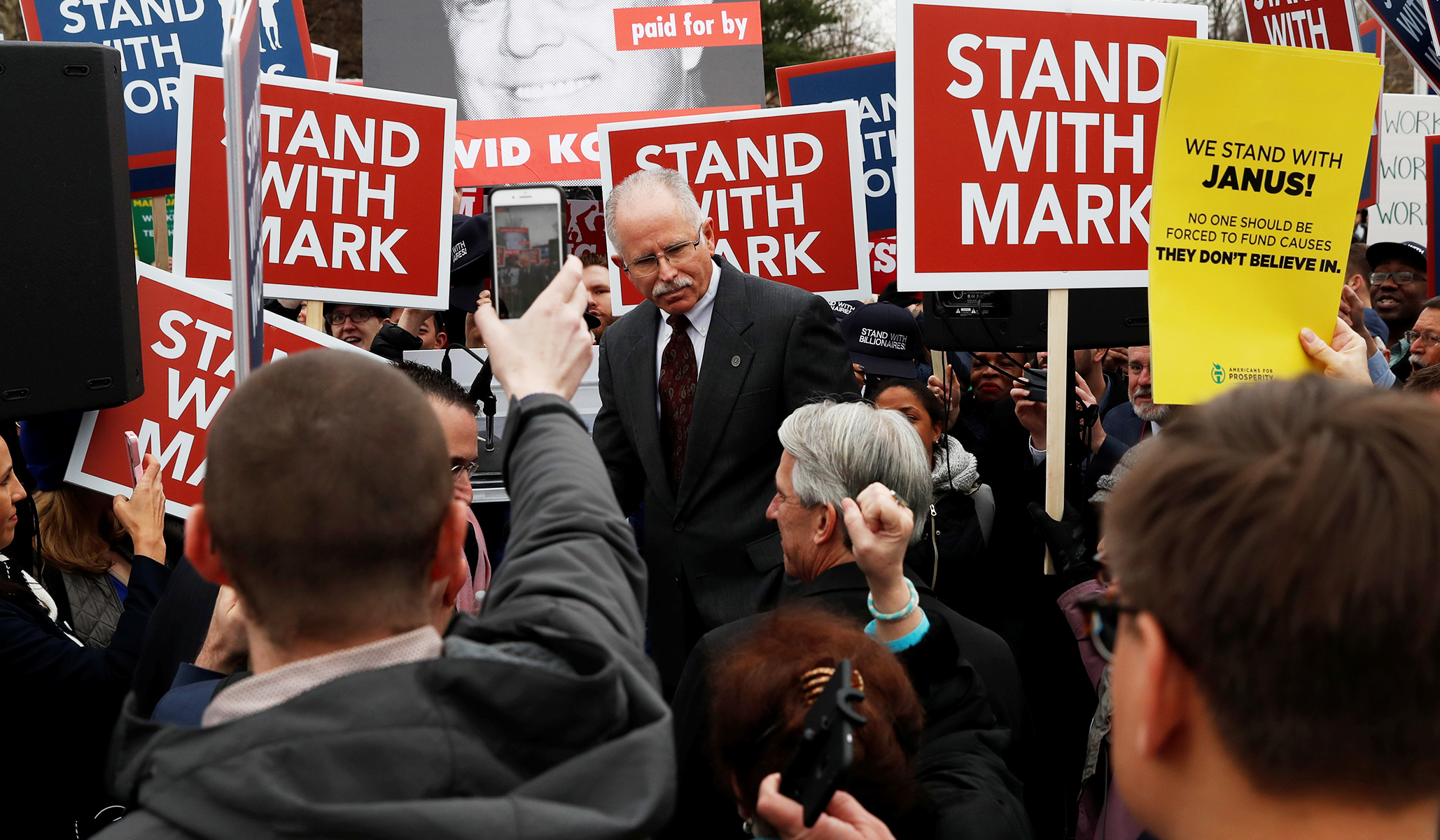 The union backlash against Mark Janus only proves he's right
Labor bosses, Democrats, and progressive activists raged against Illinois government worker Mark Janus last week as the Supreme Court considered his petition to end mandatory union fees in the public sector, but their politically charged fury only strengthened his case.
During February 26 oral arguments in Janus v. American Federation of State, County, and Municipal Employees Council 31, William Messenger — the National Right to Work Foundation attorney representing Janus — asserted that Illinois law and the state union contract violate Janus's First Amendment rights by making him pay AFSCME in order to keep his job, because the union uses his money to engage in political speech in public, at grievance proceedings, and through contract negotiations.
Outside the courtroom, Janus and his supporters have stuck to the same basic message: It's unconstitutional to compel public employees to fund a union's political speech as a condition of employment, and since everything public-sector unions do affects public workers, public spending, and public services, all of their spending is political.
Even with help from the Court's liberal justices, AFSCME lawyer David Frederick was unable to make much of a counterargument, admitting that a win for Janus would reduce the unions' political power, conceding that mandatory fees should be restricted to fewer uses, and warning that a ban on mandatory fees may "raise an untold specter of labor unrest throughout the country."
Judging from the heated rhetoric that public-sector-union bosses have directed at Janus since the Supreme Court agreed to consider his case, they don't expect to convince Justice Neil Gorsuch, the only justice who was not on the Court when a similar case resulted in a 4–4 tie in 2016. Instead, union officials seem to be building a narrative meant to frighten workers into sticking with them.
Union officials seem to be building a narrative meant to frighten workers into sticking with them.
"They are not making a legal argument in front of the Supreme Court. They're making a political attack on all of you," AFSCME president Lee Saunders said at a February 24 rally. "That's what this is about. It's a political attack. They don't care about the First Amendment. They all care about making more money and having more wealth, at the expense of all of you."
"In the face of ruthless, dishonest attacks against their freedom to come together in strong unions, working people are drawing the line," Saunders said in a press release last Monday. "We stand united in fighting a rigged system that rewards the super-wealthy at everyone else's expense."
AFSCME paid Saunders a total of $356,224 in 2016, according to the union's latest annual disclosure available from the U.S. Department of Labor. Saunders is compensated at the expense of Janus and other public employees from whose paychecks AFSCME deducts mandatory "fair share" fees.
A Supreme Court ruling in favor of Janus would not restrict any worker's ability to join, pay, or otherwise participate in a labor union; aside from ending the unions' practice of taking forced fees from non-members, a victory for Janus wouldn't change the contract items public-employee unions can collectively bargain for, nor would it restrict a single union organizing, negotiating, or protesting tactic. You'd never know any of this from listening to Saunders or the presidents of the nation's other giant public-sector unions.
"This case isn't about Mark Janus — it's a ruse funded by the Kochs, the Bradleys, the DeVoses, and other anti-union oligarchs to deny working folks the opportunity for a better life," said American Federation of Teachers president Randi Weingarten, whose 2017 pay from the teachers' union totaled $492,563.
"The Janus case is nothing but a bald attempt by rich CEOS to use the highest court in the land to cut down our unions," Richard Trumka, who was paid $315,368 as president of the AFL-CIO last year, said at a rally last weekend in Philadelphia. AFSCME and AFT are two of the AFL-CIO's largest member unions.
"The corporate special interests behind this case are dead set on eliminating the rights and freedoms of working people to organize, to negotiate collectively and to have any voice in working to better their lives," National Education Association president Lily Eskelsen Garcia said. "This is a blatant slap in the face of educators, nurses, firefighters, police officers and all public servants who make our communities strong and safe."
Taking hundreds of dollars per year in mandatory fees from teachers in nearly two dozen states enabled NEA to pay Eskelsen Garcia $348,732 last year and $512,504 the year before that.
"The anti-worker extremists behind this case want to divide working people, make it harder to pool our resources, and limit our collective power," Service Employees International Union president Mary Kay Henry said in September, when the Supreme Court announced it would hear the Janus case.
Sweeping condemnations of "a rigged system," "rich CEOs," "anti-union oligarchs," "corporate special interests," and "anti-worker extremists" undermine the hair-splitting distinctions union lawyers try to make between political and apolitical spending when defending mandatory fees in court; it's clear that union leaders believe their activism is inextricably linked to their ability to coerce fees from non-members.
While Messenger argues that mandatory public-sector union fees are spent on political activism that dissenting workers shouldn't be forced to support as a condition of employment, Saunders, Trumka, Weingarten, Eskelsen Garcia, and Henry imply that dissenting workers should be forced to pay unions because of their activism.
Democrats and left-wing activist groups — beneficiaries of more than $1 billion in union spending from 2010 to 2016 — are similarly energetic in their defense of mandatory public-sector union fees, often repeating the same language the unions use to avoid discussing mandatory fees directly.
"In Janus v. AFSCME, we are witnessing the culmination of the billionaires' anti-worker agenda," wrote far-left Representative Keith Ellison, a Minnesota Democrat who was endorsed by AFSCME, AFT, NEA, and several other powerful labor unions in the 2017 race for the chairmanship of the Democratic National Committee.
"The case before the Supreme Court on Monday threatens the freedom of millions of Americans working in the public sector to bargain for decent pay, better benefits, and a voice in their workplace," Neera Tanden, president of the union-funded Center for American Progress, wrote at USA Today.
"The Right intends to use Janus to gut public-employee unions, weakening what is the strongest constituency in organized labor. This in turn will greatly diminish labor's strength as a progressive force," wrote a contributor at AFSCME-sponsored online magazine Working in These Times.
Senator Elizabeth Warren (D., Mass.) called the Janus case "the latest case in a years-long assault by powerful right-wing billionaires against workers."
"This case is an attack on workers' rights backed by wealthy corporations," Senator Kamala Harris (D., Calif.) wrote on Twitter.
With Messenger's oral arguments and all of the exhibits filed on his behalf, Janus may not have needed anything further to prevail when the Supreme Court issues its decision in his case this spring. But if a worker arguing that AFSCME is an inherently political organization that he shouldn't be forced to pay wanted to show why he felt that way, he couldn't ask for much better than the behavior of the union and its left-wing allies last week.
Should Gorsuch vote with the four justices who sided against mandatory public-sector union fees in 2016, AFSCME, AFT, NEA, and SEIU will still be able to engage in outspoken progressive activism — but they'll have to do so without taking money from the teachers and other public employees who disagree with their agenda.
— Jason Hart is a health and labor policy analyst in central Ohio.