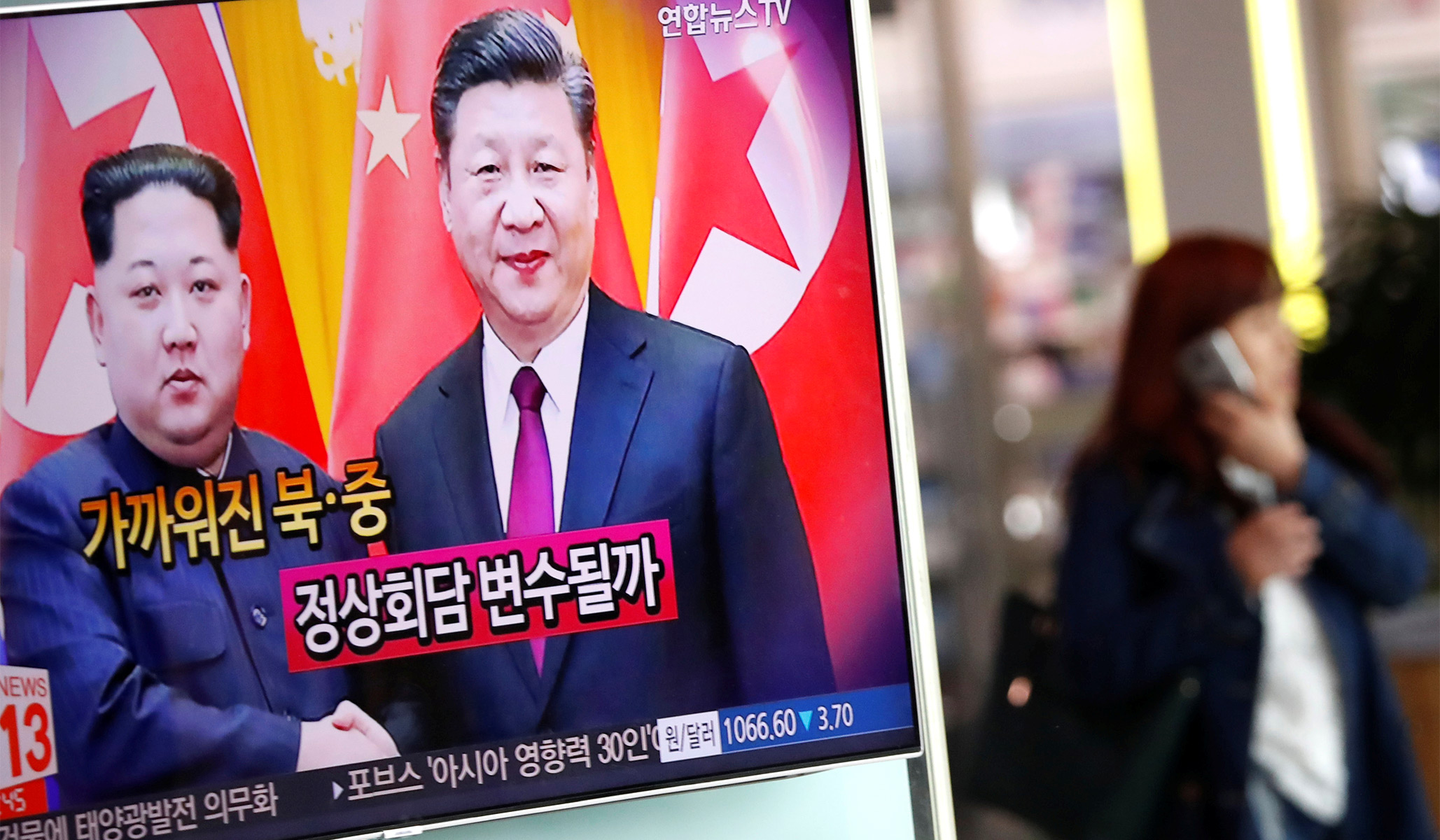 Kim Jong Un has been in demand in recent days.
No head of state is attracting as much media attention and captivating a global audience so inquisitive about his activities, intentions, and next moves as Kim Jong Un. Earlier this week, international media zeroed in on the movement of the regime's 21-car train from Pyongyang to Beijing — speculations were rampant as to the train's passengers and the significance of the trip in light of North Korea's recent spate of diplomatic overtures. As we soon learned, Kim and his wife Ri Sol-ju — whom the North Korean media referred to for the first time as "Mrs." rather than the appellation "comrade" conventionally used to describe previous North Korean leaders' wives — paid a visit to Chinese president Xi Jinping and his wife Peng Liyuan. The two reportedly received treatment on par with Xi's reception of President Trump and the first lady during their November 2017 Beijing trip.
North Korea watchers have noted the implications of the DPRK–PRC summit in light of the upcoming inter-Korean and U.S.–DPRK summits planned for April and May, respectively. In sum, the visit serves to benefit both North Korea and China in the lead-up to Pyongyang's face-to-face meetings with Seoul and with Washington. For Kim, the meeting with Xi provides a sense of security in the event that talks turn sour with South Korean president Moon Jae-in and Trump — particularly against the backdrop of the White House's recent selection of a hawkish foreign-policy team. For Xi, Kim's visit helps to reassert Beijing's relevance in the midst of all the attention being focused on Washington, Seoul, and Pyongyang as the key players in the Korean Peninsula dilemma — averting the fear that China will be left out of an agreement. Most likely, the two leaders at their meeting coordinated the contours of their policies in light of Pyongyang's recent diplomatic overture to the U.S.
Essentially, Kim is now in such "demand" that it's become imperative for stakeholder countries to meet with him lest they get sidelined at the Trump–Kim summit. China is not the only country in the region to sink its hands into the North Korea debate. On Thursday, Russia's Foreign Ministry called it "an immediate prospect" that Kim Jong Un may now also visit Moscow. Japanese prime minister Shinzo Abe, apprehensive that Japan's interests will be neglected in any deal, has been doing everything short of knocking on Pyongyang's door to get a meeting on Kim's calendar this summer after the U.S.–DPRK summit to discuss the longstanding issue of North Korea's abduction of Japanese citizens in the 1970s and 1980s. We can be certain that during his April meeting with President Trump, Abe will seize the opportunity to assert Japan's security concerns and vulnerability to North Korean missile and nuclear attacks.
To be clear, stakeholder countries have substantial reasons to be concerned about being sidelined or passed over in talks between the U.S. and North Korea. The North's advancement in its nuclear and ballistic-missile capabilities, Kim's recent diplomatic debuts with key players in the decades-long nuclear standoff on the peninsula, and the opacity and uncertainty in the events leading up to the inter-Korean and U.S.–DPRK talks amply justify heightened sensitivities and nervous hand-wringing as they await the outcome of the two summits.
Yet this jockeying is having the apparent effect of giving the North the upper hand even before talks have commenced. Note that Kim's upcoming meetings with the leaders of both South Korea and the United States have already elevated his international stature tremendously. On top of this, the South Korean government recently announced that its summit with the North will take place at the Peace House, a building just south of the border village Panmunjom — making Kim the first North Korean leader to set foot on South Korean soil since the Korean War. Additionally, the Trump–Kim summit will mark the first-ever meeting between a current U.S. president and a North Korean leader. Kim scores again.
That the leaders of Russia and Japan are willing — perhaps even anxious — to meet with Kim, while not unreasonable, only serves to bolster the young leader's legitimacy and his country's standing as a nuclear power. Insecurities and the instinctive preparatory measures by stakeholder nations fortuitously validate Kim as a head of state on a level with his counterparts. Again, Kim scores.
As the recent unfolding of diplomatic and political developments illustrates, much can happen in the weeks and months leading up to Kim's meetings with Moon and Trump. Kim's strategic prowess indicates he is not one to be trifled with in the playing field of barter, negotiations, and concessions.
That the leaders of Russia and Japan are willing — perhaps even anxious — to meet with Kim Jong Un, while not unreasonable, only serves to bolster the young leader's legitimacy and his country's standing as a nuclear power.
Fortunately, neither the U.S. nor South Korea has yet made any agreements with or concessions to Pyongyang — the Blue House recently told the press that an agenda for the inter-Korean talks is still to be worked out. As Washington and Seoul deliberate, plan, and play out their moves in preparation for their long-awaited tête-à-têtes with North Korea, the two governments should bear in mind that in Pyongyang's calculus, the match has already begun. Kim has flipped the hourglass, is diligently racing against time to up his game, and is tallying up his points.
Kim's small wins could cumulatively amount to a significant victory. So that this doesn't become an irreversible reality, Washington and Seoul should not overlook Pyongyang's gains in the lead-up to the summits as insignificant, but remain vigilant in safeguarding their shared vision of a Korean Peninsula free from the threat of North Korean nuclear weapons and provocations.