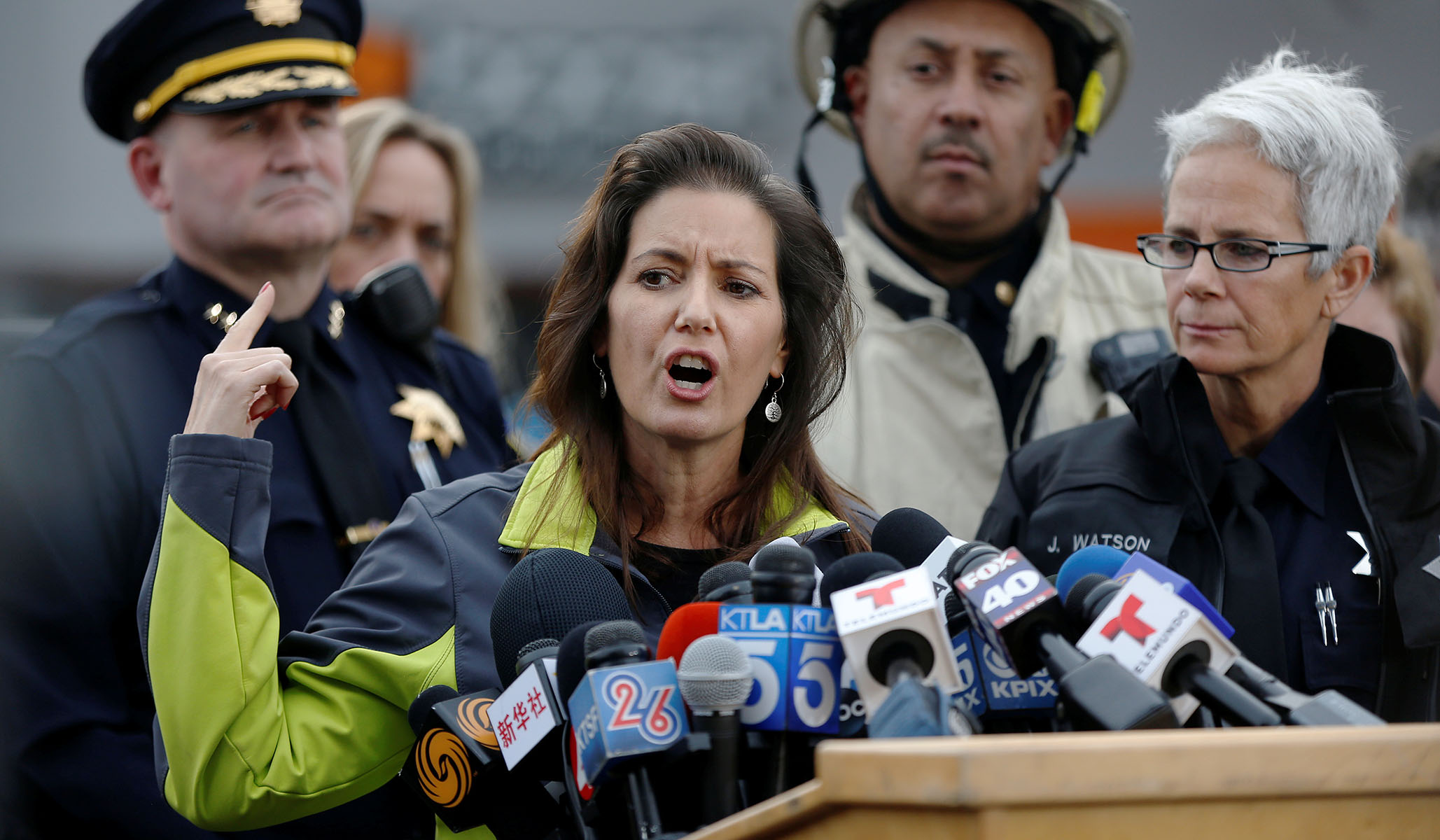 The president hinted that Mayor Libby Schaaf may face legal retaliation from the Justice Department.
President Donald Trump castigated the mayor of Oakland Thursday for warning residents of an impending immigration-enforcement raid, labeling her defiance "a disgrace" and suggesting she may face unspecified consequences.
After learning of an imminent Immigration and Customs Enforcement (ICE) raid in the San Francisco Bay area, Mayor Libby Schaaf warned residents via Twitter, providing an opportunity for illegal immigrants to escape detention.
[jwplayer UJKvim7M-wKJ9CRQU]
"I know that Oakland is a city of law-abiding immigrants and families who deserve to live free from the constant threat of arrest and deportation," Schaaf said in the January 24 tweet. "I believe it is my duty and moral obligation as mayor to give those families fair warning when that threat appears imminent."
Trump voiced his opposition to Schaaf's actions during a televised cabinet meeting Thursday morning and cryptically implied she may face prosecution.
"What the mayor of Oakland did the other day was a disgrace," Trump said. "They had close to 1,000 people ready to be got, ready to be taken off the streets. Many of them — they say 85 percent of them — were criminals, they had criminal records. The mayor of Oakland went out and warned them all: Scatter. So instead of taking in 1,000 they took in a fraction of that."
"It's certainly something that we're looking at with respect to her individually," he concluded.
.@POTUS blasts @LibbySchaaf: "What the mayor of Oakland did the other day was a disgrace." pic.twitter.com/paKXXkKHJS

— FOX Business (@FoxBusiness) March 8, 2018
Trump's comments echo those of White House press secretary Sarah Huckabee Sanders, who told reporters last week that Schaaf's actions were "under review" by the Justice Department.
"I think it's outrageous that a mayor would circumvent federal authorities and certainly put them in danger," Sanders said.
Acting ICE director Tom Homan said Schaaf "absolutely" harmed the agency's enforcement efforts and called her actions "beyond the pale" during an appearance on Fox News.
"What she did is no better than a gang lookout yelling 'police' when a police cruiser comes in the neighborhood, except she did it to an entire community. This is beyond the pale," Homan said in the February 28 appearance.
ICE indicated the raids targeted roughly 1,000 illegal immigrants but only yielded 232 arrests in a statement released last Thursday.
180 of those arrested "were either convicted criminals, had been issued a final order of removal and failed to depart the United States, or had been previously removed," while 115 had multiple misdemeanors or "prior felony convictions for serious or violent offenses," according to the statement.
Attorney General Jeff Sessions joined Homan and Sanders in their criticism Wednesday.
"So here's my message to Mayor Schaaf: How dare you? How dare you needlessly endanger the lives of law enforcement just to promote a radical open borders agenda?" Sessions said.
It remains unclear exactly what course of action is available to the Justice Department in retaliating against Schaaf.
The Department of Justice filed suit against the state of California Tuesday, questioning the constitutionality of three recently enacted state laws that interfere with federal immigration enforcement. The suit is the latest development in the Trump administration's year-long legal battle to compel state cooperation with federal immigration authorities.