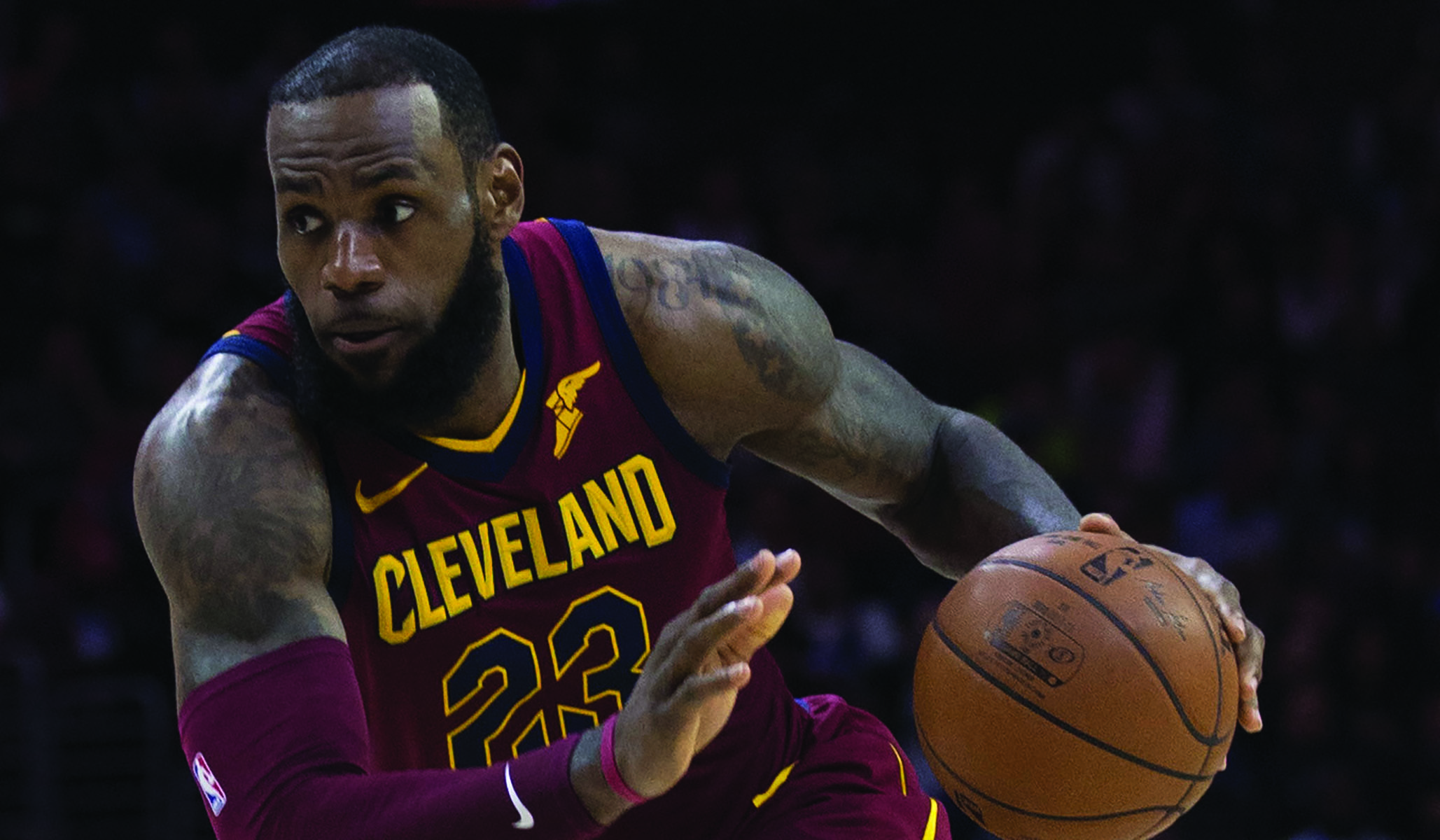 Why the NBA has thrived as the NFL has declined
Twitter is a pretty dreary place most days. Take all of the bitterness of politics, take all of America's cultural polarization, take all of the pettiness of social media, and compress it into one single website. That's Twitter.
Except on nights when NBA action heats up. Then, Twitter is a joy. Consider one mid-March night earlier this spring. I was catching up on some work, following along with the latest outrage in our outrage-filled news cycle, when I saw my NBA Twitter list light up. Something had happened. So I clicked.
That "something" was one of the most epic dunks in modern NBA history. LeBron James, the 33-year-old superstar who plays like he's 25, had soared straight over seven-foot Portland Trailblazers center Jusuf Nurkic. James was on the road, in Portland, but the crowd went insane, the Cavaliers bench went insane, and within minutes it felt like half of Twitter was riding the wave. The dunk was set to music; it was forwarded with the hysterical hyperbole of the NBA fan. James had "destroyed" Nurkic. He had "ended his career."
In one instant, millions of Americans — from all walks of life — shared a moment of pure joy.
Today's NBA is a professional-sports league on the rise. Its ratings on TNT are up 20 percent from last year. Its ratings on NBATV, the league's cable channel, are up 20 percent. ESPN and ABC's NBA ratings are up as well, and 17 out of 30 teams have seen improvements in their local markets. Taken in isolation, these numbers are impressive. Viewed in context, they're breathtaking.
The context is the corresponding decline not just in ratings for America's true pastime (NFL football, of course), but in ratings for sports television of all types. College-football ratings are down. Baseball has been struggling, and the most recent Winter Olympics were the least watched in history. The Rio summer games lost almost 5 million nightly viewers compared with 2012's London games.
The explanations are legion. More channels combined with ample streaming options fragment the audience. Cord-cutting means fewer homes even have all the available sports channels. And, yes, there's politics. Ever since Colin Kaepernick took a knee during the national anthem in 2016, the NFL has struggled to respond to athlete protests and fan backlash; a presidential tirade the next year sparked mass kneeling and mass fan anger.
The NFL's struggles have locked in a certain kind of conventional wisdom. It's hard to grow an audience under the best of circumstances, but throw in politics and you compound the challenge. Alienate "half of America" (as the saying goes), and you can't help but decline.
But wait. The NBA is arguably the most political pro-sports league in the United States. Coaches such as Gregg Popovich are prone to launching vitriolic tirades against Donald Trump. The league's premier stars — men such as James and Golden State's Stephen Curry — have challenged Trump, and the president even revoked the Warriors' invitation for a post-championship visit to the White House after members of the team said publicly that they didn't want to come.
And that's the tip of the iceberg. NBA players are so fully "woke" that Fox News host Laura Ingraham has demanded that they "shut up and dribble" — a command that of course prompted a fresh burst of political commentary.
Yet the NBA rolls on. How? It's a league that's political, but it's not defined by politics. Its stars can be controversial, but they're not defined by controversy. It's a league that's learned to put the main thing — the game — front and center while respecting its players' convictions and individuality. And the players themselves have made different choices, understanding that they can use their immense platforms to advance their causes without deliberately inflaming their audience around the emotional flashpoint of the national anthem. The players speak out, but so far they do not kneel.
And that matters.
Despite its progressivism, the NBA's appeal rests on a fundamental idea that conservatives can respect — freedom. It's a league that has liberated its game, liberated its players, and helped cultivate a free-wheeling, creative culture of broadcasters, pundits, and fans.
First, NBA basketball is fun. Rule changes that opened up the game, combined with coaches' and general managers' embracing the three-point shot, have led to a "pace and space" style in which teams race up and down the court, fire dozens of shots from long range, and routinely score 120 or more points — and that's with players playing intense defense. The days when players refused to hustle until the fourth quarter — or until the playoffs — are long gone.
NBA basketball has become an interesting hybrid, with some of the best athletes on the planet playing a game that has been refined not just by old-school coaches but also by new-school stat wonks. General managers such as the Houston Rockets' renowned "dork Elvis," Daryl Morey, have crunched numbers to discover that the best way to play is the most exciting — with speed, featuring slashing drives to the basket and kick-outs to shooters who hit shots from ever deeper spots on the court.
Second, the NBA not only has learned how to celebrate its players and respect their autonomy, it's blessed with a generation of young stars who use that freedom to live publicly as family men, with stars such as Curry and James showcasing their domestic life on social media.
Moreover, the NBA has embraced a "family" ethos within the league. The players publicly appreciate one another, and many have developed truly enjoyable social-media presences. They're remarkably open about their lives (just listen to a Kevin Durant podcast interview). Following the Philadelphia 76ers' Joel Embiid on Twitter or Instagram is like following the class clown. Curry and LeBron are certainly partisan, but to even the casual fan they're men-in-full more than political athletes.
Critically, a league that respects its players earns respect in turn. It prohibits kneeling without controversy in part because the players don't feel stifled. The NBA encourages them to develop their immense public platforms. Last September, James declared, "My voice is stronger than my knee" — a sentiment that, for him, is surely true, and a sentiment that the NFL would do well to understand.
The third element of the NBA's appeal — its creative culture of fans and pundits — can be summed up in one show, TNT's Inside the NBA. On some nights it's arguably the funniest show on television. Charles Barkley is the politically incorrect ringleader of a raucous crew that can spend one minute breaking down the way the San Antonio Spurs forced the Houston Rockets to rely on mid-range jumpers in the 2017 playoffs and the next one pivoting to such absurd topics as Barkley's obsession with San Antonio women.
This freewheeling style is mirrored by a much larger Twitter and online universe that positively revels in the game, following player drama and team performance with equal intensity. To read websites such as Bill Simmons's The Ringer is to catch the fever. A daily column called "NBA ICYMI" (In Case You Missed It) shares highlights, gathers gossip, and is written in an exuberant style that helps pull in young readers and young fans. The celebratory atmosphere has become part of the NBA's public ethos.
And why not? Basketball is a game. Sure, it has its share of hot takes and morning television shout-fests. It has serious moments, and it has politics. But here's the thing: When a community enjoys freedom, it has the capacity to surprise.
Shortly after the 2016 election, the Inside the NBA crew took turns addressing the election of Donald Trump. None of the four hosts liked Trump, but the consensus of the room was to give him a chance. Ernie Johnson, the only one of the four who isn't a former NBA player, closed with remarks that immediately went viral. After noting that he couldn't vote for either Trump or Clinton (he wrote in John Kasich), he turned to his faith and closed with these powerful words:
Scripture tells us to pray for our leaders, and that's what I'm going to do. I'm going to pray for Donald Trump. I'm going to pray for all those people right now who feel like they're on the outside looking in, who are afraid at this point. Pray for them too. In short, I'm praying for America. And I'm praying that one day we're going to look back, and we're going to say, "You know what? That Donald Trump presidency? That was all right." 
Amid political differences, there was respect. Then it was back to basketball. It was back to dunks, to the challenges of defending the pick-and-roll, and to off-topic rants from Shaq and Charles. It was back to the things that games are supposed to do: to bring us joy, to tie communities together, to sometimes provoke and sometimes inspire. That's today's NBA. That's why it's on the rise.